Microsoft Flow officially announced, public preview of PowerApps begins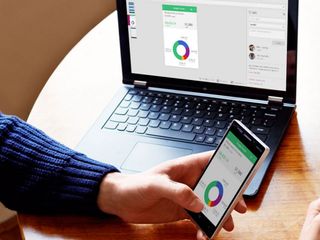 Microsoft has officially announced the previously leaked Microsoft Flow, which offers businesses ways to connect many different services to automate tasks. The company has also launched the public preview of its PowerApps service.
Microsoft Flow is similar to IFTT (If This Than That) as it will allow "flows" to be created that connect services together. Those services include Microsoft's own Office 365 and OneDrive along with products and services from third-parties like Twitter, Slack, Dropbox, Google Drive and more. Microsoft says (opens in new tab):
In addition, PowerApps, which was first announced in late 2015, has entered the public preview stage. This service allows businesses to create mobile apps for their organization without having to do any coding themselves. The apps will work for Windows, iOS and Android platforms and can be delivered to a business's employees without an app storefront. PowerApps can also be used with Microsoft Flow to connect them with other services.
Sounds convoluted. I feel sorry for people that have crap all over the place that they would need something like this.

You feel sorry for people that have multiple ways of engaging customers and clients?

Well, I guess if you don't mind then why should I care? I'm just glad it ain't me!

I'm glad nobody is obligated to care about how you think or feel about something. Makes it wonderful that you shut up and stop commenting about it.

are you a developeR? you sound liek you are not. What you see on a sophisticated app is just the tip of the iceberg. a lot goes on behind the scenes.

I would love more Microsoft channels, like Cortana and more integration with Windows 10 Mobile (and iOS/Android).

Was just trying out the power apps last night for a few minutes, looks great but I'll need a bit longer to make anything remotely useful! Posted from my Lumia 950

First provide basic feature flip to silence to windows 10 mobile loser Microsoft

This is a completely different group of people working on this. If you want to give feedback/complain then use the Insider Program instead of spamming it on articles that have nothing to do with the development of Windows Mobile on a website that isn't run by Microsoft.

LOL! That doesn't work in Windows 10 Mobile??

Of topic but important after hard really windows 10 mobile we lose blue color cobalt and display setting sre still windows 8 . 1 U I touch also what the hel they are doing

Man just shut the hell up. There is an insider app to give feedback. I urge you to calm down go back and read everything you've posted and see how stupid you look and sound.

shut up people should know about windows flaws idiot

Looks like someone is having a rough day. If you wish to provide constructive feedback to MS there is an app for that. Stop your off topic spamming please. Thanks.

It's actually more constructive if MICROSOFT gets the complaints on their feedback app than it is on a random article.

Sure, but you don't need to be a total ass about it... :/ Posted from Windows Central for Windows 10 on my Lumia 950! Step off, haters! U-U

Were you dropped in a bucket of chlorine as an infant?

Or maybe a bucket of BS Posted from my Lumia 950

"then that" Posted via the Windows Central App for Android

I really wish they took the writing a bit more serious.

Powerapps are not yet suppported for windows 10 mobile. The "powerapps mobile app", which is needed to run these powerapps, is currently only available for andriod and IOS. On a lumia 950 it is only possible to open a powerapp in the webbrowser.

Jesus christ, please tell me that is a joke :/ How on earth...

Probably can't trust MS to not cancel that sort of service - stick with ITTT.

Flow is Zapier for Enterprise, and if you're a 365 user you've now got enterprise level coordination of apps and programs. Excellent news. Zapier is great but it's pricing model is ridiculous.
Windows Central Newsletter
Get the best of Windows Central in in your inbox, every day!
Thank you for signing up to Windows Central. You will receive a verification email shortly.
There was a problem. Please refresh the page and try again.