Microsoft Future Decoded Tech Day to be held in London on 12th November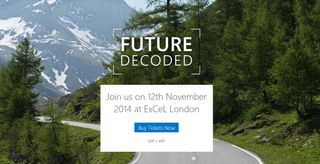 Microsoft is holding an event in London called Future Decoded. Spanning three days, Future Decoded appeals to a variety of communities, including business, enthusiasts and developers. Tech Day (day 3) at the event is focused entirely on IT Professionals and developers and the advancement of technology, coinciding with Apps World. Tickets go for £59, but it's worth it when you consider what's on offer.
Since we cover all things Microsoft (which equates to most things cloud and mobile these days), this event (specifically day 3) may well be up your street, developers and evangelists. So, what's planned for the Tech Day at the ExCel Centre? See the list of speakers below:
Jason Bradbury, The Gadget Show
Sir Nigel Shadbolt, Co-founder & Chairman, ODI Open Data Institute
Or Arbel, CEO, Yo
Michael Taylor, IT Director, Lotus F1 Team
Brian Cox, OBE, Physicist
As well as speakers providing insight into various topics, Microsoft will also be offering an array of tracks for attendees to check out.
Track 1: "Write Once, Run Everywhere?" – creating cross platform apps with Visual Studio
Track 2: Demystifying Data Discovery and Big Data
Track 3: DevOps – what is it and what can we learn from practitioners?
Track 4: Enterprise Mobility: Helping users keep on the straight and narrow!
Track 5: "Modernize, Transform and Extend your Datacentre to the Cloud"
Track 6: Building Apps in the cloud
Track 7: Modern Development with Visual Studio
Track 8: Developing Solutions for the Internet of Things
It's quite the event and one we're sure will appeal to many within the community. As highlighted above, tickets for the Tech Day are on offer for £59. Check out the Microsoft Future Decoded (opens in new tab) and Apps World websites for more details.
Microsoft's Future Encoded Ticket Giveaway!
We've teamed up with Microsoft UK to hand out five (5) tickets, enabling lucky winners to attend the third day of the Future Encoded event for free (tickets are worth £59). So, how does one enter?
Please note that you'll have to be located in the UK (since the event is actually in London). We'll select the winners on September 30 – you have three days!
Windows Central Newsletter
Get the best of Windows Central in in your inbox, every day!
Rich Edmonds was formerly a Senior Editor of PC hardware at Windows Central, covering everything related to PC components and NAS. He's been involved in technology for more than a decade and knows a thing or two about the magic inside a PC chassis. You can follow him on Twitter at @RichEdmonds.
I would actually past attention to everything around cloud, so that I get to know things I don't. Also, I would like to learn about the visual studio easiness of creating multi platform apps. After all, I have never been to London, it would be a nice trip for me, it is worth both the trip and the destination. :)

I work in Bioinformatics so I am always interested in learning better ways to handle big data so attending Track 2 would be a great opportunity for me. Thanks :)

I am a recent IT graduate. Just give me the ticket to decode my future. Excel centre is just 15 minutes away form my place ;)

Could be a great opportunity to learn a lot for life. London and Microsoft in one place :-)

Isn't Jason Bradbury an Apple fanboi?

So what if he is? Some people like other tech (or are paid a lot).

Running my own business; PJG Creations, I'd love to attend, always good to meet other developers and broaden my knowledge... I'd be very interested in Track 8's IOT... Sounds great!

Track 1 is where my interest lies for this event and is the secret to the dev future, in my opinion. If MS can achieve and convince developers that they have achieved a write once environment then that would be a major coup. Until Apple & Google block the apps some how :-)

Developers, Developers, Developers, Developers, Developers, Developers, Developers, Developers, Developers, Developers .... I just love this (Microsoft) Company

Who wouldn't want to go? Having just finished university and entering the business world of software development, any chance to broaden my horizons at these sort of events would be fantastic! Being the app developer I am, obviously the first track would be for me!

I'm looking forward to hearing the talks, particularly Brian Cox, as it's probably the least "technical", and more abstract thoughts that will generate the most creativity and inspiration. As for the technical tracks, I'm finding it difficult to choose just one. Most of them would certainly introduce new ideas, but track 3, DevOps, is probably the one I'd gain most out of in the short term.

Hey, I'm an international student in London. I'm originally from Nairobi Kenya, over the course of nine months I want to try build an application to remotely manage farms, over the internet for people in Kenya. I think if I go for this event I'll leave with alot of information on ways to utilize a wider variety of Microsoft's tools and also inspired by being in a room full of great minds great concepts and great technology.

Also Track 1,6,7,8 seem so exciting. And they'll really help me out.

I would love to attend the event as this would help with my studies and Track 1 is definitely my choice!

Track 1 above all else, the other factors are important yes - but having a native and stable codebase is most certantly the way forward.

I'd love to attend and definitely am interested in track 6 - as a Fashion graduate looking to move into technology to build a new iOS application for all fashionistas - the track would give me an insight as to how I can utlilise the cloud. Fingers crossed! x

Track 4 is for me! My customers are always looking to use different devices so I need to keep on top of the tools available to help manage their use in an enterprise environment. With such a wealth of devices available it can make the role of an IT Admin very complicated, but with so much variaty there shouldn't be any excuse not to find the right device for every users needs.

I'd like to attend the Future Decoded Tech Day because I'd like to know where modern software development is headed as well as what the trends and solutions to current problems will be.
I'd be most interested in Track 7 - Modern Development with Visual Studio.

Would love to come, Mostly interested in Track 4: Enterprise Mobility as my job revolves around MDM so it would be very interesting to see what Microsoft have to offer. Thanks David

I develop apps cross platform, including for Windows and Windows Phone. I'd love to learn the latest and hear from the great list of speakers.

I can't see what track I wouldn't want to look more into. Track 1 - I own devices that would make use of code for all, which would save so much time when developing for. Track 2 - I love data mining just for the hell of it, and to make it into useful analytical information for others to use is even better espcially when they're not expecting it to be possible. Track 3 - I'm a bit of a one man team for devoping in various environments, so getting/knowing how others can help would be handy. Track 4 - My day job involves working in the enterprise environment where we're trying to work better with other colleagues in supporting their own devices so they can work mobile. Track 5 - We're just starting out with a hybrid AD to work with Office 365, It would be nice to see how others have taken the hybrid ways and how they've expanded. Track 6 - I'd love to be more involved with cloud (Azure espcially) backend, there's so much Azure has to offer and there's a lot of support when using VS. Track 7 - I use VS mostly for app development on Windows and Windows Phone, it would be nice to get more use of VS for Azure and see what else I can learn when using .NET Track 8 - This is something I'd want to see Microsoft really excel at. I applied for the Microsoft IoT device to play with, and can't wait to see what cloud/desktop/mobile/home system can be created by my devlish hands. So ... I would really like to go :-) I do love that these events happen in the UK, there's a lot that happens over the pond and London is a lot easier to journey to from the Isle of Wight (home for me) than anywhere north of Birmingham

The Tech Day sounds excellent, would be great to learn more about Azure and see Brian Cox speak. My favourite track would be 8, the Internet of Things!

I would like to go But Haiku is difficult Refridgerator But seriously; I work a lot with Visual Studio so Track 7 is very relevant to me. I've always been interested in IoT but I don't really know where to get started so Track 8 would be on my list too, and I would also be interested in Track 1 having developed both native and web apps. The trick is going to be picking between the tracks!

This is now closed. We left it a day later as the article went up slightly late. We'll let the winners know in due course :-) Cheers, guys!

Have all the winners been notified?

If anyone is still interested, the site (http://www.microsoft.com/en-gb/about/future-decoded-techday) is showing as the tickets are free

There's nothing on the website about day 3. It's advertised as 10th - 11th November. Where did the 12th come from???
Windows Central Newsletter
Thank you for signing up to Windows Central. You will receive a verification email shortly.
There was a problem. Please refresh the page and try again.