Microsoft confirms Gears of War: Ultimate Edition due to launch on Windows 10 by end of 2015 [Update: Maybe not]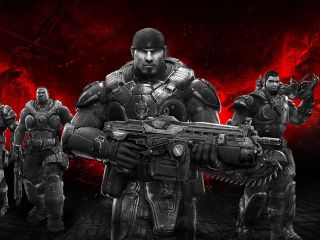 Update: The Verge has now updated its story, saying that the Gears of War release date for Windows 10 has still not been revealed yet.
Original story: The promised release of Gears of War: Ultimate Edition for Windows 10 is still due to be released by the end of 2015, according to a new and extensive feature on Microsoft's Xbox division. Microsoft first announced its plans to launch the Windows 10 version of the graphically revamped Xbox One shooter earlier this year.
This news comes from The Verge, which didn't offer a specific release date for the game in its feature. Microsoft previously promised that Gears of War: Ultimate Edition would include support for 4K displays, unlimited refresh rates and more feature specific for PCs.
Beyond this small bit of news, the feature has an extensive look at the current state of the Xbox division, with new looks at a number of games due for the console in 2016, including Crackdown 3, ReCore and Quantum Break.
Source: The Verge
What are the specs required??

Triple dipping on achievements for GOW.

You mean quadruple dipping? Gears of War 360 Gears of War PC http://www.amazon.com/Gears-War-PC/dp/B000VBFW7E Gears of War Ultimate Edition Xbox One Gears of War Ultimate Edition PC

I was hoping this would be the first example of crossbuy with xbox one.

That would have been a nice Christmas Present from Microsoft and more likely to happen since they own it

Slightly related, where the **** are my backward compatibility codes for the GoW series Microsoft....!??

I got mine in November or shortly after I installed the UE I just didn't check my messages on my Xbox, actually then were hiding in my brothers account because he played the game first, I gave them away though because I have GoW 1, 2 & 3 on disc!!!!

They are going out in waves once a week, I think today is maybe this weeks roll out (can't remember where I saw that) - so if you don't get them today, I wouldn't expect them until next Thursday at the earliest, then they are skipping Christmas Eve week, and the final rollout is on the 31st - IIRC.

I didnt get mine.. purchased forza geers pack. Do I not qualify? Posted via the Windows Central App for Android

You qualify, but just be sure to play Gears of War Ultimate Edition online at least one time before December 31st. They are sending out codes in waves, with many people still to come.

Haven't had nine yet either. There is nothing that says I've done what is necessary to qualify etc. So feels a bit vague

Does the Xbox One version also include access to the Windows 10 version if bought digitally?

If Microsoft has any foresight, they will start bringing all their Xbox One titles to the Windows 10 Store as Xbox games with cross-buy and cloud syncing of progress.

We can only dream, but I doubt it. The only 'crossbuy' games mentioned so far are Sea of Thieves, Project Spark, Gigantic, Fable Legends, and Killer Instict - which are all Free2Play games anyway (the DLC is crossbuy). Of the non F2P games coming out for Windows 10 (Gears and Halo Wars 2) no crossbuy has been mentioned.

Has Sea of Thieves been outed as a F2P game?

Yeah, you are right - no confirmation on that, it is just speculation at this point at both its status as a F2P and if it is crossbuy or not.

It's only three weeks left to 2016 and they still don't have a release date? I'm not sure what's going on here. It doesn't feel like they will do any kind of marketing for this PC release.

Back when the XB1 was released everyone hailed how the PS4 was the gamer's console. I find that funny now because ever since the launch XB1 has had gamer's interests at heart and Sony is simply riding the hype. Where's EA Access on PS4? Where's backward compatibility? Why doesn't Sony release some Exclusives on PC? Becuz they value gamers less than XB.

Oh, the PS4 is getting a form of backwards compatibility. It requires PS Plus and will allow you to stream games but with a price on each game. This is according to my nephew who is a huge Sony fanboy. I think it's a pretty lame way to go about it since game streaming is still very inferior to putting in a disc or downloading like with the Xbox implementation.

It's called PS Now. It's way overpriced, it's cloud based (hence bad frame rates), and limited games. Sony simply wants gamers to pay them for an overpriced, gimped service than allow THEIR users to have EA Access. It's clearly an anti-gamer play by Sony.

Just FYI, "has still not been revealed yet" is redundant. Either "has still not been revealed" or "has not been revealed yet" would suffice.

I seriously forgot about this. Posted via the Windows Central App for Android
Windows Central Newsletter
Thank you for signing up to Windows Central. You will receive a verification email shortly.
There was a problem. Please refresh the page and try again.