Microsoft HealthVault ends its Windows Phone support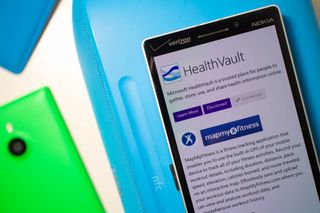 Microsoft has sent out emails to Windows Phone members who use the HealthVault app, informing them that the company will be ending support for the app "due to compatibility problems".
Windows Central readers sent over the email that Microsoft pushed out informing them of this decision:
Microsoft HealthVault is a service that allows people to store their health and medicial information online. It launched in 2007 and Microsoft released the Windows Phone app in 2011.
Thanks to everyone for the tips!
Thanks our mistermind...
Now Daniel will get angry with me :]

It's taking too much development time for android Cortana.

Me too! With UWP, Xamarin, or even Project Westminster, Nadella's Microsoft states, "We want to continue to provide a reliable HealthVault experience for Windows Phone, which we believe will be best delivered through the HealthVault website." They might as well say, "Microsoft has reviewed the value of UWP apps, and further support of the Microsoft Windows 10, and found it to be a waste of time and money for app developers. Please note that you can still get great Microsoft apps, like HealthVault and others, on platforms we believe in including Android and iOS. In the future, if you ever need enterprise services, like Azure or Office 365, please look us up."

HealthVault is on its way out. Microsoft appears to be punting the healthcare market altogether.

Actually, MS isn't the only one...I work for a healthcare company and all the big players are pulling out of ObamaCare for starters...healthcare isn't going to be inflated like it has been where these companies are making billions..

I'm still waiting for them to fix billing. I changed jobs 2 years ago, and one of our providers will bill the wrong insurance company every time. No number of phone calls prevents it, they just resubmit and move on.

What does Obama care have to do with them killing their app or anyone for that matter and if healthcare is going to be inflated then they ought to have plenty money to spend due to overcharging customers.

Pushing overinflated health costs down kills business for the vultures who were taking advantage of the sick and infirm.

He said healthcare will not be inflated (read the comment). And Obama has to do because he took credit for the ACA, which is causing many companies to pull out of healthcare or sell to larger companies who are trimming a lot of fat. This is all stuff you can read about in industry reports and economic/financial news.

Of course there will be realignment. Healthcare shouldn't cost what it has in the US. We have the highest cost of care compared to similar developed nations. And is why even those with some money are going overseas for procedures. Posted via the Windows Central App for Android

Actually they will. With less competition the rates skyrocket Posted via
Trump 2016

Well, is this app available on iOS/Android?
If so, how does it function om those platforms, and will it stay?

Not as a Microsoft Healthvault app. There are a couple of third party apps on the Healthvault web site suggested for Android but they do not work very well.

I know it is available on iOS and is much better than the WP version (more functionality, better performance). The email says only the WP app is going away for now.

(In my continuously higher-pitched Stewie voice) And now this means they can focus their men towards the Microsoft Health erm Band app? Maybe they'll uhh... finally deliver on that UI refresh that went dry shortly after being announced in goddamned June? Maybe ramp up the social gamification so that we have something similar to Nike's Fuel or InKin's stars that we accumulate for comparison against our buddies? Maybe uhhh take advantage of their long-established MSN ecosystem so that we can add Band users through their hotmai/outlook/live email instead of being solely dependent on Facebook? ​Maybe Band can even uhhhhh get some logging capabilities for diet tracking? Integrate them Healthvault features into Band so that we actually have less convolution? Give us a way to cheer on our buddies when they announce that they've started or completed a workout? Maybe they uhh... add some depth to the challenges to make social interaction less one-dimensional? Ya'know? Turn this loss into a win? Make their userbase happy? Naah, they probably won't do that...

Considering Microsoft Band is likely on its way out (see the previous article about cancelling Band 3 and Windows 10 integration), I wouldn't hold my breath on this.

The breath I've held in my cheeks for undelievered Microsoft promises is awe-inspiring. They are red with breath... amazing, considering my complexion.

They haven't really cancelled the Band 3, they just laid off the team that was responsible for bringing Windows to the Band. Everything else is rumor at this point. That said, I will be disappointed if they kill the Band, or not announce a Band 3 at the October product announcements (I expect to replace my Band 1 around the holidays, and I'll go with a FitBit if a Band 3 is not announced).

Classic Doublespeak: "We haven't killed the Band 3, we've just laid off the entire team developing it and are not devoting any funds to its design"

It's not double speak. You just aren't smart enough to understand the difference between another version of MS Band and a version that runs "Windows 10". It really never made sense to have Windows 10 running on something like MS Band. It is far to power constrained to run anything that remotely resembles Windows. Even the IoT version of Windows 10 (which I have quite a bit of dev experience with) is far to complex for MS Band hardware/form factor. A device like the MS Band really only needs a firware layer. Anything more than that is going to make it slower and less effecient than it could otherwise be, with no real benefit since the UI is so constrained that it won't resemble any other Windows 10 experience anyway. Ending the MS Band/Windows 10 dev project makes sense and it doesn't mean that the MS Band 3 project has been canceled. It could very well still be going forward as a firmware solution like the previous MS Band models.

Well played. I loled at my desk visualizing that in a single breath, progressively increasing in pitch :p

The bottom line is, odd that is band is to replace health vault, then MS is a big boy and should be able to state that clearly.

Microsoft behaving exactly like Pakistan. Lots of promises but hardly meets one.

Lets' hope for a Windows mobile app

Don't know if I should laugh or cry.

Laugh
After ibm wont eat it's own food
In 1995
Now we have Microsoft wont eat its own food

Stunned silence and disbelief is appropriate on this one.

La Divina Comedia. Nadella's legacy in a nutshell.

I'm sorry, did Microsoft just tell me they have ended support for the app, but I can use the website as a substitute? And there is still an iPhone app that is supported? ROFL! Wow wow wow

Ms is loosing credibility as firm
They don't understand this concept If you want that the market buy your products you must give excellent support on your own products, elsewhere ppl we'll laugh at you and buy other brands

Honestly, that particular app was never useful in any respect. No data from any source was *ever* available in the app for me (not even data from the Windows 8.x tablet app. For once, they're quite right that you'd be much better servers using the website. Just pin it to your start screen.

It's on the Apple App Store, with many other Microsoft apps that don't exist on Windows. Lets face it, Microsoft is screaming (with their actions, not words) to app developers that UWP apps are a waste of time.

Let's not let hyperbole get the best of us. It's definitely not great news - it's embarassingy bad news particularly because of their presence on other platforms. Still, I have faith in the future of Windows 10 Mobile because as a platform it is crucial. It just doesn't appear as if it is of great import (to them) as we need it to be at the moment. After 7 years, it might be time to start using tools that do meet our needs and follow Microsoft's progress until their products can meet them, too. :/ No one can be shamed for supporting a platform they find unique and interesting. No one can be shamed for reconsidering their position, either.

What a breath of fresh air with the constant trolls around. Thanks for a real comment.

For what it's worth, Microsoft Health runs like garbage on iOS. Well, I guess I could say that Band syncs like garbage. It takes a very very long time for me. At least notifications are instantaneous.

It does sync slowly, and I don't know whether to point the finger at Apple or Microsoft. But it does sync reliably, and the rest of the Health app (Band App?) for iOS works well. I only wish the program sync'ed with Apple Health, so I could have all my health data in one place.

This isn't the Band app they canceled, it's the Health vault app

Yeah, I was more referring to how the Health app on iOS could be better. Basically, just because the app is there, sometimes it's still not all it should be.

eh, not much that is available on the apple app store and not on windows phone is that much of an app. admittedly, there is definitely more, and there are a handful of decent ones, but it's not as terrible a picture as you're painting. moreover, i wonder how many developers' resources they have to put towards windows phone. keep in mind, their software development groups follow the same business rules as the rest of the world. i honestly don't think we're going to see a big push from Microsoft until they have the rumored "surface phone." they'll need to make a big splash there. anything now will be forgotten by then. if the surface phone fails, then... well... i dunno.

Dude, this app isn't a UWP app. It's the old Windows Store App or Windows Phone 8.1 XAML app. No wonder they've cut the support.

Excuses Just because Microsoft is taking it down . Don't pretend it wasn't useful for at least some of us. This is a kick in the teeth no buts

And this would be a fine attitude to have if they killed the app on all platforms instead of just Windows Phone.

If this isn't an abandon ship message, I don't know what is. It's one thing if a 3rd party dev leaves the platform, but when they do it to themselves? Pretty clear sign of things to come.

if they stopped developing ms office for windows 10 mobile, *that's* an abandon ship. stopping an app that hasn't been updated in forever... that's not abandon ship. considering it's involving health information, they have certain laws to abide by in regards to the apps. there's probably not enough usage to have it make sense right now. they can afford to keep their core apps in spite of low usage just to keep the platform afloat. but they aren't a charity. this is a tough time for microsoft in regards to mobile and they have a long road ahead to get to become a substantial platform and it's not going to be smooth sailing. they need to spend money wisely to get there, if they are in fact going to get there.

I'd never even heard of it until now, can't say I'd bother with an app like this. I doubt it had any users?

Sure, the loss of one app (that honestly I've never used) doesn't really hurt much, but look at the bigger picture. This is about perception and messaging. The app is still aviailable on other platforms. Doesn't matter if it sucks or not, what does matter is that what most people see is that Microsoft is ONLY supporting competing platforms and not their OWN platform. Do they have a UWP app coming? If so they need to ADVERTISE that. Hell, even here where you're surrounded by WM/WP/MS fans, it looks bad. Imagine how that looks on regular sites? Say one other news outlet picks this up and then another one does and so-on. Regardless of the actual intent here, which they've been compeltely mum on, the message that gets crafted is that not only is WM dying but even Microsoft itself isn't buying into the UWP platform. Is that true? Probably not, but no clue... Why? Because Microsoft made NO EFFORT to control the messaging and perception.

Why is Microsoft doing this? I know they said that they will not focus on mobile this year instead Redstone 2 will be a good news for mobile but all these news are giving away bad hints to windows phone users. Even if Microsoft is trying to rebuild everything from scratch, these kind of news will always come with negative effects.

They don't understand their own errors.....

Yep, they just don't understand the damage they are doing to themselves, their credibility, and their Windows platform.

It should have been merged with the MS Band app.

?? MS release Band app to support the band and to be able to remove Healvault app. MS would also replace Healtvault app by Band app on iOS and Google store. Simple.

At what point should we jump ship? Microsoft doesn't even take care of their own apps any longer.

Yea they clearly dont, thats why were getting updates for Outlook, Skype, Onedrive etc. /s

Microsoft is supporting the apps on other devices much more than their own OS.

I run an iPhone for work, and Microsoft has more apps there, and better versions of many. Even more apps for the enterprise, like SharePoint, Delve, etc. So why would even an enterprise adopt Windows over Apple just to lose access to Microsoft apps (and others of course)?

That's the point, ms focusing on biz market with wm are simply lies I heard the same words with os/2 from ibm in years 90... Theese firms lie

MS needs to offer their apps in the other platforms because that's where the users are. That's where the profits are. MS's user share is TINY relative to iOS and Android. The amount of people that use this app is not big enough to keep it going. I'm a fan of MS and Windows Phone but I'll be going to Android before Xmas. I'll have many Windows apps on my Android phone so I won't be abandoning MS all together.

I understand they need to offer apps in other platforms. Nobody is saying they shouldn't. I'm just saying how are they supposed to grow the Mobile OS if they don't offer the same apps for Windows Mobile?

@Barstow15. The flaw with that thinking is well "if Microsoft does it then why we developers need to bother?". To get more users you need regularly updated apps. But if you don't have regularly updated apps...well you don't get to retain users do you lol.

@TechFreak1. The developers don't bother because the market share is small. The market share is small because most of the world doesn't want a WP. MS knows that they can't win the mobile race. They've spent billions in mobile and look where they're at. They are now focusing on areas that they can do well in. Unfortunately, mobile phones isn't part of it. It's all up to the OEMs to take over WPs and even this will be hard.

Is it because your work demands can't be met by Windows Phones anymore?

That strategy ensures that other platforms is where the users will stay. This isn't how you revive a brand. This is product mismanagement.

MA could continue to pour billions more in, and it won't make a dent. Platform lock in is real. They weren't even having great success in 3rd world low end phones against the low end Androids. Posted via the Windows Central App for Android

That's true unless it isn't. People said that about Apple back in the day.

sharepoint and delve are both available on windows phone... i mean, i don't know the quality as i don't work for a company that uses it, but to mention apps as not being available that are indeed available is doing a disservice. what apps are available on iOS and Android that are actually not available on windows mobile? I know they exist, i'm just curious which ones they actually are, because its *not* the two you mentioned.

and you blame them? iOS and Android has more marketshare of course they are putting more effort into that platforms. Doesnt matter if you have your own, it is business and you make business decisions which makes you money and not fanboys decisions.

Yes I do blame them. They don't want to update the apps or create apps to work with their own OS, Why would other companies create apps? When us fanboys are thinking about leaving because Microsoft won't update or create their owns apps for their own OS, how are they ever supposed to grow the OS user base? What ever happened to porting over IOS apps to Windows?

"Why would other companies create apps? " And thats the other question. I was just answering why is MS updating iOS and Android, because they make money of it. Its business. Your second question however is something else and there is no point discussing that.

Business or not, if they want enterprise adaption their apps must have feature parity across the board.

Most of the apps they send over to iDroid are giveaways. I haven't seen any data supporting the notion that those efforts are converti g iDroid users into paying MS customers. Are they upgrading to O365? Are they subscribing to Groove? Where is this so-called "its a business" money?

I kept Office 365 when I switched to Android. If Office 365 didn't work on Android, I would have dropped it for something else that did. Posted via my Moto X Pure Edition using the Windows Central App for Android

So they gained no NEW revenue. Also, this is one atypical scenario. I haven't seen any reports that this has been a windfall of cash strategy.

I doubt if they ever will. The market is saturated, and there aren't many new customers available for these services. Posted via my Moto X Pure Edition using the Windows Central App for Android

i don't think any fanboys are thinking of leaving. i think folks who used to be fanboys are thinking of leaving.

After every app leaves Windows Mobile, I consider leaving. I need to see some good news come in every once in a while.

First, stop pretending your fanboy insults are logical arguments, or that you have an exclusive, infinite wisdom of "business". Please show me the data that says Microsoft giving away free apps on iDroid has netted them significant new revenue. I'd love to see it. When XBox "couldn't compete" with Playstation and Nintendo Wii, if Microsoft followed this line of thinking, they'd just be making games for Sony. Apple would be making software Windows. Growth is a real "business" strategy and not the butt of a lame fanboy joke. Please remember that "business" is more complicated than "go where the users (currently) are" as if that is a static scenario.

I'm closer than ever to joining the Windows Outsider(tm) program. Android and iOS both look fine, and I'm ready to jump ship and swim in a sea of apps.

I just ordered a Galaxy S7 Edge. I use very few apps. Windows 10 Mobile is fine for me. But little by little, I feel like I'm supporting someone who doesn't support me back, like working the pole to pay for my boyfriend's law school tuition knowing he is only going to trade up once he gets that diploma.

Gob smacked. Painful when developers do this to us . But when Microsoft do it it's a killer blow. They can make good apps for other platforms but not it's own. We can't just keep taking s**t and pretend things will work out sometime in the future. We are parting with our hard earned cash today. Just not good enough. Sure I will use the website for now but anything happens to my 950 I'm out

I hear you man, my XLs days are numbered

Mine too. When it dies jumping to Nokia Android. Hell i hate android though

I have 4 days to return mine and for the first time I am seriously considering it...

It was never a good app on any platform. Infact it's been so bad most people using it have been using the web for a while. A web wrapper would have been better than that lame app. And maybe that is the point. Maybe they have to come up with something else other than a disjointed health platform.

Me too. The second my 930 dies it's over. Omnia, 710, 920, 930. I can't seriously be bothered anymore. MS royally sucks at the consumer-end now and seems to have completely lost it. The UI of xbox is horrendous. This whole unifying thing is clearly made by engineers and not designers. If you want a presence at business you must appeal to consumers. Consumers makes businesschoices at work. And will choose what they are most comfortable with. My company chose 1500 iPads to Surface. Even though on paper Surface would make more sense. MS is definitely losing mindshare with this business-centric approach......

With Surface being a full fledged PC Windows option, the decision to use iPads must mean that business doesn't need a deep OS to perform it's work. Posted via the Windows Central App for Android

Not very soon you'll see MS sending an email to all windows mobile users to migrate to Android or IOS and say all their core apps and store will be shut soon... :-(

bawajose, that one really is COMING SOON. NOT COMING SOON™

So Microsoft's solution if there are software compatibility problems is to remove the app altogether instead of fixing the problem. Pretty much tells you about Microsoft's attitude towards Windows Phone users.

Unfortunately I think you're right. We're getting those "apps no longer supported for Windows phone, but you can still use the website!" Messages from Microsoft themselves now..

And we thought Ballmer was bad for the company? Ever since Nadella took over, its been nothing but layoffs, closures, and app losses (more loss than gain for sure). Yeah, he's been great...

Completely agree, only Daniel still advocate Nadella...
Our mistermind lol!!
Since ms shares are high right now... Let's see in one or two years...

I swear, if I see one more article trying to paint all of these decisions with the "retrenching" brush...would be curious to hear actual conversations in the WindowsCentral back office...

What about the profits though? I'm compassionate and it's so sad there's been layoffs etc. But his job is the health of the company, so has he improved the numbers overall whilst he's been there?

In the short term yes, but it is the long term that matters, maybe he just wants to get the prize for high shares and disappear with the money but the company is left with a sad future selling cloud services to enterprises and losing all the consumer space. Let's hope they'll wake up. I'm waiting till october lineup, if they don't show something interesting I'll get the next Galaxy in spring with a new mobile operator and call it a day. I can always keep a 640 to test apps now and then.

In the long term, Microsoft appears to be targeting services in the consumer sector, and software in the commercial and government sectors. It's a big gamble, and it might not work, but they apparently feel it's better to target their strengths (and where they're hugely profitable) than focus on a fickle consumer sector that (in the US, anyway) only allows Apple to make any money...

There's more than one way to have a successful company. It was clear that Microsoft was slowly but surely gaining momentum with some of their consumer products. But Nadella has come in and squashed this small sapling of hope, for the sake of focusing on shorter-term cash cows

AI, deep computing, software, services, enterprise, and everything linked to those is where they have a clear future. Spending billions on a mobile OS that would never gain any significant share was just hurting MS. Posted via the Windows Central App for Android

Wrong. Ballmer made a mess with Windows. Nadella is mopping up. As a gauge simply take a look at the stock price. Under Ballmer the stock price was stagnant. Under Nadella the stock has reached all time highs. Ballmer wasted too much money with WP and people were fooled thinking it was going somewhere. Business before fanaticism.

Never trust stock price as a gauge of company success. They're selling assets (although buying "trendy" companies) and cutting costs, both things that investors seem to get a hard on for. Ballmer "wasted" money in the sense that they didn't get the market share they hoped for. That doesn't mean it wasn't intended to create long term prosperity of the company. Nadella is just an axe man. He'll cut the company down, increasing share price, then be replaced in a few years after he's made millions, making the company more "lean". Doesn't mean he's making it better. They were a profitable company with the staff that they had. Nadella should have just pointed those people in the right directions, instead of pointing them toward the door.

I don't agree with you. As guages of success, stock prices are just about as accurate as anything else, since they tend to be based on analyst's predictions of profit and cash flow for the next 12-18 months. Balmer and Nadella clearly had two different visions of the Company. Balmer wanted to become a force in smartphones, and was willing to sacrifice short-term profits (and more than 7 billion of the Company's cash) to do so. Under Balmer, we might have already had a Surface Phone running Android apps. The question is, would that product have been good enough to blunt Apple's futher ascendancy these last few years? Judging by the way Android apps ran on Windows Phone, I think it would have been a further waste of time and money.

Stock value is based on prediction and people's "opinions" of what they think a company is going to do, and how much return per share they can look at getting. If market values were based solely on facts, there would be no market crashes. People panic based on some world event, and everyone but the major players lose most of their money. There have been times where my company was on an upswing, and the stock was crashing. And other times where we were selling assets, and the stock was rising. People are fickle, and the stock market shows this. The stock market is a joke, and used to make the rich richer by giving them access to everyone's retirement savings accounts. Making a company more "lean", which has been the trend in recent years, does not make it a better company. Training and retaining good people has been replaced by binge and purge. Intead of being concerned with long term viability and growing a sustainable market share, executives are concerned with their short term gain.

Nadella's vision is garbage. He knows nothing about quality. All he is interested in is laying off people, killing apps,, and cut costs down. pathetic Posted via the Windows Central App for Android

Really? That's why he's investing in services, AI, AR, and various software, services, and deep computing. Cutting fat where your not focused, doesn't mean you don't have a focus. It's that having a mobile phone division isn't that focus Posted via the Windows Central App for Android

Nadella is a focused man
He's cutting because he's refocusing on where MS has strength and a way forward. Posted via the Windows Central App for Android

Because Palmer was pouring billions into a sector they will not win. Nadella could have poured billions more in, and it wouldn't have made a dent. Mobile phone OS & Hardware isn't were MS is going to thrive. Posted via the Windows Central App for Android

Stupid app never used it.

So, that's not the message that Microsoft just sent the world and app developers

Nothing new. "If you wanted to reach a lot of phone customers, Windows Phone isn't the way to do it." - Terry Myerson, Executive Vice President of the Windows and Devices Group

Not exactly what he said,is it though?

sad trombone! wah wah wahwahawahhhhhh.

Yest another company leaving Windows Mobile... Oh wait...

Deamion....upvote for you...that was gold!

I hope I'm wrong but all actions of MS over the last year point toward ending their mobile adventure. E.g selling off their phones for cheap, no new hw, discontinueing apps on mobile and improving them on ios, half hearted and delayed launch of the x3, no user friendly upgrade from windows phone to mobile, and so on. I often wonder why I'm sticking around, not because I think MS is doing a good job on mobile.

I have been saying this for ages!

So wait, so Microsoft, who owns the health vault service, and made an app using their own tools for their own windows phone, cant get it to work within their ecosystem but can do it for iOS and Android?? What in the flying **** for real!??????? That's like Microsoft taking back gears of war4 and being like, there's compatibility issues with the Xbox one...even though we made the game, the console and everything between, it doesn't work. But you can get it on mac PC tho! FFS Microsoft is really starting to piss me off. The incompetence in some areas is truely staggering

LOL yes, precisely. It's f*ing ridiculous.

Is there definitely an Android app? This article is old but there wasn't one in 2013: https://blogs.msdn.microsoft.com/familyhealthguy/2013/05/02/whats-the-st... Waiting on confirmation whether or not the iOS app is actually staying around as a supported app.

Good point. Did a search for it in the Play Store and it led me to the Microsoft Band app.

MS might move their games to PlayStation soon. That's where the users are.

There isn't an Android app. And this isn't a UWP app. It's an old windows 8 store app that hardly anyone used Posted via the Windows Central App for Android

Fair enough, there isn't an android app, and indeed, not to many wp8 users used it, but that doesn't excuse the how ludicrous the compatibility excuse is. They made the OS and the service and everything in between. How can it no longer be compatible? I mean sure, they could have made changes to the data structure of the service for example, which would mean the client would need updating to read the new structure, but I mean hell, is it really THAT hard for Microsoft to update the app they made for the service they made for the OS they made, even if not too many people on it use it? They could update the iOS version... And if their excuse is well, not many people in our ecosystem are using it, then isn't that a basis for nixing anything else WP/W10M since usage/penetration/marketshare is and probably always will be low??? That doesn't concern you at all? I could really care less about the health vault service as I don't use it, but it's the justification and implications of this move that have me worried.

I think apps as a whole will die pretty soon, people are getting overwhelmed by the amount of apps, and using the same apps all the time...

Isn't this something Android is looking to change? I don't follow it closely but I saw something about rather than going to the app store and downloading an app, you'd just launch it from a website or somewhere else, like a link. It wouldn't actually have to install direct to the phone....SOmething like that anyway that was aimed at moving away from the current app model

Web sites with notifications should be the future for anything that is not closely related to phone sensors.

It would install part of the app, but it's very limited to which Google partners are using it at the moment. Posted via the Windows Central App for Android

Bots will take over...ha ha ha! Apps are not going anywhere.

Even Microsoft are pulling their apps from windows mobile. FFS im done, and I really didn't want to buy a peasant droid.

You would be so happy with either android or IOS at this point.

If Microsoft can't get an app to work on their own platform, and if rumors are true, can't get Band 3 to run windows 10 iot, then how is anyone else supposed to develop for it. Is it really that much harder to develop for Windows 10 than iOS or Android?

This is just stupid. Hey, Microsoft! "Stupid" can easily be avoided!

As in the words of the Great Uncle Si, "YOU CAN'T FIX STUPID!"

Wow, you think one of those backwards hillbilly morons is "great"? Sucks to be you.

You obviously don't have a sense of humor then! and do not get the joke.. Must wonder who acutally is the "backwards" person. that being said, that quote is quite accurate...you can't fix stupid!

**** you microsoft. I am done. I ******* got a 950 xl with new hopes for ms. **** you.

Do we have 100% confirmation this is staying on iOS as a supported app? or could it also be due to go soon? I've never found any use in HealthVault as I'm not in the US where it seems to actually integrate with things. Maybe it would have been useful if I lived in another part of the world. I can chalk this up as a "I'm not arsed about this app" situation. They might only mean Windows Phone 8.1 anyway, but it's certainly ironic that Microsoft themselves are directing users to the mobile site when that's what people losing apps seem to hate to hear.

HelathVault, Microsoft Band, what are they doing, wish they could be clear in thier communication to the world about the direction they are going in.

No way! Didn't see this coming for Microsoft's own app. This just sounds wrong.

Not only wrong but it sends the wrong signals and especially at this time of flux... Microsoft needs to be heavily advocating the universal app platform with their own apps.

Hmmm. Sometimes I wonder why I support MS

Tym for another jason ward article!!!

My suspicion is two pronged. I believe discontinuing the health vault app on microsoft phone platform and renaming the band app on their own platform is probably related. When they renamed the band app i fully expected that the health vault app would be renamed Microsoft Health. If they do that, they can go multi-platform and allow support, not just for Microsoft band, but also for things like gear and the ios watch. So, Rather than carry on with 2 health initiatives, there would be a single health initiative cloud that band can tie into. Therefore it would be reasonable to expect an overhaul to the band experience a reboot that would not require new hardware. I also believe in regards to the band that they were fully looking at getting windows 10 IOT on the band but since it is not possible with current hardware why not allowed the current hardware to continue to exist for 18 to 24 months until the needed processing hardware does exist to get IOT on band 3. This is all speculation of course. It's similar to saying that you can expect a USB type. C connector as the port on the Xbox Scorpios controller. or similar to saying that scorpio would support micro SD cards and have a reader that could support 2 are 3 cards allowing hard drive expansion en masse instead of buying and plugging in a USB drive. Strictly. It's all just speculation. But the direction there moving in with health would indicate that maybe I'm right. What do you guys think?

The app was crap and everyone knew it. But as a staunch supporter of the platform, the is the first time I have thought twice about my support. I have an iPhone and I very much dislike it (other than the availability of apps). Carried many android devices, and I just am not a fan. I don't even know... I just don't know.

This really sux. I use the app to keep track of procedures, deadly allergies my wife has, weight, blood pressure, etc. MyFitnessPal bowed out last month, which is the only app that had true/easy calorie counting. I can't believe MS is pushing UWP and then abandoning it internally. This makes zero sense!

This wasn't a UWP app was it? I thought this was the old windows store app, which is why their dropping support. Posted via the Windows Central App for Android

I hate to say it, but I think this is it for me. I bought into the whole Windows 10 ecosystem because the vision that they presented was great. But everything they're doing seems to indicate that their vision is failing. My 950 is due for an upgrade in a month. I think its time to move to an iPhone.


Nadella killed UWP with retrenchment. It was not a mistake but done on purpose. UWP can't survive without mobile.

Im with ya, this is the final straw for me.

Did u use that app daily? Just confused.

I have to agree. I hate the idea of being an iSheep, but at least sheep get fed (with apps in this case.)

Isheep is just a term for those who enjoy stability, smooth fast running devices. SPECS mean nothing......If it did, the 950xl would mop up the iphone 6s +.....however, that does not happen.....its the other way around. The IP6S+ is almost twice as fast at tasks than the 950xl. You should really try the apple side of life. There is not stress because, when you buy an apple device, you know your getting support for many years. Not just maybe like everyone else. You know that when an update is released you are getting it then and there, not SOON™, You know that when you go hey, I would like to try that app, wearable, accessory, device......YOU CAN! OSX and IOS are really great. Only fanboys of windows think otherwise. I used to be like that as well. But after the shitstorm that is windows 10 totally ruining the touch experience on the surface, and just KILLING mobile, I said enough with microsofts LIES, and sold every windows device off, cancelled ALL my Microsoft services and what not. I am 100% Microsoft free and computing is great and fresh again. Not slow, laggy, buggy and just plain lame. Its fast, quick, stable, and works as it should. I traded a 2010 acer timeline for a 2007 macbook 13.3" notebook, and the macbook is faster, smoother, and just works better than any windows device I have owned...including my surface 3s. The 3 in 1 device is a gimmick, full of comprimises....Its not great as a laptop, its not great as a tablet, and its not great as a desktop. Hence the reason Apple has decieded to forgo making one. They know that doing that you comprimise functionality of one or more "devices".....

I'd they can't get their own app to be compatible with their own OS then their OS is a failure Imo.

Compatibility issues... Don't they make the app, the OS, the azure backend, and most of the hardware??? Come on..

Nobody makes hardware targeting that app's native environment anymore. Apps designed for WP8.1 are on life-support as it is, with evidence of stability / compatibility problems in the most recent Redstone 2 preview builds. I suspect, soon enough, you'll see Microsoft pull the plug on the ongoing ability for anybody to distribute any WP8.1 apps. It will be UWP or nothing. Since the app we're discussing here was a WP8.1 app, that probably indicates that they figured the development effort that would have been required to port the existing app over to UWP would have been unjustified, compared with the alternative of maintaining a mobile-friendly website.

Maybe the solution here is an 8.1 (Silverlight xaml) to uwp bridge.

But I do agree. They should be more transparent but then the plan around band and the health service wouldn't be secret.

Personally I feel like it's more a matter of laws and regulation. It's probably not cost effective to support the app to keep it up to date with required-by-law encryption, etc. I think they're either getting out of the health market in the long run or spin it off into a different app. But even if its soon, it just wasn't worth spending the money and resources to keep it up to date with laws. HealthVault is not like other apps. When things have laws and regulations that it needs to abide by, it's a different story when deciding to support it.

Not very promising for MS as cloud services provider if that's true.

I got a 920 when it first came out and upgraded it to a 950 xl. I have over the years convinced parents and grandparents to use windows phones. Ever since I got my 950 I've been nothing but disappointed by the development of windows mobile 10. Yes it has brought some nice upgrades but the development is far too slow, UWP seems dead in the water baring a few apps and now even Microsoft is not supporting their own apps on the platform. As it stands at the moment the 960xl will be my last windows phone. Time to look for a decent android phone and put cyanogen mod on it.

They would have been better off leaving the buggy app. All this did was piss off a bunch of people, rightfully so. How can they not fix a compatibility issue on their own platform with their own phones?

It's an old WP8 app. And because it involves health information, there are tons of regulations and laws, especially around security. Makes no sense to support an old, outdated app with next to no users, that has tons of regulations baggage. Posted via the Windows Central App for Android

"In Nadella​ we trust"/ green font. Seriously removing feature/app is becoming a monthly event on W10m by MS, why is anyone still surprise?

Latest news is that Salesforce and Google tricked Mastermind to buy loss making website for 30 billion while the real goal was to get Twitter.

There is still money in the kitty for that....oh and a linked in messenger with a built in bot like Facebook said they are working on that could be part of messaging anywhere...oh wait that is already happening. Go MS.

For those who were using it, did it even work bad?

It worked fine and flawless and was very useful for me. But who cares? Not MS for sure.

billy, There are many many great andorid phones. give em a go, you will be pleasantly suprised!

I was just as stubborn and blind like many fanboys here, until I actually tried something better, a stable platform, where it's builder actually gives a damn about it. Maybe I will return to MS when Nadella is ditched and a proper CEO comes in place. Posted via the Windows Central App for Android

It's worth READING the email. They mentioned compatibility issues, which are not present on the Mobile friendly site, and many users seem to have complaints about the app syncing anyway. Not too worried. Seems more a case of retiring a Windows Phone 8.1 app, not an abandon ship kind of message.

They could have you know made a UWP app and say this how its done as opposed to say because of compatibility issues you have to use the website. This literally has justified the stance some companies have taken. Thus shows that "just redirect the users to website, we'll put the uwp development on back burner and see what happens" is valid. Whereas right now they need all the UWP apps they can get. Heck the uwp health vault app could have tied into xbox fitness and etc. But Microsoft being Microsoft...

hmm I thought I saw an article here about xbox fitness ending too. They should also support their own mobile websites. Windows Central is the only listing under "Apps for Websites" and was the only live pinned website/tile for 8.1/10(?). MS would be nothing without Windows Central.

Agree completely but still think it's a rebrand and relaunch of the health platform with a band 2 relaunch until w10 iot can work with it. Or maybe that takes a year to happen and in the interim the focus is mobile and then iot.

We will discontinue the app WE created for OUR platform because of compatibility issues....uhh shouldnt they have known about the compatibility and been able to resolve or with around them? It's like they devs at ms doesn't even interact with anyone in the company......

Leading by example apparently.

More like Leaving by example.

hmm I actually sent lengthy feedback to MS a few months ago about leading by example and the impact it has on developers...

This actually happened a few weeks ago. I tipped Windows central but they never did anything with it. Truth is the app has been unstable for a while. Every time I tried to sign In, it opened edge to log in, and always flagged edge as incompatible and recommended upgrading to internet explorer. Would actually make more sense to combine health vault and health into one app instead of two or three.

Lol. IE Is an upgrade and combining rather than separating... Microsoft could've simply continued and added to their services. They waste a lot of everyone's time creating and destroying products. Windows Live/MSN Messenger and WMP, especially, should've been left alone.

Bit annoying, hopefully there is a better integrated solution in the works, maybe linked to MS band.

Bad signal. Microsoft canceling mobile wp app because of compatible issues instead of solving.
Didn't some third part apps also end because they had this kind of problems. Please tell me why this isn't a bad signal.
Not to speak about third part apps leaving and saying use the website...

I share your concern, but I hope it's actually a good signal... meaning the team is focusing on a new product to replace it with. I can think of 2 reasons: One: people being more health conscious means MSFT cannot afford to ignore the health segment like this, while AAPL and GOOG are heavily investing in it. Second: our health data is a treasure trove every ad company would give an ARM and a Wintel for.My hunch is: something new is coming
I honestly never understood why Health and HealthVault were 2 different platforms instead of one. It's confusing and it introduces extra layers of complexity for us users. I understand that, unlike the Health app, the vault is for sharing and storage of PHI, but still, if AAPL could build this all into a single platform, I see zero reason why MSFT should have 2. If it is supposed to survive, it needs to be one platform and it needs to be open with connectivity to all other services, just like AAPL Health.
As a Dr. I totally understand that there is a big baggage of HIPAA headaches coming along with it, but that's a trade off in the day and age we all unfortunately have to put up with.

I'm using health vault and not had a message about ending the service. Is it 8.1 only maybe?

kick in the teeth when Microsoft themselves take things away . cant trust them any more

Why was my earlier post deleted??

Reading through these types of comments always makes me chuckle. In a free market, it's your choice where you go, but having read a few comments it appears that those preferring the android route, seldom say Android. It's always Galaxy, Note or Priv or Nokia. It's almost as if the OS is secondary, or that the Galaxy fashion range 'is' android. As for the companies removing their own apps, does anyone remember when Samsung started pulling their own apps a couple of years ago? An interesting quirk.

I chalk that up to folks not knowing which apps work on which devices. I have Moto and Nexus devices, but I have ASUS apps installed on both. Other than a few Samsung exclusives, most Android apps are compatible with any Android devices. Posted via my Moto X Pure Edition using the Windows Central App for Android

Good point about the OS being secondary because whether it's an android or windows phone, the OS IS secondary to the hardware... unless you're one of the many who select devices based on popularity and don't know what hardware is... but even then the OS is secondary, Lol.

If Microsoft can't support its own Apps how the hell do they expect others to.

And I was upset that Vivino has pulled the plug on their wine app...

The problem is Microsoft communication department and (yes) Windows Central reporting the news without adding details... Microsoft replaced HealthVault App by Band App on Windows Mobile a few weeks ago. Microsoft HealthVault service is not dead only the app Band App would continue to push your data to HealthVault service Microsoft may also remove the app from iOS and Android to replace it by Microsoft Band App The HealthVault App on Windows, iOS and Android was doing a little fraction of what the web side can do...not a big lost. Simple, no drama. Now I cannot wait to see Cortana fetching information from my HealthVault account and telling me "it's time for the doctor to put his finger in your a** h**. Should I schedule an appointment?"

@pmartineau That's 100% not true and you have no clue what you are talking about. HealthVault and Band are 100% two different services.

Except if you don't use band, and only use health vault to keep your medical records straight.

I love all these abandon ship comments. They are on almost every article. For those of you going on about apps being better on other platforms, the MS W10m apps I've used are superior in every way, except the sync issue with Band 2 and the Health/Band app. OneNote is FAR better on W10m than Android, for example. I dont use a Windows Phone 8.1 phone, so on that front I dont know.

To be honest I am more surprised that this didn't happen sooner (as in years ago) for this particular app. I mean has anyone here that's mad ever used the app? It was a terrible app from the beginning and never received a meaningful update. Microsoft was never invested in this app going all the way back to WP7. I for one am glad they are getting rid of the app because it is not useful. Seriously, the app only let's you access a tiny fraction of what is on the website. Don't get me wrong, I wish Microsoft would invest more in their own ecosystem and fix bad apps like HealthVault by turning them into polished UWP apps.

I'm curious as to which Microsoft apps are fixed and polished as UWP? I honestly can't name any; most have been discontinued anyway :/

This is so annoying. What good is storing all that data in HealthVault if you need to use the website? I love the experience of my Lumia 950, but every day it seems it becomes more difficult to function without the stuff I use.

Actually the mobile web experience is much better than the app was.

BigData, Sounds like its time to change to a real player in the CONSUMER comptuer market.

Let me guess... the iOS and Android versions are working fine... Showing more support for Windows phone directly from the conpany who created it....

The correct URL is www.healthvault.com. Using the one in the article will take the user to a page that is requesting a four field Identity Code. I contacted MS and they sent me the above URL, which works.

I'm really starting to get worried about windows mobile now as even Microsoft are giving it less and less support. They need to be giving things like this as well as smart watches more support ESP from a business point of view. I hope this is just MS shaking things up as I have a Lumia 950xl and love it but will be looking at android next of support drops even more and ESP if the band support is dropped.

It's not just mobile; there's a HealthVault app for PC too that was also abandoned long ago. I also use a 950XL that I "love" (literally almost broke it yesterday out of frustration). Android is next.

Bye Posted via the Windows Central App for Android

I'm actually using the 'Microsoft band' app anyway

Different app, different use.

Ha ha ha. Waiting for the day MS calls it quit on Windows Mobile.

When Microsoft supports Windowsphone it could be viable.

Wow, I didn't even receive an email.. HealthVault was so handy and awesome, but I stopped using it when updates ended/never came in 2014. Microsoft's best is always discarded, such a shame.

Jason ward. Over to you. Pls assure us apps r dead.phones r dead etc
Windows Central Newsletter
Get the best of Windows Central in in your inbox, every day!
Thank you for signing up to Windows Central. You will receive a verification email shortly.
There was a problem. Please refresh the page and try again.