The Microsoft HoloLens Galaxy Explorer team tries to fix bugs in latest video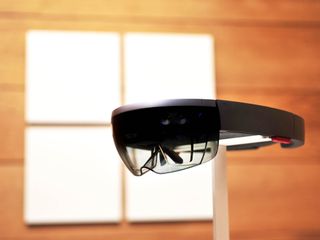 (Image credit: Windows Central)
The small team at Microsoft that is working on the Galaxy Explorer for the HoloLens headset is getting closer to completing its six-week development cycle. In the latest video chronicling the team's work, it shows its members testing out the app and trying to find and fix bugs.
The video shows team members wearing the HoloLens to find things that are inaccurate, from a technical aspect, while also trying to make the Galaxy Explorer app look good. At one point, the team found what is technically a bug that occurs in the transition from the galaxy to Earth's solar system. While the bug didn't scale the transition correctly, it did create an effect of blurry to fine detail in the art. It remains to be seen if this "bug" in fact turns out to be a feature in Galaxy Explorer.
After the six-week development of Galaxy Explorer is complete, Microsoft plans to release the app for free and make it an open source project so that developers can look at the code as a guide for making their own HoloLens app, or even to add to the Galaxy Explorer app with new content. Invites to pre-order the HoloLens Development Edtion have been sent out to some developers, with the first units scheduled to ship some time at the end of March for the price of $3,000.
Apply for Microsoft HoloLens Development Edition
Twitter has new big big update. Yayyyy!

Off topic question. My whatsapp font is quite large after upgrading to windows 10. How can I fix it..?

Would the consumer version be less or more expensive?

We can't know for sure, but it will prooooooobablyyyy be less expensive... Actually it's the most likely since it will be out in a couple of years soo idunno, maybe the parts required will go down in price

Weren't dev kits for oculus and vive cheaper than when they were released? Turned out to be cheaper to be a beta tester.

This developers are SEXY :3 lol they so cute omg I would love to try hololens and this App seems like it would be my number one priority to try out. <3
Windows Central Newsletter
Get the best of Windows Central in in your inbox, every day!
Thank you for signing up to Windows Central. You will receive a verification email shortly.
There was a problem. Please refresh the page and try again.