Microsoft hosting Imagine Cup World Finals and new //oneweek event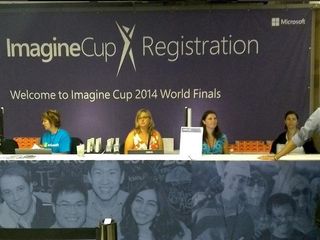 Microsoft employees are very busy this week as the company plays host to two big events. One is the annual Imagine Cup World Finals while the other is the new //oneweek internal company event which replaces Microsoft's old annual employee meeting.
The Imagine Cup World Finals, held mainly in Seattle, Washington, is the culmination of the work generated by 125 students who have come from 34 countries to compete in a number of categories. The students have created a number of technology products and software applications that are being judged by a group that includes Microsoft CEO Satya Nadella, The winners will claim their share of over $1 million in cash and prizes. The Imagine Cup World Finals will hold its closing award ceremonies on August 1 and Microsoft will offer a live stream of the event.
The //oneweek event, which is being held in all of the company's locations worldwide, has been designed for Microsoft employees to not only learn more about the company's new direction under Nadella, but also to have them work on new projects. Part of //oneweek is a company-wide hackathon where over 2,200 teams are taking time off from their current jobs to work on new projects for over 38 hours. Microsoft says, "The projects focus on everything from digital graffiti art to an add-in for Outlook that checks the validity of hyperlinks in an email before it's sent." Microsoft will also hold a Product Fair this week as well.
According to a statement from Microsoft's head of corporate communications Frank X. Shaw:
What do you think of these two events happening during the same week?
Source: Imagine Cup; Microsoft blog (opens in new tab)
That was fun. Went the US national finals many years go.

Sounds like a great way to motivate and garner interest! Noise if one of those teams could work on OPEN VPN support that would be good!

yeah sure , WP 8.1 only support IKEv2

Hopefully that'll change.

Speaking of, whatever became of that sound synk app from imagine cup spring of 2013? It looks like the project has been abandoned.
Windows Central Newsletter
Thank you for signing up to Windows Central. You will receive a verification email shortly.
There was a problem. Please refresh the page and try again.