Microsoft announces BUILD 2015 for April 29-May 1, kicks off new Ignite enterprise conference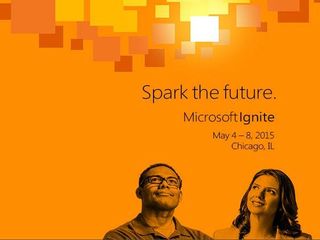 Microsoft has now confirmed that the name of their new enterprise conference will be Microsoft Ignite, while also confirming the final dates for its BUILD 2015 developer conference will be April 29 to May 1.
Microsoft had previously announced plans to consolidate all of its previous TechEd, SharePoint, Project, Lync and Exchange events into one conference that would be held in Chicago on May 4-8. Today, that conference has a name and Microsoft is also accepting registrations for Ignite (opens in new tab). In a blog post, Microsoft's corporate communications head Frank X Shaw stated:
Microsoft also announced the specific dates for the BUILD 2015 developer conference in San Francisco. Previously, Microsoft confirmed that the conference would be held sometime in April but did not offer an exact date at that time. Registration for that event is not yet open.
Source: Microsoft blog (opens in new tab)
'EA Ignite' first thing which came in my mind :D

Lol glad to see this becoming a thing

Oh it's been a thing awhile ago. I see that you are a new member here. It became a thing after each update for Facebook somehow "became faster". So now, whenever there is an app update, the comment you will usually see is "seems faster" here on WPCentral. Sometimes it moves over to random articles like this one.

I know dude lol... It's the first time I've commented on article but I always follow WPCentral news and laugh at "seems faster"

Its as new so as to deserve getting deleted...

Can't wait for Windows (phone) 10...

so nothing on april 2 this timw right? wp10?

This is Great! I wish it was 2015 april.

Kinda want to upgrade to a 1520, kinda wanna see what they announce.....

kinda wanna reply to this message......

Can't wait for April. This time around hopefully no leaks come out and MS will release preview of W10 across all devices available the same day.

Given what they've said and current rumors from fairly reliable people, the W10 preview should be out for all devices well before Build.

Well microsoft at build last time announced direct x 12 for WP phones next year around June hope so dat too comes out with windows10 phoneversion :) its getting exciting

So we wont see flagship lumia until that date? Now that's fucked up. And they will most likely let you wait after announcement like they did with 930.

Surface Phone (aka Lumia 940) Windows 10 mobile

Surface phone will never happen, MS wouldn't buy lumia brand if they were going to kill it. Surface will stay on tablets and lumia on smartphones. Period.

They could release a Surface Phone if Microsoft restrict the Surface brand to x86/x64 devices. Then Microsoft can release an Intel Surface Phone AND Surface Mini. Posted via Windows Phone Central App

Tech preview expires April. Hope Windows 10 is RTM by build.

The Tech Preview is meant to be surplanted by the Consumer preview that's supposed to hit in January or February. RTM by Build is possible, but by no means a given.

Wow, that realy close, just 3 days between Build and Ignite. Anyway, I'm looking forward to Build, and with Ignite a couple of days later, it's going to be a very intresting time. :)

I don't want to see gradient colors, what is this??

Because I always make plans seven months in advance

Given that these events are primarily for businesses, 7 months heads up is in fact necessary.

Great news if it was April...... Seems a bit early for this.. Next apple announces iPhone event date to push build out of the news cycle.... New IPads 'accidental' leak on apple site minutes after nexus 6/9 announcement....

That is what apple has been doing for some time

Guys when windows phone 8.1 update 1 will be available in India??

Shut the fuck up with the "When in India?" comments, please.

Search/use the forums... More likely to get a better answer...

Because any of these people know the answer to that?

I hope they announce WP10 (or whatever they want to call it) at Build...

This is the only reason im getting my license is to drive there to see BUILD... This is my 2nd goal with a dev career

It's ignite​. Looking foreword to the windows 10.
Windows Central Newsletter
Thank you for signing up to Windows Central. You will receive a verification email shortly.
There was a problem. Please refresh the page and try again.