Microsoft India announces exchange offer for existing Asha customers to upgrade to a Lumia 435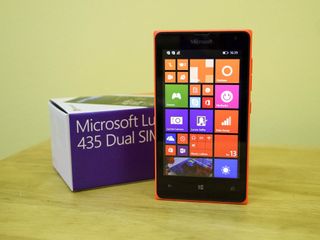 Microsoft has announced a Smart Exchange offer for existing Asha consumers in India that enables them to upgrade to a brand new Lumia 435, and experience the latest and always upgradeable Windows Phone operating system.
The Smart Exchange offer is valid until April 15, 2015 or till stocks last across the country. The deal gives existing consumers of Asha 500, Asha 501, Asha 502, and Asha 503 an assured discount ₹1,500 and an assured discount of ₹1,000 for Asha 305, Asha 306, Asha 308, Asha 309, Asha 310, and Asha 311 owners.
This discount is applicable on the MRP of Lumia 435, which is ₹5,999. Along with that, all Lumia 435 owners will also get ₹1,250 cashback on recharges through the Paytm app (₹250 per transaction).
Announced last month, the dual SIM Lumia 435 is the most affordable Lumia as yet and runs Lumia Denim and Windows Phone 8.1.1 out of the box.
Lumia 435 Specifications
Operating System: Windows Phone 8.1.1 with Lumia Denim
Size: 118.1 mm x 64.7 mm x 11.7 mm
Weight: 134.1 g
Display: 4" WVGA (800 x 480) LCD | Pixel density: 233 ppi
Mass memory: 8 GB; expandable up to 128 GB via microSD
RAM: 1 GB
Processor: Qualcomm Snapdragon 1.2GHz dual-core processor
Battery: 1560 mAh
Primary camera: 2.0 MP Fixed focus
Front-facing camera: VGA 0.3 MP
Check out Richard's review of the Lumia 435 on Windows Central to know more about the phone. If you are a Nokia Asha user, this is a great offer to move finally to a full-featured smartphone, or convince your friends and folks to join in the Windows family without spending too much.
Windows Central Newsletter
Get the best of Windows Central in in your inbox, every day!
This is huge! Asha sells like 40 million a quarter. This could definitely work out very well for them.

Hmm...
This exchange offer was on all daily newspapers.

And I tipped WC yesterday morning itself.

Baxi never acknowledges tips

Because Baxi received a press release from Microsoft on this.

So many Ashas like Lumias. Damn. Probably that's not even the whole list :)

This is indeed a great offer. Readers from other countries might not find it as huge as Indians though :P

*suddenly goes out to find a Asha somewhere*

Hahaha... It's Asha head hunting time. Lol

1500 of 6000 is 25% off. Maths tells me this is significant.

I have a Lumia 625, two 720s, one 920, one 1520, two ASHA 501s and three cheap Nokias in family. Looks like I am gonna upgrade one of my ASHA to Lumia. :D Great offer. :D

Seems like u had a small cell phone shop

hahaha I can open one right now but the way I use phones they become so rough that nobody will by them.. :P OLX pe bech doonga sare :P

Look like you are sort of in the windows phone development team! LOL

Lol not in the team but inependent. Out of these three are from Microsoft and Nokia :P apart from that I am a fanatic too. So nothing except Nokia MS in home ;)

LOL, you won the "Nokia Collector of the Day" award.

Same as Thailand but you can upgrade from any Nokia phones (500 Baht -- $17). But they reserved only first 1000 people.

Sure about this?
I got a Lumia 620
And some Basic Nokia phone Which would qualify and where can the exchange be done?

I think basic phone, and you can exchange it at leading mobile store like Jaymart, MLink, TG Phone, or one of leading supermarket (Big C).

Aha!
Might need to talk more with you about it.
The deal sounds too good for me to pass off.
Any BIG C?
I got a SEACON close to me but I have no idea of the process

WP will die first before me. Ktnx

No WP won't die tomorrow.

Says your barely 4% market share. Bleh

4% is still alive than 0%

4% is still better than BlackBerry, Symbian, Tizen, Ubuntu, or whatever OS the Asha phones use.

4%? LOL It's below 3% already. 2.7% to be exact. 4% was was when Nokia was around.

Yes. Nokia's curse is into Microsoft now.

M hearing WP will die since 2012, still it's alive. It never gona die

Liked the positive side you showed here.

It's on! You can exhange your Asha phone right away!

Also need exchange offer for those x, xl phones....

Yeah that's not going to happen.

Those x phones are worst phones from Nokia...

I know those phones r worst that's why i want exchange offer for it..

I agree, they were capable of nothing.

X2 is cool. lol much better than Moto E

Moto e some what better on lollipop..

Bakwas!! Isse jada to 2nd hand bik jaega!!! ₹1500 hahaha!! Get discount!! Dies from laughter!!

Exactly... People will sell Asha phones for 2,500 around to buy new phone.... The deal seems good for Microsoft... But not for People

No one will touch a second hand Asha when you can get brand new stuff for just a few more bucks. If people do buy second hand Asha, India must really be a struggling economy.

If someone buys an Asha now, most likely he/she is either looking for any kind of phones that can make call, or a phone collector.

You have all the rights to shut up, Aman. To you, it's crap, but to some others, it's not. If somebody want it, he will get it.

I even have every right to speak. Crap is crap.

Yes you do. And you're right, they were crap.

So many low cost and similar features in Lumia families now.

Why did they not have this for going from WP7 to WP8? I was never a Lumia 900 owner, but it must have sucked to be stuck with that phone until 2014...

Considering if someone really wanted a windows phone 8 device that badly they could have gotten a Lumia 520/521... There is nothing wrong with the Lumia 900.

Microsoft need to offer this same deal to any WP7 holdovers, but maybe upgrade them to a 535 instead.

At least give WP7 owners $50 credit for being beta testers for Microsoft's axed platform.

The 435 or 535 should be thrown in with everything MS sells. Xbox. Surface. Laptops. Services, like the Xbox music deal.
Things like this do much to get WPs out there. MS needs to be very aggressive with windows 10 in every regard.

That's a lot of bucks. More deals, more aggression, I agree., but a bonus Lumia with every MS product is ridiculous.

Why not? Market share is the king. That's the easiest and quickest way to gain some.
435 is cheap, basic phone. Production cost must be $30-35.
It will work very well outside US.

That's actually not a bad idea. Give them those first generation WP8 eight devices (520, 521, HTC 8S, Samsung ATIV SE, etc). Clear out any inventory that they have in stock while at the same time getting devices into more people's hands. It can't hurt. Most people who try the OS like it but they're so wrapped up in the Apple/Android eco system that they won't even give it a chance. If they at least have the device, they might use it as a backup or give it to a friend or family member who needs a phone.

I have Asha 311 is I have to pay extra 1000rs to exchange with 435 plz comment

No , you have to pay 1k less i.e. ₹4,999 to buy new 435 on exchange

I hope they come up with similar offer when 640XL is lauched!!

Indeed. hoping for a decent 1320->640xl exchange offer.

And me hoping for a decent 625>640xl exchange offer.

640 xl the perfect mid range phone. it just needed carl zeiss lens with pureview.

It has carl zeiss lens but no pureview

Looking at the expected price...we couldn't have asked for more..i wish it had a little smaller screen..something like 5'2 to 5'5 would have been nice..

Carl zesis is there!!! Not pureview

I highly doubt the 625 is better than the 640 XL.

Yes they should have some offer. Atleast for the 520/620/525/625 owners to upgrage to 640 or 640XL.

Why no offer for L535,
I would love to exchange L520 on offer. Sadddd :/

Well done Microsoft! That's how you get customers

Asha 311 cost was 7000..more than Lumia 435..

India wale hi dikhte hai chutiya banane ko.....MS don't play with Garib janta....

This is very important news if the word can get out to Asha users.

I think this is a good sales move for Micosoft brand smart phones. I think Microsoft will keep selling Windows smart phones. I predict however that they will cut down on the number of Models they sell if sales are not what they want. Truth to tell all they need to do as far as Flagship smart phones are concenrned is up tweek up a few specks on the Lumia 930/Icon model and change it's name to Microsoft Lumia 950. Rebrand the nokia lumia 1020 to microsoft Lumia 2000 and give a it 5 inch amoled 1080HD screen. Rebrand the Nokia Lumia 1520 to Microsoft lumia 1600 and give it the 41 pixel pure vue camera, a 2k screen, 2 gigs of ram and digital pin imput. Now that would be a big and awesome 6 inch windows smart phone. a true Falgship beast phone
Windows Central Newsletter
Thank you for signing up to Windows Central. You will receive a verification email shortly.
There was a problem. Please refresh the page and try again.