Microsoft Lumia 435 review
Microsoft isn't short on Windows Phones at the lower end of the price and hardware spectrum but that didn't stop the launch of another. The Lumia 435 is the new entry level point for a Lumia Windows Phone.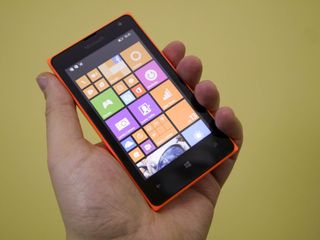 It's a crowded space, though. With even some of its own stable mates to compete against, does the Lumia 435 have what it takes?
Let's find out.
Video walkthrough
Design and hardware
The Lumia 435 isn't supposed to appeal to those looking for a high-end handset. It's supposed to appeal to those new to Windows Phone or smartphones in general. And it mostly ticks the necessary boxes. While it's a little boxy in appearance, the dull shape is offset by the colors. You shouldn't be buying this phone in black when there are green and orange ones to choose from.
Comparisons have been drawn between the Lumia 435 and the Nokia X, and those would be pretty accurate. If you put the two side by side (and not counting obvious differences like logos and Windows Phone buttons) you'd be hard pushed to see the difference. It's short and a little chunky, but still likeable. It's not difficult to hold and even less so to throw in a pocket or in a bag.
So, to the specs. Here's what's makes the Lumia 435 tick:
Single and dual-SIM variants
Windows Phone 8.1 with Lumia Denim
4-inch WVGA LCD (800 x 480)
1.2 GHz dual-core Qualcomm Snapdragon 200 CPU
1 GB RAM
8 GB storage
MicroSD card support (Up to 128 GB)
Removable 1560 mAh battery
2MP rear camera (fixed focus)
0.3MP front-facing fixed-focus camera
Four colors: green, orange, white, black (swappable covers)
Basic specs for a basic Windows Phone. But at the same time, perfectly capable. One of the things we like the most is that Microsoft has chosen to include 1GB of RAM even at the lowest end, seemingly bringing an end to the days of 512MB RAM devices and the associated app issues that go with them.
Poor camera hardware aside (and we'll look at the camera closer further on), there's a lot to like. The display is bright and colorful and it's pleasant to look at. More so than the Lumia 530, which it'd be easy to say this replaces as the entry level choice.
And with microSD card support up to 128GB, you can have a Lumia 435 with more total storage than Apple's most expensive iPhone. Oh yeah.
Software - Lumia Denim
There's no Lumia Camera 5 to be had here, but it's still important to note that the Lumia 435 launches on the latest Denim firmware from Microsoft. Besides under the hood improvements over previous versions, Denim brings forward facing features like Live Folders and of course, Cortana (in supported regions.)
If you want to know more about Lumia Denim or Cortana, check out the handy links below.
Lumia Denim - Everything you need to know
Cortana - Everything you need to know
With relatively low end hardware, how is the software performance? As you'd expect from Windows Phone, it's very good. You won't be playing any super graphically intense games at their best, but largely everything works pretty well. You can play some of those games at reduced frame rates, but it's not the experience you'll get on something with more horsepower. A good example is Vector Unit's Shine Runner. On higher end hardware you get some really slick water splashes and effects, which you just don't on the Lumia 435. But you can still play the game, and pretty smoothly at that.
The Lumia 435 doesn't seem to slow down much, either, when you're flipping between apps, or have a whole bunch of live tiles on the go. It's testament to Windows Phone that it runs this well on low-end hardware.
Camera
Mobile photography fans need not apply, since the Lumia 435 isn't going to scratch that itch. With just a 2MP rear shooter with no flash and fixed focus, to call it average would be polite, even given the entry-level target.
The best thing we can say about it is that it's there. The Lumia Camera application is far too intense for a phone such as this, but with perseverance you can shoot something semi-respectable. It's not the worst camera in the world, but working with fixed focus is pretty tough. Being able to change a few basic setting does help, though.
But ultimately with so many good cameras in the Lumia range to choose from on both current and past models, if the camera is important you'll still be better served elsewhere.
Here's a few sample shots:
There is also a front facing camera, a leg up on the likes of the Lumia 530 and even the 630. It's very low resolution, though, and the image and video quality follows suit. But it's better than not having one at all.
Other points worth noting
Battery life: You should just about make it through the day even though it's a pretty small 1560mAh. Strangely, even on Wifi all day, the Lumia 435 drained its power pack much quicker than other Windows Phones like the Lumia 635. But, it's also replaceable. So if you're going to be hammering it you've always got the ability to swap out for a fresh one instead of having to carry a USB battery pack.
Dual-SIM: There will be single SIM versions available in markets such as the UK, but the one we've reviewed (from Vietnam, if you're interested) supports dual-SIM. Not uncommon, and welcomed in markets where this is an important spec.
The speaker on the back may be small, but it's certainly loud. It's not the best quality sound you'll ever hear, but you will hear it.
The Lumia 532: It's worth mentioning that the Lumia 435 and Lumia 532 are in many ways the same phone. The biggest differences are the quad-core CPU and 5MP camera on the Lumia 532. But the design and most of the hardware is the same across both.
Expect the Lumia 435 to hit Europe in March, with an official U.S. launch as yet unconfirmed.
Since the original hands-on we've been offered a pro tip to get the back cover off. It's still pretty awkward, but prising it off around the top and then pushing in on the camera seems to have slightly better results.
The bottom line
If all you want is a cheap, capable Windows Phone and price is the most important thing, the Lumia 435 will suit you well. It's a fun little phone that's well built, compact and won't break the bank. There are trade-offs whenever you buy a budget device and in this case it's the camera. But you do get a full 1GB of RAM, which is probably more important on a device of this type right now.
But the Lumia 435 is also a great advert for Windows Phone as a platform. Hardware restrictions aside, it'll provide the same software experience as its bigger, more powerful siblings. It's every bit as smooth as a Windows Phone costing more than twice as much in every day use.
And of course, it'll also get Windows 10 later this year. The Lumia 435 is setting a new bar for the entry level Windows Phone, and it's done pretty well for itself.
Windows Central Newsletter
Get the best of Windows Central in in your inbox, every day!
Managing Editor - Tech, Reviews
Richard Devine is a Managing Editor at Windows Central with over a decade of experience. A former Project Manager and long-term tech addict, he joined Mobile Nations in 2011 and has been found on Android Central and iMore as well as Windows Central. Currently, you'll find him steering the site's coverage of all manner of PC hardware and reviews. Find him on Mastodon at mstdn.social/@richdevine
Its a great phone for calls and WhatsApp.

Best line in the article " u can have a Lumia 435 with more total storage than Apple's most expensive iPhone. Oh yeah" haha xD made my day.. (;

Too bad MS will not advertise that.....
Doesn't matter if nobody knows....

I kinda of think that point is applicable only to the US.... Lumia's are advertised quite well in India with adverts in primetime tv

Well, not only in the US, but yes,, in the US it's a huge problem...
......
The problem is that the US is where it's critical for WP to gain popularity...

I can't deny that.... Rest of the world usually follows the trends there.. Hopefully microsoft will realise this sooner than later

We can't forget China.... MS has really dropped the ball in China..

Another one "The best thing we can say about it (camera) is that it's there...". Dan - let this guy do more reivews ;) Only thing I missed is that the review could have been a little more in-depth - that said, the phone might not have excited Rich enough to go in detail!

I think a 128 gb card shall cost more than the phone itself

Waiting for the next 7" Lumia!?

There's never been one...

might as well buy a tablet then. are you a giant?

I like the Denim on denim picture.

I'd like the Denim on my 1520 picture....
..........
That's the one I'm waiting to see.

Hope the 435 and 535 become the best selling low-enders in the world..!! Can replace a lotta crap droids easily..!!

It won't happen.So your hope goes in vain..

Tell that to Lenovo and Motorola!

ASUS..LG..Samesung..Xiaomi..Karbonn..Micromax..Acer..Panasonic and Alcatel too..!!

True, Aman....... But, what would Rodney say to that❓❓❓❓❓❓

I dunno..Cause ye are a WP lover too, share same thoughts, waiting for a flagship annnddd a friend..?
#taking a gelfie

A Gelfie with my new 1550❗❗❗
SD835
64mp camera
14mp FFC
128gb OB storage
4gb ram
4kMAH battery
Dual SD card slots
Dual USB
Quad surround speakers
6.5 inch screen
Powered keyboard dock
Wireless mouse support
.............:-):-):-):-):-):-):-)
..........
And, you can call it a phablet/tablet/shmablet/smartphone, or whatever... I don't care. Lol.

That's not a smartphone. That's a TANK :P

Tank me....
.........
I know it sounds out of hand, but seriously think about some of the things I put on that list.... Dual SD card slots❓ Dual USB slots❓ Wireless mouse support❓.... MS needs to make some seriously bold moves with future high end devices..
..........
I just always liked the idea of a true picket PC... Like, literally a device, like the 1520, that can fit in my pocket, perform, multitask, and behave like a PC...... But, I want quality❗
Sounds a bit like Android, and that's sad, because MS should be synonymous with this.

Lol
You will bring an end to desktops this way..!! Dual SD..?? 128(OB)+128+128=384 GB+130(OneDrive)=514 GB
And let the RAM be 8 Gigs my desktop has 16..So a lil bit competitive and also the speakers should be 9.2 with in-built woofers..!! (will put an end to the home theaters)
And yes notification lights, fingerprint scanner and also 'MicrosoftPay'

It's not funny... You're speaking the truth❗ We really need something super functional...
.........
I could seriously fill just one 128GB SDCS with music only... The other with pictures..

A little off topic but Has there been a 535 update yet for the screen because my one that I got last week is having major screen sensitivity issues and phantom touches

There was a quick fix for that... I forgot what it was.

Yeah that quick fix did not worked so another update is on the cards as per Microsoft official announcement few days back.

No not yet.. But should come in coming weeks. I m also some serious touch screen issues and multi-touch is currently zero and inoperable. So lets hope.

Oh well that sucks. Hope it comes soon for those who own one.

Yeah it sucks big time.. Hoping for second fix to touch screen issues especially multi touch feature.

I wonder whether 532 will be noticeably quicker than 435

I think so. It's quad to dual

Ofcourse Quad V/S Dual cores

Ok, so MSFTs strategy seems to be "purchase device manufacture (Nokia devices&services unit), kill the profitable device part with mobile phones/Asha etc., get rid of the personnel (25.000 at the beginning and after 10 months owning it they have less than 10.000 employees left and more to go), manufacture the smart devices to "low end market" without profit and try to gain the market share". So after 4 years and 10 billion dollars the result is 3% market share and loss making Lumia line. Nice one, surely MSFTs board should be worried and all shareholders. Hope to see soon some dramatic changes in market share as this cannot be what MSFTs board was planning when entering to cooperation with Nokia and deciding at the to purchase the whole device part.

You've got your timeline backwards. Those 4 years went by, then they purchased the division.

Wow bravo..Idiot they are gonna release a flagship..!! And it's gonna be the best..!! The thing is they got a lotta things on their hands at once.

"they are gonna release a flagship..!! And it's gonna be the best" Jas, can you back that statement up with any facts?

Actually, I think it's a pretty good strategy,, as long as marketing improves...
..........
Just think about all those feature phone users left.. Millions & Millions❗...
Now, MS has the opportunity to take the Lumia line as low as it can go... 4xx, 3xx, 2xx, 1xx.
MS could be the company that finally brings EVERYONE into the smartphone era... These new super low end Lumia's would allow everyone to enjoy full HTML browsers, and universal mobile applications..... MS will be doing something never done before with W10, which is obviously capable of running on the lowest modern hardware....
So, instead of getting that useless Samsung flip phone, or even a mobile web browsing Asha, you can get a Lumia 250 for next to nothing... This also comes at a time where mobile data networks are maturing, and becoming even more available in developing countries, at prices people should be able to afford...
..............
As far as increasing market share MS is on the right track for a lot of regions... This is a good plan.... I guess China, and the US, are going to have to wait for the rest of the world to pick up the slack..... Especially if MS doesn't seriously start pushing WP devices in these two countries.....
............
Nevertheless, marketing is super critical, and MS must finally get it right.

Yeah now that you mention it it does kind of make sense. If they get the majority of people switching from feature phones to start using low budget windows phones it will still increase their market share. They would be introducing them to Windows Phone, and if they like it, it will encourage them to want a higher end flagship device to see what the OS is truly capable of, and hopefully at that point Microsoft will start hammering out more flagship devices. If they were to make a bunch of flagships right now I feel they would still lose more money because a majority of people aren't interested in windows phone due to a lack of major apps because of extremely poor dev support and other worthless companies *cough coughGooglecough cough*. They need to get more dev support, get up to par with the apps people want, get consumers to invest in Windows Phone even if its just budget phones, then start hammering out flagships. It's not a bad strategy actually.

Exactly... It might be the only chance they have.

All we can hope for is that they can pull it off. I'm a pretty big Microsoft fan but now I'm already contemplating getting an iPad just to make up for the apps that Windows still does not have. I dont plan on dumping Windows entirely because I still have faith that they can turn around, and Im already heavily invested in their ecosystem and like it. Things are looking good so far, but I'd want to make sure I have a back up plan in case s**t hits the fan

Well your thinking is right but just think...........
There isn't much price difference between 435 and 53x and if there are 1xx, 2xx, 3xx also then the consumer will eventually think of paying more and getting a better one..You know there is a thing like prestige and status plus how much low specs are gonna be there..? We have reached to a dual-core+1 GB RAM and now..? Microsoft cannot drop below this..!! Maybe folks don't know about the processor specifications but still they know that the RAM and cores matter..!! And there is already a lotta competition from droid..!!
Now tell me when folks aren't switching over from droids to the current Lumias do ye think they are gonna do this for the more low-enders..? It's not gonna be that easy what you say..Even I want that to happen but......
The idea of WP 10 running on every device is possible but not happening soon..Microsoft isn't the only one with brains out there..!!
SourApple is already out there planning a iPhone 6 and maybe iOS 10
Oogle is out there making new type of glasses and candies and buying supporting/supportive hardwares or softwares..!!

Dumb strategy. Nokia could make a little money on their feature phone market. Microsoft is losing money on every low end device it sells at those rock bottom prices. Android sells much More low end devices. All those feature phone buyers do not want smart phones, if the battery has to be recharged every day. Microsoft is only making money through Android patent payments. Satya was opposed to buying Nokia deal. And next year Nokia branding will be available for mobile devices again. So we can expect Nokia branded phones running Android. That will be the day that Microsoft Kills off Windows phone.

The bottom line is... Can I watch porn on it?

With popping colors ;) My number one concern as well

Ye buy a phone for watching porn..?

Ever use a green phosphorus monitor? Then yes! :D

You're better off using the Tinder app... Works.

Maybe I missed it, but any word on pricing?

It's less than $100 that's for sure

Its about 100 USD in India (dual sim)

I am thinking of getting 535, If someone has it please tell me is it true that there is problem with the touch recognition and with OS lag? I want something cheap for back up phone..

To some yes it does have a problem. Microsoft has started that they are working on a fix

Don't buy 535 now. Yes I have one and touch screen is horrible even after a fix was released. Still no improvements and multi touch doesn't work so if plan to play games on this device. Forget it. You will be terribly annoyed. So better get a Lumia 730.. As I did and I very happy with a lil extra bucks you get many more.

I bought my daughter a Lumia 535. The screen was a little over sensitive, opening apps when I wanted to scroll up or down, but I disabled Screen Magnifier and it seems to help. She is very happy with it, ( single sim version). I think it is a good value budget phone. I didn't notice any lag issues. For 109 euros it's a third of the price of a 735.

The phones are really getting confusing

That's because they're releasing a bazillion cheap budget concious phones that only have very minor differences between them. Don't you love being a wp fan?

+1 to that. While I do appreciate the need for devices at varous price points, having sub-variants does not make any sense at all. For next iteration, I hope MS sticks to Lumia 440, 540, 640, 740, 840, 940, 1040 and so on ... cut the mid options like 532, 535 etc away and avoid hopelessly confusing lay customers and smaller retailers.

The mid options are for the dual Sim versions.

Specs and the front of the device are comparable to the 820 with the exception of the cameras

What have you been smoking mate?

Why is MS the only manufacturer still making phones with hard non-rounded corners that dig into your hand. No I don't want a case

Much more preferable IMO. Can grab a corner or anchor it between fingers a lot easier. Looks aesthetically better also.

I prefer that actually... makes the phone easier to grip

Love the corners on my 920 and 520, makes them less slippery.

Actually they're still rounded, but the radius of the round is significantly smaller than that of an iPhone or Samsung Galaxy per say. It allows more friction to be applied to your hand, reducing slippage and the potential to drop your phone. If they weren't rounded you'd be getting serious paper cuts from your phone.

I wish you guys always include the weight in phone specs. How does it perform playing youtube videos?

It should perform ok but it's not recommended for 1080p videos cuz it might lag in high definition videos.

I think the first photo is poo.

Can't believe these S200/400 phones dont get amazing battery life. Seems odd...

But the battery capacity is the one that's giving u the usage time ....... A power saving CPU is not enough to get a good battery life

I like to see the name Microsoft on the Lumia devices now. All the Lumia's are looking the same we need a new design.

I'd like to see an all magnesium design with high end hardware to mimic their Surface line, just in the form of a Lumia. Also a stylus would be nice. That'd be my definition of a flagship.

Dan, you forgot to mention that will be a variant with Digital TV here in Brazil. :)

Who's Dan? We can't review something we don't have. And we can't review that because we're not in Brazil ;-)

They have mentioned that before.

Actually these photos made with 435 look better then I expected from a 2MP camera. They are better than those made with 3MP iPhone 3GS camera, for sure!

Exactly! For it's price, it has a really good camera!

Need some low cost WP for Verizon. Any ideas?

Lumia 822 is solid, has Denim update, and can be had for under $100 on eBay...

If youre not looking for a Lumia you could get an unlocked Blu Win HD or Blu Win Jr for anywhere between $50 and $150 on Microsoft's website. They both look nice, especially the Win HD.

So this is what happened to the "repurposed" Nokia X designs

Waiting for 4,5" screen wp from MS

I'd buy this as an emergency vehicle phone. 911 calls and crash site pics. No SIM card needed.

No you need a proper feature phone for emergencies, so you don't have to worry about recharging the battery every week or so.

Why would I leave it powered on?

So how much does dual SIM affect battery life? Because the radio in my 1020 is what drains my battery more than anything else. Like crazy actually. So if I have a dual sim phone, would the radio be draining about double the rate of a single SIM? Or is there some kind of optimizations or sharing going on between the two to make it much more efficient than two completely separate radios?

I am so damn tired of reading about these new "low end affordable" devices, I really could care less... Those yahoo's at MS are killing its mobile department with this never ending race to the bottom. Give me a phone that I won't be embarrassed to use in public, please!!! Give me a gorgeous large screen device that's thin with good parts inside…

mS starving us with their flagship

Try providing the stars to the specific gadget............ Or points......

They have priced it out of contention in India. Sorry, I ain't paying more than INR 4500 for this phone. The Lumia 532 and 535 on the other hand are reasonably priced. Waiting to see how Windows 10 for phone fares on my Lumia 520 and consider either the 532 or 535.

You don't even know how to give a proper review. Pls learn from pocket now and Android authority to give us a review like a pro...

come on where is flagship lumia?


Lumia 435/532? Nope. I'll stick with my Lumia 520, thank you. It's a capable little trooper. Having said that, I would love to upgrade to a Lumia 930.

That black looks like gray.

I am thinking of getting a 435 for my wife who is afraid of technology. I have the 635.....Maybe I will give her my 635.. What do you think??
Windows Central Newsletter
Thank you for signing up to Windows Central. You will receive a verification email shortly.
There was a problem. Please refresh the page and try again.