Microsoft introduces new tools for building UWP games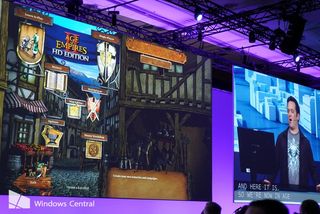 On stage at Build 2016, Microsoft's Xbox chief Phil Spencer spoke about the expanded gaming support that will be coming to Windows 10. Game developers will have added support for several new options, including the ability to repackage their Win32 games for Windows 10 through the desktop app converter.
When building a Universal Windows Platform game, developers will now be able to do things like disable V-Sync. There will also be official UWP support for the creation of mods, overlays, and other customizations. It will also be easier to add support for mice, keyboards, and controllers, along with Live Tiles and notifications.
To experiment with these new features, Microsoft partnered with CD Projekt Red, to bring their game The Witcher II to the Universal Windows Platform, running at its full possible framerate. Age of Empires II was also converted, including the game's support for Steam.
Stay tuned to the Windows Central live blog of today's keynote for more.
Windows Central Newsletter
Get the best of Windows Central in in your inbox, every day!
AOE? Yes, take all my money!

My dreams coming true....

That's super-awesome news, but quite frankly...they already took my money for AoE II. How about bringing it back without charging for it? The only reason the copy I already have doesn't work is that whole Macromedia/somebody DRM issue with the CDs - not a good reason I should have to pay a second time.

What I like about that is they can integrate the Gamepad, touch, keyboard/mouse services all within the api.

If it'll come to mobile, it'll be an instant get for me! That game was a part of my childhood :D Posted from the Windows Central app for Windows 10 on Lumia 535

Not gonna happen. All this does is wrap the game up to run on the Windows Store rather than becoming a true Universal App.

For now. Wouldn't be surprised if they found some way to convert it. Would be a crap-ton of work, but would be cool

Not just Windows Store, 3rd party stores like Steamworks(Steam).

Ohhh my god.... Do they really bring aoe2 for windows mobile??????? My head is shaking... Ohhh goddddddd

AoE2 remains one of my favourite PC games ever. I'd toats get that.

Is AOE 2 coming to mobile???
Oh god! I can't believe that.. Sent from my Lumia 925 using Windows 10 Mobile

Posted from Windows Central for Windows 10

They say universal, but until I see it on mobile I'm not that hyped. But when they do, because I believe they are working on that, that will change the gaming on mobile. Windows mobile will be the best platform for gaming!!!! Posted from Windows Central for Windows 10
Windows Central Newsletter
Thank you for signing up to Windows Central. You will receive a verification email shortly.
There was a problem. Please refresh the page and try again.