Microsoft introduces 'Your Groove' curated playlists for Windows 10 and Groove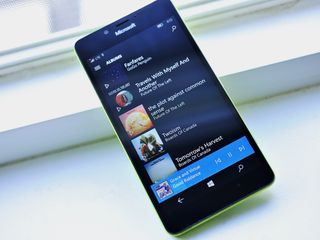 Last night, Microsoft updated their Groove app for all Windows 10 users but today they are announcing a full new feature that is sure to excite many: Your Groove.
In the announcement post (opens in new tab) Microsoft's Ellen Kilbourne details the brand new feature, and it sounds extremely promising. In a nutshell, Your Groove is music that is centered on you based on your likes, preferences, current collection, and more. Your Groove has the following features:
Quickly get back to things you've played recently
Find recommendations for what to play next
Playlists for you are automatically generated playlists curated to your taste, based on a variety of factors such as your use of Groove (e.g. top plays, recent adds), musical metadata (e.g. mood, genre, era), information about the world of music around you (e.g. recent releases, who is on tour, critical reception), and common music-related activities (e.g. focusing at work, getting a party started)
Kilbourne goes on to describe the playlists feature, which finally brings back smart music playing to Groove:
Also, a very in-depth FAQ was posted answering user questions about the new service, which is only partially powered by a Groove Music Pass:
Which tracks are used to make Playlists for you?
In order to be used, tracks must either be from Groove Music Pass, or your own personal files uploaded to OneDrive. Playlists for you do not incorporate local tracks on your device, so if you want us to use those, you'll need to upload them to OneDrive.
Are Playlists for you made with tracks from my collection, or recommendations of tracks I might like?
For non-subscribers, we just use your OneDrive tracks. For Groove Music Pass users, we not only use the music you already know you love in your collection, but also incorporate some similar recommendations of tracks that you might like based on your collection. Let us know if you'd like to see more or less of either, or an even measure of both.
How do I get some/more of them?
Add music to your Groove Music Pass or OneDrive collection and the new tracks will be incorporated into Playlists for you on the next automatic update.
How often do they automatically update?
You should see an update every few days as long as you are an "active" user (meaning you've played some tracks in Groove Music recently). Otherwise they update when you add new music to your collection via Groove Music Pass or uploading to OneDrive.
Can I add track recommendations I like in Playlists for you to my music?
Yes, you can easily select the track, "Add to" and then choose "My music" or one of your playlists to save the newly recommended track to listen to later.
How many tracks do I need in my Groove Music Pass or OneDrive collection to get Playlists for you?
This varies based on how varied your tracks are and how many we recognize. But in general we recommend having 500 or so tracks to get a healthy number of Playlists for you generated.
How do these Playlists for you relate to my own user playlists?
These are recommended Playlists built by Groove for you, and so they are read-only since we'll be updating them often. However, if you like one, you can always "Save a copy" to your collection of playlists in order to edit, rename, download, etc. before there is an update giving you a fresh set of Playlists for you.
Overall, Your Groove sounds like a killer feature that Groove had been missing up until this point especially with the loss of MixRadio and Google buying Songza.
Want to try out this new feature? Those on the Fast Ring of the Windows Insider program get first dibs, and that update is rolling out later today. Build 2244 should be rolling out to PC and phone users in the next few hours, and there you will be able to try out Your Groove.
Maybe is also a good time to consider getting that Groove Music Pass (opens in new tab)?
Get the Windows Central Newsletter
All the latest news, reviews, and guides for Windows and Xbox diehards.
Daniel Rubino is the Editor-in-chief of Windows Central, head reviewer, podcast co-host, and analyst. He has been covering Microsoft since 2007 when this site was called WMExperts (and later Windows Phone Central). His interests include Windows, laptops, next-gen computing, and for some reason, watches. Before all this tech stuff, he worked on a Ph.D. in linguistics, watched people sleep (for medical purposes!), and ran the projectors at movie theaters because it was fun.
FINALLY new features to this app now they need to add family plans and share playlists so other people can play them

I took out a Groove trial, my first monthly paid subscription failed (I forgot all about it) since then - I cannot re-subscribe, spoke to Microsoft - nobody seems to have the faintest idea what the issue is and there is seemingly no fix. So, I can now never ever subscribe to Groove!

Try a different credit card. Worked for me.

Sometimes it's the credit card compatibility with location ...some credit cards dont work for all countries. Try through paypal or another credit card.

Thanks for the suggestions, will try another card or setup another account

Had exact same problem and they couldn't solve it either, had to cancel subscription then re-subscribe with different card but then it would stop working half way through a month. So I noticed spotify had a 3 month for price of 1 special so I'm using that for a few months until MS sort their billing issues out.

And again a region locked feature set. The app doesn't have an option to even sign in, let alone do all this. Lumia 640 Dual SIM India.

It only works with Groove Pass and OneDrive music - Can you you get either of those features in your region? If not then it makes sense as the feature works with that music only.

Getting closer to Zune-esque service we need and want. Thanks Keep em coming MS. Please update this on the Android as well. Thanks again

It ain't even close to Zune until they address the inability to deal with the metadata.

Or UI. Audiocloud (for Soundcloud) got a recent redesign which looks like what Groove could be, but isn't. The pivots make navigation so much faster/easier.

There still alot to catch-up from Zune indeed, at least they're trying to do something. The UI is really need some more improvements since Groove app general aesthetics is still kinda stale, though been improved compared to totally bland looks when it fist introduced on TH1. Pivot is really needed for sub-navigations instead of all dumped in Hamburger menu. Things like swiping between Songs, Albums, Artist, and Genre. It also needs pivot under artist screen where we have pivot for Albums, Songs, Bio, and Related Artist. I already posted a feedback about this:
feedback-hub:?contextid=293&feedbackid=58765292-a613-4378-879b-0a749bbb5dce&form=2&src=2

Groove is good.. The only complaint I have is it's reluctance to pay music I pay a subscription fee to hear... If MS has fixed that with the latest update then I will say that Groove is great!

Please don't use the foul language (Android) in here again ; ) just kidding!

I really miss the idea of channels that Zune had back in the day, so this is pretty awesome if it works well!

Yes! I miss all the cool features we we had back in the Zune days. Channels, curated playlists, etc. It was such a great platform for music discovery. Way ahead of its time back then, but sadly unappreciated.

GREAT !!! Good news !!
Next : The ability to share playlists ? (a Groove family pass would also be appreciated;-) )

Agree, nice feature but let's get that family plan!

Yeah! Playlist or basically sharing any music on Groove app. We need to bring back Social features that even Zune have, though would be better and easier if it works with Facebook like Spotify does, so it can easily attract users and free marketing.

So MixRadio then? Funny old thing.

Hope Microsoft make this app more social. Sharing playlist with people

I like this Msft. Updates, features and so much effort into things.

Again...where is this much attention for Movies & TV app?

Just curious, what new features would you like to see for Movies & TV?

Man has a point I mean dull UI, bugs, no support for subtitles integrated in movies but I have no doubt there working on something ;)

I'd like it to properly handle it personally owned TV shows and movies. Tired of this giant pile mess all under personal. Zune was awesome at organizing it. When you finished watching an episode, it greyed it out. It used movie posters and art work. The garbage they have given me just grabs random blurry screen grabs that mean nothing. It stinks at remembering where you left off The UI is blah and ugly. It should get info from IMDB or tvdb to actually make it worth looking at. We all try free trials of a pilot and realize we hate it. Good luck getting rid of it permanently.... It will continue to show up like your nightmare ex girlfriend. I could go on and oh, but the app is the work of lazy and non inspired programmers.

Can I at least get a "Select All" option? I pick to show all Jazz, then it wants me to select every Jazz song one at a time...

Not the most intuitive but it's there. Tap and hold a song, scroll down and tap select, then tap ellipsis, select all. Same thing on a PC except click the box on the left next to a song and a menu bar down the bottom pops up. Click select all.

Wow! Thank you! I have been searching for this :)

All well and Dandy, but when somebody, anybody from Microsoft explains why when I try to subscribe it constantly comes up 'error something happened our end' only then will I be happy!

2 articles on the same thing in a row? Someone should alert the editor, oh wait.

lol yeah, exact same articles. Word for word. Once wasn't about an APP UPDATE and the other wasn't about a NEW SERVICE with details, oh wait. We purposefully broke them apart because Your Groove will eventually be on all devices including iOS, Andriod, and non-Fast Ring devices. It also has much more information about the service vs. bug fixes for a specific build of an app that will be outdated next week.

I didn't say they were exact, those are your words. So, you're article is more detailed, I see that. The first article could have been summed up in one paragraph inside the second article. But whatever, it was a comical observation. No need to get all bent out of shape.

You, sir, have been gently schooled.

Great. The charm is coming back

So why not make playlists from local storage ???
I live in a 3rd world country where internet is slow and expensive :'(

You can make your own playlists anytime you want with local storage.

Of course, Daniel, but it would be nice if Groove could make automatic playlists based on data it has kind of like Zune could do with Smart DJ playlists.

Automatic playlists was a great model because devices had limited data. Still think there is value today even with the ability to stream if I want... e.g.... "100 songs of Rock in my collection with a positive rating from the last 2 years + Groove picks 100 more songs it thinks I would like based on my first 100 songs". (also, MS please bring back a like/heart function).

True but what about suggesting new songs base on your taste stuff??

But can you share playlists between devices if syncing with OneDrive? I canceled my Groove subscription after the first year and miss a lot of functionality I'd think would still be available to the 5k files I own (and that's on top of the almost impossible task of resetting your cloud collection when you cancel a subscription, and they've tried to link all your titles with their online versions). I hope I'me just missing something around keeping playlists on Onedrive, $100 a year is steep just for this functionality.

You have to enable the Zoltar function.

I think you mean generate automatic playlist offline with "Your Groove" feature. Yeah, hopefully this preliminary as it kinda doesn't make sense it requires you to upload your music to OneDrive (which is also have smaller default storage) when you're not a Groove Music subscriber. This should be able to work offline by scanning your own collection stored on the device. The suggestion also should work even for non-subscribers. The playlist/track suggestion is actually a good way to encourage users to subscribe rather than making it exclusive where user wouldn't know it exist.

Can anyone tell me where I can change my preferences in Groove Music??? I've owned a pass ever since Xbox music, I've got a few minutes back then and ever since all the recommendations are based on that...

Nobody here has a fix for my problem? For shame!

Before condemning people here you should know we are not tech support. Have you tried contacting Microsoft Groove support and ask them? Have you tried using our help and community forums?

I've contacted everybody - I'm not alone with this error. Essentially, if you took out a trial - but your first actual payment failed - you then cannot ever renew or re-subscribe. It's a simple message MSFT support teams seem utterly incapable of accepting or taking on-board.

Have you tried buying a music pass from Amazon and then enter the code via your Xbox account? Even if you don't have an Xbox account, just log into xbox.com with your MS account.

You can get a groove subscription from Amazon??

Instead of paying with a credit card you're using a voucher pre-paid code. Gets around CC issues.

Have you ever dealt with support lmao They only have pre-written scripts. No one even at a high level seemed to think the time my account was saying 9999999 days until I could remove a device was a problem and it was my phone or whatever device I was using would not see my music pass. I spent a good 6hrs in support channels most times to just get thrown around. Oh and this was in Feb I thought it was pretty ridiculous that they called 8.1 a legacy device Windows 10 was barley available to the public :P

Isolated incidents are quite frustrating. When migrating a client to Windows 10 and resyncing an Outlook.com account to the Outlook desktop client, there was an error with the synchronization. About 50% of the emails were synced off of the account. And because they weren't deleted first, there was no way to recover. I tried the various avenues to locate help: tech support number, chat app, searching the corporate directory, emailing a Bing researcher who did a survey on me, checking LinkedIn, tweeting unpopular leads within Microsoft who would actually see the tweet. No one would do anything. If they received a compliance notice from an intelligence agency, I'd bet 1 billion dollars they could have located those emails. Resolving isolated bugs is very low on their priority list. Sometimes those things work themselves out after a few months. Good luck!

... I've hit a few likes back then...

If everything else fails, new Microsoft account?!?!?

I still have auto-playlist on Zune. In fact, all my playlists are still .zpl since XBM/Groove can read it! LOL

Progress but its just too slow... It seems I am getting back things I once had and now its called progress. The family plans once existed for may Xbox live and I am sure one day that will be brought back again and we should all be grateful. I will be grateful though so bring it on despite my whinning.

Yay! Zune Smart DJ has been updated! Oh... Wait... *sniff sniff*

still waiting for onedrive folder to work regardless of region. software regionalization is very very wrong used by ms.

What, how? Microsoft has a rhyme now, they working so hard since 2-3 months

How can it use my "Likes" and "Preferences" if there is no "Rating" system.. ahem... ok.. well... its something I suppose...should delay my move to "other" options :)

Still waiting for the update to show for me. Bay Area, ca, USA. 950XL

This is great news however personally would rather see family subscription option announced, currently family is logging in as me to listen to their playlists on the Xbox One and is getting rather frustrating as they adjust things under my account.

Why do they think I want any suggestions to my playlist? I buy the music I want to listen to and I don't care to listen to something just because some company thinks I should. All I want out of my music app is ACCURATE display of metadata -- based on the actual TAGS and FOLDERS, and NOT on some woefully innaccurate method they keep devising -- easy ability to create my own playlists from MY music collection, and simple crossfade.

Wow you expect them to include features that undergraduate computer science projects have? They aren't wizards, you know.

Mind pointing us to the software that you wrote that does this? I mean, if it is that easy, you must have one good implementation, right? Or maybe you should go work at Apple or Google. Neither of them do it right, apparently they need some undergrad compsci people.

I think I'm just going to download Winamp again, man that program is the bees knees for music.

Bees knees is using software that has not changed in the past 20 years and is crap at what it does?

And still does it better than Groove. Sad.

You mean, actually play my music without crashing. Oh, and jump to, greatest feature ever that I am amazed other music programs don't utilise.

You might not, but I love getting suggestions. I've found some great stuff that way back in the Zune days and more recently with Mix Radio and that other service that Google bought and shut down.

Here is a TIP- if you DON'T like it, THEN don't use it. No BODY is forcing you TO listen TO SUGGESTED songs, you can LISTEN to the ONES you have BOUGHT OVER and OVER and OVER and OVER again without EVER needing to EVEN view this PORTION of the APP. (See, I can all caps random words, just like you)

That's great I'd really like groove to offer two extra subscription offers groove light like mix radio was and a family groove package.

Sounds like some features we already had years ago with Zune. Glad to see them slowly coming back. Maybe one day we will be on parity with how great Zune was.

Microsoft should of bought spotify or pandora instead of LinkedIn I think its time for the windows phone 7 esque days to come back and have a system geared toward entertainment and work

They had it right why waste the money. Zune had social aspect, badges, channels podcast, dtations, rating system and great visuals idk what happened

Sounds like their Smart DJ is back.

I noticed reviews available yesterday for albums. Much better performance. Radio it's one of my favorite features. I am also seeing related started shown.

How good is the Groove Music Pass? I'm considering trying it out.

I like it. Try it free for 30 days. Better yet, if you are in the U.S. and signed up for Bing Rewards and use Bing as your search enginge, you can redeem your 1,000 points for a month of Groove, so you can get 2 months free in total. That should be enough for you to decide. I did that and ended up sticking with it.
I got thousand points with Bing Rewards in a couple months of browsing

I might reconsider getting the Pass!!

Groove on win 10 is still arse (mobile is better, but not by much, xbox one is fine), it crashes almost hourly now. I just use windows media player to listen to my music.

I need to upload 300+ songs to OneDrive to be able to play them?
.
Maybe I'll just get an Android which everyone uses. If I'm not getting something right, please explain to me

You can still listen without using onedrive. If you want the service to be able to use them to make curated playlists, yes you have to upload your music or use the music pass. Google play is the same way.

1) So you are going to replace your desktop, your laptop, your tablet with an Android because "everyone uses"? I think I smell a new troll 2) No, you do not need to upload everything to OneDrive to listen to it. If you want to take advantage of some features, then you need to. 3) Your library is only 300 songs? Wow, that is amazing. Somehow I don't think uploading is going to be much of a problem. I have over 65,000 songs in my library which I uploaded to OneDrive. 300 songs - that is copy to the OneDrive folder, go get a cup of coffee, and when you are back it is complete. But you should go with Android, which does the same thing as this, because everyone uses [sic]. Or maybe you should try Apple. They will fix your library by deleting all 300 songs for you.

Yeah, like others said, this sounds like Smart DJ. Yet another example of how music with MS in 2016 is barely catching up to 2005.

There are a couple of issues I can see with this feature, I don't have a Groove Music Pass and Groove hasn't been able to see my OneDrive music folder for months. Judging from the Feedback Hub, I'm not alone with this either.

This is the single thing I've been waiting for! goodbye Spotify and your crappy app, oh and I'm taking all my Discover Weekly Playlists with me (courtesy of Soundiiz)

That's nice. And as soon as somebody builds a Groove-compatible car stereo where I can see song info, album art, up and downvote buttons on the screen and lets me skip tracks, I'll totally care about this. Should be soon, right?


So this is exactly like Spotify's Discover Weekly playlists... except it's only made out of the music I already own? Ummmm, ok.

Any Android phone made for Nigeria always has a normal music player app because they know Nigeria is a third world country where data rates are exorbitant. google play is another app on it's phone Samsung, Tecno, Infinix and all that. when I say android , I mean mobile.
Chrome OS is a poop and Macs are super-expensive. I once used android malware chased me out of the building, Iphones are expensive and trust me, I'll use xender to play songs on Iphone but Iphones are expensive over here.
.
And I'm no troll, my friends call me obsessed with my microsoft.
.
This is supposed to be a reply to my previous comment but Opera Mini won't open it. I use a Nokia 206 btw.

I hope they would kill that hamburger menu

Actually that Hamburger menu is necessary for main functions of the app, but it does need pivot control for sub-navigations to make general navigation easier and smoother.

They need to add non-US artists and albums first.

Looks like this might be the from the acquired Groove Smart Player app from iOS, since that app was able to curate playlist based on your collection. Unfortunately, not exactly since this Your Groove implementation doesn't work on local collections at the moment, it requires subscription or uploading them on (already low storage) OneDrive. This needs improvement to work locally.

Great! There is one major thing still missing: DLNA playback !

Has anyone actually gotten this update on desktop fast ring? I haven't.

Just came on here to ask this, still haven't gotten it. I'm going on a trip tomorrow, so I'd love to have this feature to try it out. The other weird thing that's happening is that when I open the store, if I start to search for Groove, the store crashes every time! I'll literally type gr then it will crash. I even copy and pasted the whole word in there and it still crashed. And so far it's the only combination of letters I type in that makes it do this.

I also am not seeing the Groove update on my PC or Lumia 950. My Store on the phone also crashes if I type "gr".

Without family pricing similar to Spotify they will never get my money for this.

When is groove (w10 M) going to let me play my music from my device and not need to use OneDrive and cell data? I have to cut my music at work now to just a few days in the month. I copied files from my surface to my phone L950, and they will not play just skips. Same file copied yo OneDrive will then play one my L950, but Groove uses up so much data. Xbox music was better for playing music than groove or any player on W10M. So, is this going to be fixed or is this how Microsoft will get money? Xbox music free, Groove free only if you buy the music on your phone and download it there. W8P office everything free, W10M free to look at, to change buy office 365. I feel like W10M wants to Nickle dime me to death.