Microsoft isn't just attacking Apple – puts down the Galaxy Tab in latest commercial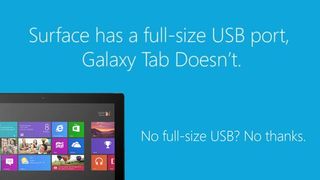 We have seen a lot of anti-Apple iPad commercials coming out of Microsoft lately; they have been touting the Surface's ability to manage devices via a built in full USB port and the ability to project to larger displays using the device's HD video out port. Microsoft also attacks the Samsung Galaxy Tab's inability to use multiple accounts.
The first video is extremely similar to the earlier iPad ad – it attacks the same point that most tablets do not have many port options. The shots of the Microsoft Surface are similar from the anti-Apple commercial although the second one uses an RT while the iPad one had a Surface 2. The company also subbed in the Samsung Galaxy Tab 3 where the iPad once was.
The essential argument is that a user can multitask with their Surface device by charging, projecting to a large display, and using a USB port, all at once. The Samsung Galaxy Tab 3 has only one Micro USB port that must be shared between various tasks, and thus superior multitasking cannot be achieved. They also remind users that to use a full USB device with the Tab 3, they would have to purchase a separate adapter that is not included in the box. The video ends with the now famous, "No full-size USB? No thanks." motto that Microsoft is pushing.
The second advertisement is a bit different and focuses on the fact that the Surface can hold accounts for multiple users and keep everyone's information separate, while the Samsung Galaxy Tab 3 currently cannot. New parental controls can even monitor a child's interactions and keep them away from what they shouldn't be browsing.
The advertisement is technically true, but comes at a poor time; the update for Samsung's Galaxy Tab 3, that will enable multiple user support, is right around the corner and will soon make the commercial extinct.
Are you a fan of Microsoft's latest commercials?
Source: Microsoft YouTube
Get the Windows Central Newsletter
All the latest news, reviews, and guides for Windows and Xbox diehards.