Microsoft to keep adding retail store locations even with restructuring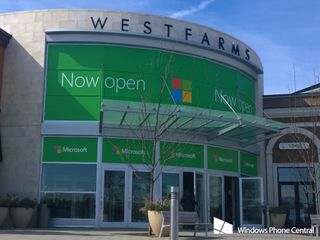 Microsoft has indicated to WPCentral that it will continue to add new retail store locations in the US and Canada even with the announcement last week that it will lay off 18,000 of its workers over the next year.
Microsoft opened up its first retail store in the fall of 2009 and has slowly expanded to include over 100 combined larger and smaller "specialty" stores located in the U.S, Canada and Puerto Rico. When Microsoft announced its plans to lay off over 14 percent of its workers, we contacted the company to find out if their restructuring plans included shutting down any Microsoft Stores or cancelling plans to open new store locations.
While the company would not offer any more information about their restructuring plans beyond what was stated last week, a Microsoft spokesperson did give this statement to us about their plans for new store locations:
At least for the moment, it would appear that Microsoft is sticking with its plans to open and operate its own retail stores even with CEO Satya Nadella's plans for change in the company. With Microsoft now selling its own Lumia Windows Phones, along with Surface tablets and Xbox consoles, it may be more important than ever for the company to stay the course with its retail store plans.
However, it would also appear as if Microsoft still doesn't plan to open stores in territories outside of North America (it does operate its own online stores in over 200 countries). Whether that will change or not in the new Microsoft structure remains to be seen.
Do you think its worth it for Microsoft to continue to maintain and expand its retail store plans?
Get the Windows Central Newsletter
All the latest news, reviews, and guides for Windows and Xbox diehards.
Yay, more places to buy stuff they're stripping features from!

That was almost exactly my first thought!

It's a good sign. It proves that all those naysayers that say that MSFT will drop Surface and Windows PHone are wrong. You don't have stores just to sell software (or the cloud).

I guess you think Canada and Puerto Rico are in US then. They got to dominate North America first and then the world.

Isn't Puerto Rico a US territory?

Why isn't Canada a territory yet?

They do state Canada and Puerto Rico separatly from United States?? Did I miss something.

Yes, I'm getting a Microsoft Store. Now I can get a second job, and really not mind going to it.

Cause this totally makes sense.

Ehh sort of... If you are looking at it from this view "they are doing terrible in the US, so they need to have locations where customers can play with these devices just like the Apple stores which generate immense market for that company" But you can also say, no one is buying their products in the US so why bother, why not open stores worldwide or at least start in Europe where they do have respectable market share. None of those two views matter cause in the end its w.e view Microsoft chooses to see lol

The Microsoft store is the only place you can go where Microsoft products are presented properly and the staff are knowledgeable and don't try to steer you toward an iPad. I think they should have as many as is practical... they are crucial to their image.

I want to own a Microsoft Store.... I'm now Official MSI Agent in Iran... hope to be Official Microsoft Agent!

Love MSI products. Use them on all my personal computer builds.

Don't worry, Nutella will "streamline and focus" this too...whatever it takes to please the folks who think Microsoft should only be in the business of backend services.

Hey guys... With all of the cuts or possible cuts to Xbox music, videos, etc... What's the motivation to stay? Should we stay be we are fans of Microsoft? I'm reading all of this stuff and none of it is good news... If you've invested money in products and services only to hear that it may come to an end... Then what? I guess the only good thing will be the cyan update... Oh well back to the topic at hand...

Why did you start in the first place, insubstantial perks? A person likes what they likes and does what they does... It don't matter what it is. No one would fault you to have a change of heart, not like the fate of the universe hangs in the balance, lol =D *gasps* does it??? O_O

It's your state of mind. The things which Nadella is doing is just not as per the fan perpective but for the company's sustainability in market. Growth is still much easier than surviving in the competition. Few years b4 Microsoft was on a monopoly stage in mostly everything though they still are in certain areas but now as new competitors have come up or old have risen Microsoft has to work in a different,faster way. Nadella doesn't want the old Microsoft of Ballmer times.He wants everything restructured and wants ppl to perceive Microsoft as the best. With old Ballmer restructuring times Microsoft would never seem growth. So take it easy bro.

Here ! check my buddy belfiore https://twitter.com/joebelfiore/status/492014472991481856

Absolutely, I'm even considering applying for a position... Now, where did I put my resume? =D

Pretty excited. They've been really secretive about it but, they've been working on a retail store here in New Orleans for a month or so.

I'm glad to hear this. I wonder if the stores are more a marketing cost than a profit center. The people are sup helpful and they don't pressure you to buy anything, just encourage you to check it out. They even say they don't mind if you buy the same thing somewhere else, so I thought that maybe there was a chance restructuring would be the end fo the MS STore. I know I"m donig my best to keep mine profitable all by myself. I've spent about $2500 in the last 45 days or so. :-0

They could afford to open up these stores which is wonderful but can't afford to sell 635 with a front facing camera, flash, 1g ram. Someone please knock some senses into MS that if you are going after the market with low end products then give customers a WOW experience so they have a legit reason to purchase a high end for the next time around.

The 635 is meant to have low specs to be more affordable for some people, if it had the same specs as the 930 for example, what's the point of different phone models. Each model is meant to appeal to a certain type of person.

The 635 is not for you. The price point makes sense as an Office phone. No-one cares about FFC, NFC or flash for commodity work phone. With 4g its a great price point that many are looking at trust me on this. (I was looking at a Gartner webinar today. 500 Android devices took 1 company the same support as 7500 iOS devices. They are swapping the Android kit for Windows Phone. No fragmentation, security and decent MDM now with 8.1) What MS are really missing is a device in between the low end 63x phones, and the 930. A 702 and 820 replacement.

Instead of building stores why not just have outlets in malls and in major electronics stores wouldn't that be cheaper

They are not building stores as in construction workers and steel and concrete. The store in the picture is at a mall, but with an outside entrance. We have an awesome store at South Coast Plaza in Orange County. Right upstairs is the SonyStyle store and in another wing of the mall, the Apple store. The only remaining brick-and-mortar electronics store (nationwide) is Best Buy. Staples sells some MS products, but none of the stores - and I'm including the cell service stores in that none - showcase or push MS products. Their sales staff can probably tell you every spec for every freakin Android and Apple device they carry, but they can't tell you diddly about Microsoft products. So in order to give consumers the opportunity to touch and test Microsoft products, they have to have their own stores. What would be more economical is to borrow the cosmetics counter/department store model. Women know what I'm talking about... every department store has a product specialist who can answer questions about any of a particular brand's products. They aren't department store employees... they are manufacturer's reps. Imagine every Best Buy with a Microsoft employee/tech-savvy cheerleader inside the store at all times, ready to answer any questions you have about products you've bought or may buy...

They tried that in 2008. It was called Windows Gurus. It didn't help much. What people have to realize is that there actually really aren't that many "Microsoft cheerleaders" out there in the world. Even at Microsoft Retail Stores, for the majority of the associates, it's just another job. The reason why it works is because they're so well-trained and surrounded by such a pro-Microsoft environment and team. The fact of the matter is that it wouldn't work at a third party retail store.

I didn't know about the gurus, but that failing in 2008 would be no surprise. What did Microsoft have to offer consumers in 2008? Windows Vista and ? I got nothing. Consumer and employee apathy is understandable. But now? Xbox One, Windows Phone, SURFACE. As for employees doing a job? My local Microsoft store is staffed by people who seem to be genuinely excited about what they have in stock. So although the idea of reps in box stores could be dismissed by saying "been there, done that," it's worth noting that now they have good stuff to show.

Commit to it or get out! They've been expanding too slow.

We need more in Canada, keep em coming

You guys really love this Westfarms Mall picture I took. I feel proud.

Me too--15 minutes from home!

Why the hype LOL.....its just a corporation who build phones, tablets, toy's and other stuf......i don't see the same hype with vacuum cleaners ;)

Wait, Hoover opening a store!!! Man I hope Dirt Devil does the same, I can hardly wait to stroll the aisles and feel the suction form the vacuum cleaners.... /s :)

It'll be nice if there are some in Indonesia :D
Im tired of blackmarket and China crafted phone, zero quality

I can't wait for the Canoga Park one, there are signs up already and it's right across the Apple store.

The layoffs are redundant positions because of Nokia acquisition, that wouldn't have anything to do with retail plans, seems WPC is following media trend of overhyping the layoffs.

Yeah, keep spending money opening stores in the US. Don't open stores where your consumers are! It's not needed! /s

I get that people are eager to see MS open stores outside of North America, but I don't get why there is so much blow back for wanting to get good coverge in the US, their home territory. MS may make lots of money, but they can't just open 10,000 stores across the world. The full line stores cost millions to setup and even the Kiosks aren't cheap. Plus there is a lot of behind the scenes crap that has to be dealt with when setting up any sized store. On top of all that, MS is still very new to retail and are just now getting a good system together and the right team of personell to drive it forward. So to get them some experience rolling out stores and to see the impact they can have, they focused on the US first. That makes a lot of sense. The stores have a huge impact on MS' reputation locally, which is what will drive future sales. The US market for MS is in critical need of a boost like this, so it seems natural to do their big push in the US first. If MS' rep is poorer in the US than Europe, then its clear where MS' attention needs to be initially. I have no doubt that European stores are in the pipeline considering the early positive impact the currents stores have on consumer opinion, but the US is a big place, so expect more stores to open there as well.

Looking forward to getting a real MS store at NorthPark Center! Finally, all is right with the world! And as a plus, this will be much larger than the Apple Store nearby.

Well with no services there is no point in physical stores. Go and head and cut music and video and betray us, I will laugh in 10 years when you file for bankruptcy. OR stop cutting services and instead make them better and I will celebrate WP matching iOS smartphone share in 8 years. You choice MS, your choice.

As Satya Nadella said yesterday in the earnings conference: XBOX IS ABOUT GAMING. Gamers are a big and passionate market for Xbox, but I think he's smart to realize that people don't buy an Xbox to watch movies or TV shows (you can if you want to - they do have all the major streaming video services available). And there are a bazillion music services out there doing it better and at less cost to the consumer. It's not a betrayal if they can deliver what you really want at a price that more consumers can afford (think big, healthy gaming community). If they can't profitably deliver original movies and TV shows, what's the point? How much would you be willing to spend for that premium service? Xbox Music - the service and the app - both suck. So hit the delete command and get spotify. If you want to buy music, try eMusic.com (big indie artist catalog). There are soooo many alternatives. Businesses succeed by focusing on their core competencies, outsourcing the stuff someone else can do better.

Uh, the *default music player* for playing locally stored content on your WP device is, wait for it, Xbox Music. Anything else is a paid service. Or do you think that out of the box, a smartphone shouldn't be able to play local music and video files. That's a current show stopper on their phones, amongst many (with the Hubs removed in the 8.1 update, WP devices are now terrible at social networking).

Closest one to me in international plaza in Tampa fl. Went and checked it out a couple weeks ago. It's actually one of those kiosks and its right next to the food court.

That sounds dangerous. Pizza and techy toy store...

Come on, we need one in the Netherlands! I'll be happy with just one.

They really need to come out of the "US Only" mentality. There is potential outside of the US also.

Please open one in Nashville, TN

Yes please. I would take one in Opry mills. Please don't put it in Green hills.

How bout farm/welfare subsidyville? Sounds great to me. Somewhere in the backwoods of Arkansas or Bama.

Hey look! Some c*nt who has never been to Nashville!

Sao Paulo and Rio de Janeiro... When? :)

Support for Xbox original. Oh no barely advertised boaire or every street united. I missed the concert wasn't online that weekend. No warning or email or advertisement a week in advance. Facebook posts? Non existent for me. Now you cancle it. If you. Don't go all in with Xbox video what's to say I should support our? What's to say my content will be there in the future? I don't feel the trust. It's cool there serious but should have been marked under Xbox video as media apps. Not mixed in with every other app in the store. Mistakes were made. But don't kill the idea this early. Were is the confidence to consumers if you don't support your media store? Were is the confidence for me that I'm making a good choice buy not purchasing blue ray disks?

Need a Microsoft store in India

Man here in India one can buy almost all pirated MS stuff for a few hundred rupees in almost all major towns. Who do you think will buy software except a few fanboys? Hardware is a different ballgame altogether.

Looking forward to the Calgary store.

The question is when are they coming to Manchester, UK! :(((

Well, we have a Microsoft Café here in Germany but no true Microsoft Store. Would love to see them in every bigger city like Apples stores. :)

The Netherlands please. Rotterdam/The Hague area or even more south.

So when's a proper Microsoft store open in Pakistan

I went to a Microsoft Store for the first time in Oak Brook, Illinois. It was pretty neat. Very busy, as was the Apple store nearby. I'd say they were about equal.

Calgary Yaahoo!!!! Does that mean we can buy the Lumia 930 from the store?

Hampton Roads, Virginia, please Microsoft!!

I bet these shops are like Apple Stores. They'll be staffed by young, beautiful people and stocked with new, beautiful devices. We all know we humble human beings can never reach the peak of humanity as the Microsoft employees have, or find enough money for the peak of devices such as the Surface Pro 3

They should open in Europe. It's the best continent.

Where exactly are the Microsoft's stores in Puerto Rico?

How about NYC? They've got a nice kosk at the Time Warner Center....

Looking forward to that Northpark store opening.

Come meet me at this store, Westfield Topanga in Canoga Park, CA . I will try to apply. Your biggest fanboy will force windows phone down your throats.

They need to have a store wherever there is an Apple store... they have a LOT of catching up to do

Why stop there? Why not have a Microsoft store in every town in the world and no two adjacent Microsoft stores are more than 2.5km from each other?

Why stop there? Why not have EVERY STORE on the planet a Microsoft store? -_- I don't think it's unreasonable at all that they have stores in other countries. Apple stores are everywhere and people flock to them wherever they are. There are no equivalent MS stores (except US, yawn) so they don't have a similar presence anywhere else. If they want to compete with Apple they should have stores in the same cities that Apple are in.

As a confessed Microsoft fanboi I went to visit a Microsoft Store while out in Pittsburgh on Monday. Or at least what was listed as a Microsoft Store; it turned out to be a kiosk in the middle of the mall. While I was thrilled to be able to try out the Surface Pro 3 and Nokia Lumia 635 and Icon, I felt like the store could have done a much better job showcasing their products: Most phones and Surfaces available for use were in the most boring color: black. I think they should have made the colorful ones more prominent as the bright, fun colors is virtually a differentiating "feature" of Lumias and Surfaces vs. other companys' mobile devices. The phones had the ugliest arrangement of live tiles possible (e.g., with lots of empty space). Perhaps customers were moving the live tiles around but the staff should have tried to make the Start screens look nicer. Phones were locked to the stands so I could not hold them in my hand. I understand the need to prevent theft, but they could have, say, used a leash that allowed holding the phones. One of the staff guys was showing me his own personal Icon in the bulkiest, ugliest phone protector possible. The staff seemed to know a lot less about their products and phone plans than I did. There were a fair number of people in the mall but I was the only one at this "Microsoft Store"....