Microsoft Launcher adds new customization features for beta and release versions
Microsoft Launcher for Android is bringing a batch of new customization features to everyone with its latest updates.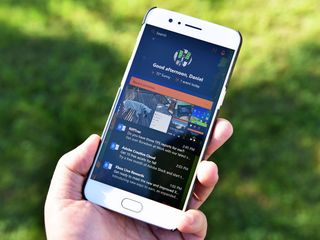 (Image credit: Daniel-Rubino/Windows Central)
A pair of big updates is rolling out to Microsoft Launcher, bringing new customization features to beta and release version users. The update rolling out to everyone today ticks the app up to version 4.4, bringing along the ability to create folders within the app drawer, multiple item selections on the home screen, and some other small improvements.
Here's a look at all of what's new in Microsoft Launcher version 4.4:
Enable creating folders in app drawer
Batch mode of apps on home screen and app drawer - long press menu
Enable/disable dock; Open app animation
Pill count improvements on Line, BBM, Instagram, Yammer, Textra, WhatsApp and more
Weather / Time widget refinement to mitigate weather refresh issue
On top of version 4.4 heading to everyone using the release version of Microsoft Launcher, Microsoft has begun rolling out version 4.5 to beta testers. Like the previous update, this one doesn't contain a single standout feature, but the collective additions serve to make the launcher more customizable. Plus, you can now set the wallpaper for both the home screen and lock screen from the launcher settings, which addresses one of the small frustrations with previous versions.
Here's a look at all of what's new in Microsoft Launcher beta version 4.5:
Let meeting attendees know you're running late from the calendar card.
Employees whose enterprises leverage Microsoft Intune's data protection policies can now use the Microsoft Launcher for viewing corporate data.
Adjust icon size in the app drawer, dock and home screen.
Set wallpapers for home and lock screen ( 7.0+)
Add blank pages in vertical mode;
Recurring reminders;
Oreo shortcuts creation
If you're already enrolled as a Microsoft Launcher beta tester, version 4.5 should be available to you now on the Google Play Store. If you aren't enrolled and would like to become a beta tester, you can sign up to become one (opens in new tab) now. These features should make their way to the release version of the app before too long.
See at Google Play (opens in new tab)
Dan Thorp-Lancaster is the former Editor-in-Chief of Windows Central. He began working with Windows Central, Android Central, and iMore as a news writer in 2014 and is obsessed with tech of all sorts. You can follow Dan on Twitter @DthorpL and Instagram @heyitsdtl.
Need landscape mode ASAP. Moto Z user, and I'm using Jbl soundboost speaker a lot, so, Microsoft launcher is not adequate for my needs.

That's one of the suggestions I made to the developer yesterday when they were asking what features people want.

Where was this? I want to ask for wallpaper scrolling.

On the Microsoft Launcher Beta community page on Google+. https://plus.google.com/communities/109393011462139141948

Hmm need to give this Try again

There are 4 features that would make me switch: 1) Landscape Mode 2) Intergration with Microsoft ToDo 3) Now that you can create folders in the drawer, after I add an app to a folder (in the drawer) then the app should be hidden in the drawer 4) Ability to put items from the feed on the same page as a widget and app icon. Why is there a distinction between a feed page and a non feed page? the items you can add on the feed page are just widgets that are specific to the Microsoft Launcher

So am I the only one annoyed by the iphone menu swiping up from down? I would pay to turn that thing off. I have my action center up I dont need a second one.

Just tried the Continue on PC for photos and found It is extremely helpful when I post my images on forums. No need to link cables and copy or paste using File Explorer. Just snap, transfer, and upload. Done!

Today I said "Hey Cortana, play my damn music"... She pulled up Groove, and there was an error message. Lol
......
That Google Pixel 2 (or 3) is sounding better by the minute... I can even admit that I'm excited about getting one.

Bought a used nearly new pixel off eBay for 300$. Good phone.. will definitely go to the mythical Surface phone if there will be one..!

I really wish that I could pin albums (or whatever they're called now) to the homescreen. And, Groove needs to skip the pauses between songs that are continuous from one track to the next. Also on my wish list is for the MS weather app to be as good on Google as the Windows phone. Lastly, I really like MS's Maps better any other's.

Groove? What's that? 🤔🤔🤔🤔

Microsoft Maps is awful? You'll get a similar experience with the Here We Go app that's much the same as our old Here Maps/Here Drive but that's one thing I don't miss from Windows Phones

That's your experience and opinion. I have used both here where I live and Microsoft Maps worked better than Google Maps in every way. And that was my experience dealing with both.

To each their own. I certainly won't tell people what apps etc they should prefer as that's entirely up to each individual. Do you live in the US? I think hehe features and content in Windows Maps in the US is far superior to what we get here in the UK and the the rest of the world

@rodneyej (reply button not working--getting script instead) I'm with you on the Google phone. If there's not a surface mobile device next time around, the pixel might be my mine. The Galaxy isn't for me as much as I thought it might be.

First of all, screw any Samsung POS overly bloated clone phone that everyone has. I'd rather keep my Lumia.
......
Second, I'll probably be getting this phone even if MS comes with Andromeda around that time. I want apps so I can take advantage of EVERYTHING. I want this Surface device because it's the PC I've always dreamed of. I really want my Surface 3 in my pocket. The deal is that I always have to go grab my Surface 3. The only reason I keep my phone on me is because 1. It's small, and 2. It makes calls, and receives text. I could do it all with a Surface in my pocket. The Pixel will be the device that stays in my bag, maybe. I might just tape the Surface Scribe, and the Pixel, together. Lol. Have it fold out to two devices. 😆😆😆😆
......
Man, it would be cool if the Surface could mirror the pixel, and control it, from a virtual desktop. As long as I could see the app, and control the pixel, we would be in business. That would be a very useful feature of continuum. Cross platform so that you can continue any device on Windows 10.

I tried MS Launcher on my Android phone, but it kept crashing and was buggy as poo. Also, a bit boring. I'll stick to my other launcher that really looks like WM. Also, prefer Windows phones full stop.

Needs Microsoft To-do integration. Otherwise I love this Launcher.

I really miss the live tiles from windows 10, it's just not the same on Android.

Tried. Didn't like it. Nova is a simpler and lighter weight. I understand people want to use apps from Microsoft but you don't need a Microsoft skin on your Google OS to artificially make it feel WP.

You're right but I for one find it the best Launcher in it's own right. It's the first launcher to sway me away from Nova in 4 or 5 years and it gets better with every frequent update

It has so many bugs, it is a miracle it has so many good reviews. I do not know what the hack is wrong with ms, but they are not who they were.

If you've lived with any Windows phone on W10m you should be truly used to bugs by now.

People just won't use their brains. It has so many good reviews because many people have had good experiences with it. I've not really noticed any bugs at all. Clearly, your experience is not representative of everyone's experience. As a software developer, I can tell you that bugs that occur widely are usually easy to track down a root cause for, while those that happen in rare cases are difficult to fix because it's often hard to reproduce the exact required to see them occur. People have been complaining about how bad Microsoft products are as long as there have been Microsoft products. You're just on the wrong end of this one.

I just installed the beta on my LG V30+ and one small improvement I notice is the loading of the wallpaper. I use a live wallpaper from LG (not sure whether that's relevant or not) and there used to be a little bit of lag between unlocking the phone and the wallpaper appearing. The wallpaper now appears immediately when the phone is unlocked. I also set the loack screen to use the same wallpaper so maybe that's what has done it. Maybe the lock screen wallpaper is preloaded while the home screen is not. I might experiment a bit to see if I can find out but, regardless, my phone seems that little bit nicer now.

It would be nice to integrate the functionality of the Next lockscreen into Launcher.
The ability to see all of your information from the lockscreen is really useful.

its almost good enough for me to switch from nova. i really like their widget screen and app drawer. the only thing keeping me away from MS launcher is the limited control over home screen. They offer no button theming support for phones with virtual buttons (basically all new phones), and they force so much padding between icons that you either cant set high column/row numbers (i like 6x12) or they get scaled so tiny that even on "max icon size" they are barely clickable.
Windows Central Newsletter
Thank you for signing up to Windows Central. You will receive a verification email shortly.
There was a problem. Please refresh the page and try again.