Microsoft Launcher for Android update brings another round of customization tweaks
Microsoft Launcher version 4.5 brings a handful of new customization tweaks.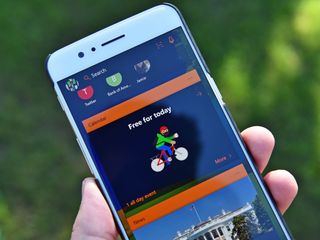 After a couple of weeks brewing with beta testers, Microsoft is rolling out Microsoft Launcher version 4.5 to everyone. There's no single standout feature included in this update, but it does bring a number of smaller tweaks that open up customization options for users.
Here's a look at all of what's new in Microsoft Launcher version 4.5:
Let meeting attendees know you're running late from the calendar card.
Employees whose enterprises leverage Microsoft Intune's data protection policies can now use the Microsoft Launcher for viewing corporate data.
Adjust icon size in the app drawer, dock and home screen.
Set wallpapers for home and lock screen ( 7.0+)
Add blank pages in vertical mode;
Recurring reminders;
Oreo shortcuts creation;
One particularly nice change in this update is the ability to set wallpapers for the home and lock screens, which addresses a minor frustration from prior versions. If you're ready to check out all of what's new, you can grab Microsoft Launcher 4.5 on your Android device now from Google Play.
See at Google Play (opens in new tab)
Get the Windows Central Newsletter
All the latest news, reviews, and guides for Windows and Xbox diehards.
Dan Thorp-Lancaster is the former Editor-in-Chief of Windows Central. He began working with Windows Central, Android Central, and iMore as a news writer in 2014 and is obsessed with tech of all sorts. You can follow Dan on Twitter @DthorpL and Instagram @heyitsdtl.
I swear this update keeps getting released lol

It sure would be nice (and easy) if they would let us pick from more than the awful pre selected colors for themes. How hard would it be to put a friggin color wheel in there?

As hard as it was to include it in the W10M version of the display settings?

I enjoy the launcher and it is my default. But in true MS fasion they remain schizophrenic with features. We have MS Luancher Remidners, COrtana Reminders, MS ToDo app. Nothing is synchronized! So many ways to simplify!

What are u talking about? I have my Wunderlist connected to the to do list on the feed. It syncs my lists and shows them there. MS owns Wunderlist..thats unison right there.and what are ms launcher reminders? Where are they?

Fair enough, though I find to-dos and reminders to b similar. But if we stick with to-dos, show me where launcher to dos sync to me to-dos. They now have three options with laumcher, wumdelist, and MD to-dos.

I wonder if this will be the UI for Andromeda.

It is more likely the W10 Tablet Mode UI which supports Continuum.

I doubt it looks like anything like the current Windows UI. I bet they will have a new UI to go with their new design language.

Anyone noticed better performance? This launcher ate my battery and truly said, is a pain in the a.. when it comes to bugs. It ain't stable, that's for sure.

Last week, my S8+ started eating the battery.. I could barely get it to a full charge. It would drop 30-40% in just over an hour doing nothing but reading a news article. Also, the launcher kept crashing, so i'd have to switch to Square Home or Launcher 10.
I'd say they majorly screwed it up and need to fix it.

Well,at least i am not the only one.

I've always gotten way better battery life while using MS Launcher on my One Plus 3

I use it on my Pixel. When I first started using it I just noticed some lag, but then I turned on high performance mode and it was fine. Other than that, there weren't really any major bugs I noticed. Battery life was always fine or I should day didn't change from when I was using the Pixel launcher. Every update had made it better for me

Yeah, well, i forgot to mention orero. Anyhow, it is buggy as hel, i am picky when it comes to performance, and, at least in orero, behaves fully beta. Coding not completed (animations are made only for app drower and only when swipe up in the standard way). If one deactivates the dock and selects the app drower to pup from swiping up from the points the dock schould pup, their is no animation, not when closing, not when opening. For me, isan alfa version. Something normal for ms products this days.

Any word on why Wallet was changed to Microsoft Pay the other day? Or did I miss something.

That was announced a bit ago they are going to a unified pay system that's supposed to be on all their services or something.

Okay, i thought so. Maybe they just updated for non-insider machines cause my work laptop just updated, although now i can't open it.

I am using the MS Launcher on my S8 and I am getting over 50 hours between charges.

No, you aren't.. unless you have the brightness down to nothing and you don't use your phone. Nobody gets 50 hours on their S8.

I don't believe this, no way you can 50 hours on S8 until you have removed you sim card out brightness to lowest and wifi/Bluetooth is off.

SquareHome 2 launcher. Live tiles, infinitely customizable, stable, beautiful.

When you say live tiles, for which apps does it offer live tiles?

by this time next year it maybe ready for prime time and I might be ready to trade in my 950. We will also know what andromeda produces.

i hear you mate, i am having a hard time ditching my 950xl i am trynna look at the Nokia 8 but it is a bit of a downgrade. still waiting to see what comes at wmc.

i wish it had this thing like on Lumias that you click on the letter grouping to get to the apps that start with the selected letters instead of scrolling alllll the way down.