Microsoft launches the Lumia 830, Lumia 730 in Thailand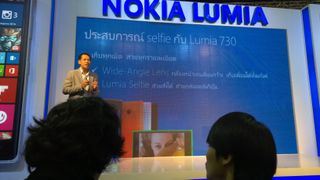 Microsoft today announced the Lumia 830 and Lumia 730 for Thailand at an event in Bangkok. Available today, the Lumia 830 will set purchasers back by 13,990 baht ($430), while the 'selfie' Lumia 730 is priced at 8,790 baht ($270). To sweeten the deal slightly, Microsoft is bundling free 15GB OneDrive storage and free Skype calls for 3 months.
Both Windows Phones pack the Lumia Denim update, adding numerous new features to the overall experience. Microsoft has partnered with True and dtac in the region to stock the Lumia 830 and Lumia 730. See the press release below for more details on carrier pricing and whatnot.
Thaks, Kittanan, for the tip and images!
Nokia Lumia 830 and Nokia Lumia 730 now available nationwide
Bangkok, Thailand – 2 October 2014: Nokia Lumia 830 and Nokia Lumia 730 Dual Sim are now available in the Thailand Mobile Expo 2014 and nationwide. With high-end innovations and superior imaging technology at affordable prices plus the new software update Lumia Denim and integrate Microsoft experiences, Microsoft Devices becomes the true leader in mobile imaging at every price point.
"After the success of Nokia Lumia 930 with leading smartphone technology, we bring superior user experiences of Windows Phone 8.1 with high-end technology and imaging innovations on flagship smartphones available on the two new affordable devices Nokia Lumia 830 and Nokia Lumia 730 Dual Sim, underscoring Microsoft's commitment to offer a competitive Windows Phone 8.1 smartphone for everyone," said Mr. Yantana Simavanichkul, Managing Director, Microsoft Devices Thailand.
The ultra-sleek Nokia Lumia 830 packs the very best Lumia innovations including PureView camera with ZEISS optics, Rich Recording, and our thinnest optical image stabilization system to date as well as premium technology such as wireless charging, super sensitive touch, and Glance Screen. Consumers can own the flagship technologies at the price of 13,990 baht only. The selfie smartphone Nokia Lumia 730 Dual Sim comes with a wide-angle Full HD front facing camera which provides unbeatable selfie by showing more of the world around you as well as allows more friends and families into video calls on Skype. Share your chic selfie shots on the Nokia Lumia 730 Dual Sim only at the price of 8,790 baht.
Both smartphones come with the software update Lumia Denim and Lumia Camera app, offering ease of use and speed in photo and video capturing via 2 special functions. Moment Capture allows 4K-quality video recording, depending on hardware. Each frame is of high image quality at 8.3 megapixels, can be saved as a still image, and be applied with techniques like Action Shots. Rich Capture simplifies picture-taking with auto HDR and Dynamic Flash. With Rich Capture, people can avoid the hassle of adjusting camera settings; they can shoot first and edit and select the perfect shot later. In addition, users can sync, save and share both photos and videos from the two new smartphones on OneDrive free for 15GB as well as get Skype calls worldwide free for 3 months.
Microsoft joins hands with 2 leading operators offering unbeatable packages for both smartphones. Buying a Nokia Lumia 830 and registering with True Move H monthly package or changing network with the same number will receive a 50% discount on monthly fees for 10 consecutive months as well as 4G internet free 3GB with free Facebook usage for 6 months. Moreover, users will get free Skype calls for 3 months. For more information, please contact True Store and True Shop nationwide.
Buying Nokia Lumia 730 Dual Sim will receive a 50% discount on monthly payments for a period of 12 months from dtac. Simply subscribe for dtac's 999-baht Smartphone Device 4G package and pay only 499 baht monthly with 550-baht free calls to every network and unlimited internet at highest speed of 3GB. Another offer is the 1,199-baht Smartphone Device 4G package, which subscribers pay only 599 baht monthly for 12 months to get 650-baht free calls to every network and unlimited internet at highest speed of 4GB. Both packages will receive free unlimited dtac wifi. Moreover, dtac offers 0% interest for 20-month instalments for customers who buy Nokia Lumia 730 at dtac shop. For more information, please contact dtac shops nationwide.
Windows Central Newsletter
Get the best of Windows Central in in your inbox, every day!
Rich Edmonds was formerly a Senior Editor of PC hardware at Windows Central, covering everything related to PC components and NAS. He's been involved in technology for more than a decade and knows a thing or two about the magic inside a PC chassis. You can follow him on Twitter at @RichEdmonds.
We need this on Philippines! Want to exchange my NL 1320 for 730/35 or maybe 830 if I have extra money.

No signs of 730/830. They started marketing 530, gotta be sooner.

These phone aren't cheap !

Philippines should be next!!!

Hoping for the same... Wanna try the selfie... Then everyone's gonna envy...

But you can't buy the 735 here. Only 830 and 730 are available. 4G network is only available in the center of Bangkok and the 2 Sims devices are popular.

I asked General Manager of Microsoft Devices. He said that it's very similar model and Lumia 730 has dual-SIM model. So, that's why Microsoft Devices bring Lumia 730 to Thailand only.

I need Lumia 735 in Thailand

It's interesting to see such solid carrier support in Thailand for Lumia devices. Over in Malaysia, Lumia devices have been given cold shoulder from all carriers. No Telco carry Lumia anymore in their postpaid offerings.

True. You'll be hard press to find any Lumia in my town. Or WP phones. If its not android or iOS you're outa luck. It's pathetic.

AGREE. I just show the telcos my middle finger and buy my windows phones unlocked. I have no issues paying RM2000 plus for a flasghip model. In Penang state itself there is only one single official Nokia outlet left, in Gurney plaza. Many other huge malls like Wueensbay dont even have any Nokia booths. When there are new Samsungs and iPhones everyone compete for offering the best deal. When carriers are not going to support it and advertise them, how is the platform going to grow into a relavant 3rd mobile platform? Less users, less developers. Many local websites that i visit dont even bother to make a WP app, like lelong.com.my.

Exactly, there is still a big app gap for local applications especially banking and other services. This chicken and eggs game is not progressing well

I don't remember any telcos in Malaysia offers any lumia phone with their postpaid plan. It always either samsung or apple.

I did recall the 920 on Maxis when they launch it as their first LTE device in Msia on postpaid. Wasn't a good deal, end up paying more over time

It was Digi that still offer Lumia 1520 when it was launched. But now, no Telco is offering any Lumia in their postpaid device bundle portfolio

I can feel you too. Here in the Phils., it felt like windows phones are worse than being taken for granted, they no longer carry windows devices for postpaid services. I'm still hoping, someday, soon... So sad...

At least I've seen a few lumias here in my school. Philippines too. Posted via the Windows Phone Central App for Android

Why is it so that the much awaited Lumia 830 is launching worldwide for around $420-$430 EXCEPT in INDIA where it has launched for $470!!! (It makes a lot of difference in ₹) Also the Lumia 930 had launched worldwide for around $500-$530 except India! Now, even after 3-4 months, the Lumia 930 is priced at $650 in India at launch!!! Moreover, without important accessories!! It's partiality!!

Nokia now Microsoft has nothing to do with the price difference between countries. Blame your customs fir charging too much tax. That tax has to be passed on to consumers by distributors.

It is nothing about the taxes! Is India the one in the whole world that levys taxes so much that it's the only country to experience such huge pricetags? If still it's so then why do many other high-end phones like Samsung GLXY S5, Alpha, Lumia 1520, etc. - have launched in India with a price approximately equivalent to its global value? Also, it is to be noted that the Lumia 730 has been launched at a fair price as it was expected but not the other two!

The Lumia 930 should come to South Africa

Still waiting here in UAE

Lumia 930 is $800 here in Australia but it's worth every cent compared to other to end devices like iPhone and Htc One Gs5. The 730 and 830 are extremely well priced considering the capabilities they have. Not sure what you people expect for $300. The top iPhone is $1200 in Australia

You can get a L930 for $550 from a number of online vendors.
Staticice is your friend

patiently waiting here in Indonesia...

Just curious, is BB still very popular in Indonesia? I remember a few years ago, people would actually riot during releases of new BB (RIM back then) phones if stocks ran out.

I thought the same too but not sure about it now

@Rich
Please create a poll on how many people are using developer preview of windows phone 8.1 update 1. I just want to know

Well, the price for the 730 is not that bad

How come it is still Nokia over there? Instead of Microsoft
Windows Central Newsletter
Thank you for signing up to Windows Central. You will receive a verification email shortly.
There was a problem. Please refresh the page and try again.