Microsoft launches an official device store on Amazon India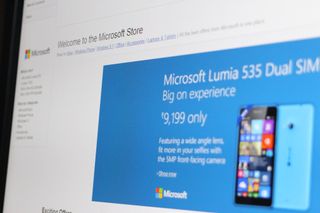 Microsoft has launched an official storefront on Amazon India that aims to be the central destination for buying all things related to Redmond. The store lists a variety of products across categories including Xbox, Windows Phone, Windows 8.1, Office, laptops, tablets and accessories.
The online catalog is growing in terms of the products on offer, and Amazon is also running deals on several items. The Lumia 1320, for instance, is now selling for Rs. 14,999 (opens in new tab) ($240). The Lumia 625 is also on discount, and is available (opens in new tab) for Rs. 9,030 ($144).
Microsoft mentions that its device store will host the best deals and exclusive launches, so it should be interesting to see what we have in store in the coming months. Do check out the link below to see if there's anything listed that strikes your fancy.
Source: Microsoft Store on Amazon India (opens in new tab)
Windows Central Newsletter
Get the best of Windows Central in in your inbox, every day!
Harish Jonnalagadda is a Senior Editor overseeing Asia for Android Central, Windows Central's sister site. When not reviewing phones, he's testing PC hardware, including video cards, motherboards, gaming accessories, and keyboards.
But when is it comming to india... oh wait

I suppose the new question is when is this coming to the UK or Europe? would like to have had the gem deals/prizes too. Guess they go where they sell? Surely wp does better in Europe than the us?

Yes. But they don't seem interested in places they already have a market share.

Agree, a customer is a customer, where ever they are based, so deserve equal treatment. imho.

They're bringing out the big guns!! Whoo!!!

Yes come on MS..A big step

Microsoft should open minimum 500 retail stores in India.

That's firing all cylinders...now that's really really smart i would say...now they dont have to undermine the huge nokia re-seller network that they are giving priority to online reatilers while maintaining a credible ofiicial online store which gets the latest deals and showcases the variety of MS products..win-win I would say...also they are playing friendship with Amazon..exclusive Xbox one launch and then this..nice !!! now just close that crappy Nokia store on Indiatimes shopping please !!!

hope surface to come soon ehen they launch mini. it can atleast be available online in India.

We want surface! We want surface! We want surface!

Try bring the boat to the shore..Ye will get surface..!!

No I want surface pro 3 not surface :P

Surface Port 3..?? Turn your boat towards the right and a then left..!!

And you want to go to hell..?? I don't know the way..But I heard if one does a lotta bad things 'karma' in life s/he lands himself/herself there..!! And seeing your Anti-God comments..I think you have a decent chance of makin it there..!!

Wish.... We want it so bad in India.

YES! YES! YES! YES! YES! YES! YES! YES! YES! YES! YES! YES! YES! YES! YES! YES! YES! YES! YES! YES! YES!

He's a Daniel Bryan fan...!!

They won't..!! It requires Cortana..Which isn't available in India yet..!!

Technically, it is available as a Alpha version through developer preview ;-) But I get your point :-)

Know that..!! But more technically Alpha will turn to Beta in 2015 and to the full version in 2016..!!

I've never had that good an experience with Amazon. I always prefer Flipkart.
But lately all the sweet deals are going to Amazon. Ah well, maybe their services will improve in time.

Even I prefer Flipkart but some products are not listed on it..!!

Amazon is always better than flopkart. I never faced any issue with amazon.

Maybe worldwide but Flipkart has better roots in India..Nor have I faced any issues with Flipkart..!!

Even in India, I have found Amazon's services better than flipkart. Customer support options like live chat and instant callback are not available on Flipkart. They have a long way to go.

Amazon has a range categorized like the rest of the world..But Flipkart is made especially for India..Plus it's UI is better than the white white..!! I initially started ordering from Amazon only but earlier it didn't even had a site for India..And now what they have is just a copy-paste of the US site with just the conversion of currency..!! And I get things delivered from Flipkart in 1-2 days..Many a times I had to cancel long orders from Amazon and purchase it from Flipkart instead..!! Surely Amazon has products that are not on Flipkart but still..!! Just checked I have ordered 455 things from Flipkart and only 16 from Amazon..!!

I use Flipkart all the times. Used Amazon once for ordering some Chetan Bhagat books because I got better deals on AMazon.in . But I feel that Flipkart has better service and takes less time to deliver the products. Amazon asks for money if we want the product to be delivered in 2 days but Flipkart usually delivers all the products in 2-3days (speaking as per my experience).

Amazon has always been slower on delivery than flipkart, for me at least.

Can comment on WC but haven't opened WhatsApp yet..!! Sent the new account info..!!

For me, amazon is much faster thn flipkart. Amazon delivered product in my area within four days but flipkart take 7to 10 days. Amazons deals are much better than flipkarts flop deals. Amazon give free shipping cod for one rupee product but flopkart charges extra 40 for below 500 product.

Finally the people at Redmond are pacing up things. Bravo!!

Bro, Amazon products and services are waaaaaay better than flipkart!!

Yeah, Slowly but surely ..

This is good news. Just now my Mom bought new 830. She switched from 520. I am enjoying Lumia revolution here in India. People are buying, apps are coming. I am using 925. My gf is on 630. My close friends are on 820, 730, 925 and 1320. My cousins are on 630 and 520.

We want to read a special report on those wholesome Lumia chronicles from India or, say, Italy. Seriously. Just some ideas for the editor's section in 2015, Daniel Rubino :)

Maybe only for your family most of my friends on Samsung grand nd moto some on redmis .Still lot of work to be done.

I heard that Xiomi has been banned in India till February.

So that the number of crap being sold is lessened..!! "Swaach Bharat Abhiyan"..!!

Gameloft gives xbox support for world at arms

but why there is no lumia 730 at this storefront of Microsoft ?

Please make gift cards available too

Awesome..pls make it in flipkart and snapdeal too...

Microsoft Band needed! :P

2015 will definitely be an important year for Windows phone & Microsoft.....I m looking forward for more mid range Lumia phones....and 7inch windows tablets.

Same was said for 2014.keep hoping for the best

Daydreaming bro..?? :P :P The same was said for 2013,,2014 and will be said for 2015,,2016..!!

MS out 730, 830 and 535, those are he best phone`s for the price tag.

Microsoft is launching so many deals in India .. M really happy for it.. N its make me proud to be a Indian.. .. Special deals..no carriers.. Its just amazing

Then a surface pro in India!! I guess!

Thanks Microsoft! I'm looking forward for Lumia 1520.

Has India become the primary country for Microsoft now???? Wtf

Hell Yeah.(Narayanan style)

Please open a Microsoft store in Pakistan also. Or just release amazon here.

They don't make it outta US or Canada..So a long wait there..!!

I hate it when Microsoft does these kind of things.

"Does these kind of things"..They don't do anything in fact..!!

Haha yeah India has it. FYI glance screen got an update where u can choose photo as glance background

How about give Malaysia some fair treatment?! Your marketing here is Malaysia sucks!! The sales man don't even know how to use rich capture...Hail Microsoft & Satay Nutella!!!!!!

Windows phone market share will definitely growth in India, because of cheap phones and advertisements through tv channels.

But those ads are crap. Why the heck aren't they showing the phone specs in TV ad? They should know that they are not Apple.

because a list of specs means nothing to normal people ... to sell a product you need to make an emotional connection of some sort between the consumer and the product ... marketing 101.

Right, there's specs everywhere.

They can use the 1000+ nokia stores

Now this is great news Ms!Awesome!

What the expensive phone on Lumia 625? Why need $144????
Windows Central Newsletter
Thank you for signing up to Windows Central. You will receive a verification email shortly.
There was a problem. Please refresh the page and try again.