Microsoft launches preview of Office 2016 for IT pros and developers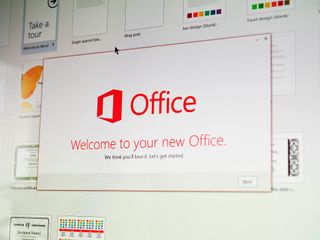 (Image credit: Windows Central)
Microsoft is now allowing IT professionals and developers to access a preview version of Office 2016, the next major version of its productivity software. The company announced the preview as part of its 2015 Convergence conference in Atlanta.
Microsoft says that some of the new features in this preview version include Data Loss Protection for Word, Excel and PowerPoint, multi-factor authentication for Outlook, and more. One thing that Microsoft says they are not changing in this release is macros and add-ins. Microsoft says:
Microsoft will update this preview version of Office 2016 on a monthly basis. It plans to launch a true consumer preview of Office 2016 sometime later this year.
Source: Microsoft (opens in new tab)
Windows Central Newsletter
Get the best of Windows Central in in your inbox, every day!
Everything is a preview what is Ms doing.....

Replace the word Beta with Preview. Same difference. Gives it more swagger.


they are working? there have been office previews for a long time.... and Windows started with 8. and they are not finished builds so they are being developed and people can try them. is that so bad? preview is a good word becuase it means in few months a new version will appear. the problem is people complainig and treating these versions as finished ones.

Seeing that 365 does forced updates, can understand why there aren't any changes to how add-ins work.

I like the new color differentiation between Word, Excel, PowerPoint etc.

Why couldn't the touch version be a part of windows 10 like the old starter version used to be

Where can I get this? Is it invites only?

weird, what i have missed.. i've been using office 2016 preview about 2 weeks ago.. why are they saying "is now allowing"

The Mac preview has been out for a while. This is the Windows preview.

Let me tell you that im not a MAC user.. im windows user W8.1 Desktop and W10TP On Virtual Machine and im running the office 2016 on Windows 8.1.. Still not understanding it..

They are just opening up to more folks I guess. I think that you and I got access to the January Technical Preview, back in February. They are just opening it up to the plebs :-D

Hahahha really funny point :D

They released it "by accident" a few weeks back. Some early birds got lucky and installed it. I, for example, missed the boat. :P

Well i wont make it a big thing at all.. I've been using for some weeks and I liked, little more easy to use than the older one.. I'm not that kind of guy who makes the full specs about so the only thing that I can/will 'say' is that the new 2016 is pretty kool and easier to use :)

Looks like it'll fit in nicely with Windows 10's upcoming UI.. *leaked screenshots*

That'll explain why my Office 365 TP license changed this morning.

I'm thinking of installing it on a separate partition on W10. That way, if something goes wrong (like what Paul Thurrot is going through, judging by some of his recent tweets), my other partition won't be affected.

I have installed over my older one weeks ago and nothing wrong happened.. Everything is running ok.. At least for me

Gotta say, the Mac version of office 2016 is so much better than anything I have seen previously from MS.

Don't have a Pro 365 license, oh well.

hmm, I run setup and then nothing ever happens?
Windows Central Newsletter
Thank you for signing up to Windows Central. You will receive a verification email shortly.
There was a problem. Please refresh the page and try again.