Microsoft at least mulling a Bing rebrand to 'Microsoft Bing'
Say bye to the iconic "B" logo.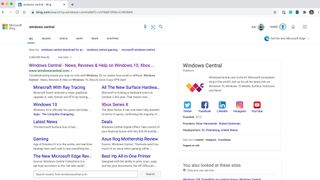 (Image credit: Windows Central)
What you need to know
Microsoft is testing a rebrand for Bing.
The shift replaces Bing's iconic "B" logo with "Microsoft Bing" branding.
This appears to be part of an A/B test right now.
Bing appears to be in for a rebrand that will make Microsoft's role in it much more front-and-center. Some Bing users are currently seeing the Bing logo replaced with one that says "Microsoft Bing" and includes Microsoft's main company logo. It seems this is an A/B test right now, meaning it hasn't rolled out to everyone.
Bing is already widely known as a Microsoft property, but Microsoft's name has never appeared as part of its main branding. This switch would make it much mor evident. The timing is also interesting because it comes months after Microsoft began testing a new, curvier Bing logo.
That curvy logo never made its way out to everyone (as of this writing, anyway), so it was likely a test as well. Likewise, it's possible that the "Microsoft Bing" branding could never turn into anything more than a test. Still, it would be an interesting move that would see the iconic "B" logo retired if the current logo test sticks.
Have you seen the new "Microsoft Bing" branding pop up yet? Let us know what you think in the comments.
Windows Central Newsletter
Get the best of Windows Central in your inbox, every day!
Dan Thorp-Lancaster is the former Editor-in-Chief of Windows Central. He began working with Windows Central, Android Central, and iMore as a news writer in 2014 and is obsessed with tech of all sorts. You can follow Dan on Twitter @DthorpL and Instagram @heyitsdtl.
I have the new logo, and I noticed it, but didn't think anything of it until I read this article. Frankly, it makes no difference to me.

Put the word Microsoft in front of it to ensure it fails. Apple has the opposite problem.

Well, whadayaknow, I didn't notice but I have the new logo, too. Not sure I appreciate MS's continual renaming/rebranding of things. I think it dilutes their marketing message. In any case, I still link Bing!

Yes, got it. My question though is what is "Bing" supposed to represent/mean? Microsoft needs to improve its branding consistency in some areas.

I've always been under the impression 'bing' refers to the speed/simplicity of the search engine.

Microsoft might not be able to innovate, but holy cow can they rebrand.

Odd, mine just has the Microsoft logo, not the "Microsoft Bing" verbiage next to it.

I preferred the curvier logo rather than I Microsoft rebrand.

I think it looks jarring and shouldn't be changed, or atleast changed to the curvy version.

I really like the microsoft logo. I would try having it on all microsoft products. A lot of people don't know the extent of microsoft's ownership of good products.

Bing has negligible marketshare yet Nadella doesn't give up on it.

It probably doesn't cost that much and I think Bing is profitable.

Classic Microsoft move. A meeting somewhere in Redmond, WA (This may or may not be based on actual experience). Program Lead: Brand X has 80% of the market. We need to win. Ideas? Big huddle forms, whiteboards fill up twice, pizza arrives, breakout groups happen, OneNote notes are taken...hours later.... Big huddle Spokesperson speaks: Rebrand the product to give it a stronger identity! Medals are handed out, promotions are made, raises are given, and the furniture is moved around. At least they are trying. Bless their hearts. For the record: I use Bing or Microsoft Bing instead of Brand X. It works great. I had some anxiety about it not working great when I dumped Brand X or Google Brand X (I heard they had a meeting to ensure they keep their market share). For the first couple weeks I found myself doing lots of double searches because I was convinced Bing or Microsoft Bing was vastly inferior to Brand X or Google Brand X. When I discovered that the search results were mostly interchangeable, I dropped Brand X or Google Brand X like an overheated gas station burrito. There is a useful nugget of something in their somewhere. Displacing a software leader, especially a one that has most of the market tied up, is nearly impossible so it seems unless said leader manages to screw things up. I don't see Brand X or Google Brand X doing that anytime soon unless they have some help from a few helpful Congress critters. It could happen given the bipartisan animosity on display in the recent antitrust hearing though I would feel much better about all that if the Congress critters actually seemed to understand the technology sector with some depth. I am pretty sure one Mr. Gates would nod his head in agreement to that. Bless his heart.

Why do they need to rebrand. Is it a legal thing? If so what is the argument to do so?

I don't hate it. MS actually has a decent public image right now, so I don't think it's a detriment to have their name on the product. And by attaching their name to it, it gives the impression that they are taking the product seriously*, and that it is a product that can be taken seriously by the user. And finally, it just tightens-up the MS product portfolio a bit. * MS may or may not *actually* be taking the product seriously, but it gives the impression that they are.