Microsoft posts full list of Lumia 950 and 950 XL variants receiving firmware updates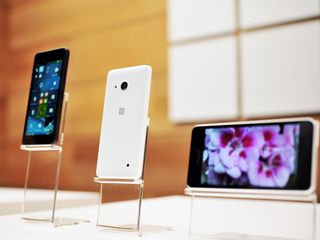 Following up on the release of new firmware updates for the Lumia 950 and Lumia 950 XL for Windows Insiders on the Production ring, Microsoft has posted a comprehensive list of which operator and device variants should expect fresh firmware in this release.
The list, a portion of which you can see below, contains several hundred entries split between various regional and operator variants of the Lumia 950 and Lumia 950 XL — both single-SIM and dual-SIM. Funnily enough, although the list covers more than 500 entries, the AT&T Lumia 950 isn't included among them.
If you're curious, you can head to Settings > Extras > Advanced info to view your device's "Manufacturer Name" and "Mobile Operator." From there, you can use those identification numbers to see if your device variant is on the list and ascertain which firmware version you should expect to receive.
If you'd like to check your Lumia 950 or 950 XL against the list, be sure to hit up the source link below for more.
Source: Microsoft (opens in new tab)
Dan Thorp-Lancaster is the Editor in Chief for Windows Central. He began working with Windows Central as a news writer in 2014 and is obsessed with tech of all sorts. You can follow Dan on Twitter @DthorpL and Instagram @heyitsdtl. Got a hot tip? Send it to daniel.thorp-lancaster@futurenet.com.
I'm so sad that my AT&T 950 will never see those firmware updates. I really wish I bought an unlocked phone now. :'(

Do you want my unlocked flip phone? Great battery life

A few more missed firmware updates and my 950 will be less effective than your flip phone.

Call quality is horrible on the 950! ATT absolutely needs to allow this firmware.

No problem with call quality on my att 950. Maybe you have a poor signal.

Do you have echo? That's was caused by Hey Cortana. Not sure if that was fixed yet, i have it disabled still. Otherwise, call quality is superb. Still want the damn firmware updates though.

Yes, my call quality on my AT&T 950 is very good, strong signal and no issues with 'callers' stating 'can't hear you or echos'...Hey Cortana disabled.. My only issue is I can't get 'Enhanced 4G settings'----->SIM settings: Your phone's settings or the SIM card have change http://forums.windowscentral.com/microsoft-lumia-950/404293-2.htm

I had this happen to me too. I lost my enhanced LTE settings after I received a message stating SIM setting changed, restart the phone. The first time I went to AT&T and they gave me a new SIM and within a minute or so on the new card, the settings came back when it told me SIM settings changed and restart. A couple of days later I got the message again and restarting the phone resulted in the settings dissaperaing again. The fix that has worked for me is to turn the phone off, remove the battery and the SIM. Replace the battery and fire up the phone again without the SIM. Unlock the phone and it will say SIM missing. Turn the phone off and remove the battery again. Replace the SIM and the battery and turn the phone on. In a minute you should see a message to restart your phone as the SIM has changed. When the phone starts up your LTE enhanced settings will be back. I have only had to do this two or three times but each time it has worked to bring the settings back. Hoping the new Firmware will end this problem.

@MorganRW, Thanks as I have tried this method a couple of times...no success... So I will get to a AT&T Corp store and get a new SIM...and go from there...But yes, waiting for AT&T approved firmware...update..lol! Am going to do a 'hard reset' again....starting from No Backups/fresh install and see if this works! Maybe even utilize MSRT....

I have excellent call quality - better than my 1020. I could never get the 1020 loud enough.

The problem is all the SIM issues people have when they buy unlocked and try to use on AT&T. I know that's what scared me off unlocked. My boss bought a 950XL from Ms store and AT&T couldn't get LTE or visual voice mail working, so he returned it. And bought the att 950. But now we're both stuck on old firmware. You just can't ever win.

That's because visual voicemail support wasn't there. That wasn't AT&T's fault. It just got added in the latest Fast Ring build...and I can confirm that it is working. The "LTE issues" have also been resolved.

Since I already had a Lumia 830 with a nano sim, switching to an unbranded 950 was easy. This exact reason, holding firmware hostage, is exactly why I will never buy a carrier branded phone ever again.

I never had LTE issues on my Unlocked 950. I can not comment on that, sorry. On the VVM issue, I can. I was annoyed I couldn't get it, but I downloaded ISeeVM from the Windows Store, and while it annoys me at times, it's been quite nice. Kinda want the stock one working, though.

Can't believe people still fell for the carrier locked BS and expected something different.....

They did get the latest .107 os. Firmware is different as it touches radio stack

At the time, you had to chose between carrier locked and certain features like Visual Voice Mail

There was no "falling for it." Unless you are an insider, key features like visual voicemail still don't work on AT&T. If you wanted the best experience, you had to go carrier branded.

I feel sad for you guys in US Posted from Windows Central for Windows 10

Well, I live in Brazil. We still don't have 950, 950XL, 650 nor 550 here.

But Microsoft Brazil keeps saying that they are "coming soon".

That's great for you. So you don't have to worry about updates ;)

Same here. That said. it's pretty clear that carriers both US & UK are being influenced by someone. If you can't see anti-competitive behaviour here you must be blind. I say this as a former employee of a major UK MNO - it's not disinterest, it's something else entirely.

did know, you can request a factory Unlock code from ATT yourself, very easy and fast specially when you have an acct with them? Here's how: go to : https://www.windowscentral.com/e?link=https2F2Fcli... if this link does not for you, Just BING search it and for "at&t device unlock request form" and should be the first on the list of your search result. its FAST and EASY. within 4 days you will receive a ""Factory Unlock Code"". I did it for my 5 my Lumia Windows phns, and worked PERFECTLY fine. https://www.windowscentral.com/e?link=https2F2Fcli...

But that accomplishes nothing concerning firmware. Only unbranding will free it from carrier control. And there are no unbranded roms for the ATT950. Posted from Windows Central for Windows 10 from my Lumia 950XL on Redstone.

Dude, your profile pic makes everything you say seem angry and "scowly"... I'm scared

PepperdotNet, You are absolutely correct! Unfortunately we with AT&T branded 950's will just have to wait...:(

In addition to my post as how to get Unlock code. To receive this firmware update if you are in ""Windows Insider"" program in your phn, you MUST go to it and set it to """Production"" first, reset your phn, and then go to "Windows Update", and you should see the new firmware update now. After that is done, reset your phn again, and go back to "Windows insider" and then set it to Fast or Slow ring, and reset your phn again. If you don't do that, the new Firmware update will NOT come to our 950 or 950XL,....... phns. I hope this helps.

sim unlocking WILL not give you the ability to bypass at&t for formware as it's still an AT&T BRANDED phone.

Correct ashram, Applesucks 'information posted above' is completely incorrect...

But you can't unlock it if don't own the phone yet, payments are involved, unless u own it outright.

Does it work if you're on the next plan? Posted from Windows Central for Windows 10

That's why I blew some dough to get an unlocked L950XL. I will never (???) buy a locked phone again!

what about for Unlocked Lumia 950? I bought it through BHPHOTOVIDEO Posted via Universal Windows App on Windows 10

Do you want mine? I shattered it when I was on a trip, and I was forced to buy a new one (same brand and model because I loved it so much), it just needs the screen replaced but other than that everything is in tip top shape.

"Funnily enough... The AT&T 950 isn't one of them" I think you're mistaking "funny" for "pathetic".

Another reason that contributed to me buying unlocked from Microsoft

MS assured us that they would control updates for phones now, so I buy the AT&T 950. Then find out that I can't even get the firmware to make the updates im getting worth a damn. I swear, I try to support MS, but they really dropped the ball here.

Was it AT&T that said Microsoft would control updates? No, that was all Microsoft. You will know better than the trust Microsoft in the future.

I know better than to buy a carrier locked phone, haven't done that since forever.

AT&T is truly to blame here. What the heck, AT&T??? You're basically the only US company which outright supports WP no questions, but you keep updates away from your customers who buy the phones??? Makes no sense. Very frustrated right now ti read this article. I was about to swap into Production ring to happily FINALLY get a firmware update to (hopefully) fix the echo issue in calls... But no dice. Not even worth checking now... Sent from my Lumia 950

So what can the 950 AT&T owners do? We need this!

Complain to ATT, I guess. Very sad. I'm so done with carrier locked phones after this one.

This is just so lazy of AT&T for Microsoft to beat them with multiple updates and firmware updates.. I am really not liking AT&T right now. They(AT&T) know we need this update bad. I think it's safe to say that AT&T is THE slowest company out there & yes, they have Microsoft beat badly as being a slow company.. Posted from Windows Central for Windows 10

So, mine is RM-1085_11302. I did get the firmware to .39009 some weeks ago. But why are some models getting up to .39034? Mine is not in this list. What are they doing with this? Will I get it later?

You have to make chicken soup first Posted from Windows Central for Windows 10

At the end of this article hit Source: MIcrosoft and you will find the complete list of the variant that will be updated , the list shown here is incomplete

My 950XL is a single sim international from manufacturer "RM-1085_11302" and is on AT&T. My firmware ends in 39009. Even though my model is not listed, the numbers match for updated firmware.

Firmware updates? I'm still stuck on .69 build in or outside of insider!!! How bout fixing that first?

Omg. Thanks for making me laugh!!!I cant stop.

There's probably a later version on the recovery tool. Could try using that and see if it sorts your issue. Posted via the Windows Central App for Android

The dual sim 950 variant I purchsed from B&H Photo isn't listed either. :-(

Same with me. Maybe ours are already perfect ☺

I can't wait till a few years pass and this is all just a bad memory.

And I mean when W10M is a mature OS. Just so you don't think I'm being negative. Haha

MS with just start over with another mobile OS in 2 years time, 10 won't have time to mature. smh...

Hopefully they will really restart with something new. They reboot the kernel, when that isn't the issue. People don't like the UI. They didn't with Zune, Windows Phone 7, Windows Phone 8 or Windows 8. When will Microsoft have a real reboot?!

My 950 XL updated this morning

My 950 XL updated this morning

No luck for my 950 XL single sim HK variant (RM-1085_11302).

I even hate the word carrier, just look at this mess, all thanks to them and brainwashed people giving them money

TL:DR... Posted via the Windows Central App for Android

950xl Dual SIM RM-1116_15285 000-88 not on the list :(

Because it git updated weeks ago. This list is what was released today. Posted from Windows Central for Windows 10 from my Lumia 950XL on Redstone.

I spent time trying to find the Thailand 950XL single SIM device to see if it is going to get this update and, lo and behold, it was already downoading. Thank you Microsoft for addressing device stability issues (mine crashed sometimes and the battery drained too fast). Hopefully this will fix it.

Happy to say my unlocked 950XL on AT&T recieved the update.

Thanks again ATT you shuck beyond belief..

Wtf. If you have unlocked 950xl should you even worry? What if its still ATT carrier through tracfone?

no reason to worry, if you have an UNBRANDED 950/950xl, which you do, then you'll get all updates when MS releases it. AT&T has no bearing on you getting updates.

Thank you for answering. Yes, I've got the 16025.39009 firmware. Now should I reset?

No you don't have to...thats Jst something people who are desperate to get updates try and luckily get at times, usually ppl stuck in insider rings with buggy builds...I you've got the firmware update once already why worry about getting any of the latest updates...?

Got an firmware update tonight Microsoft 950 XL &
Samsung Galaxy Note 5 Platinum Gold

My 950 single SIM Indonesian 000-ID not listed. This is currently the buggiest phone I own in along time. Too many lockups/resets & awful battery.

Downloaded the update, phone just dies with black screen and gets hot. Take off back cover, remove battery, replace battery, replace cover, power on phone and it says update was installed but that I might need to restore from a backup because it was not applied correctly. Restarted again, phone boots up. Go to Settings > Updates and the firmware is still there so, trying to apply it for the second time. Maybe third time is the charm? Anyone else having issues on the 950XL single SIM? Ian

How do I check which firmware I have?

Settings/Ssytem/About/More Info

Is there a place online or a number to call to just destroy ATT? I'm almost at the point where I wanna just let them have it.

1-800-331-0500 is the customer service number for wireless.

Firmware update was a success on my U.S. L950XL

I'm really shocked there are 500+ variants of the 950 and 950XL. Why would there need to be that many??? Is that normal?

I understand there being a need for a large number of variants, but I agree that 500 or so is tough to understand.

Totally agree. That is just too many. But each country has their own set of rules and regulations.

No it's not normal but it is what we have with Lumia. There should have been one version per hardware model, any difference in regions could be handled by if/then logic based on the sim card. Posted from Windows Central for Windows 10 from my Lumia 950XL on Redstone.

I hate all the update news! When am I going to get win 10 on my HTC 8X ?! MS put 20 more people in the team and get the public release of this OS out. Tired of hearing about cool updates or win 10 apps and not getting anything.

Never http://www.windowscentral.com/sorry-htc-8x-owners-you-are-not-getting-wi...

WTF Microsoft!!! You said that with windows 10 you will remove carrier based boundaries!!

For os updates... Not firmware

Got my FW this morning. One day late. As my 950xl decided to wipe my SD card after it froze watching a video, got really hot. Stopped detecting my SD card. When it did, after many reboots, it had already wiped almost everything except for a few songs. Confirmed it on my computer. I got so pissed. Left some serious feedback.

Well, of COURSE the AT&T device isn't on the list. It hasn't been from the beginning. Yet another reason why this piece of junk was a waste of money.

You should have known that from the start! It is no secret that Microsoft doesn't have the greatest track record of supporting thier devices, especially Windows phones. Throw AT&T into the mix and all bets are off. You will know better to trust Microsoft next time!

Fark! RM - 1085_15300 000 AU Doesn' appear on any list!

000-NZ is not on the list too

same here ....Maybe they forgot about us...

South africa has got all new lumia devices, and i bet the firmware is there for all those phones Posted from Windows Central for Windows 10

For some reason RM-1085_12743, 000-SE, unlocked CV is not getting this. But it works great, could use more battery optimization thou. Posted from Windows Central for Windows 10

Finally did Microsoft bring double tap to wake feature to Lumia 950&950 XL?

Unfortunatly no.. I think that would have made the headline on WC ;)

Thanks for the reply, it's about the software, right?I mean the hardware supports the feature"

Strange, I thought microsoft could already bypass carrierswth updates. what changed?

Only for the OS, not for the firmware. Dependencies in radio frequencies, national regulations, etc.

I thought firmware updates are for old devices so that they can run smoothly on newer software. Guess I thought wrong.

I'm not in the Insider program but an update "Microsoft MDG" showed up today and is installing now. Lumia 950XL from Microsoft Store on AT&T.

I'mnot in windows insider, but I get firmware, ...39019, I live in Slovenia

I just got this update today on my Lumia 950 XL on Optus in Melbourne (Sin-AU carrier). I'm loving the new copy/paste functionality.

I'm not in the list. But then I checked and I had this update weeks ago, so if you are not in the list maybe you already have the update!

My device mobile operator is not on the list, but I got the update 2 days ago nonetheless. 000-SE here, got firmware version 1078.38.16025.39017. I had my phone temporarily out of fast ring because I had to reset to factory defaults when I noticed the update.

I it worth jumping back from insider fast ring...reset Your phone...get an update...and then again back on insider fast ring...??? Does it give more stability or any other benefits?

No. Stay on the fast ring, switch to production for fw and you are fine.

Everyone seems to give ATT a hard time, but every country seems to have an operator that fail to provide the upgrade at the same time as everyone else... In the UK it's EE (TMO-GB)! Guess I'll have to wait for the firmware upgrade also!

I have a 950 through AT&T. I've been with them for 17 years. Well SBC which purchased AT&T. They've been nothing, but good to me. I could of went to MS store and bought a 950, but figured if I purchased through AT&T I'd be showing them there is some sort of a demand for Lumia's in the hopes they'll continue to offer and display them in stores. As far as these firmware updates go I'm not sweating them. Yeah, they can improve my 950 and i still want them, but the OS updates corrected what was upsetting me the most using the 950 when I purchased it in November '15. Now when a new feature is added and to use that feature a new firmware is required and we have not received it then that's when I'll start getting agitated. I see that coming. For now I'll just wait and continue to focus on things that can make me or break me.

Are you having problems with "Hey Cortana" I think this firmware update resolves that I've been with AT&T just as long all other issues solved with software updates

Doh, my Vodafone handset isn't listed. I'm usually on a CV Variant in the past. Anybody who's had Vodafone handsets in the past know if they are usually good at rolling out firmware updates for Windows devices?

I from Europe RM 1118_15207 000-HR 1078.38.16026.39000 I've got update this morning, but obviously old one. There is no double tap to activate the phone (yet), word still can't oppen a plain *.txt, I can't send SMS using copy - paste numbers, there is no notification on glance screen for alarm, and....

Wow I just tried opening a .txt file from OneDrive and it didn't work. I'm looking forward to double tap also find it works on my $30 Lumia 640 but not my $700 950xl. Thanks for the list.....i think ...

I just look at the list and I suppose to have: Lumia 950 Dual SIM
RM-1118_15207
000-HR
1078.38.16025.39015 but the last digits on my Lumia are 39000

I am extremely surprise to see Singapore variants of Lumia 950 & 950 XL on the list - M13-SG, SIN-SG, STA-SG and 000-SG, when Lumia 950/950 XL is not sold in any of the carrier companies or microsoft stores in Singapore. What is Microsoft Singapore doing?

.39015 for Greece. Updated.

Dan, has there been any attempt by WC to contact AT&T and ask them directly what the deal is with the lack of firmware updates?

Guys, serious question at this point. I am looking at getting a 950XL for myself and a 950 for my girl tonight. Obviously I need to get the XL unlocked but would it be better to get her 950 unlocked or just allow her to go through at&t and their next plan. She is not crazy tech savvy. Does the firmware come straight to the unlocked versions like a normal update or does it still require the insider status, resetting and all of that?

Yep, an unlocked phone will receive the firmware straight from Microsoft direct to your device. Even if it's not on the Insider program, you'll get the firmware through Windows Update as per usual and you won't need to do anything technical - just let the phone install it and allow it to reboot when it asks. No reset needed, piece of cake. I'm not from the US, however, so I can't say anything about the benefits of a carrier-locked device. Firmware that allows for any carrier-specific features may be something to consider (however these aren't too important) because you wouldn't get that on a 'generic' unlocked device, and it'd be worth establishing if there's any reports of poorer signal with an unlocked model as opposed to a locked one (I wouldn't imagine it'd make a difference, but it might be something to just check).

Don't buy either! Who knows how long until Microsoft kills Windows phones or reboots it. Even the Surface phone this fall might be a reboot with x86 chips. Not worth the risk. There are so many other good phones available. The recently announced S7 and G5 would be much better choices.

I got my 950 XL carrier unlocked, first time I've done that, wouldn't want to get a carrier specific device again. For me, no disadvantage at all being unlocked and I like being able to get updates asap. For your g/f, my advice would be to think of the ecosystem, would she be happy with the limitations on app availability?

If I wasn't buying an HP Elite X3 this might bother me. I just hope I can get at least $200 for my 950 by then.

Its funny, I bought the device directly from Microsoft Germany and I don't see my 950xl listed.....

Holy smokes.... Battery is burning up from 6% per hour to an average of 23% 24hrs post firmware update... 1 step forward 3 back :'( 950XL unlocked UK variant

"Funnily enough"...I wouldn't call it funny..more like tragic

Anyone having problems with the store since applying this update? 39005 on 950xl dual sim.

Hmm apparently a store issue

Hi insiders It's time for my upgrade which would u pick Samsung s6/7 iPhone 6/6s/7 or Nokia 950 I'm after a fast phone for internet & a great camera out of them which would u pick my old phone is Nokia 1020 which is slowly dying

what happened to WaaS? thought all phones would get the same updates at once?
Windows Central Newsletter
Get the best of Windows Central in in your inbox, every day!
Thank you for signing up to Windows Central. You will receive a verification email shortly.
There was a problem. Please refresh the page and try again.