New Lumia 950 and 950 XL firmware rolling out, along with Lumia 830 and LG Lancet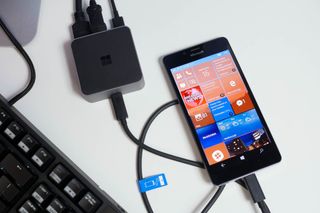 If you own a Lumia 950 or Lumia 950 XL and are also signed up to get Insider updates on the Production ring, you might see a firmware update rolling out. Microsoft has announced that the 1078.38.16025 update is currently going out in certain markets. It offers improvements in GPS reliability and call audio quality, along with stablity fixes for those phones.
Microsoft says:
In addition, Insider members in the U.S. who own the Lumia 830 on AT&T and the LG Lancet on Verizon will get their own firmware updates, with 2179.0.15455.24047 for the Lumia 830 and 820.10300.11.101 for the LG Lancet. These updates are for the devices if they are running Windows Phone 8.1. If they are running Windows 10 Mobile, Microsoft says:
Microsoft is making some changes in early March that will hopefully keep Insiders from having to "ring hop" to get the latest firmware updates on their phones:
When available, the new firmware will be automatically delivered to your device
Insiders will no longer need to switch to the Production ring to receive firmware updates
This new firmware update pipeline will be completed in early March
After this change, Insiders and Retail users will receive firmware updates at the same time, pending availability for a given make/model/variant
Source: Microsoft (opens in new tab)
Well this is something different Firmware by Microsoft for LG device

Maybe LG works together with Microsoft to use tue benefits of their Windows 10 mobile insider program to test the firmware on a select group of users before dropping the bom on all Lancet users ;-) Microsoft is know for its cooperation with its OEMs!

Did WC not see the new insiders builds that dropped today? Posted from Windows Central for Windows 10

Which ones Posted from Windows Central for Windows 10

1004? They ave written about it already.

ATT GIVE MY 950 ITS FIRMWARE ALREADY

it's the 3rd firmwares updates that we didn't receive yet right ??? I'm not on ATT but I have the ATT variant -_- ... let's play the waiting game.

We're two firmware updates behind I believe.

It's 3. 0.27, 0.37 and 0.38

And this is why I got the unbranded version.

well I bought it on ebay for 300 usd with a case (a deal) in december. I would take an unbranded version if it was full price.

How the heck did you get it so cheap?

...on Ebay. Posted via Windows Central app for Windows 10

well it was 225 us ... so 300CAD http://www.ebay.ca/itm/291636166960?_trksid=p2060353.m2749.l2649&ssPageN...

Yeah, Ebay gets you a phone cheap. All phones. When you're lucky. Posted via Windows Central app for Windows 10

yeah ... when you're lucky :P

I have a 950XL and my Firmware loaded right in and I'm on AT&T. I was Verizon tethering off my Lumia Icon but after a month I left to AT&T I will be talking another of my 5 lines. Screw Verizon

Great news... Hopefully Lumia Icon coming soon... Pun intended hehe Posted from Windows Central for Windows 10 On My Lumia Icon

Hope there's a fix for the Icon reddish black it's really annoying. The only way to remove it it's going back to wp8.0 but I will loose all the great's features we have.

Bout to say I've had that since 8.1 lol... Firmware though has been the icons weakness on 10 though.. Upgrade then hard reset with wdrt and it's real noticeable verses just doing a upgrade. Hard reset you lose auto screen brightness, sunlight readability, camera is blurry and sucks, slow charging notifications, no connectivity to pc via Usb, lose hey Cortana. Just do a plain Jane upgrade off denim and all the above works.. Go figure what drivers are carried over from 8.1 to 10 lol. Posted from Windows Central for Windows 10 On My Lumia Icon

And Lumia 930 :) Posted from Windows Central for Windows 10

Coming Soon hehe. Posted from Windows Central for Windows 10 On My Lumia Icon

Joke whatever you want to call it then... Field is open lol Posted from Windows Central for Windows 10 On My Lumia Icon

Really clever. Are we 12?

Nope 11 Posted from Windows Central for Windows 10 On My Lumia Icon

Maybe he cracked that joke with / on his redneck siblings?? Isn't that what they do????

Unlocked dual sim 950xl on ATT. Just switched to production ring and checked for updates and ... bingo. Downloading.

Same on Tmo Posted from my overheating 950XL

It was fast for me Posted from my overheating 950XL

Same for me, 950xl dual sim att

Yes it´s necessaryto change to production. But I change my 950 Xl back to original two day ago, using the cable and download by the computer. This new update was 10585.107 and today I cach firmware 1605.39107. The phone works great with these things, I´m totally finished about fast ring and the this bug cirkus, only problems and a lot of problems all the time.

Worked for me on my unlocked 950 XL in Canada. No issues. Also got a software update from fast insider ring beforehand.

Downloading now !! Posted from Windows Central for Windows 10 on Lumia 950XL

New firmware? I have had this for stone weeks now.

+1, but hopefully everyone else will get it now too.

yup this firmware has been available for a few weeks now. He it installed on my 950XL.But that was via WDRT

So, either update now, or wait until March so you don't have to roll back?

Don't believe Microsoft when they say early March without stating the year. It could mean another forever! Posted from Windows Central for Windows 10

You don't have to roll back. Just switch to production, you'll keep your current insider build, install the firmware update, then switch back to your insider ring.

We should wait a few months Posted from Windows Central for Windows 10

I'm might get an iPhone using all Microsoft apps there. Bcoz my 930 heats up a lot though its a fantastic phone overall.

Nothing for Lumia 830 in India. Lets see in some hours

They said Lumia 830 on at&t? :/

Aren't unlocked devices supposed to get firmware update too

AT&T 830s have a different model number. They also received the Lumia camera 5 firmware WAY LATER than unlocked versions.

This is probably the firmware that the 830 never got that others had gotten a long, long time ago. Or there is something about the AT&T specific firmware that was buggy and needed fixing before moving to Windows 10 Mobile.

Perhaps, in March, we can expect firmware for AT&T 950; when the new "pipeline" is completed? Jason Rubright, MCP Posted from Windows Central for Windows 10

I wouldn't put any money on it... Posted from Windows Central for Windows 10

Again with the waiting at&t... Not cool.....

on the bright side, you did get the .107 OS update. Glass half full or jalf empty?

Software means little if the firmware it's designed to run on is not there. It helps, but still like running a 6 cylinder car with a sparkplug wire loose. Posted via the most excellent Nexus 6P using the equally awesome Windows Central app for Android

On at&t with lumia 950 and also waiting.. no updates.

I'm using an 830. With no information about what the new firmware fixes, I think I'm going to wait until March. I've rolled back to 8.1 more than enough times. And even with the Restore feature, it would still take quite some time to redo my start screen in Skinery Tiles.

Thats a hint! MARCH. Posted via the Windows Central App for Android

So in order to get fw. We gotta roll back and update again.. What alot of work!

No, just switch your insider ring to production Posted from Windows Central for Windows 10

Depends on whether or not your phone came with 10

Going to wait until march rolling back and upgrading again is a pain. Posted from Windows Central for Windows 10

You don't have to roll anything back. Open Insider, changed to Production Build, searched for Updates, Install Update, switch back to Fast Ring Edit: Oh, I see for 830 you do have to roll back. that's dumb. haha

Anyone in USA on ATT with a 950 get this yet?

Nope. Just switched back to Production, checked for update and.......NOTHING.

No... Expect to wait a looooonnng time

https://twitter.com/NorthFaceHiker/status/702936872738107392
Posted from Windows Central for Windows 10

I haven't had a single update yet for anything on my AT&T firmware or OS...I am in and out of Insider program to hopefully get something...no dice. Tried the Windows Device Update program no dice...not sure what is going on. I do know I am getting a bit frustrated.

You should have had a couple of OS updates including the .107 release a couple of days ago. You may have one of the early ones in which case a hard reset is necessary. While it is a pain, it is most definitely worth it. Even better if you avoid doing a restore this one time.

Its definitely an early one...got it on the first day...oh boy...hard reset...i just did a reset but went back to a backup...so I guess I know what i need and am going to do tonight...

Go to setting, select system, then select about. There you will see you firmware and you will find the version, which should be 1511 and the build which should be at least 10586.107. You may have to select info to see the virsion and build numbers. I have a 950 and my phone is at build 10586.107.If you have a Lumia 950 or 950XL you should have the same version and build number.

You won't. The ATT varient was not listed on the release.

Nope - and call quality is really horrible. The speakers are not set up correct or something.

Nothing here. I even switched to production ring and still nothing. I thought of trying to switching back to fast ring but now im getting an error on Windows insider app.

Download but stuck at 31% - UK Lumia 950 unlocked.

It means that,,,they don't have plans to rollout official wm10 in month of Feb n march n April.......

Yet my AT&T 950 still haven't received the firmware from roughly a month ago! Posted from Windows Central for Windows 10

2 months... Posted from Windows Central for Windows 10

Don't think anyone in North America got that one.locked or not.

Interesting. Posted from Windows Central for Windows 10

And nothing for my 950 on ATT. Big surprise.

"After this change, Insiders and Retail users will receive firmware updates at the same time, pending availability for a given make/model/variant" Bravo.

"Pending availability...."
Translation: Don't hold your breath.

We haven't event received 01078.00027.15506.020xx in Mexico :/

neither this FW update. My 950 says is already updated

I've just updated mine. I have a 950 from movistar.

still nothing in my phone which is also a Movistar phone...

It is live for my phone now!!

Firmaware 16025.39017 here, 950 XL, two hours ago.

Something must be strange here... Last time I got a firmware update was two weeks ago, and it has this exact version number...

It's a trojan horse in disguise.... now lemme go get my tin foil hat to ward it off.... :P

Joking aside, looks like they are testing a new deployment method with the same package..

Ah crap, I thought you were commenting on another article! Sorry! Yeah, I'll join you on the tin foil army together with Weird Al Jancovic ;)

It is the same firmware version (that initially started rolling out in early February), just now rolling out for remaing phones. http://answers.microsoft.com/en-us/mobiledevices/forum/mdlumia-mdupdate/new-firmware-update-for-lumia-950950-xl/f226b2b5-6deb-450b-9f61-12aabce9b298?page=1

Ah, I got it on the XL though

Darn, just sent my 950XL for repairs as Glance Screen was bugging out after last FW(Dec one). The screen was very dim to not visible. If anyone here has that issue and this resolves it please let me know. Thanks. I'll post video evidence link here too. Vid:
https://onedrive.live.com/redir?resid=2EF0900A3169A7BC!417297&authkey=!A...

Factory reset fixed for me after last firmware update. Posted from my overheating 950XL

I tried man. I did numerous soft resets, hard resets both clean and from backup even used WPRT but nothing resolved the issue. Check the vid, you will see my(and others) issue. There is a case on MSAnswers site too.

oh that sucks. hope you get your phone back from repair soon.

Reinstall from ABOUT, and don`t use an old update, make a new clean phone like out of the boks. Or reset the phone by the PC and USB cable, this action will bring you back to the original Windows 10586.107, works great, and you will get the new firmaware also.

Thanks for the information but I have done all that. The issue is HW not SW plus the phone is already on the way to Hungary.

Got it instantly, EU/Lithuania L950 Unlocked, even though i did not recieved second Firmware that been released a month ago.

so, if you're not subscribed as an insider at all on your 950 xl, you'll still get the firmware update then? i was on fast, but had to reformat my phone because 1002 was too unstable on my phone (even with a clean reset). i was thinking of jumping on slow or release or something possibly, but i'd rather wait until i get this firmware update. Edit: also, what's the best way to track firmware versions for your phone? i know there's that one website, but i could never figure out how to locate the number that identified my phone.

Just hop off insider and check for update Posted from my overheating 950XL

Ended up just doing an update check now and its there, so no worries i guess. I still wonder about how to track your firmware version though to know if its the latest, etc.

Sorry I'm not going back to Windows Phone 8.1 for the firmware update. I don't feel like wiping my phone right now haha. I'll wait until March. Windows Central Universal Application for Windows 10; Nokia Lumia 830; Microsoft Lumia 640

Hope it will fix 950xl's freezing, non responsive screen, loading, resuming, crashing apps, non updating live tile, battery drain, double tap wake up, manual rich capture, glance screen freezing, .....and so on!

>>Insider updates on the Production ring Am I reading this wrong or it's a contradiction of terms? If you're on Production in a 950/XL, you probably already have that firmware, which was released way back. My XL got it over a month ago and it shows firmware 01078.00038.16025.39009

No, that firmware has been out for over a month, true. But not released except for select regions. More regions were added today.

This is a different one. I got that one and now I am grabbing this one too.

Even with 8.1 on my 640, bluetooth has sucked.

Same here. Nothing. For the third time.

Yes, finally! Unbranded 950 in UK

I didn't even know about this until my phone asked to for a restart just now! Canada 950XL Dual sim

I already have 1078.38.16025 firmvare on my Germany Lumia 950XL...

I have a question, I never received any of the previous firmware updates, but I received this... does this firmaware contain all of the previous updates contained on previous firmwares?

My lumia 950 XL from the microsoft store.com is also getting the update even tough i never put insider on it.I do subscribe to the program and have a Lumia 810 on the fast ring.

Same here! Posted via the Windows Central App

Can anyone explain how is it different from builds we get from fast ring? Posted from Windows Central for Windows 10

Firmware is generally lower level software that the hardware uses to operate. An example would be the BIOS on a desktop PC. It's not the OS, but it can be just as important, even if its just indirectly important.

Just got this on my occationally rebooting, non-insider 950XL on ATT.

Downloading now, Lumia 950 XL in UK.

Got it on mine. Nothing obvious a of yet Posted from Windows Central for Windows 10

i just got MDG update in Romania....NO insider...no fast ,no slow...i hope is a good firmware ( L950)

Can never have enough improvements to Windows 10 Mobile. It needs everything it can get. I'll be adjusting my Insider setup to be sure to try and get this today!

Hope this sorts the system lock-ups I started getting after 14267 that required pulling the battery on my 950.

Is this only for insider ppl??? Microsoft 950 XL & Samsung Galaxy Note 5 Platinum Gold

I just got it on my L950XL (unlocked US variant) without being in the Insider program.

Ty Microsoft 950 XL &
Samsung Galaxy Note 5 Platinum Gold

I would like it if Microsoft released a full listing of older devices which will be getting a firmware update. I don't want to roll my 1020 back if it is not ever going to get an update.

Well does this only works on L830 in US?! Posted from Windows Central for Windows 10

Waiting while time is marching along Posted via the Windows Central App for Android

They need to just say upfront.THIS IS NOT FOR LUMIA 950 ON AT&T..Save us the headache of even switching to production to check...Bummer...

I hear you there. I had issues trying to get back to "fast ring" after trying out the "production ring" and updating. I had to uninstall the Windows Insider app and reinstall then it worked.

Just switched my 950 dual sim on AT&T back to production ring and there it was "MICROSOFTMDG". Installing now. I've been having reliability issues with GPS and I'm hopeful this corrects that issue.

So what is the diference on the 830?? 02179.00000.15455.24047 was released over a month ago they are calling this one 2179.0.15455.24047

Switched back to production downing now on 950XL

Anybody got it in the UK on Vodafone?

It's not the third firmware for L950 and L950XL. It's the exact same that was released on February 3rd in select markets. Posted from Windows Central for Windows 10

No its not. That was 0.37. This new one is 0.38xxx check your numbers and quit being an ass

Check out. http://www.inferse.com/39419/windows-10-build-14257-for-pcs/ Posted from Windows Central for Windows 10

Yep, can confirm it's available on my 950 dual sim unlocked (ES PT) country variant

When in 640 xl dual sim??
Posted from my Phone.
Keep Calm Because P.A.O.K. You are...

Well, it seems I actually got this firmware update just now. UK. Microsoft store purchased. 950. Excel.

Switched from insider to production, checked for update and it's installed now. Lumia 950XL Unlocked dual sim, Ireland

What's about my L1520 AT&T????

UK O2, 950XL. Insider Fast, back to Production...Installed without any problems.

Just installed as 01078.00038.16025.39013 on my O2UK 950 XL running Redstone 10.0.14267.1004 :) Seems faster!

Any visible changes in performance?

Received the update on my 950xl Posted from Windows Central for Windows 10

Wow, something for the AT&T Lumia 830.... That's rare.

I don't understand why you people still use att. Just go for a rate...

Its my cheapest post pay option (unless I go for Sprint).

950 XL Dual SIM, ATT. The whole process took less than 20 minutes, although I did need to restart twice. Too early to report on any improvements.

Just got the update on 2 950XLs in Canada. 16025. Non Insiders.

Me to, lumia 950 xl is my best phone all time

Anyone lost the new emojis using skype on the messaging app. Can still attach photos but most the emojis. Posted from Rebel Base, Hoth.

Lost* Posted from Rebel Base, Hoth.

Whatever* ;)
Posted from Rebel Base, Hoth.

Yeah English is the only language I know and I still don't understand it either.

Just got it on my non-Insider 950XL, UK. Not just Insiders getting this, then.

Great will head home and update latest redstone update and latest firmware...when are we getting double tap to wake and vibrate to call answer for dual sim phones... Posted from Windows Central for Windows 10 mobile limited edition Lumia 950 red leather with gold rim

lol i didnt get the past firmware but i did got this one.... oh well

I switched to production and got the update straight away. Posted via Windows Central app for Windows 10

So, this will be the THIRD round of firmware those of us w/a 950 on AT&T will not get. Lovely.

Uhm, I haven't enrolled my 950XL into the Insider Preview program, and I'm getting the MICROSOFTMDG-update as we speak. (Lumia 950XL unlocked, Netherlands)


I switched to production and got NOTHING! Lumia 950XL

If LG brings an LG G4, V10 caliber device to Windows Phone with their custom built camera interface I would definitely consider switching this year! One picture at a time -- LG V10

950xl- Canada dual sim unlocked
Got another firmware upadtew today
My current version is 01078.00038.16025.39005

Updated on my unlocked 950xl (UK) but noticed that Windows Hello needs to be set up again

Here is the direct link to the list
http://answers.microsoft.com/en-us/insider/forum/insider_wintp-insider_u...

Unlocked & loaded on my 950XL in Canada!

Will we be getting this on AT&T?

Haha finally I get it for my 950xl Posted from Cambodia

How is this a new' firmware?
For 959 xl.
It's been there for a while now..

i didn't even get the last firmware yet for the Canadian L950

Never mind, just checked, it already downloaded, only need to restart my phone. However I am reading /commenting through continuum on the Phone now.

Has anyone tried to install the latest fast ring build after installing the new firmware on the Lumia 950 DS? Because when I installed it before this firmware update, my phone became unusable... Nothing worked, couldn't unlock the screen, answer calls or use the phone. Had to recover back to .107 Posted from Windows Central for Windows 10
Using Lumia 950 Dual SIM
Windows Central Newsletter
Get the best of Windows Central in in your inbox, every day!
Thank you for signing up to Windows Central. You will receive a verification email shortly.
There was a problem. Please refresh the page and try again.