Microsoft looking into "a strategic investment" with Foursquare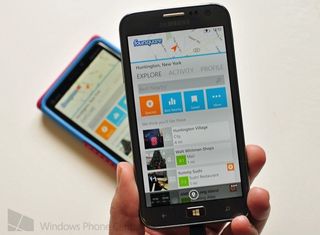 Microsoft has never really had a strong hand in the social network cookie jar; Windows Live spaces and Socl can both be regarded as failures in comparison to the big dogs like Facebook, Twitter, and Google+. According to Bloomberg New Tech Reporter, Dina Bass, the company may be looking to change that as she reported that "Mcrosoft talks with Foursquare about a strategic investment are said to be at an advanced stage".
Beyond that statement, there are few other details we know. It is possible that Microsoft may just be looking to take advantage of Foursquare data and integrate it into an existing service such as Bing or possibly with their Windows Phone platform - all is speculation as of now.
While there isn't any evidence to support such a dramatic move, Foursquare wouldn't be a bad company to purchase, if Microsoft is serious about putting its foot in the social media door.
What do you think about the possibly of Microsoft partnering with Foursquare for data access? What would you think if Microsoft were to buy part of Foursquare?
Windows Central Newsletter
Get the best of Windows Central in in your inbox, every day!
I wonder who the mayor of Microsoft's headquarters is...

That's the same thing that popped into my head as soon as I read his name. Lololol

hahaha LOL. Steel Marmer/Steak Marmer (first thing in my mind when hears "Steve Ballmer". XD

#sorryenglish

The mayor is just someone who cheats and checks in every day regardless if they ever actually visit the place. Isn't that what Foursquare has become? The biggest cheater wins?

Sounds like you're a little bitter. Yes, that does happen, however some people that don't, like me, go to certain places frequently, and checking into those places at every visit will always lead days and even months for others to catch up. That's not cheating, it's frequent visitor.

Would this mean that they would finally update their very own Foursquare app to include features used on iOS and Droid? If so then DO IT!
I'm still a big user of Foursquare and would love to see Microsoft have a bigger hand in the company.

Propably not. MS did buy the whole of Skype and the WP app for skype is pants compared to iOS or 'Droid.

Sorry to troll but comparing to Fb and Twitter, G+ is a chihuahua.

You could probably include Pinterest and Instagram in your list, at least sooner or later, probably sooner than later. They seem to be growing faster than G+ in actual active users.

Instagram probably has more real users than G+. If you have a gmail account and don't actively opt out of G+, you're a G+ user. doesn't matter if you never use it.

The more data in Bing the better.

Either purchasing or taking advantage of data, both are good moves in my book.

Integrate foursquare check-ins into the people hub in Windows Phone 8.1? Yes please :)

Been wishing for this since Mango.

Hey! I want this too!
Hope that MS will integrate this into its Windows Phone 8.1, or maybe, the next GDR3 release.

Foursquare hmmm... I think Microsoft should acquired blackberry instead foursquare.In my opinion :D

Just the patents. That way goofle doesn't get their slimy hands on them.

No you had it right the first time.

Totally agree! The patents ALONE would be awesome for it strategically. But hey, why not both BlackBerry AND Foursquare? Now that's a lotta fruity goodness!

Haha! After that, Microsoft will have its messaging app integrated with BBM and Skype. Good move, if it really does that.

Wait...since when did Google+ become a big thing? The only person I know who uses it is the one Google pays to use it...because he's a Google employee...

I thought that in recent updates Google has linked Gmail/Android accounts to G+. Therefore if you own an Android device or use Gmail you're automagically counted as a G+ user. If true this would obviously artificially inflate G+ user base.

Is these day the G not inflating anything that under their umbrella???

This is exactly what's going on. G+ gets new data because android and Gmail automatically put stuff in there without the user actually going into the site. Not many people are actually actively using it to share stuff with friends and family.

It actually has a huge number of accounts. But that doesn't prevent it from being a ghost town. I own an account but I've never signed in, not once. Oh ok, I did once LOL but it was a ghost town so never signed in again.

I use so.cl more often than I use Google +

It has over 500 million users...so yeah its a pretty big thing

500million users because android app reviews require to you "Activate" it. Go ask your friends and family how many actually use it like Facebook and not many will use it.

LOL still a ghost town no matter the number of registered accounts. It's the active users that matters.

I read somewhere that MySpace still gets more daily unique views than Google+

Almost everyone uses Google's social network, most just don't realize they are using it. Everytime you use YouTube, comment on YouTube, Search using Google Maps, use Gmail Address Book, Search Google.com while logged in, etc, etc, etc Every Google property is built to collect data that is being used for Google's social network.
Even if you have no friends, your still using Google's social network when you search Google to help you find Resturants or anything you are searching for on the web.

That's the thing, you have to be using Google services. YouTube is the only service I use.

Interesting how you apparently do not understand So.cl and therefore call it a failure.

Its mindboggling that MSFT is not doing more with so.cl. It has so much potential.

I'm pretty sure it is in it's beta stage

I hope Microsoft can take Foursquare's restaurant Menus and incorporate them into Bing and Local Scout.

Seconded!!! As it currently stands, Local Scout is pretty useless for me. Thankfully, Yelp updated their app and I use its Nearby function instead.

Future of places is Facebook places, and there is an app for that http://www.windowsphone.com/s?appid=2e7f7a62-1ca9-4cb5-87c7-851578f13489

Sorry, but G+ is never considered successful, if it is not already a bigger failure compared to So.cl or Windows Live. With the amount of marketing and 'forced' methods Google try with existing users, it never took off. That's why I'd say it's a bigger failure.

It's a huge failure. G+ is seriously trying to be a big competitor to Facebook but nobody is actually using it.

It's a virtual ghost town. But I guess Google will continue to keep it alive for the data they mine from the list of registered users.

Maybe because i have only used the Windows Phone version(and from what i hear it is not fully comprable to IOS or Droid versions) but i don't see what is so special about foursquare. But if it helps Windows Phone(or microsoft itself) out and improve the experience, i am all for it.

I've always felt the same way: it just seemed kind of redundant compared to other apps that serve a similar purpose. But then they launched the Foursquare app on Windows 8 today and holy crap is it gorgeous. So pretty I had to download it. I see some usefulness to it now (finding good local recommendations for restaurants and whatnot). I still think that's redundant with a lot of other apps, but this one is pretty enough that I might just have to get an account now.

This is how I use Foursquare: Checkin to places I visit for the first time. Helps me remember where it was. It builds my list of places I've been to. It has user reviews, so you know if there are things you should be doing while you are there. There are tips on most places, extremely handy! Some places are so popular plenty of users check in and its easy to socialize as you can meet up by looking at what sort of places they like in general on their foursquare. Its endless list, but this is the summary.

If Google+ is huge, MySpace is a super hit.

If the this investment rivals the other social networks, I will delete all my accounts from twitter, fb, instagram, etc... Honestly, I had enough playing games with them. We need to destroy the monopoly held by google and Apple.

so.cl is a research project, not an attempt to compete with Facebook or Twitter. You can tell because it's done by Microsoft Research and no one outside the geek blogs knows about it. It was never advertised anywhere.

Microsoft Spaces is from another time, back when companies thought people would want to create their own page on the Interent. MySpace was the huge hit and even they are gone now, so that's irrelevant.

G+ is a success in that enough people use it to help Google's advertising targeting, it's a failure as a social network.
If your point is that Microsoft failed in social netowrking so far you shouldn't bring up G+ when it's really just another social failure by Google

It would be more accurate to say Microsoft hasn't really tried after Spaces, realizing that's not where the money is.

Of course, Microsoft did invest in Facebook in a similar strategic investment. but I guess that doesn't count because it's only the biggest social network

An investment in Foursquare would probably be similar to the Facebook deal which resulted in Microsoft technologies getting integrated in Facebook and Facebook data integration in Bing search results

so really, while the strategic partnership could be interesting, what you try to make out if it is completely wrong. go back to school

Excellent summary of the situation. Spot on accurate.

Well, great - if Foursquare gets their act together and finally straightens out the problems with disappearing venues! It's infuriating, every time I add a place, it's gone again not 30 seconds later. and no, it's not a double.

Checking in from my Me Tile would be splendid... Make it happen!

I think foursquare check in integration with the me tile and menus and reviews from foursquare integrated with scout would be fantastic enhancements to what are already useful tools within the os.
You could review and add information from the me tile which is then added to scout for others to find.

I think YES its a cool/good move by Microsoft if that benefits them and us
what say?

I love foursquare, so if this is true it'd be cool with me. Checking in with it might get even easier

MSN was a big thing back in the days

G+ really shouldn't be considered a network due to most users being highly inactive... Other than that foursquare isn't great either...

Meh. 4sq never took off like I thought it would. None of my family or friends use 4sq or even heard of it, FB checkins seem to be more popular. But maybe its different for Gen Y. Also not all,of the places are accurate. Anybody can create a place for checkins, whether to get a badge or if they can't dethrone the current mayor. Also 4sq is too US biased with their badges. I think there are bigger bangs for the buck out there. BB's business servers and existing infrastructure for example.

Sounds great! They could have Foursquare already baked into the OS.

While I like this idea and Microsoft's plans are to go more social, I think that they should develop their own kind of Instagram client and incorporate it into SOCL (which I like, BTW) and invest in or acquire Vimeo to compete directly with YouTube.
Windows Central Newsletter
Thank you for signing up to Windows Central. You will receive a verification email shortly.
There was a problem. Please refresh the page and try again.