Microsoft Lumia 640 XL first impressions
The Lumia 640 isn't the only new Windows Phone Microsoft is putting to market right now. It has a bigger brother in the Lumia 640 XL.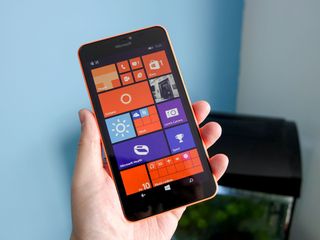 Both were introduced at Mobile World Congress in March and the XL stands for exactly what you think it does. At 5.7-inches, this is a pretty big Windows Phone.
To recap on the specs:
Windows Phone 8.1 with Lumia Denim
1.2GHz Qualcomm Snapdragon 400
5.7-inch 1280x720 IPS LCD display, 259 PPI
1GB RAM
8 GB storage, microSD card expansion
13MP rear camera with Zeiss lens
5MP front facing camera
3000mAh removable battery
Weight: 171 g
Size: 157.9 x 81.5 x 9 mm
The 640 XL is the spiritual successor to the Lumia 1320, but Microsoft seems to have done away with the 4-digit phone naming scheme, at least for now. But while it might be a successor, it's more than just an iteration what came before it. Design wise, from the front the XL looks like a larger Lumia 640. Understandable. From the back, though, there's a feeling of the Lumia 1520 with that slight camera hump.
The 640 XL shares most of the same internals as the Lumia 640, and as such it's not going to break the bank. The UK launch will see prices around £219 for the LTE version and that's pretty respectable for a large form factor smartphone with some of what we're getting here.
Like the camera, for example. It's a step up hardware wise from the Lumia 640, with resolution upped to 13MP and Zeiss optics included. Pair this with Lumia Camera 5 and our initial impressions are pretty good. For a cheaper phone, a camera of this quality isn't often found.
720p at 5.7-inches isn't the highest PPI around, but that's not to say the Lumia 640 XL has a bad display. Far from it. Deep blacks and bright colors make for a good viewing experience all round.
For a large phone, too, it's surprisingly comfortable to handle. The 1520, for example, feels massive (and actually is pretty massive) but the drop from 6-inches on the 1320 to 5.7-inches on the 640 XL is noticeable and welcome. You still get a big screen experience without it being quite so, well, big.
The Lumia 640 XL, like it's smaller sibling, has a removable back cover to allow access to the SIM slot, microSD slot and the 3000mAh removable battery. We're hoping for top notch battery life, but as a word of caution we should point out that we only a European 3G model being used here in the UK. Microsoft will hopefully be swapping it out for a proper, UK LTE unit at some point, so we'll have a better feel for it then.
So far, though, we're liking what we see. Bigger phones aren't for everyone, but the Lumia 640 XL looks like it strikes a good balance between design, hardware, experience and price. It'll go on sale in the UK later on this month but it's already starting to filter out into some markets around the world. We'll have a lot more on the 640 XL in the coming days including a full review, but in the meantime be sure to stop by the Windows Central forums and join the discussion!
Richard Devine is an Editor at Windows Central. A former Project Manager and long-term tech addict, he joined Mobile Nations in 2011 and has been found on Android Central and iMore as well as Windows Central. Currently you'll find him covering all manner of PC hardware and gaming, and you can follow him on Twitter and Instagram.
LOL yes it's Devine .
But internal is pretty low, time to increase that standard to 16/32gb (as most of app don't work properly when on SD card) :(

I wish they provide next flagship with different internal storage.. 32Gb, 64Gb,128Gb.

Yeah, I definitely want 64. Don't want to spend money on an SD card. 32 was good for a little while but now it's all full.

Oh please. Let's snuck in an external SD card slot for crying out loud. It's cheaper. I hate how flagship phone are going the iPhone route in terms of storage. 32GB is great for me (internal) and a 128GB sd card for music (mostly) and photos. Maybe a 32/64GB version then an SD card slot.

Yeah, a 64 Gb version would be great. I use 128Gb. I got personal pictures of me and my girlfriend in it. Once my brother wanted to pry on my photos , he tried to guess my phone lock pin , but in vain never guessed it correct. The next day he simply took out the sd card and copied all the content and put it back in my phone. He created a lot of trouble for me. So, for this reason if the storage was inbuilt that would be great. What if I lost my mobile, someone found it and they just pulled out my sd card and threw the mobile. All my personal data would be in others hands.

Your brother seems like an ass...

actually sd cards can be locked with a password.
this feature was even there in symbian. but WP (as with so many basic features) just forgot about it.
let's hope W10 fixes this.

Actually, WP7 SD cards were mandatoryly encripted with such a hard encription that there is a whole XDA forum post looking for devices that could unlock them.

Hope this feature is back in windows 10 as there's a setting for device encryption .

It's not a freaking basic feature. It's just a feature. Know the difference.

Man, doesn't sound like any of your guys use your OneDrive cloud storage. I use it for my p pics, docs, and music. I'm only using my SD card for apps

I got 190Gb of onedrive filled with music and personal pictures. But an encrypted sd card would be great.

No cloud for me. Doesn't make sense to store files miles away and depend on a network to get them.

I have had network down time perhaps just one or two days in the last two years. When i go places i dont have service....i am usually in a place that i shouldnt care about technology. I have over 100movies in the cloud along with a decent 5k music collection in the cloud. Rarely failed. But i have unlimited network usage so its of no worry to me.

I have a dead spot on my way home. I tried streaming my music and it sucked, generally speaking. Probably worse on battery life as well. Local storage is king.

I lost quite a bit not linking to the Onedrive. Mobile is to delicate not to backup in some way.

Yeah..love it...just wish it had 410 instead 400 blu win HD LTE looks better as an option in this regard..

Ignoring figures, can you really spot on a difference between performance of a 410 and 400 on the basis of everyday use??? *curious*

Better performance, power efficiency, and quick charge support, etc. are pretty noticable I would think.

That's in theory. But do you notice them on a Windows Phone ?

Of course. Say your Windows phone would last a few hours more due to better hardware efficiency; would you not notice? I'm not saying WP would run appreciably worse on 400 vs. 410, but it's about keeping up with the newer hardware. The "ME FIRST!" approach works in marketing, newer hardware has a better chance for selling, especially for people know the differences in technology.

So you don't really know...

I know, and yes, you would notice a difference. First, you get the ARMv8 instruction set on the 64-bit chip, meaning better hardware encryption and better native audio and video decoding/encoding. You get one more operation per clock cycle and a slightly upgraded GPU with Open GL ES 3.0 support, which you will see in newer games.

If they come to windows, as well any really good company would use direct x on the windows platform. As well, does windows phone even support Open GL? Though it was directx 11 with sub set 9.3

There is no OpenGL on WP, only DX11 and feature levels.

I'm not saying I wouldn't have liked newer tech, I'm just saying I don't think we're missing anything radical. Just a consolation though really. It also doesn't really encourage even better adaptation rate from 92x, 820 or 730 users.

There's an LTE variant of the Blu Win HD? The regular Win HD is 3G for one SIM slot and only 2G for the other. Pretty useless for Canada, as most providers here are HSPA and LTE only, no 2G/Edge at all. Not one tower. Rogers does have 2G GSM, but Telus, Bell, Wind, Mobilicity, Videotron, Sasktel, MTS, TBayTel, Eastlink, etc., all do not. All indications are that the dual SIM 640 and 640 XL are LTE for both SIM slots. I need that to be the case to consider any other option. I guess I could live with an LTE slot and a 3G slot, but definitely not a 2G slot.

this thread is the first time I heard about the LTE version - not much that I have found on it yet - fairly new unit. some info here .. http://forums.windowscentral.com/blu-win-hd/350351-new-blu-win-hd-lte.html

I'll buy one now if they bring the LTE model to India.

Why do you want a LTE model? Which carier in India offers LTE?

Airtel currently has LTE in few cities. Other carriers will soon start it other cities as well. Also, considering that they keep the prices of LTE packs the same as those for 3G, buying a non LTE device doesn't really make sense.

Its already in India.. Stop it

Maybe next time the Windows Central T-shirt ----"seen faster" become "when in India?"

And make it unavailable in indian market

Seems wen in faster India?

It is to annoy buddy :-) not to be meant funny :-D

This is one of my favorite Windows Phones.

I'm definitely eager to buy this device and get into the world of Windows Phone. Especially that camera and battery and screen for that price range, it's unbeatable. I even did the craziest thing and recommended this phone for my younger brothers who are now getting their first full fledged phone. I was all with the Moto G etc but Motorola has been mediocre with their cameras and this is a massive step up. Definitely would love the new landscape that is Windows Phone. They have their Nexus 7 2013, so hey. Best of both worlds, especially the app division in the Windows. Posted via the Windows Central App for Android

Frankly speaking I hate this downgrade of screen size from 6 inches to 5.7. I mean why? Phablets are good. And I love my 1320 than any other phones in market except camera quality. I would have loved to welcome same 1320 with zeiss upgrade and also I hate one more thing that onscreen navigation. If you're not providing physical buttons below the screen then why keep the space blank?? That's what I don't like in todays version. Same for my Lumia 535, that Gorilla 3 just don't feel like Gorilla glass3. I mean have anyone tried 1520 or 1320??? That feel you get when you scroll is amazing which lacks on current gen phones, I don't want to talk about Lumia 535's touchpad issues here...its an another nightmare.
Though looking forward to swap 535 with 640XL at least will get better performance.

Well buddy, I guess there's an oleophobic coating on the top of the gorilla glass in the higher models, and that's why may be you say that the feel on the higher models is different than on the 535 though they have both GG3.

My first WP phone was 920, amazing phone, now my daughter is the happy user. A lot of thigs happens and Microsoft (Nokia) phone gets better and better. I had 820, 720, 630, 535 and now I´m using 930 and 1520. The 930 is more easy put to the pocket and jump around with, tehrefore I use it often. But everytime I take my 1520 I´m surprised how good hs phone is working, smooth, fast and amazing monitor. The monior is clear and brite, an the size of the monitor make a huge different - I love this phone and will start to use it much more. Few days ago I dropped my 930 to the tarmac and beton, the phone works well and the monitor isn´t broken, but the aluminium is not nice anylonger. Now I´m using the 1520 daily, and I realy love this phone - amazing.

Camera is definitely good.. And coming from 820 this is a huge boost in battery life.. Takes for hours to charge fully and lasts at least a day.. Front and rear cameras are good.. I couldn't operate 1320 with one hand but this one does... It's exactly the max limit where my fingers can reach

Its only £219... And the 640 £119....i would definitely get one or the other as a spear phone I want one lol

The 640 XL will reduce in price as soon as it is available at other retailers. The 640 was available for £169 to start with, a few days later it can be had from Carphone Warehouse for £99 + £15 top up unlocked.

Dem, i should get this 640

my phone update now saying "....and it will be worth the waith" :) finally

How much better is the gpu compared to the 1320? The 1320 had the right screen size for gaming but a totally underpowered gpu

This one will be underpowered for gaming as well. Unless you have low expectations or play basic games.

Thanks. Was just curious to know. Guess getting a 1320 as additional device beside my 930 will be fine. At least the screen is a little bigger.

I guess it runs Samp w/o lag

Actually same chipset in android performs much better actually ganes are still not optimised in wp for this chipset as they were in s4 plus chip, i miss those days where every game used to be optimised for hardware. Posted via samsung galaxy S4

Maybe a bit longer, our currency value is pretty low at the moment

In coming weeks. Akan segera hadir.

Rahul ... I'm from Mumbai and own a 1320. Haven't got it yet.

what does it mean a year of office 365? does that mean that the office app will stop working after a year or what?

That you need to pay for it after one year.

Are you saying that the 1 year sub applied to Office in the phone? I didn't think that to be true. After a year Office on the phone would still run, but if you used the sub on a PC, that would expire (along with the extra OneDrive space).

Office on the phone will be free and will be free on Windows 10 also. Microsoft confirmed this. Office 365 is a package. It's Office on PCs and tablets, OneDrive storage, Skype calling. Way more than the WP app.

It is an online subscription service with cloud storage upto a tb

Finally a phone who deserves this title
"Value for money ! "
Moto/Chinese midrange killer

So true. Way better value than Moto E/G 2015/14 models.

i guess when they will release there :P

Awesome phone...And I just got the 535 ☹...should've waited a bit...but seems it's gonna take a while to get to my region...if it does anyway

If I'm not mistaken, it's about 1.5 times costlier to that of Lumia 535 but it sure is a fantastic phone for its price!

So Microsoft won't put preview in any of their phones. Or their waiting for flagship to get launched in may with exclusive features. L

"For a cheaper phone, a camera of this quality isn't often found- in windows phone category" would've been a better scentence. LOL!

So which phones you know have better cameras at this price?

There are plenty of Android phones. Just do a search. You will easily get it. Some are bad, but there are good ones too. Lumia's only and best selling point is camera. That's why they keep it as some kind of premium thingy.

There are no better cameras at this price point. Android's best budget phone is the Moto g, and that camera is s***.

Hah...you're talking to the guy who has reviewed both on android central and windows central...
Also 13mp doesn't say everything abt a Lumia...thats jst half the story...a Lumia is complete and beats the competition easily cause of the software and algorithm behind it...
If you think there is a better phone camera at this price or lower, name it.

Many low end and cheap android camera is actually interpolated.

Comparable priced Android phones usually have pretty middle of the road or bad cameras in my experience. Remember...I spent a lot of time working on Android Central. I've used a hellova lot of Android phones in the last 5 years.

Any feeling on how 640/640XL compares with 830?

Better battery life mostly. That's the only major thing worth mentioning. Performance should be identical.

640 XL would be my little brother of my 1520. C'mon somebody pick up this phone in the states.

I thought ATT was getting it?

Yep, ATT will have it. I believe at the end of this month.

Extremely curious what the subsidized and unsubsidized prices will be..

Does 640 and 640 XL both have glance screen?

Glance or wireless charging?

Only 3G! This thing will never sell! I'm not splashing out on over £200 for a phone with no wireless charging or 4g!

You didn't read properly. This isn't a UK model. The UK model is LTE at that price.

The LTE version will be released! :) Wireless charging is a different story.

Also the price will fall when it hits the shops. Lumia 640 was £169 in Microsoft shop but £119 sim free in Carphone Warehouse. Posted via the Windows Central App for Android

im wondering will Microsoft unveils a new mid-rang next month or should i get this one ?

Imo, they're done with the mid range phones for awhile. They had the 7xx,8xx, & now the 6xx series phone being released all in the past 4-5 months. This will be the last mid ranger till next year imo.

Nah. They'll release every other x40 class device this year. Unveil of the 740 at BUILD/15 probably and the launch of 740/840/940/940 XL/1040 after the launch of W10 in late August/September.

Please give camera samples of Lumia 640 xl

All in good time. Only so many hours in the day :)

This is the one I've been waiting for. The 640 XL is by far the more desirable of the 6xx variants. All I'm waiting for is the Australian release date and pricing.

So I went to the Nokia store today. Lumia 640XL was available, but there was no Lumia 640. I asked one of the shopkeeper, they said that Lumia 640 won't come to Bangladesh! Can any admin from Windows Central confirm if this is true?

This probably mirrors the situation in Malaysia...

When I first got my Lumia 1320 as an upgrade to my Lumia 625 I couldn't believe how massive the screen was! But now I'm used to it and using anything smaller, even only an inch smaller like my wife's Lumia 930 is really hard work, almost unbearable. So my question to you Richard Devine is..... Is that .3" drop in real estate obviously noticeable and a step back for current Lumia phablet owners? Any chance of a direct comparison between the UK Lumia 1320 and this new Lumia 640XL (LTE version) when its available for release?

Unlikely as I'd have to buy a 1320 ;-) We'll see. Personally I've never been a fan of huge screen phones. I'm a firm believer that 5-inches is the sweet spot. But I definitely prefer the size of the XL to the size of the 1520 and 1320 in my short time with it so far. I only used a 1320 briefly at the initial launch event, but I do remember it being pretty big for my little hands!

Well...my daily driver is a treasured 1520 and my first impression is that the 640XL does seem a bit diminutive.

Im really keen to try it out, but I'm very attached to my 1320! The shape, the feel, the screen is excellent but occasionally I would love to use it one handed. I can, but its a stretch and the phone isn't held securely whilst doing it. Where about in the UK are you based Richard? You can use my 1320 for a comparison.

I just bought the 640XL cyan version....cant wait to put it through its paces. I got the dual SIM variant though I will use it in the UK. Mini review coming up!

Looking for next flagship windows phone to buy but need memory slot to raise it to 128gb as well 4G in India.

A drop from 6" to 5,7" is not at all welcome if you ask me. When the 940XL or what ever the next 1520 will be called, I will get it regardless of the 0,3" drop, but its differently not welcomed IMO. I don't even have big hands but the 6" screen is perfect for most tasks. Sure its not ideal for singlehanded texting but if you are so busy you can't use both hands, then maybe you should that second till you have the time...

Yeah tbh i'd even prefer it maybe half an inch bigger.

Nice phone, but why not a 8x chip so people can use hey cortana when its available.

Because its a mid range phone, not a high end flagship.

SD810 will be used in the 940/940 XL and 840 will use SD615. Hands free Cortana will be available probably only on flagship devices.

Does any one know if this is coming down here in Australia??

I think Lumia Camera 5.0 would be available to multiple devices.. After they would get the Windows phone 8.1 Update 2..!!

I need this to come to T-Mobile.

The Lumia 1520 feels massive cause of its sharp edges.

It's a great phone, but I don't think it's rightly priced

Loved my 900 and 920. But the 1520, best phone I have ever owned(next to Nokia N8). The corners are fine with a proper case. I can't imagine going to a smaller screen after this. I've had it well over a year. Love everything about it

I have an att 1520. I was using my 920 as my windows phone 10 test bed. It felt so small and awkward after using my 1520. My next phone will be the replacement for the 1520. I cant go back to a smaller phone

I completely agree with the above statement. Going down to a smaller screen will be really hard to deal with, even if that screen is only .3" smaller. Do you think they will ever release a phone with a 6"display again?

Hopefully the 5.7" is just for the budget phablet and the next flagship phablet will keep it's 6"

I wish for Lumia 830 come to my country.
Not interesting so much on 640

Spend your time on your os MS instead of bringing out new lumias. Your notification centre looks like its designed by a five year old.

I currently own L620, and the L640XL is just sexy... Seems like a perfect phone for reading comics and typing documents (when Win10 releases) but just one question... Is Snapdragon 400 enough? Or should I wait for another Midrange phone to release... (L740 maybe)

Are there significant differences between the 640 and the 830?

Pureview camera on the 830. Metal frame (if you're into that sort of thing) also. And wireless charging which the 640 and XL does not have.

I had the 830, sweet phone, but sold it because it won't get the hey cortana feature.

The battery should get you though a day with ease.

Well now. There is no real point of the 830 existing from what I can tell. Hopefully we'll soon see what the next wave brings us in terms of power and features.

Microsoft has been cleaning up Nokia's mess. Nokia brought out Lumia's in the last year that where completely wrong priced and spect. With the recent Microsoft branded Lumia's in the 4xx, 5xx and 6xx series Microsoft has created some super competitive devices in there respective priceranges. The consequences are that the 7xx and the 8xx series are becoming the strange ducklings in the Lumia line up. Something I expect to be cleaned up with the x40 irritations comming after the release of Windows 10. Posted via the Windows Central App for Android

At this point in time I honestly think the 7xx series could happily go away. The 640 and 640 XL are more than ample mid-range devices. Get a good replacement for the 830 with true 'affordable flagship' features and then kick it into top gear with the 9xx series.

Mid range will always be Snapdragon 400 and high end will always be 800? I have a feeling that there gotta be something in middle... (Hint- Snapdragon 600, maybe)

840 should at least have snapdragon 600 SoC to differentiate from model 640.

US AT&T availability date??

Has anyone heard on update on when AT&T is launching the 640XL?

Nothing, just coming soon. Strange.