Microsoft Lumia 950 and Lumia 950 XL smartphones officially announced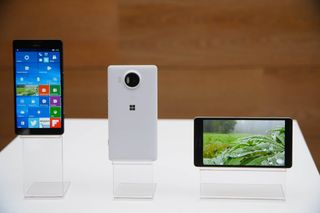 During Microsoft's Windows 10 hardware press event today in New York City, the company has officially announced the Lumia 950 and Lumia 950 XL smartphones, the latest members of the Lumia family of devices.
Microsoft's head of devices Panos Panay stated during the event said that the new Lumias have adaptive antenna technology along with a "tablet-class" liquid-cooling technology, based on technology derived from Surface tablet team. Both have QHD OLED screens and both allow users to pull the phones out of their pocket and have the Glance feature automatically turn on.
Both of the phones will have a rear 20MP camera sensor, with a triple-LED RGB natural flash, a 5th-gen OIS, and a dedicated camera button. Both will have 32GB internal storage along with a microSD card slot for adding more storage, Both will have a USB Type-C port for charging, and both will suport Qualcomm's Quick Charge, which will allow the phones to charge up to 50% of its battery life in 30 minutes. It will also support up to 5 Gbps in terms of data transfer rate.
The Lumia 950 will have the Snapdragon 808 hexa-core processor and a 5.2-inch screen with a no-contract price of $549 and the Lumia 950 XL will have a Snapdragon 810 octa-core processor and a 5.7-inch screen for the price of $649. Both are due in November.
The new Lumias will also support Windows Hello biometric authentication, in part due to an beta of its iris scanner beta. It will unlock just by picking up the phone and looking at it
Stay tuned for more news from today's Windows 10 hardware event from Microsoft.
Learn more at Microsoft (opens in new tab)
Front Flash?? Posted via the Windows Central App for iOS

3D touch??
Posted via the Windows Central app for the coolest OS

You need 3D Touch when the home screen is nothing but inert icons. Live tiles are 3D Touch without the need to touch

That doesn't make any sense... 3D touch is an aditional method of input, besides the usual tap and long press. This is totally unrelated to the amount of information displayed by tiles (or icons) on your start screen.

Is there really that much difference in a harder press versus a longer press. Seems really gimmicky to me, but I have not tried it.

I haven't had a chance to try it either. But at the very least (in the case of Apple's implementation) it allows you to press and hold getting a certain response (e.g. a preview of a link popping up) and then choose to either just release (e.g. resulting in the popped up screen disappearing) or briefly press a bit harder (e.g. to open the link) and then release afterwards. I'm not saying it's an essential feature btw, but it can definitely function as an additional form of input. And I don't think we should reject a new method of input just because some of the things it's currently used for Apple could perhaps be achieved in a different way.

It's an access method not an input. I've seen it. First it's only on Apple apps like mail and Instagram (non Apple ). Second it's cool but a gimmick. After seeing it I realized that active tiles were more or less the same thing.

Once again, your confusing 3D touch (the phone being able to detect different levels of pressure) with the use Apple has found for that feature. Similarly, just because the right mouse button is usually used to open context menus doesn't mean it can't serve another purpose e.g. in games, or alltogether if you have no need for context menus. I don't mind if you think Apple's implementation is a gimmick, but I don't think you should dismiss the whole idea of presure sensitive touch because of it. Also, I actually think apples implementation is (in some places) actually similar to a mouseover than the right click behavior we've come to expect from a long press.

It only makes sense in the iOS because it wasn't designed the same way. So it's almost like a left click.

Apple advertises 3d touch as a way to see app content without opening the app.

3D touch is a gimmick! You know when it will STOP being just a gimmick? When you actually see it implemented in apps. Right now it's only available in what... a dozen or so apps? There are 1.umpteen MILLION apps that don't use it and likely NEVER will. ...because why would Delta Airlines or Hotel.com take time and resources to update their apps to add this novelty. And granted, the experience is... interesting, I personally don't use an iPhone 6s/Plus, but I deploy them and if you don't have 3D touch on your current iPhone, it's not the "compelling" reason to upgrade. #justsayin

LOL I recently discovered talking with an iPhone 6 user that they never had long press in their apps and OS so they just introduced long press done differently, apple reinvents everything you know :D

I kind of suspected that was the issue. Weren't they the same platform that didn't have copy and paste for so many years and then suddently "came up with the idea" to add it to iOS?

MS's 3D Touch, as demonstrated before, meant to bring up 8 exploading related tiles (MixView). For instance, when your finger is pointing on top of the People tile, it can bring up 8 frequent contacts. They you press on one of them to call. It saves you few taps. Or you can pin all your frequent tiles on Start screen like I did. But that would take some realestate space. MS 3D Touch provides functions rather than gimmick.

Ok...how did i forget this...
When in india? :'D

When anywhere? I heard price, I didn't hear availability. I did hear that on most everything else on the stream. Did I miss it?

Pre-Order Oct. 7th, Availability Oct. 26th

that was for the surface and surface book. 950 and 950Xl in November

That was for the Microsoft Surface Book. The phones were just said to be "Available in November".

950XL dual-sim! Greetings from Portugal

Where do you see/read "dual-sim"?

The Microsoft site already has 4 versions of the phone listed. 2 of the 950 and 2 of the 950XL. Both 950 and 950XL are listed with single and dual-sim options

Carriers? Unlocked and universal version???

Unlocked yes. Through Microsoft's site. If the right bands are listed, they will work with your carrier. Here's all of the bands: Cellular connectivity2 GSM network: 850 MHz, 900 MHz, 1800 MHz, 1900 MHz GSM max data speed DL: EGPRS 296.0 kbps GSM max data speed UL: EGPRS 236.8 kbps WCDMA network: Band 1 (2100 MHz), Band 2 (1900 MHz), Band 4 (1700/2100 MHz), Band 5 (850 MHz), Band 8 (900 MHz) WCDMA max data speed DL: 42.2 Mbps (Cat 24) WCDMA max data speed UL: 5.76 Mbps (Cat 6) LTE FDD network: Band 1 (2100 MHz), Band 2 (1900 MHz), Band 3 (1800 MHz), Band 4 (1700/2100 MHz), Band 5 (850MHz), Band 7 (2600 MHz), Band 8 (900MHz), Band 12 (700 MHz), Band 20 (800MHz), Band 28 (700 MHz) TD-LTE network: Band 38 (2570-2620 MHz), Band 40 (2300-2400 MHz) LTE max data speed DL: 300 Mbps (Cat 6) LTE max data speed UL: 50 Mbps (Cat 6)

- Edit - Never mind. Found it with google search. Can't find it from search box on Microsoft site though. Where on the Microsoft site do you see dual sim 950. I can only find the dual sim 525 and 521. Maybe not showing in U.S.?

here you go: http://www.microsoft.com/en/mobile/phone/lumia950-dual-sim/ http://www.microsoft.com/en/mobile/phone/lumia950-xl-dual-sim/

Ahh... it's just "en" and no region attached no wonder I couldn't find it lol.. talk about a brain fart moment. Thanks.

$549 for 950 & $649 for 950 XL.. Next flagship phone please...!
Posted via the Windows Central App for iOS

Liquid cooling? Dang... but a little ironic it has to be there because the SOC runs so hot. Camera sounds promising.. any word on aperture and sensor? Posted via the Windows Central App for Android

from what i heard the aperture is 1.9, pretty good for low light, same as the 730 and 720 before at 1.9 aperture, ofcourse it'll have zeiss optics, 6 element lens or maybe they added something new

They blew by the lumia part so fast, seems like they didnt really care about it

Exactly! Posted via the Windows Central App for Android

He said that since everyone already wrote about it, there is no point to slowly reiterate all of that. Rather they are focusing on the new things that we don't know yet.

No mention of "Project Juggernaut Alpha". When he said "how about another Surface device" I thought that's what was comming, instead, a new laptop.

He should've let us know something we don't. Because there are still so many things they didn't talk a single thing about. We dont know how the camera performs, not a single sample photo was shown, what changes they made to the Windows 10 mobile's latest build, or the consistency of the iris scanner. Panos is a great presenter but he went by the lumia part too fast. Elop talks about everything to the most tiniest details of the phone, panos should've done the same.

Elop also got fired for being terrible.

Agreed... They did not do well in getting people excited about the phones. I dont have anyhting against the Surface Pro/Book, but they are trying to get back int he Phone game and that presentation was bland.

You weren't EXCITED about the dedicated camera button?! Joking aside, there's no mention -- during the presentation or on MS's 950 / 950 XL info page -- about Qi charging, accessories (apart from the continuum dock), camera specs, dual sim, or stylus integration. I'm assuming that Qi and Stylus support are not included.

QI charging is listed on the Microsoft Store specifications pages for both phones: Charging3: Built-in wireless charging, Fast charging Wireless charging standard: Qi http://www.microsoft.com/en/mobile/phone/lumia950-dual-sim/specifications/ http://www.microsoft.com/en/mobile/phone/lumia950-xl-dual-sim/specifications/

There there was nothing new to mention. We already knew everything.

I think these are placeholder phones. They are perfectly great, hardware/spec wise, but nothing flashy or life-changing. As such, I also think MS served them up as a perfect smokescreen. Knowing they were good, serviceable, up to date phones, they leaked the crap out of them so everyone would be focused on them, as a means to keep the new surfacebook under wraps. Clearly they were 95% focused on the Surface 4 and SurfaceBook. You wait and see, now that the two above-mentioned products are out the door, they will focus on the phone and the next gen will be SEXY. AS. HELL!!

Ah, more 'Wait for....' and 'Soon' I see.


You would have to think that they might move to a "Surface Phone" with their next iteration. Especially now that Windows 10 effectivly works on all device sizes. Makes sense to call it that along with the Surface Book, Surface Tablet, etc.

Wow. Talk about a horribly wrong prediction by a fanboy.

You can obviously see Panos couldn't wait to present his love and joy, the surface. Hightlight of the show, the surface brand.

I thought the Continuum demo was sufficiently in depth. It is unfortunately not something I think will sell phones. Anyone with a monitor, keyboard and mouse likely has them attached to a PC, or has a laptop already. For developing countries where the phone may be the only computing device, you still have to add the monitor, keyboard, mouse and dock. Combined cost approaches some laptops.

well, think of it this way.... you are travelling and your laptop battery dies, your laptop is broken or stolen? stuck in a hotel? plug in your phone to the TV and get to work! Travel lighter than a laptop? your phone, dock, tiny BT keyboard and mouse! no worrkying about a laptop getting crushed in your bag. Have an exec that ONLY uses the office suit? Quite a few uses in enterprise.

What if phone out of battery, stolen, crushed? What then?

Looks like you'll have a lot of 'splainin' to do with you boss... Dog ate your homework I s'pose.

Perfect! So in other words, thats a functionality to help 1% of the users, 1% of the time!

you can always use a hdtv

An important point Nadella made when he came on stage was that Microsoft realizes that the world of computing is no longer about the type of device, it is about the person behind the device. With that in mind, Microsoft's strategy is to be everywhere, on every type of device with their software and services that are synced over the cloud. So Continuum in itself, in my opinion, has limited appeal to a lot of the people who viewed this presentation. However, it is simply Microsoft doing all it can do to provide their software and a consistent experience everywhere.

Coz they prepping the Surface phone i guess hahaha

You know seriously that could actually be a good point. I mean who knows right?

It's been mentioned a few times on this site. They're supposedly getting a Surface phone out in about 6 months, lower specs and targeted at the business sector.

Another reason to wait ½ a year for the 820 Chipset. I remember folks at another forum arguing that 808 was more suited than 810 cos it overheated less. And showing in example that the heat would slowdown 810 below the hexa 808

That's why u have liquid cooling which no other phone has

They have liquid cooling, so it won't throttle.

they have liquid cooling so it CAN throttle, but still stay cool

Sniper1087 means throttle down, buddy007 means throttle up. But simply 'throttle' usually means 'throttle down', or 'choke'... http://www.merriam-webster.com/dictionary/throttle

In 1/2 year intel should have broxton ready to go. If Qualcomm cant solve its heating problems and Intel can produce an x86 chip with no heating problems, then will this determine a cross over point for intel versus the ARM chip makers? Intel's 14 nm process is superior to anyone else. But that does not mean Intel's designs are superior to anyone else. If Intel can produce a better design with Boxtron then you will see microsoft present the Surface Phone to go with the Surface Book and Surface Pro 4. I am using the Surface 3 and nokia 928. Both work well, but i do notice some perfromance issues with the S3, like scrolling through Bing maps. The S3 cant handle the full map of the globe easily.

Intel isn't production ready for their skylake phone processors. And the wattage is much higher. But the next phone likely will use intel. But by then you can sell the lumia 950 or xl.

Bing maps performance may be restricted by your internet connection. I wouldn't necessarily blame that on S3 hardware.

Thats because with CherryTrail in the S3 you are essentially stuck at BayTrail performance while ARM world has moved on beyond Cortex A15. In the best case for Intel, Broxton might close the performance gap to THIS years vanilla ARM SoCs (Cortex A57) The Atoms are so far behind, that Intel has to attack from above to have a chance. So it is safe to assume, that Intel is trying to get Core-M into phones. However this would not be Skylake and not 14nm.

Well it's v2.1 which is great with thermal as it is, but liquid cooling makes it that much better and allows them to clock much higher.

Carrier? Posted via the Windows Central App for Android

Sorry to be "That guy", but, *crosses fingers* Work on Verizon!

You aren't alone brother.

No need to be sorry I'm awesome

Well if the phones listed on Microsoft's site says anything about this. They are not listed with any CDMA technology so you're out of luck for Verizon (or Sprint for that matter). Unless you want to hope you will always be in range of LTE

950 XL currently showing WCDMA bands... GSM network: 850MHz, 900MHz, 1800MHz, 1900MHz
GSM max data speed DL: EGPRS 296.0kbps
GSM max data speed UL: EGPRS 236.8kbps
WCDMA network: Band 1 (2100MHz), Band 2 (1900MHz), Band 4 (1700/2100 MHz), Band 5 (850MHz), Band 8 (900MHz)
WCDMA max data speed DL: 42.2Mbps (Cat 24)
WCDMA max data speed UL: 5.76Mbps (Cat 6)
LTE FDD network: Band 1 (2100MHz), Band 17 (700MHz), Band 2 (1900MHz), Band 20 (800MHz), Band 3 (1800MHz), Band 4 (1700/2100 MHz), Band 5 (850MHz), Band 7 (2600MHz), Band 8 (900MHz), Band 28 (700MHz), Band 12 (700MHz)
TD-LTE network: Band 38 (2570-2620MHz), Band 40 (2300-2400MHz), Band 41 partially (2555-2575 MHz)
LTE max data speed DL: 300 Mbps (Cat 6)
LTE max data speed UL: 50 Mbps (Cat 6)

WCDMA is very different than CDMA. Not the same thing. Won't work with Verizon or Sprint

Well just went to MS Site and compared the "Connectivity of the Lumit 950 and the Lumia Icon. Looks like no Verizon support. No Band 13 LTE and no CDMA Bands. Stupid Verizon. I mean. COME ON!!!!!!!!!!!!!!!

Yes, this is exactly why it won't work on Verizon. Nothing else matters unless the phone supports CDMA. It's a different technology than GSM (or WCDMA for that matter). If you're on Verizon (or Sprint) get off of their plan and move to a GSM MVNO. Much cheaper and you can buy the phone unlocked from Microsoft.

Are you sure? Because I'm reading that Verizon uses LTE FDD and if you look at the bands that is supported. So maybe we can use it on Verizon afterall?

Yes, you have some overlap on LTE. 950/950XL have LTE Bands 1, 2, 3, 4, 5, 7, 8, 12, 20, and 28 Verizon uses LTE Bands 2, 4, and 13 Most notably 13 is missing. That leaves 2 and 4. If you can convince Verizon to let the unlocked phone onto their network and if you are okay with having poor service from only those 2 bands then theoretically, yes you could use it on Verizon. But those are some very big if's. Don't count on it working. Edit: Band 13 is 700Mhz so that's what is used to reach the farthest into buildings. You're only going to get signal outside or next to a window.

Yea, that's still the big question.

I don't like how they didn't show the phone much.... Nor did they mention carrier availability.

Does it matter? They are available unlocked.

It matters to me. I don't like paying for the whole phone. I also have an upgrade discount available with Sprint, so I was really hoping to see that yellow logo along with ATT. I don't plan on changing from Sprint so $200 vs $500 is big deal to a college student.

Paying for the whole phone [up front]? You still pay for the whole phone with installment plans.

I don't do installment plans either. I'm the guy that still gets the two year contract, just so I can get the subsidized phone price. I got my HTC One for $1 + $36 activation fee, but I own it now for a total of $37. That's why I love service contracts + carrier subsidized phones.

I hear you, but realize that just because it's not itemized on your bill, you're paying a little more in your plan for the subsidy.

Dude, you do realise that phones are never actually subsidized, even iPhones. Microsoft sells the phone to the carrier at full price. The carrier then spreads the cost out over 2 years and burys it into your monthly plan. That's cool if you can only afford $37 right now, but don't think that you don't end up paying the full price in the end. That may be OK in your country, but in the UK for example it is always cheaper to buy an iPhone direct unlocked from Apple and just get any sim plan you want which seperatly work out cheaper. You need the money upfront though of course...

It amazes me how people don't get what you explained. They act as if they got away with a cheap buy for years until Verizon and others remarketed the shell game. The math, specifically for Verizon, means that old $40 access fee is now only $20, but that other $20 is more or less codified inside the device payment now.

And this is the exact reason why the carriers have so much power in the US. Get over the price! Microsoft gives you offers similar to carriers if you want to pay a monthly bill (i.e. paypal). No difference except the carrier can't cripple the phone. Don't go along with the stupidity of the carriers.

Buy an unlocked phone and use prepaid Cricket, StraightTalk, etc. $40/ month in US for about 3GB data. Surely you have WiFi on campus and home. Unsubsidized contracts will cost double that, excluding cost of phone.

Exactly. The major carriers (AT&T and Verizon, specifically) are SUCH a bad deal financially.

Yeah I currently have the L830 on ATT Next. I am considering paying it off next month, selling it, buying a full price 950xl from Microsoft and taking it on to the Metro PCS network or something. 30 a month for unlimited everything is tough to beat. I know it's T-Mo's network and they throttle your spead after 1 gig data, but I frankly only use like a gig per month anyway so it's not a huge deal for me.

Or even better, tmobile's $30 plan.

What all do you get with that? Unlimited data? What is the coverage like (I've heard T-Mobile has nowhere near the coverage of AT&T i.e. Cricket)?

This is what I do. I have an unlocked 1020 on Cricket at $35/month. Unlimited Call, Text, and Data (2.5GB at LTE speeds after that it drops to my old Sprint plan's fastest speeds)

From where? The Microsoft Store? That's who needs to be selling unlocked and carrier-nonbranded phones. Also, the CDMA phones need to support all CDMA frequencies/carriers, and likewise for the GSM variants. (Even better if a single phone did all CDMA and GSM frequencies/carriers, but that's less likely than all for one or the other.) If Microsoft learned that people aren't going to stick with a single device forever, hopefully they also learned they aren't going to stick with the same carrier forever. That would make me shell out $549/649 for a phone.

Yeah unfortunately the listings on Microsoft do not list any CDMA technology. So you're out of luck if you were hoping to use it on CDMA carriers (unless that magically changes by November...)

The website did list WCDMA at 800 and 1900 Mhz frequencies which are the bands that Verzion uses. Does that mean anything though?

No WCDMA and CDMA are very different technologies. Verizon (and Sprint) only use CDMA. Unless Verizon chooses to convert from CDMA to WCDMA (unlikely) those frequencies will not help anything.

What if Verizon uses LTE-FDD? Will that make a difference?


FDD is just the type of LTE and is the LTE bands 1 - 31 inclusive. Each of these bands can be referred to as LTE-FDD. That's just how they upload/download data. You still have to have the right bands supported by the phone that the carrier owns/uses. There's also LTE-TDD (aka TD-LTE) which encompasses bands 33 - 44 inclusive. Again just a different type of LTE (and some speculation as to which one is better), but you would still have to have the bands supported by the phone that the carrier uses. Verizon use Bands 2, 4, and 13 The 950/950XL are listed to use LTE-FDD Bands: LTE FDD network: Band 1 (2100 MHz), Band 2 (1900 MHz), Band 3 (1800 MHz), Band 4 (1700/2100 MHz), Band 5 (850MHz), Band 7 (2600 MHz), Band 8 (900MHz), Band 12 (700 MHz), Band 20 (800MHz), Band 28 (700 MHz) TD-LTE network: Band 38 (2570-2620 MHz), Band 40 (2300-2400 MHz)

okay guys.... he said two antennas... which could either mean dual sim with 1 cdma and 1 gsm.. or two completely different antennas. ALSO it is LAW that phones have to be able to be unlocked. which means that these phones will come dual simmed. Also iphones are unlocked anyway as all new phones are. They will come unlocked. dont worry.

two antennas for signal aggregation, not necessarily dual sim (but that is coming) as for unlocked by law, that is a matter of where you are from. in the US, phones have to be unlockable, but carriers can set the terms. So carrier variants will come locked, as always.

Just because they're unlocked doesn't mean they'll magically work on any carrier. It's questionable they'll be on Verizon and unlikely they'll be on U.S. Cellular. That's not good.

Exactly, unlocked just means that it can work on any carrier that operates on the frequencies the phone supports. U.S. Cellular also uses CDMA so, no the 950/950XL will not work.

Jump! and other plans don't work if the carrier doesn't have it.

this event is going quickly, lots of info, it's unlocked, carriers might launch also at their plan prices

Any idea when we will get the actual dimensions? That 950 looked fairly svelte in Panos' hand so I'm guessing the reduced bezel really helped keep the overall size manageable.

I have seen Panos palm a Surface 2. He is not a tall guy, but has giant hands.

Yeah I noticed that too. Not a good way to judge the size of the phone. :)

Height: 151.9 mm Width: 78.4 mm Thickness4: 8.1 mm Weight: 165 g There you go, Microsoft already has everything posted on their site....

Why aren't you complaining about the bezel?

No video on phones and such a fast presentation

Panay is such a showman, he may have gotten me past the fact that the phones look like WP7 mid-rangers from 2011.

Fuck yea...950xl for $650, I might just get it for shits and giggles

That's what I'm saying. I was expecting $749 and $849 like many leaks had said. Unless the XL is really unmanigeable in a pocket I'll be grabbing it. Thanks Microsoft!

Have to disagree. These phones are incredibly overpriced. They should have met Motorola's pricing on the Moto X and/or Google's pricing on the new Nexus devices. You're selling to the tiny fraction of Windows Phone fans who are willing to pay a LOT of money for a phone. It's a fraction of a fraction. I'm a fan of the OS, but there is ZERO chance I'd pay that much for a phone. Microsoft needs a device between $139 and $549.

They have more affordable Lumias in that price range, with the Lumia 550 coming soon.

Yeah I think the XL should've been priced at the Nexus 6P level, that is starting at $500. I think it's a tough sell to the non-faithful otherwise. But at least it's better than the speculated crazy iPhone-like prices.

I agree with this. The pricing model is out of alignemnt for 2 reasons: the market is starting to move to sub-$500 no contract phones and secondly, they're Lumias FFS. People aren't lining up to buy them. I want to love this phone and get the XL, but not at that price and they won't move many with that pricing. $400? On it in a heartbeat.

These prices will drop by Spring, faster than iPhone prices will. So the newest Lumia flagships will be ≤ price of iPhone 6/6+, and much less than the 6S/6S+. The price is right for the initial launch. Also, there are so many installment plan options now, that these are still affordable on a 18-30 month installment plan.

Which is exactly the price spread.

Compared to the Nexus 5x, the Lumia has a bigger battery, 3GB vs 2GB, expandable storage, wireless charging, QHD screen. On paper at least the Camera (20MP vs 12MP, OIS vs none) on the Lumia should be superior, Only time will tell how the Iris scanner compares to the fingerprint scanner, can't say which is better. $429 vs $550. I'd say the price difference is deserved. The 6p is a better deal. The Lumia has expandable storage, wireless charging and the camera has OIS and more MP. Unless the Camera is much better than the 6P, it looks like the 6P is the better deal. Unless you want the more than 32GB. The price of a 64GB Sd card is like $25, or a 128Gb for $60.

Price surprised me a bit, got used to expecting it would be more...

Must feel good to be rich.

950XL it is. Looks like I'll be returning my Android Wear watch and preorder the Band 2 and coming back to W10. Can anyone confirm if the 950XL will also run Dual Sim? Posted via the Windows Central App for Android

There's a dual SIM variant, pictures leaked on some websites.

dual sim variants for 950 and 950XL already listed on Microsoft's site

Great thanks. I knew the 950 was just not 100% sure for XL Posted via the Windows Central App for Android

They are not listet in European markets. So probably won't be released there.

Availability? Pricing? Posted via the Windows Central App for Android

$549/$649 US. Available in November. Read much?

yes, everyone has read that, but we were looking for an official statement today. I didn't hear it.

Also $549 & $649 from November. Heaven!

Exactly the price points I guessed/predicted. :) Posted via the Windows Central App for Android

I noticed that! Nice work!

Too long! Again Apple presentation and phones within a week! MS takes too long because they are having issues with WM10 and they don't want to admit it. Phones look nice but waiting sucks. Nothing on universal apps and not much on the iris scanner which scares me becuase that's the first he should have shown on stage to open the phone.

I thought he did a windows hello login with the phone at the start of showing off continuum.

Totally agree. Way too long of a wait.. For people to mull it over and buy another phone instead.. If this was available in two weeks or even Oct 26 as falsely leaked by everyone, I would buy it. I am going to wait until I hear mire about surface point at this point. Disappointed..

What an epic fail. No word of where the phones will be available, the exact pricing, and any improvements in mainstream app availability. Hope this will change later on in the presentation. Posted via the Windows Central App for Android

i was really hoping for some app new mainstream app announcements. too bad.

This was a devices event. :)

that'll all be announced post presentation man. give the press something to write.

Prices were given, $549 & $649. Didn't give exact dates, just November.

in 18-24 months they will not be announcing any phones devices. That presentation was boring, putrid and ugly. LG V10 here I come.

Because in the months to come, my experience of my phone will be defined by the keynote presentation.

Why was there a picture of the McLaren on the first screen to the left during the presentation?

Because McLaren is awesome and fast just like Microsoft stuff.

He's referring to the McLaren MS device, a phone that was close to launch and then scrapped.

Yeah, I had no idea what he was writing about. :)

Octacore and Hexacore *head spins*

There's also the decacore phones on Android. Just saying. Anyway, I'm more interested in the fabled Surface Phone, cos if the surface devices introduced today are any indication, that will be one killer device.

No Carrier information worries me.

Buy them from MS, unlocked..

So I don't know enough about the bands that each of the carriers offer but the Micosoft Store lists the following bands: GSM network
850 MHz
900 MHz
1800 MHz
1900 MHz WCDMA network
Band 1 (2100 MHz)
Band 2 (1900 MHz)
Band 4 (1700/2100 MHz)
Band 5 (850 MHz)
Band 8 (900 MHz) LTE FDD network
Band 1 (2100 MHz)
Band 2 (1900 MHz)
Band 3 (1800 MHz)
Band 4 (1700/2100 MHz)
Band 5 (850MHz)
Band 7 (2600 MHz)
Band 8 (900MHz)
Band 12 (700 MHz)
Band 17 (700MHz)
Band 20 (800MHz)
Band 28 (700 MHz) TD-LTE network
Band 38 (2570-2620 MHz)
Band 40 (2300-2400 MHz)

Yep, none of these are CDMA (Verizon and Sprint). No go for those carriers

All of the bands listed under the Verizon lumia 725 are available on the 950xl per the tech specs on Microsoft website. Doesn't this mean that it will work with Verizon?

Short answer: No Btw I think you mean 735, but anyways. The phone comes with more frequencies than what Verizon uses. Verizon uses CDMA. There is no CDMA listed for the 950/950XL. Verizon does use LTE Band 4 though (and possibly 2), but that is not going to reach everywhere in the US.

Thank you for the clarification.

I pooped my pants! The lumia 950xl is awesome!

Why didn't you were your daipers

wear, where, were, we're, whirr, whir - learn and know the differences please. Yes, english is hard. But not THAT hard.

The pricing is bang on, but......they barely showed the phones at all. They put up a couple slides about the hardware, Mini Fedora guy (has anyone told him mini fedoras are no longer a thing??) showed off a demo of Continuum (cool, but I kept thinking, 'when am I ever going to use this?'), and then.....that's it? Didn't show off the phone UI, AT ALL. If you're going to be worried about the finished state of Windows 10 Mobile, now is the time. They didn't even mention *where to buy* or *carrier availability*. Whole thing was a swing and a miss, really.

Agree! It scares me that WM10 isn't even mentioned because they have issues. Not even the iris scanner was shown. I mean this is suppose to be going against fingerprint scanner, seriously! WTF! They breezed by the phones. And 549 and 649 a bit high to get back in the game. And the band goes up $50 bucks and no mention on trade in for 1st generation

They are short on time. You can tell they are rushing. Lots of products. And he did unlock it with his face so it's likely the iris scanner, or it just uses regular real sense camera. Keep in mind their revenue is also highest on the surface products.

Had to be iris. Not enough room in the phone for a real sense capability yet.

The original band also sold for $249. A trade-in program, similar to what they did for the Xbox One, would do wonders to jumpstart the product.

You're lost: he rocked the mini fedora. Looked great.

He did. And the real or not bit of a Louisiana drawl knocked it home. It was hard to tell how long Windows hello took to unlock his phone though.

Panay is an awful presenter.

One sexy beast of a phone

Waiting again. So sad :(. No interesting features for me either. I have no use for Continuum, Hello seems interesting but gosh MS give me something that isn't in beta. Pathetic thing though is I will probably get one anyway

From my understanding their products are always in beta because they're always improving and updating.

And pricing?!!?!?!??! Most importantly!

Wasn't there when I posted :P

I am not sure if I want to go for a phone with Beta features... might as well get the Lumia 640 and live with it till I can get the 'real' flagship.

Cortana is still technically in Beta

If I recall, Siri and Apple maps are still in beta?

I'm sorry, that guy is so irritating. He is so overboard in his presentations that you don't believe anything he says. He is the car salesman of techies. Posted via the Windows Central App for Android

We should believe you even less, for coming here with an Android phone.

Does that mean I have to get rid of my Lumia 735 and 822 because I am such an Android guy? Should I believe you even more because you accept the mediocroty of the WP ecosystem?

The correct term is lagdroid, for your information

Panos was the bee's knees up there.

Very vague on information for availabiltiy and iris scanner and WM10 being ready. Epic fail that you have to wait a month. Again give credit to Apple for having hardware available within week of presentation.

More like two months since it's later November and even then it depends on what carrier Stocks it or is selling it day one of release...

I do give Apple credit for having mediocre products available soon after launch events.

Who cares about Surface! It's the phones that need to make this eco system work!

Did you see the crowed? They were mesmerized by the surface and surface book. New Lumias is DOA.

If there ever was an indication that the phones have been deprecated and are really no longer a priority for Microsoft, this was it. Nothing about carrier partners, mobile payment, availability, Windows 10 Mobile. Just a Continuum demo. I think the Band and the Lumia devices actually got about equal time The real star of the show is definitely the new Surface.

There are many carriers around the world, where GSM is king.

There are no carrier partners, at least in US. Both phones will be off-contract and non-branded.

(shrug) I guess they don't want to sell phones then.

Nope CNET claims the 950XL is exclusive to ATT

950XL showing unlocked.. so will it work with Verizon?

Probably still working out deals? Hoping to pull more with the presentation? Yes I'm impressed with the new phones, but will definitely agree that they rushed the 950s.

Typical Microsoft, just give the phones a sliver of attention.

Any news if it will work on Verizon?

No CDMA technology listed for the phones by Microsoft so probably not

All of the bands listed under the Verizon lumia 725 are available on the 950xl per the tech specs on Microsoft website.

You so sure about that? 950XL Cellular connectivity2 GSM network: 850 MHz, 900 MHz, 1800 MHz, 1900 MHz GSM max data speed DL: EGPRS 296.0 kbps GSM max data speed UL: EGPRS 236.8 kbps WCDMA network: Band 1 (2100 MHz), Band 2 (1900 MHz), Band 4 (1700/2100 MHz), Band 5 (850 MHz), Band 8 (900 MHz) WCDMA max data speed DL: 42.2 Mbps (Cat 24) WCDMA max data speed UL: 5.76 Mbps (Cat 6) LTE FDD network: Band 1 (2100 MHz), Band 2 (1900 MHz), Band 3 (1800 MHz), Band 4 (1700/2100 MHz), Band 5 (850MHz), Band 7 (2600 MHz), Band 8 (900MHz), Band 12 (700 MHz), Band 20 (800MHz), Band 28 (700 MHz) TD-LTE network: Band 38 (2570-2620 MHz), Band 40 (2300-2400 MHz) LTE max data speed DL: 300 Mbps (Cat 6) LTE max data speed UL: 50 Mbps (Cat 6) Lumia 735 per Verizon's site - Network LTE Band 13/4 (700/1700 MHz), CDMA/1xEVDO Rev. A (800/1900 MHz) Lumia Icon - Networks CDMA1X; 3G EVDO 850/1900 Rev A with Rx Diversity 4G LTE/SVLTE 700 Band 13; 1700 Band 4 Global - UMTS/WCDMA –2100, 900, 850, 1900; GPRS/EDGE/GSM GSM 850, 900, 1800, 1900 Wi-Fi 802.11a/b/g/n FM Radio (with wired headset sold separately) Anyways, doesn't really matter. Whether you like it or not the bands listed by 950XL and 950 are not any of the bands (except LTE 4 [possibly 2 as well can't tell if Verizon uses it], which good luck trying to only use that band) or technology used by Verizon.

I don't see CDMA listed on the verizon lumia 735 either, but it works with verizon. Per microsoft's store: Verizon Lumia 735 GSM network: 850MHz, 900MHz, 1800MHz, 1900MHz GSM max data speed DL: EGPRS 296.0kbps GSM max data speed UL: EGPRS 236.8kbps WCDMA Band 1 (2100 MHz), Band 5 (850 MHz), Band 8 (900 MHz) WCDMA max data speed DL: 42.2Mbps (Cat 24) WCDMA max data speed UL: 5.76Mbps (Cat 6) LTE FDD network: Band 20 (800MHz), Band 3 (1800 MHz), Band 7 (2600 MHz) LTE max data speed DL: 150 Mbps (Cat 4) LTE max data speed UL: 50 Mbps (Cat 4)

Hmmm don't know if you just left off the bottom part of the listing, but it does indeed say CDMA: Retrieved from http://www.microsoft.com/en/mobile/phone/lumia735/specifications/ GSM network: 850 MHz, 900 MHz, 1800 MHz, 1900 MHz GSM max data speed DL: EGPRS 296.0 kbps GSM max data speed UL: EGPRS 236.8 kbps WCDMA network: Band 1 (2100 MHz), Band 2 (1900 MHz), Band 5 (850 MHz), Band 8 (900 MHz) WCDMA max data speed DL: 21.1 Mbps (Cat 14), 42.2 Mbps (Cat 24) WCDMA max data speed UL: 5.76 Mbps (Cat 6) LTE FDD network: Band 2 (1900 MHz), Band 3 (1800 MHz), Band 4 (1700/2100 MHz), Band 7 (2600 MHz), Band 13 (700MHz), Band 20 (800MHz) LTE max data speed DL: 150 Mbps (Cat 4) LTE max data speed UL: 50 Mbps (Cat 4) CDMA network bands: BC1 (1900 MHz), BC0 (850 MHz) CDMA max data speed DL: Rev 0 /A 2.4 Mbps /3.1 Mbps CDMA max data speed UL: Rev 0 /A 153.2 kbps /1.8 Mbps

Hmm, got my specs from here, which doesn't list cdma specifically. Weird http://www.microsoftstore.com/store/msusa/en_US/pdp/Verizon--Microsoft-L...

The 1520 supports the same LTE frequencies that Verizon uses. I popped in my verizon card before I got my AT&T card and reset the phone. NOTHING! It didn't work. Verizon's network is locked down. You go through them to sell your phone or it doesn't work on their network. I thought LTE might be different, but from what I saw its not.

Yeah that's something else to consider and I had heard the same from a friend who is on Verizon. Verizon locks their network down and will only allow phones that they approve to be on it. So trying to just get a SIM card (like in awilliams case) may not work. Essentially don't think this phone is coming to any CDMA carrier even if it is unlocked it won't work. You'll have to move off of the CDMA networks to use the phone (Verizon and Sprint in the US) and honestly a MVNO using AT&Ts network (like Cricket) is much cheaper anyways.

I dont think he is trying to argue with you he is just saying that on microsofts site they also do not list any cdma networks for the 735 which is correct which makes the 735 list incomplete. So it is still possible that the list for the 950/950xl is also incomplete. You posted the 735 connectivity from Verizons site. As i live in an area where cdma is the only service worth paying for I hope he is right but I am doubtful.

Oh, yes totally agree. Not arguing just trying to get all the facts posted. And so far it's looking like Verizon and Sprint are not supported by the 950/950XL based off of what is posted so far (that may change when it's finally released).

I may have come off the wrong way as well, my post was meant to be more of a "let's hope there's some info missing" type comment. But I also have to mention this is one of the reasons I left Verizon, waiting for updates and phone releases so stuff would work with CDMA.

Yep, that's why I left Sprint. Tired of having no phones available that I wanted and them not caring. So I voted with my pocket and went to Cricket and got an unlocked Lumia 1020. And yes, some info may be missing. They won't be released until November so who knows, but right now they will not work on Verizon based on the info at present.

Just want to know if I can use this on Sprint???

Yeah, me too, but I think there aren't many of us wondering that.

No CDMA technology listed for the phones by Microsoft Besides never really expected Sprint to care about their users anyways

I wonder if this iris scanner will work for people with glasses.

Listed as Windows 10 on their site

Eh? Thats all you got? You want people to buy these things, right? They spent more time presenting phone-related things at the last Apple event than they did their own.

Outside of initial price points, there was NOTHING about where or how to buy these things! What carriers would they work on? Nothing! It's as if they don't want to sell these things at all. If you were on the fence about waiting for a phone, I'd say just jump platforms now. It's obvious now that Microsoft no longer thinks they're a priority.

Blame the leaks for such a short presentation. Even Panay acknowledged that everyone already read everything about the devices and he will just skip through.

Were the leaks at fault for the *lack* of information?

This is just a Surface show. They hardly mentioned the phone.
It was a look how continuum works on this phone, ow by the way, it's a Lumia 950...
If Microsoft don't give a flying fart about their phones, then why the hell should we?!!!

Gremsems all the specs on these smart phones were common knowledge why repeat them. they showed it's good feature "Continuum" which makes the 950 and 950XL smartphones definatly more powerful than any Android or Apple smartphone. it's a Pocket PC smart phone in a class by itself.

Price wise I'm content. It's a pity none of them had xenon flash but obviously MSFT doesn't care much about 1020 users... Anyways time to switch to 950xl :)

They sound very good - especially prices that undercut topline IOS and Android products by over $100! The 830 got down to $400 new and the 950 is only $150 more than that starting out, so that may very well be my next phone since the camera is the same between the 950 and XL. Looking forward to seeing these in stores to play around with. Really glad we finally get phones with liquid cooling; it's long overdue!

Yep, same here. Plan on playing around with them in-store (probably AT&T since no Microsoft store in my area) and then buy it directly from Microsoft online.

Just as expected "very underwhelming" and a letdown of sorts, did little to revitalize my interest towards WPs... They said $549/$649 which equates into $717/$847 CAD (at present sate of our dollar), a tad steep in my opinion so we'll be thinking long and hard about that one, top that off with another month+ wait or longer and little mentioned of W10M sigh!

In Canada the iPhone 6s is $1,149 about $300 more. That's a big difference.

No doubt others have much heftier pricing but I'm looking at it from the perspective of where they "are" opposed to where we "want" to be, in my opinion the event did little for WPs due to the fact many uncertainties still remain, not much solidified (from my view) other than "soon".

$849 in Canada 950 XL http://www.microsoftstore.com/store/msca/en_CA/pdp/productID.326606200 $749 for 950 : http://www.microsoftstore.com/store/msca/en_CA/pdp/Microsoft-Lumia-950--...

Totally awesome. I was hanging back on an iPhone 6s Plus which aren't available until November. With the camera, Sd card, processor, 4K video etc. A 950xl is a better buy. All the negativity is over hang from MS screwing up phones so badly in the past. I was at the point of hating Windows Phone after 5 weeks on 10 Insider but I went back to 8.1 and it's a very good phone. Does everything I need and more.

Gr8!!! The wait is over now!!

Price is high :( I expected around 400$ for 5.2 inch model. May be I have to settle with nexus 5x

Wtf?! Are you nuts? If you can get me something with those specs F 400$ I'll buy it for you ,dang I !

I think prices are lower than what I was expecting.... If its high for you then buy 550 for just 139 and will give you better perfomance than nexus except camera.

They NAILED the pricing and that liquid cooling technology should mean the SD810 will be able to perform at its full potential without throttling. I can already see those benchmarks. So ecstatic! This phone ticks of every single box on the spec sheet.

Because benchmarks! No, really don't expect much from liquid cooling.

Eh, don't pass too quick of judgment before you see the benchmarks. I imagine they have the liquid cooling for this exact reason. It's definitely at least better than phones without the cooling

You don't think liquid cooling works? You're not a PC builder are you?

It's not real liquid cooling if it's the same like on the Surface. It's just a marketing buzz word from MS but has nothing to do with real liquid cooling like on high-end gaming PCs.

"Triple LED RGB Natural flash.." ??? I get the triple and natural part but RGB..?? And its 5th gen ois.. Anybody kind enough to tell me what the 930/1520 has..?? 4th gen i suppose..

With RGB you can flash light in whatever color is appropriate. White light is not actually white.

Dolby support there or not?

Still can't take the design of it. Passing on this and looking forward for the 960 and 960XL.

November when, no "official date", I didnt hear about on board storage. I like the phone but I liked that he rushed it, blame the media for giving away all the details before the event. That's why he just slid through it like he mentioned.

32 gb on board... didn't you read/pay attention? Room for microSD up to 2 tb "when they catch up".

I missed hearing the onboard storage part, I heard the microSD part hence the reason I didn't ask about whether it took SD cards or not.

One thing I've always liked about my old nokias (820 and 930) are the quality of the microphones when I am recording loud live music. I wonder if they will keep the same standard of microphones in their new handsets. I hope so!

On their webpage it says "Nokia Rich Recording With 4 Microphones" (or was it Lumia Rich Recording?). So yes it will have the HAAC mics we all know and love from the Pureview devices! ;D

So no Iris scanner.? or is it there and just not working now.?

If WP10 doesn't improve much it's going to be a toss up for me between the 950XL and the LG V10. Sony is the only one making a direct upgrade for the 1520. Another factor is the iris scanner speed. It needs to be < 500 ms or it will become annoying and should have been a finger print scanner.

Yup, in my mind I've decided the new hardware is just a small part of the equation. WM10 needs to improve ALOT in order to make these devices compelling.

The demo with Continuum was fantastic

Yeah, it's cool but I really have little interest in Continuum.

Knowing nothing about PPI, is the normal actually better than the XL version?

I bet you won't notice a difference.


Since the resolution is the same for both screen sizes, the smaller screen will have the higher ppi.

For me, just give me a 1080 screen that looks great and doesn't suck up as much battery life and the rediculous high res number game. I'll give up some DPI for a couple more hours of battery life.

Its higher than the Nokia 1520 and I can't tell the difference between pixel quality on the 1520 and the Nokia Icon (930). Both of them have 1080p screens. This is a 1440p screen. I promise you won't see pixels without a magnifying glass.

How does Glance work alongside Windows Hello? You pull the phone out of your pocket and it automatically unlocks, right? Where does Glance fit in?

Well , when you looking at glance you wont be looking at the scanner..

That seems awkward. Seems more natural to have to look at the screen than some sensor somwhere on the top of the device.

I expect, as it is today, you need to hit the power button (or double tap) to go from glance to the unlock screen. Now you need to swip up on the unlock screen to get the PIN pad. Soon, it just unlocks then if you aren't asleep and have your eyes shut.

Yup priced me right out of getting one. Not that it's not worth that price I just can't justify it for my uses. I'll wait a bit for the midrange phones. Like others are noticing as well is the lack luster introduction of the new high end phone. So little info given!!! Questions not addressed like: locked or unlocked? Carriers? Payment plan? Where to get them? Battery life? And availabl colors just to name a few. If you're going to introduce a new high end device and want to create a buzz about it, tout it and fill in all the blanks. As far as Surface Pro 4 and Microsoft Book, WOW!!! great products and great introduction. That's what the phones needed but didn't get.

100% agreed. They should have met the Moto X/Nexus pricing. I just paid $180 for a used 830, which I really like. But it's a high price for a used device. (I wanted the better camera and glance support vs. the 640). I think this pricing makes these phones DOA.

It's unbelievable how nice the Moto X Pure is for $399. My plan was to run the Pure and my Lumia 735 but I think WP is getting the boot now.

Hmmmm, agree about the carriers, but looks like at least AT&T and probably T-Mobile. Don't see anything on colors. Can purchase it with PayPal (i.e. credit card so payment plan). You can get them unlocked from Microsoft store. And battery life is listed as: Battery6 Replaceable battery: Yes Battery capacity: 3340 mAh Battery voltage: 3.8 V Charging3: Built-in wireless charging, Fast charging Wireless charging standard: Qi Maximum standby time: 12 days Maximum talk time (2G): 25 h Maximum talk time (3G): 19 h Maximum music playback time: 75 h Maximum Wi-Fi network browsing time: 11 h Maximum video playback time: 11 h

Kinda my point. You mentioned a couple things MS didn't and had the chance to. They also could have touted the removale battery. I guess I wanted them to look at Apples presentation and say; let's do that and more.

Totally agree, wish they would have talked more about some of the features of the phones. But then again this is just to shut all of us Windows fans up, so that Microsoft can say we did what you wanted and it didn't work. But we'll see how it goes.

The more I'm seeing these phones,the more I like them-EXCITED to get my hands on the 950 XL!

What did you see? Because outside of Continuum, *I* didn't see anything.

I had wished they were not real :P

That presentation was disappointingly short on the important details like an exact release date and country/carrier availability. All other announced devices except Hololens had exact release dates.

I'll be the guy who also says they blew by the phones. Very sad, also no mention of new big apps like Snapchat, although the new Facebook stuff was great.

You must have missed the brewhaha awhile back that Snapchat refuses to build an app and also sues any developer who releases one. That's why we don't have a Snapchat app. Anymore.

There is no Snapchat and will be no Snapchat. So what is there to mention about it?

Share the concerns of others here. Every other product, even the brand new surface book was given a pre-order and launch date but Lumia was November (some time). The passion for Surface just wasn't there for Lumia.

Why would they give time to something that hasn't made a dent in the market? Surface has proven to garner billions. The surface is part of MS bread and butter now. No going back. Lumia they can drop anytime.

this left so many questions... does the XL actually have support for a surface pen like it was leaked? Where was the information about the iris scanner? What about some example shots from the camera? Carrier availability? Wireless Payments / Wallet? Are there any new features in the final release of Windows 10 Mobile or is it all just the same as the preview? Will they have windows 10 mobile completed at release or will it be running some preview version of the OS?The presentation was way too fast and left too many questions unanswered.

Agreed! They let people hold the new Surface Book, but Panos mostly kept his Lumias in his pocket. Why are they hiding these phones?

What do they need to hide. Panos stated he only been with the mobile team short period, indicating he probably didn't have his hands on what they were doing. He seemed like he wasn't too excited about the Lumia products. So keep em in his pockets. Hopefully the next Lumias will have his trademark: billet milled magnesium alloy devices, surface inspired design, rather than these lame WC fanboys geared plastic uninspiring designs.

$3.5 Billion/year vs 3% marketshare.

I don't get the sense there will be pen support, as was rumored (as opposed to leaked?) Would have been nice, but I am a bit happier it is on neither as opposed to only on the XL. Didn't really want the bigger phone, and now that is not a factor.

These are the right questions to be asking! Everything else is already listed on Microsoft's site. But I don't see anything about the pen, wallet/payment, w10m, or anything else like that.

PERFECT PRICING! Lumia 950xl
this is an insta-buy. My wallet is ready and it's not shaking.
I only wished it was in green or red.

http://www.microsoft.com/en-us/mobile/phone/lumia950/

http://www.microsoft.com/en-us/mobile/phone/lumia950/#!

Too expensive. People might as well get the new nexus phones

I look at the 2015 Moto X starting at $399 and ask why these start at $549.

Totally agree.... Hard to justify an extra $150 over the Nexus 6P. I wish the pricing had been more agressive.

Did I miss the part of the presentation where they announced Qi wireless charging support? I don't remember hearing anything about that at all.

No you didn't miss it, because they didn't say anything. The Lumia phones were basically hidden, except for a Continuum demonstration, and then they shuffled them off the stage. If I didn't know any better, it seems like the company has no confidence in the new phones, whatsoever. I honestly don't know why they keep going at this point, if they're not going to care about it.

They didn't say it out load, because it was leaked. However it is listed as built in onthe Microsoft Site.

when iphone gets it they will make lots of fuss about it, mainly their fanboys... for MS is one of standard feature on high end phones

Yea, they didn't say it, but made a point of saying how fast the USB C charges. That is concerning. We'll see if the Qi charge pads start getting discounted at the MS store ;)

Why can't Microsoft innovate with their phones like they can with surface? The new surface devices look amazing, these phones are just boring and bland... My 920 and 930 look more modern than them. They'll say it's more about the software but there's really nothing about wm10 that'd convince people to move from android/ios. Hopefully in the next 6-12 months things progress before I upgrade my 930.

With phones, manufacturers are doing different things and trying different designs, but at the end of the day how much more innovative can you get with a thin, rectangular slab with a touchscreen and rear camera? Most new features quickly become the norm. I'd say that with Continuum and Windows Hello, Microsoft are being as innovative for a new phone as they can be. What other features could be packed in? It is the software that defines it. If we look at the iPhone 6S, the only innovative thing it did was introduce the Force touch thing and offer a new colour. That still doesn't stop most of the world singing it's praises (why, I myself don't understand, but there we go) and treating it as a worthy successor for the 6.

Did they say when win10 mobile will be available?

Who cares. The show was all about the surface brand.

I'll pass no longer interested in being a beta tester for Microsoft. I don't see how face recognition will work with low to no light.

It works on IR, I believe - different to visible light.

Don't worry. Rumors has it LG will come up with something for their Android devices. Face recognition is not proprietary.

Is Continuum feature limited to flagship devices like Lumia 950 and 950 xl or it will be available as a windows 10 feature for all the lumia devices getting windows 10 mobile update? I was just curious cause i own a lumia 640 xl and i just loved what i saw about the continuum feature. Just wanted to know whether it will be available on all lumia devices running windows 10 mobile.

We already knew before today it requires new hardware not available in the current phones.

I expect no previous WP to be compatible with Continuum. Note that it likely requires the bandwidth and features of USB C. That begs the question for the new 550. You can already use Miracast and BT Keyboard and Mouse with WP 10 to get a sort of poor man's Continuum lite ;)

Looks like Microsoft cared less about the phone division, not very inspiring and wow factor like the surface book, not to mention windows 10 on the phone

Yeah. When they're harping on the camera button during the presentation, you know the enthusiasm is a bit weak.

Well my oldest daughter will be happy, she was gettign my 1502 when I upgrade but with how cool continum looks she will be getting a 950. No more hogging the laptop for her homework. I'll be going from 1520 to 950XL the wife will go from iPhone 6 to 950 and daughter from 920 to 950. Prices seem perfect.

Seriously? You are going to get her a 950, dock, monitor, keyboard and mouse? Why not just get her a laptop? You could buy a Surface 3 for what that will cost you.

Yep, I agree! Prices are exactly where I thought they would be. I'm picking up a 950XL for myself. Can't talk the wife off of Android though :(.... still convinced her to get a LG G4 instead of the Samsung stuff (the less evil of the two).

"wife will go from iPhone 6 to 950" And how does one accomplish this???

Nice specs, but priced too high to shift the needle in terms of marketshare. Also too rich for my blood considering the state of the marketplace and the fact that I'm not sensing a long term commitment to the platform from MS - I'm not investing $550+ and rolling the dice at this point in time. $400 or less for the 950 and they would have had me. I'll continue to use my Lumia 640, upgrade it to Windows 10 and see if some of the critical apps I need re-appear in the store. Otherwise, I may be looking at more affordably priced mid-range Android phone (ala the Moto-X Pure) in the future.

If you're looking for ~$400 phones then you aren't the target for high end phones...

Hurry up and launch the pre-order. I want one....

Can't get over the fact they are liquid cooled phones.. Shows how much juice MS squeeze out of these suckers, especially when you see they way they run continuum.. and that XL in white.. good job MS.


does anyone know if the 950xl has multi-mics like the Lumia 930

Great presentation but low on phone stuff. Even though there have been a lot of leaks with respect to the phones, Panos could have at least navigated through the software and showed off how Windows mobile has been coming along. The liquid cooling part was surprising though. You gotta admit. Panos exudes a lot of passion in his presentations and that's what Microsoft presenters need to show on stage to attract the press.

As November is almost here you would think they would give an exact date. I think they are having problems with W10M (as I expected). Wouldn't be surprissed if it is delayed or released unfinished. I would be really catious buying these. Better wait for reviews

And of course, these will be exclusive to AT&T because verizon says "Fuck you".

Then get off Verizon! They don't care about you! Maybe they will once they start to see incoming dollars drop....

thing is, at&t sucks in terms of coverage. i know peeps here who switched from verizon to at&t and went right back to verizon because the service was so bad. my wife's employer had a business plan through verizon that gave them unlimited data and such (and they also took care of the bill for the employee and gave an allowance for spouses), but the new girl in the front office done fucked up and allowed verizon to move them off of that plan and onto a sucky 2GB per line thing. so, the bottom line is that a cellphone's primary mission is to maintain communications connectivity and if the network it's attached to cannot, then none of the other things about the phone really matter.

Now that is a good point and I've heard similar reports. Honestly, I've never had Verizon service so I really can't say for sure in regards to this. I personally have never had a problem with AT&T service on my Lumia 1020. I came from Sprint and AT&T is a huge improvement. I do wish that someone would prove these reports to me though because I've actively seeked out parts of where I live notorious for having bad service and the worst I've ever found was going to 2g service. That's still good enough for phone calls and texts so I don't get the reports. I honestly wish somebody would show me exactly what they are doing and why they are saying the service is bad compared to Verizon. Edit: Note that service can be very phone dependent too.

They are pretty much near the price if converted to php. With the 950 XL having a bigger screen and a faster CPU Posted via the Windows Central App for Android

Did they announce when Win10 mobile becomes available?

MS has a winning product and it's not the Lumia folks. Panos stunned the crowed with his Surface presentation. So was I.

Panos was excellent up there. He must be a pleasure to work with.

I REALLY hope the USB type C port holds up over time, especially if using continuum a lot. Those seem to be the first thing to mess up or break.

Ummmmmmm what happened to Pen support????????????????????????? WTF it was in all the rumors/leaks and reported on endlessly....and a great big nothing.

I'm not hating, but I would be really cautious buying these phones. I've been burned more than once. Presentation was really fast and important info missing. Releasing in "November" is not an exact date. As November is almost here you would think they would give an exact date. I think they are having problems with W10M (as I expected). Wouldn't be surprissed if it is delayed or released unfinished.

I'm over the chrome ring. The 950 looked great close up on the big screen. Sold.

I want a liquid-cooled smartphone in my pocket!

That's crazy! I want a liquid cooled pocket in my smartphone! OMG I'm going to get it (sometime in November)

Seems like if a poll is taken I'd guess abut 80+% are disapointed in the phone presentation and pricing. Windows Central should take a poll and send it to Microsoft. Since we're about a month away from the phones even getting to market maybe MS will rethink their stragity. One can hope!!

hope that videotron will have it in canada...

At those prices...I don't think so. If it was a succesor to the 1020, then maybe, but for mediocre flagship no way.

It's going to be tough to decide between "regular" & "phablet". Since my 930 is still very good (aside from battery life due to W10M Insider) maybe it's the XL I go with?

So that's it Microsoft right, no let's talk about the apps that coming to Windows phone 10 uhhhh how about every app Microsoft . you can't even give us a release date for the 950 XL and 950 lumia phone or even when's the official Windows phone 10 software being released and to which phone it's being released to, like my lumia 925 , every year, you guys gives us the same crap no wonder Apple and android is alway on top. That's it Microsoft I'm done! Sincerely Simon Reyes , NY

Nice phones, def into the continuum. Not a bad looking phone, but still interested in the 950. Preordered the band 2.

Great overall job, today, MS! However, you're missing one device. Please, someone at Microsoft take heed. If you want this Continuum thing to take off and be really useful, I need a dumb-terminal that looks like a Surface. It's nothing but a USB hub with a USB-C connector, a Surface monitor & Type keyboard. No CPU. No GPU. No RAM. No HDD. Sell it to me for ~$300 so I can take it and my 950 to a meeting and use my 950 as my productivity device in a usable form factor. When the meeting's done, I can go back to my desk and plug my 950 into my Continuum dock and continue my work. Without this, I don't understand how Continuum can be that useful to me.

Is anyone still complaining about the bezel???

Also looks like it can run on Verizon, without the annoying Verizon logon screen: Networks7 GSM network: 850MHz, 900MHz, 1800MHz, 1900MHz
GSM max data speed DL: EGPRS 296.0kbps
GSM max data speed UL: EGPRS 236.8kbps
WCDMA network: Band 1 (2100MHz), Band 2 (1900MHz), Band 4 (1700/2100 MHz), Band 5 (850MHz), Band 8 (900MHz)
WCDMA max data speed DL: 42.2Mbps (Cat 24)
WCDMA max data speed UL: 5.76Mbps (Cat 6)
LTE FDD network: Band 1 (2100MHz), Band 17 (700MHz), Band 2 (1900MHz), Band 20 (800MHz), Band 3 (1800MHz), Band 4 (1700/2100 MHz), Band 5 (850MHz), Band 7 (2600MHz), Band 8 (900MHz), Band 28 (700MHz), Band 12 (700MHz)
TD-LTE network: Band 38 (2570-2620MHz), Band 40 (2300-2400MHz), Band 41 partially (2555-2575 MHz)
LTE max data speed DL: 300 Mbps (Cat 6)
LTE max data speed UL: 50 Mbps (Cat 6)

I don't see CDMA in there, and no, it's not WCDMA.

They look nice, but why the silver ring on the 950? The devices are so close in size and specs, I thought there would be a reason, at one point I thought he was going to say it can zoom haha. Also it would have been cool they had the Surface Pen work on the lumias.

The Lumia 950 will have the Snapdragon 808 hexa-core processor and a 5.2-inch screen with a no-contract price of $549 and the Lumia 950 XL will have a Snapdragon 810 octa-core processor and a 5.7-inch screen for the price of $649.

Ouch. Dat price.

I missed hearing about: -carrier availability -date for Win10Mobile being offered to legacy devices -which legacy devices will be supported -battery size -iris unlocking -price of docking station -Google and iPhone app conversion -Google core apps being offered natively -build of the phone (materials used) -apps that we've wanted finally being offered (snapchat, etc.) -Win-pay ability I know some of these things may have been leaked or are on their website, but this was the event to really get folks excited about WinMobile, and all we got was some basic info and a fedora'd explanation of continuum. Very disappointed.

I guess Microsoft missed the memo on the stylus integration.

USB-C, productivity apps, Qi charging, Continuum for the initially rare use, world class camera. Reasonably priced. MS store here I come.

$649​ is a very competitive price for what you get!

The liquid cooling. One drop and there goes your phone.

Not all liquids are conductive.

At the price points set I say do away with the Lumia brand for high end phones make um a bit better and even more higher end features keep the set price point and call them Surface Phone.

Any word on carriers? Is Verizon going to have either one? Any flagship apps announced or ability to run android apps?

Just saw that the MS India site has the listing for 950/XL as Coming soon so I really hope they land up soon! :D

Big feature I see missing is NFC Payment ability. OS has the capability but I guess carriers or bank app makers won't cooperate. 1 thing iPhone and android will have over WinPhone sadly.

Has anybody announced a Continuum laptop setup yet?

Now i'm in trouble. I wanted to buy Blackbery Passport because of it square screen. But now this atracts me.

Well, I don't see that a WP user looking for a higher end device after the long drought has any choice if they want to stay on the platform and to replace their aging 1520/1020/etc, but color me disappointed. WP/Lumia had two things, as far as I'm concerned, going for it: Phone aesthetics and Home Screen aesthetics. The bright color choices, matte polycarbonate bodies of phones like the 1020, etc, were all practically trademarks of owning a WP. With phones these days being little different in terms of "power" (at least at their respective price points), the only real differentiating factor (other than OS and subsequent app availability) is aesthetics, and this is the most uninspired aesthetic I've ever seen from a "high end" Windows Phone. I don't think anyone can argue strongly that Windows 10 brought some rennaisance to the Windows app store, so the long standing narrative that a universal app platform will convince developers to build apps, and Windows 10 mobile will benefit, has always sounded long on hope and short on perspective (surely behind all the rhetoric, people must realize that the entire point apps even became a thing was the horrendous-to this day- mobile web experience via a browser; something that doesn't really exist on a desktop/laptop, so there's little impetus to build an app for a laptop/desktop to begin with-universal experience or not). If we're going to continue to suffer from an anemic appstore compared to iOS and Android, at least give us something to actually crow about in terms of the aesthetics and non-app related user experience on WP. :(

Did I miss it or was the rumored pen support for the XL not there? It woulda been cool but not a deal breaker. I just want to make sure that I didn't miss that part.

Did Tim Cook watch this and take notes?

Folks did I miss something did anyone at Microsoft say which USA Carriers are going to sell the 950 or 950XL. I am a verizon Nokia Lumia 928owner when will verizon sell the 950 because they have no Flagship windows smart phones for sale . I hope Microsoft sells them and we just get a sim and an air time conntract from Verizon to use them on their network

I read the phones don't support the bands Verizon uses- there seems to be some confusion in regards to Verizon support. I have a Verizon Lumia 735 and it is a decent phone but may be a step down in regards to the camera of your 928 though. You may want to think of that if you want to stick with Windows.

Apart from Camera, i don't see anything compelling to ditch my 640XL for 950/950XL. I would probably wait for a few months to get some user reviews and a price drop in 950/xl :P :P W10 looks promising with universal app. I am impressed with SP4

Anyone wanna complain about the bezel?

Hardly as bad as it was seen in leaks
So no Posted via the Windows Central App for Android

So...Do you think AT&T will make it impossible to use Continuum for us Unlimited Data people. While it's not technically tethering you are literally using your phone as a computer which will use quite a bit of bandwidth. I hope that's not the case but I'm willing to bet there are some AT&T number crunchers thinking about that right now.

AT&T probably doesn't give a crap. You're talking about a TINY percentage of users. How many people still have unlimited data plans? Not many. How many people use windows phone? Not many. Where does it overlap? On an even smaller number. Also I don't see how they would know. It sounds like these aren't carrier phones. It means AT&T will not have any control over it at all. Personally I think that's a good thing. Theoretically it should get updates quicker as a result.

Here is the full list of supported networks for the 950xl: GSM network: 850MHz, 900MHz, 1800MHz, 1900MHz
GSM max data speed DL: EGPRS 296.0kbps
GSM max data speed UL: EGPRS 236.8kbps
WCDMA network: Band 1 (2100MHz), Band 2 (1900MHz), Band 4 (1700/2100 MHz), Band 5 (850MHz), Band 8 (900MHz)
WCDMA max data speed DL: 42.2Mbps (Cat 24)
WCDMA max data speed UL: 5.76Mbps (Cat 6)
LTE FDD network: Band 1 (2100MHz), Band 17 (700MHz), Band 2 (1900MHz), Band 20 (800MHz), Band 3 (1800MHz), Band 4 (1700/2100 MHz), Band 5 (850MHz), Band 7 (2600MHz), Band 8 (900MHz), Band 28 (700MHz), Band 12 (700MHz)
TD-LTE network: Band 38 (2570-2620MHz), Band 40 (2300-2400MHz), Band 41 partially (2555-2575 MHz)
LTE max data speed DL: 300 Mbps (Cat 6)
LTE max data speed UL: 50 Mbps (Cat 6)

Nice video! The bit on fast charge, for example, could have benefited from "50% in 30 min!". Don't assume viewers know what you know, and make the point in a few words.. anyway.. :D

This is awesome, but when can I buy the darn things?

Is the back cover removeable on these phones and if so, is it integrated with the sides (like the 735) or is it just a plate (like the 830)?

Can't get over the fact they are liquid cooled phones.. Shows how much juice MS squeeze out of these suckers, especially when you see they way they run continuum.. and that XL in white.. good job MS.

Canadian store has a 'sign up to be notified by email' when 950/950XL are available for order. :(

Any idea who the phone manufacturer is? Think is keeps it's Nokia strength of design and build? I am quite happy with buying this phone unlocked and non branded btw!

They bought Nokia remember? Should be Nokia's factories under MS's control.

All this wait an no luck for us Sprint users

Both phones are expected to be released in November...does this mean that Windows 10 will be released by November or will they start on 8.1?

YOU GUYS!!! Photos of replacable back covers!!!! http://www.slashgear.com/microsoft-lumia-950-xl-and-950-hands-on-06408511/

Does anyone know if the "type C" connector is usb 3?

So that was there BIG mobile event where a fitness device and a laptop took most of the time. It seems Windows 10 Mobile is in really bad shape. Almost nothing was shown of W10M instread they focused on the desktop part.

cnet . com/ news/microsofts-new-lumia-phones-are-exclusive-to-at-t-in-the-us

Microsoft store shows the 950XL unlocked, so cnet is wrong.

Since my work pays for my phone and allows me to upgrade pretty much whenever, I am facing using my Lumia ICON for a longer period of time or simply going with the Note 5 (want the stylus for OneNote) or iPhone 6s. I really want the 950xl and they said to pre-order it now but I can't until we here if there will be a Verizon model or not.

I just loved the vedio!!!!

Saw a spec comparison elsewhere, said the 950/XL does not have NFC. can that be right? also not seen mention of wireless charging anywhere, is it confirmed?

Microsoft store says it has NFC.

Will this phone have any form of mobile payments similar to apple pay or android pay?

That's an easy one to answer: Nope.

Why do they keep changing sim sizes?

For me, the biggest question is "What carriers?"

Oh oh, Does this mean what i think it means? "Available with selected partners only. Available colors may vary" Darn, was looking forward to an unlocked experience.

i don't like camera design. it's not good looking. why microsoft not change its design??

I look most forward to, of course, windows 10 mobile and the iris scanner. I am really curious if it functions properly, because if it does, it is a major asset.

I love the dual sim feature. I was told in the MS store that these phones are dual antennae for the ability to have both sims operate at the same time. I've read that other phones only use one sim at a time (cannot remember which phones these were). Has anyone here found any info on dual sim operation at the same time, as well as both sim lte capable?
Windows Central Newsletter
Get the best of Windows Central in in your inbox, every day!
Thank you for signing up to Windows Central. You will receive a verification email shortly.
There was a problem. Please refresh the page and try again.