Microsoft matches Amazon pricing for BLU Win Jr phone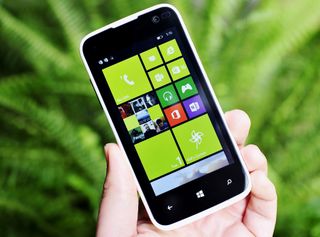 We had reported that the Microsoft Store had begun selling the affordably priced entry level BLU Win Jr phone, but at a $10 premium over Amazon's $89 pricing. Now, it appears that Microsoft is matching Amazon's pricing and the BLU Win Jr could be obtained through the Windows Phone OS-maker for the same $89.
The phone is listed as in stock on Microsoft's online portal with free returns and shipping in case it doesn't work out. You may want to call ahead if you want to nab one from a retail store to ensure that your local Microsoft retail store will have one in stock for you.
Will you be grabbing the BLU Win Jr through Microsoft?
Thanks, Jay, for the tip.
Source: Microsoft Store (opens in new tab)
Windows Central Newsletter
Get the best of Windows Central in in your inbox, every day!
Chuong's passion for gadgets began with the humble PDA. Since then, he has covered a range of consumer and enterprise devices, raning from smartphones to tablets, laptops to desktops and everything in between for publications like Pocketnow, Digital Trends, Wareable, Paste Magazine, and TechRadar in the past before joining the awesome team at Windows Central. Based in the San Francisco Bay Area, when not working, he likes exploring the diverse and eclectic food scene, taking short jaunts to wine country, soaking in the sun along California's coast, consuming news, and finding new hiking trails.
Woah!!! Retail and product competition in the WP space? Amazing!!!

This happens all the time, not amazing at all. Why do you think, for example, that the 521 is $80 on Amazon and $160 at WalMart?

I think his comment was sarcastic.

All the time? Months into it? Not really.

Actually with AT&T GoPhone the Nokia Lumia 520 is $49.93 online and $49.88 in store, while the T-Mobile Nokia Lumia is $49.88 online and they don't sell it in my store? So $50 buck I'm getting one!!! Posted via the Windows Phone Central App for Android

Best Buy matchs all the Amazon prices for everything. Is Microsoft Store trying to do the same?

Actually blu's site always stayed this was $89 so Microsoft was over charging. The HD is listed at $179

Good price. But I'm a little weary about the 4gb storage after what happened with the HTC 8s not getting 8.1 update 1 and all..

I agree, the phone should be able to update to future software

It will be able to, in 8.1 update 1 Microsoft added a new feature that allows the phone to use the memory card to store the update when it downloads it, this allows the phone to have enough memory to install OS updates and all your apps and music and games and videos and pictures can be stored on the memory card also so there will be enough space.

Don't worry I tested it with my 128GB SD and it works like a charm. A little slower but do you really care with a phone like this. It works and that is important

Haha that card probably cost more than the phone

I've been saying all along, fine, fuck the internal memory, but give a damn SD slot, hell throw in a 8gb card with it

Great for someone who needs a cheap one

That thing looks ridiculously tiny...
.........
I might get one just to wear on my necklace....

That's funny, typical Rodneyej

So much I just want to say here. Windows Phone pricing of LESS THAN $100 for a new smartphone is awesome. Just....frekkin...awesome! Go go gadget entry-level smartphone market!

Haha, the 520 and 521 have been sub-$100 for awhile?

He is talking about Unlocked and Unbranded Smartphones.

But not brand new, those phones out the gate were no where near 89

+1 it can only help the wp ecosystem! Bring them on.

It's not that awesome. Window is great but the phone itself is not that good. BLU is a Chinese brand.

They don't have them yet but I would try early next week and make sure to use the $10 savings to get the $30 Complete accidental damage coverage.

Guess we saw this coming with Nokia buyout. So much for pricing higher to gain OEM interest. Gotta get that money Posted via Windows Phone Central App

I'm.waiting on the HD model hurry!!!

I bought one via amazon, to be delivered tomorrow. Great opportunity to use a cheap Windows phone overseas with a dual SIM no less. I will be leaving it there with a relative as a gift. Keep spreading the use!

I though the Blu Win HD was dual SIM, and the JR. wasn't? :-)

Just don't spread your clap around

Remember how Android won its market share: Everyone gazed upon the premium models but bought the cheap ones instead.

The best selling WPs are the 521 and now 630/635. If WP grows, it's going to be from low-mid range devices mostly, but they still need an elite flagship to satisfy the spec-junkies.

An article on this same topic was posted yesterday... You guys need to keep in the loop with one another so you know what's been reported already.

Maybe you should read the article, rather than just look at the picture. They're simply informing you of a price change, a 10% drop at that.

Fuck off, so many articles get posted many of us may have missed it, I really hate when people rag on WPCentral writers for typos. As it is, half of the comment section is written like Neanderthals on a fuckin cave wall complete with shit in the corner of the cave. Yes, Dumbledorph, I know you refer to a duplicative article, your ass falls in the same bucket of piss...

Actually it is the same author :P.

Aaah! I live down under, no luck!

Do they ship worldwide? Amazon or the MS Store??

Walmart has them on their website as well. Not sure of the price.

Started reading this on my phone and thought Microsoft was matching amazon music prices....

I hope they (both OEMs and Microsoft themselves on new Lumias) take the dual-sim feature and run with it. I'd love a phone to replace my 1520 with dual sims. Perhaps they can make it as mainstream in the developed world as it has been in the developing world for years.

Agree that is true differentiation

Yup, a high end phone with dual 4g LTE Sim support would be pretty nice. Market it direct to business customers those who actually carry two or more phones. However it would take alot of work to take it main stream as not everyone in the emerging markets can afford a high end dual sim device.

Does this Phone have Bluetooth LE?

I bought one yesterday at a Microsoft kiosk in the mall. The price still shows $89 but when the clerk rang it up the price was $49.
Windows Central Newsletter
Thank you for signing up to Windows Central. You will receive a verification email shortly.
There was a problem. Please refresh the page and try again.