Microsoft Store now selling BLU Win Jr phone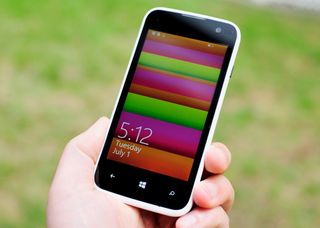 Though currently listed as out of stock online, the Microsoft Store will be selling the BLU Win Jr phone for just $99 unlocked, which is $10 more than what Amazon is offering the phone for. The dual-SIM phone comes with a 4-inch display and colorful shells that make it a great alternative to Microsoft's own Nokia Lumia 635.
The phone launches out of the box with Windows Phone 8.1 and sports a quad-core Snapdragon 200 processor. The entry-level phone comes with 512 MB of RAM and 4 GB of storage.
Will you be picking up a BLU Win Jr phone to use?
Thanks, Jay, for the tip.
Source: Microsoft (opens in new tab)
Windows Central Newsletter
Get the best of Windows Central in in your inbox, every day!
Chuong's passion for gadgets began with the humble PDA. Since then, he has covered a range of consumer and enterprise devices, raning from smartphones to tablets, laptops to desktops and everything in between for publications like Pocketnow, Digital Trends, Wareable, Paste Magazine, and TechRadar in the past before joining the awesome team at Windows Central. Based in the San Francisco Bay Area, when not working, he likes exploring the diverse and eclectic food scene, taking short jaunts to wine country, soaking in the sun along California's coast, consuming news, and finding new hiking trails.
Why not in the Canada store??

I think because BLU is more USA and Latin-america oriented company

Because then the carriers will try to end their contract to carry nokia phones

Microsoft Canada already sell unlocked phones. the 1020 and 635.

Where's my 830 at $350, TELUS don't let me down

Would like optons for consumers

Yea, good luck on getting any of the latest Windows Phones in Canada. Carriers here don't care.

Be great if they could get these affordable phones in Carrier stores and Retail stores like Walmart and Target. As long as they"re limited to Microsoft Stores it likely that the vast majority of purchase will be those looking specifically for a WINDOWS PHONE.
They need to be in front of ANY potential smartphone buyer searching the low end. Mindshare.

Heck no. 4GB of storage? This phone is ALREADY obsolete. The 635 is much better with 8GB, and its four core processor is a good selling point.

I think it has expandable memory with micro sd card. And WP 8.1 allows everything to be installed or moved to microsd card. So 4GB of internal storage shouldn't be a problem.

If it wasn't for its ram, but it's got a nice price

They was fast.
Why can't Microsoft move that fast with their own phones?

Agreed. But part of the answer is that Microsoft provided OEM's with reference hardware designs that reduce their time to market. That said, Microsoft needs to get on the ball. It's now a year since a significant flagship product was released.

Yes, the 930 doesn't exist.

My 1020 is starting to malfunction (no volume in calls) but I love the 41mp camera. Maybe if the 935 makes it to att, but the new 1020 replacement should be coming and I'd rather wait for it.

It doesn't exist in USA, which is where things matter.

It does, as does my amazing 1520 but out there soon will be the ultimate device that runs ms's next phase of awesome, and some of us just want it to run optimized on a new premier flagship... With the vision I see ms going, the beefier the specs the better, dual core wont even get the next wave of features so just think where threshold is going to take us? This OS runs smooth on low end specs, but I dont want just smooth, I want the best...

I want to see Microsoft/Nokia phones sold, unlocked, in the Canadian store.

you can get the 1020 and 635 unlocked from MS store in Canada, i would imagine more will come as devices are released.

Yes, the 1020 and 635 are there (though tonight I only found locked ones)... The 1520 would have been nice to see in the CDN store. And the new 830? I have three people ready to purchase it. ;)

Same here. I wish I could buy unlocked flagship phones from the Microsoft stores. The 1020 runs an old processor.

And its battery sux coming from a 1020 user.

And has two cameras, back has a flash. I'm sure other than that the 635 is better apparatus

Yes, the 635 should have had this at the minimum.

Remember to GET COMPLETE! $30 accidental damage warranty with no deductible!

Hope they get to sell many of these :) they surely look nice and have nice features, like front facing camera, maybe not the best but useful if you need it. well at least it's more useful for skype than the 520 my mom has, for example

The ffc was one the primary reasons I got my dad the 620 over the 520. Granted the ffc on the 620 is not that great but it will get the job done for skype. I could have got him this if it was sold in the UK however the Nokia brand loyalty runs pretty deep.

Hmmm I am curious to see if this phone is decent.

These small OEM could help a little we need the big brands release their phones globally

With just 4GB? Hell no... =/

Same price point as the 53x so why not?

How much does it weigh? I'm looking for a thin & light media player running Windows 8.1...

Daniel did an unboxing earlier. Not sure if the weight was listed, but I think it was and I think it was pretty light.

Does it have a front-facing camera?

I can see this retailing for a lot less in the coming months and hope they do shift alot of these units, as it would be a win-win situation :P if they do.


I have a 1520 that I love, but I might pick this up for a music only device. I run a lot and it kinda sucks holding the 1520 in my hand for 10 miles. A nice small light 4" device would be perfect.

Guys my guess is that Microsoft is allowing enough time for partners to release their devices before releasing their own so to not alienate them

Ding ding you got it right.

The time is 5:12 like the RAM.

+1 for observation skills.

I've got no use for this, but I my grandmother has been wanting a new phone so I might pick it up for her.

Can this be used as a pay as you go phone and on what carriers?

What carriers in the U.S. does this phone work on?

GSM phone, so AT&T and T-Mobile.

this beautifully design like my lumia 822 on white :D

This is so cool!!! These price points just make for an awesome experience.

I cant decide if I like the way this b phone looks or not.

Looks like a very nice budget phone... BLU did a good job with this! :)

Anybody know where I can get that wallpaper? Thanks!

Where can one find that background?

excuse my ignorance, but what is the app at the top of this picture, showing the time, location and temperature? http://ecx.images-amazon.com/images/I/81aqKHqRlVL._SL1500_.jpg

I think the WIN HD looks better.

Not gonna be picking it just because of small team and internal storage, waiting for something bigger on those to upgrade from my Lumia 520

WP is growing and spreading. We rock |,,|

Get ads blu. Make good ads.

So once again the cut price mobile market avoids the UK! Any wonder the WP market share in UK is so dismal. There are so many iSheep here that they would make an instant killing and save the 'smarter' ones hundreds!!

Is it available in India?

Nope. BLU is a small company in the US, but new OEMs will launch phones like this in India soon enough.

So when is win HD coming out? I feel like its soon since the Jr is already out

Crap phone with even worse crappy specs. MSFT is determined to be the phone of choice of crappy ppl everywhere.

Nokia is always better.. Or Nokia from Microsoft...

I like the lock screen background.

When will the Win HD be available?
Windows Central Newsletter
Thank you for signing up to Windows Central. You will receive a verification email shortly.
There was a problem. Please refresh the page and try again.