Microsoft may be testing 'Project Centennial' versions of Office desktop apps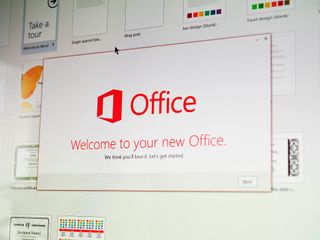 (Image credit: Windows Central)
Windows 10 customers can already download touch-based versions of Microsoft's Office apps from the Windows Store. It appears, though, that the company is also preparing to release the full Win32-based desktop versions of those apps in the store as well, using the ''Project Centennial' tools.
Project Centennial is one of Microsoft's three "bridges" for developers to convert apps to Windows 10 so they can be published in the Windows Store. Project Centennial is supposed to covert normal Win32-based Window apps to ones that can be made available in the store. In a recent status update, Microsoft said that it is currently testing the Project Centennial tools with a limited number of developers.
Well, it appears that Microsoft has gone ahead and begun testing those tools to covert Office 2016 desktop apps to ones for the Windows Store. A listing was spotted in the store labeled "Centennial Office Test1". The download link does work, and will install the full suite of Office 2016 desktop apps on your Windows 10 PC... sort of. The apps themselves can be launched but they don't really work, which shows this is a very early version indeed.
Keep in mind Microsoft has not officially announced plans to release the desktop Office apps in the Windows Store, so take this listing with a little grain of salt.
Check out the Centennial Office Test1 listing in the Windows Store (opens in new tab)
Via: WalkingCat (Twitter)
This is cool to see, I hope we see this get adopted more.

Think if this is available for all Windows devices! Full office in your pocket! Hope more apps come soon.

I'd love to see that, I do have a feeling it may be for just x86 CPUs, but I wouldn't say no to them some how getting it to work in ARM chipsets either as Microsoft has pulled off some crazy tasks like this before.

Well, Project Islandwood was originally x86 only, but now it works for ARM, so I presume that an ARM compiler will soon be available

This Office also works on ARM...

Me too! But yeah since for now it's just for x86 systems (well regular Windows 10 to be more precise), so maybe having full desktop apps for W10M is not there yet. Even when that time comes (hopefull will), don't expect to have desktop apps running on a phone screen since that would be a ridiculous usability issues in every way and they're not designed for it. We can, at least, expect to have these on Continuum-enabled W10M devices and still that's perfectly fine. W10M Continuum at the moment is kind of a novely with great potential, it just needs more powerful Universal Apps, Project Centennial to happen and yeah, a desktop-like environment it needs to be (It doesn't have to be a regular Windows Explorer shell port).

That is definitely not going to happen at all. Win32 softwares are not of 10-100MB they are 10x the size of a Store App. So don't even think that it will come to all windows devices. If it comes it will only come to continuum supported devices as it will require some serious power. Please think before saying anything negative, I'm saying this from a long vision perspective. Thanks.

"Win32 softwares are not of 10-100MB they are 10x the size of a Store App.​" That depends entirely on the program.

Skype is a win32 app. It is way less than 100MB. VLC is a win32 app....it is again way less than 100MB. Glary Utilities is a Win32 app....(you know how the story goes). Please Kamesh, just quit it with the ill informed trolling

I'm not talking about every App.. I'm talking about the general tend that goes.. I don't know why you guys have understanding issues..

General trend? Where is this trend? What resources did you use to analyse said trends? I call bulshit. Maybe we have "understanding issues" because you're from a third world country and your english is poor. Maybe we dont understand a word you say because you talk out of your ass and your sole purpose on this site is to troll. Posted via the Windows Central App for Android

What does being from a third world country have to do with his trolling? Posted from my Lumia 950XL

Well continuum is meant for future more than present devices, 3d nand and some advances in ram/cpus will give us the power we need to run these applications/programs on devices that we carry with us. Just look at devices from 5 years ago and the ones we have today.

That's one way to look at it, but on the other hand smartphones are plateauing. Not saying you're wrong, just pointing out that we're likely not going to get the same kinds of advancements or even as large. Windows Central Universal Application for Windows 10; Nokia Lumia 830; Microsoft Lumia 640

You never know, big advancements sometimes do come over night and I do belive we will get to the point where an average mobile phone has enough power even for more demanding users pretty soon. I really belive that this is the future.

That's what I was saying, as in for now it will be for x86 processors for now but with how Microsoft works they can pull of some sweat achievements and release this for also ARM chips and have a true full fledge Win32 that works across multiple devices with very little coding needing to do it. It's amazing what they've been able to do and that's why I'm most excited about this project.

I believe it'll happen, and I'm not saying you're wrong, but I think we have to keep in mind that these advancements may come in a different form than we expect them too. The smartphone world is in fact plateauing, and previous predictions like Moore's Law will be null within a decade. Windows Central Universal Application for Windows 10; Nokia Lumia 830; Microsoft Lumia 640

Same, I'm not saying that it will happen, but I'm also not saying it wont happen. Everything changes and technology is always growing in some form. I'm sure we may see some form of Win32 running some day on a ARM chip but we still haven't seen this thing in action. Microsoft has been able to do some crazy stuff with things before and I'm sure they will continue. All it takes is time and dedication and I'm sure someone can do it. There are a lot of things that exist today just because someone wanted to have it run on some device or do something in some sort of way. I never say never to something as someone who's very passionate and loves something will always work hard to get what they need where they want it. I hope we hear something soon on this and see where Microsoft is taking this and how far this can go.

This download is only 960.7 MB and there are larger phone apps.

Agreed, there are games that are well over a gigabyte. Windows Central Universal Application for Windows 10; Nokia Lumia 830; Microsoft Lumia 640

tomb raider game is 17gb, and its a store app. do shut up now!!!

Nobody said anything about dumbing them down. Centennial will allow you to download full x86 programs from the store rather than the web.

How so? The 17 down votes on your comment (so far) would indicate that maybe you don't have a clue what you're talking about. Office won't be dumbed down by using centennial.

You clearly don't understand the purpose of centennial. It has nothing to do with universal apps. It is simply a way of making it so that developers can continue to create x86 apps like photoshop or office, and have them available for purchase and download from the store. This also would allow the applications to be containerized like modern apps but other than that the changes should be pretty minimal. I am not arguing with you about mail or anything else, I'm just saying that centennial does not mean that they are dumbing down the core office apps. Contrary to your statement, have been getting better and better with very few misteps or steps backwards.

When you mention "Universal Ecosystem" it refers to apps. After all, how can an ecosystem strive without apps to empower it? Maybe you should ease up on the keyboard and reevaluate if trolling and being negative adds any benefit to your life. Posted via the Windows Central App for Android

Now your're talking about apps and completely disregarding me calling you out on the same thing you're doing now. You move the goal posts to suit your argument and its ridiculous. Theres no point saying anymore to you because all you do is spew the same BS over and over like a broken record. We get it, you dont like Windows mobile so move along to which ever OS you prefer.

Dude wpkevin just give it up. No one cares what you have to say. You have an opinion, we have a different one. If you hate Microsoft so much then get off this website. We won't mind at all.

And no warning or anything about the Pen changes in Office. Their support people don't even know it was on purpose. Imagine you are a high level Microsoft exec and you sit down with your surface to go through some slides or something and half your pen functions are gone with no explanation

I think that they will announce something nice regarding this during build. It may be what's responsible for the hype if they have several developers they are working with. Maybe a nice announcement about upcoming centennial apps.

Cool name for a cool project.

Project 'Soon'. Get the same Windows applications you already have. Now with less functionality and more price!

This is very exciting news! Mainly because the current process of reinstalling Office is rather tedious. I would much rather get it through the store.

It's certainly much better then 20 some-odd years ago this is more like 3 steps back just for the sake of I'll suited tablets

It's not just for tablets. Why it's there so much hate toward pushing the state of the art in the platform forward? I don't fscking get it.

They're setting up a new API to replace legacy Win32. That's all, man. No Biggy.

@wpkevin. It's all about Windows on ARM. The sooner you get that, the easier it would be :P. Now why don't you take a break from the internet, go outside and have some fresh air. It would your health a world of good :).

@wpkevin, take alook at the recent hirings. Better still look up project midor / the midori project. Intel? No AMD beat them to x64, do you see anyone talk about itanium? Nope, you don't. Also back in 2008, the mobile version of Windows ran on the CE kernal not the NT kernal. To give you some perspective, the Sega Dreamcast used Windows CE. So yes, you need that detox it would do you some good :).

@wpkevin. Because i don't want to waste my time, i've got better things to do :). There is alot of information out there on the internet, people just need to where to look . That's on themselves, as they are the only one that can step out of their bubble. Change must come from within although it may be influenced :). With that i am off to work, laters.

Yeah, this is great for general users who don't want to deal with installers and maintenance that many Win32 apps required the users to do. Win32 apps with the advantage of easier to search apps in Store and auto-updates is a win-win.

It is difficult to convince myself that the Windows Store versions of Office apps will be as powerful and as stable and will have as many features as the win32 versions.

Do you even know what Centennial​ is? It's not built as a Universal. It's a Win32 Port to the Windows Store

As far as I know, it literally IS the win32 app, just wrapped up in a package that can be installed via the store. Should work identically once it is installed.

Only 30% more expensive after store tax.

More users means more revenue means more or same profit, most likely.

You pay taxes on all software... If you buy a disc or a digital game the price is the same.

You mean like all digital stores?

Nobody has a problem on other platforms... Why should we? Sent from my Windows 10 PC.

Oh, so Office is only available on Windows-devices nowadays? Sent from my Windows 10 PC.

Oh, I'm sorry! I thought you could read and understand what I was writing. I will try to make it clearer for you: No other store has a problem with it. Why should ours? How can I put it so that you understand? Other stores make it work. Why shouldn't ours? Wait, can I have another try so I might be able to make you understand. It works for everybody, why not us? You belittling little kid. Sent from my Windows 10 PC.

Do you have no clue about other stores at all? There are plenty of $100-$200 apps for Ipads that have no problem. Safesession and Touchchat are two examples from the top of my head who are $150+ still I believe. There are also a pile of apps between $50-100. But this is besides the point. Office 365. Sent from my Windows 10 PC.

No, they are not but that is besides the point. And yes, they are available both in app stores and through other channels. You really should learn when you should just say "Oh, I had no idea. Thanks!" There is no difference... It doesn't matter who makes the software, or the price. If a customer thinks the software is worth it they will shell out the money. Of course they will charge an extra30%, and they should... All other companies charge 30% for the advertisement within store, update path, exposure and the huge amount of people who gets access to your app by the day. Do you have any idea how much it would cost to distribute your software through physical stores or get enough exposure online without offering it through a store? Think about what you get for that 30%. Sent from my Windows 10 PC.

Good, they have stopped with the hard copies, every software manufacturer should stop that and only offer digital downloads and put the savings in development instead. They were available in non-digital stores before. I haven't had any Apple-related products for two years. Good. Then you might want to answer my first question that I posted a long time ago before you derailed the entire conversation. Maybe customers prefer Office 365? Sent from my Windows 10 PC.

Well if its literally based on x86 it isn't if its based on x64 iteration sure

Um this is literally Win32 versions of Office repackaged as a Store app. So it should be as powerful as regular full office, it can be also as stable too (well that now depends to the WinRT services that handles it).

Android user would be hoping this doesn't work. MS got vison Posted from Windows Central for Windows 10

It will work. But only on continuum supported devices.

I'm sure this will work on PC and Tablets. Maube even xbox.

PC already has completely incredible win32 office. It does not need unfinished store app.

The Centennial version will literally be the same as the "incredible" Win32 version.

The joke's on you because apparently you don't understand what Project Centennial is.

Hahaha.. A Store App better than a classic win32 App.. LOL. Please at least think once :P we all know what's the position of Windows Store right now.

It's literally the Win32 version wrapped in a Store-compatible installer. (At least I think that's what it is.)

Yes but that would mean a reversal of how they sku this to be as simple as punching in a product key for an upgrade, thou it could be better for 365

1. Who's talking about "better"? 2. I'm not wasting my time with someone who obviously doesn't know what they're talking about and, to make things worse, proclaims their ignorance with pride. Google (or Bing or whatever) what Project Centennial is. Then come back to me when you are done. Or better yet, don't and go troll somewhere else. I've fed you enough already.

IT'S NOT A TROLL FOOL. IT'S REALITY. DEAL WITH IT. AND YOU COME TO ME WHEN THIS OFFICE STORE APP RELEASES'.

Come to you? Forget that. I'm going to go to the Windows App Store and download Office instead.

It's not a 1080p video that you convert it in 3GP using a free software and watch it in a nokia 3310. It's a real software, that will require a complete breakdown and re-write of codes.

Kamesh, time to pack your bags and go home. You are coming across as utterly clueless on this thread !

Who said anything about video conversion software in this thread?

A fecking idiot by the name of Kamesh ;)

LOL. Because "Ha ha" sounded sarcastic to me as a reply.

Laugh... :-) a little while I'll laugh at you :-) enjoy your time :-)

I don't know what you're smoking but its not good for you. They're taking a Win32 app and putting it in the store for easy download. What's so difficult to understand? By your logic they're duplicating office for touch. In what universe does that make sense?

I just hope your happiness doesn't suffer what happened with Project Astoria :P

Are you trolling or are you just plain retarded? The whole purprose of Project Centennial is to bring win32 programs to the Store AS THEY ARE. Seriously, get over it.

You are right and wrong. It is the full Office package, so you're wrong; it will be delivered in a sandboxed environment, which makes your statement partially right. It will not offer the COM automation etc. ; maybe Makros and add-ins will not work. But Office apps most definitely will, which is MSFT guidance anyway. To make Office run on Mobile, it would require porting and activating COM. I cannot tell, how far current plans are. IMO this would be a security and resource hog problem.

OH NO NOT MACROS. Please tell me they aren't getting rid of that cesspool of 90s mediocrity. No wait. Please reassure me that macros are fscked.

Even if it releases it will only come to Lumia 950/XL and other continuum supported devices only. Because it will only work in continuum mode.. I CAN BET ON IT.

And that seems very reasonable. Desktop programs are meant for bigger screens. Running standard Office on a phone screen would be useless, there are touch apps for that. I suppose developers might have the option to make win32 touch friendly, but most will just be ports.

I can also bet it will be mostly ports, at least for a while. Project Centennial is most likely for Continuum enabled devices to have similar powerful Win32 apps regardless what type of devices you are, but that doesn't mean it will be designed to be usable on different form factor especially small screen devices (such as phones, phablets and small tablets). That's totally fine since these we already got Universal Apps and we just need more of them (and also powerful). There is still could be an inherit technical issue with Win32 apps running on phones that might be undesirable, such as battery-life/power-management, memory management, API, and the most obvious is that their UX isn't meant for small screen touch screen usability.

You really need to shut up. Can you say anything worthwhile except pretending to be a stupid mr. Know it all?

And will you please stop being a blind "yay! Anything Microsoft" fan and come to reality please?

And what's the reality, mr. troll?

Are you blind? It's written above.

Wind your neck in Kameshzilla. You are clueless

We'll soon come to know about that.

We all know how their "most hyped" of all three projects ended up. Just hope they at least do this one right.

I really don't know why people don't think realistically.. They only think people are only trolling, I always commented Project Astoria will surely die and these people thought I was trolling as a windows hater and all. Guess what... I DON'T HAVE TO PROVE ANYTHING TO YOU PEOPLE. the truth is already there. PROJECT ASTORIA IS DEAD.

Well, that's really the only way for now (or ever), since there is no way to run regular desktop apps on a phone screen, even tablets especially smaller ones are not well suited to use desktop apps unless they at least updated to be usable for touch. It's really a UX of desktop apps that cannot be usable for phones because they're not designed it on the first place for phones. Still having this on Continuum mode is way much better than what we currently have. This is why Universal Apps is still equally important since the framework are designed to be responsive enough to be useful from phones to giant screens, it's up to the developer how they will utilize it.

If you already have Office 2016 installed, will installing this damage the current installation or do they work fine alongside each other?

Centennial apps are isolated, so my educated guess would be that they know nothing of the other installation.

Yeah, likely it will just ignore each other since Project Centennial apps will behave like Universal/Modern apps. The regular desktop apps won't even know that they have "duplicates", well in theory.

Technically, this would just be a port of what they have been doing with Office 365 click to run for awhile now. Click to run is a port from App-V with App-V being a port from the SoftGrid acquisition. The main difference between this and click to run is that click to run includes a specialized App-V agent. This would use the native agent that has been baked into Redstone.

What's so covert about any of this?

It's not covert, it's just that in the contrary of Islandwood, Centennial is not available to the public yet.

Thank you! I thought nobody here understands this technology...

Reading this thread is hilarious, especially people who have no clue about Centennial yet absolutely want to give their opinion. For info, Centennial is about wrapping an existing Win32/Win64 application into a container (app virtualization). This will put the *unchanged* app in a sandbox. It means that calls to the registry will be virtualized, as well as any calls to file system etc. The app remains unchanged, but it leaves no traces on the host machine. So in short - This is for Win32/Win64 only (opposed to Islandwood, there is no recompilation).
- So this won't work on ARM devices.
- In terms of features, this is the same app as the "unsandboxed" version (though it is plausible that some features here and there won't work, hard to say in advance). Hope this clarifies things.

"people who have no clue about [the topic] yet absolutely want to give their opinion​". Welcome to the Internet.

"- So this won't work on ARM devices." I need to review the documentation about this, but in this case Centennial apps are still not possible for Continuum-enabled W10M devices since there is no recompilation (or at least an option for developers to do it). So at the moment this is not yet the solution for Continuum-enabled device to become as useful as regular desktop Windows 10.

Not really a mess, it's just some technical limitations that some desktop apps will have when they're going to be contained, that having them sandboxed might render few of those features requires call outside the container. This is why I don't expect every app will be ported, at least not that easily. Project Centennial isn't meant to redesign Win32 and .Net apps in its very core, it just meant for desktop apps to be distributed and maintained just like the Modern/Universal apps did and put them on Windows Store. Hopefully they could make some strides to allow them to be recompiled into ARM architecture so they can run on Continuum-enabled W10M devices (of course not to run on phone screen or small tablet screen), which will render Continuum on W10M to be truly useful and became legitimate good alternative to regular desktop Windows 10 for some users.

The stuff that won't work is really low level features such as kernel access etc. So you won't have an antivirus in Centennial for instance. But for the most part the features will be there just like on the desktop version. As someone else commented, it's merely a repackaging of the existing app without recompiling. My wording was not the best but the specs are pretty clear.

You are not getting it. They will loose features due to the nature of being in a sandbox. I think, most ransomware-affected companies would kill for having MS Word in a sandbox.

Maybe Microsoft will make an ARM Win32 compiler?

As I mentioned there is no recompilation in Centennial (as opposed to Islandwood) so no.

Win32 aka user32.dll was already ported for WinRT-Office. C++ and C# evidently compiled for ARM. MSFT has had every tech in their hands, for quite some time. The question is, why are they not offering it to any .NET shop years ago? WinRT would've been half the mess is was.

So if you had created, for example, an excel or Access or Word program, you would be able to have it downloaded from the store and it would run in its own container on a Windows 10 machine. And one would not have to have Word, Excel, or Access installed as it would come with the application?

@Kamesh Here is a good reading/watch for you. Learn well... https://channel9.msdn.com/Events/Build/2015/2-692

Thanks. Let's hope it does not end up like Project Astoria. Goodluck to you, cuz I'm pretty sure how this project will work.

Really? It is a Win32 app packaged in a AppX package? Did you know that?

Astoria blew chunks and put mobile builds months behind. Let it rot in Hell.

Just waiting for it to launch once, then things will be crystal clear to all :-)

It's already clear. The legacy Win32 version of Office 2016 in an AppV container to run in a secure sandboxed mode. Precisely like MS said Centennial would be. QED, sucker.

i don't see the utility of this bridge if it doesn't transform win32 apps to Universal windows apps that work on both PCs and ARM based devices

Life would be so much easier if everything was downloadable from one place instead if having to go to the publishers website for win32 apps

Well this is the benefits of Project Centennial as it could make easier for users to search desktop apps and install them, also way less to no maintenance needed since updates are handled by Windows Store. It's a big win for regular users!

Except piracy is almost impossible on a Windows Store app

It's a more secure, cleaner installing/removing alternative to junky old installer routines. Imagine nuking a large package and ALL traces are gone! No leftover DLLs!! :D

And it could potentially be used as an updating method by the developer to ensure users have the latest version.

Marketing, ease of installation, and security. Everybody wins. Done deal.

For the user, it keeps the host machine clean by avoiding that these apps access registry, system files etc. For the developer, it makes it easier to distribute these apps, and offers a new way to monetize the apps. It seems pretty compelling to me.

You cannot simply rewrite a million LOC app into a Universal app. Centennial gives you the tools and the monetization to carefully manage the conversion. Much more practicable than being forced to throw away your code. Also, I know a.lot of companies that would kill for having sandboxes installs. This will be a.major driver for W10 into businesses.

Yesterday, suddenly I got a task to do a ppt on elasticsearch. I didn't have my laptop with me. But I had my DVP8. So I used Mobile Office . I am surprised by the power. I could make a decent ppt. I am really excited about continuum. To carry these kind of productive apps in much more small factor than a tablet is really awesome.

I am a bit confused about this and probably too hopeful. I for many years was an Access Developer on the side and have written a couple of pretty cool apps for my industry. Could run my whole wastewater plant on it with all kinds of industry specific functions, etc. Actually made it touch friendly so could do everything on a Surface Tablet or touch screen. Of course a nightmare to deploy and support and never sold very many. Will it be possible to run such an app on windows 10 as a "store app". Although Access has pretty much fallen from grace, there are hundreds of thousands of specially built apps out there that if could be easily installed and run safely, seems like a great selling point. But like I said not sure I really understand how this is going to work.

You are looking for a product key? Then, you can't miss the site www.Microsoftkeystores.com . This is the professional vendor of Microsoft and provides product key for the windows 7, windows 8 and so on. Just click the link and have a look. You must love it.

Having been used for several years, your computer may get crashed often? Every time when it goes crashed, you can just stand by anxiously? Or even want to buy a new and let this old one abandoned directly? Actually, it's not necessary at all! You can just upgrade your operating system by ordering a product key from the professional online site http://www.MicrosoftStoreinc.com you will feel like your PC is totally a new one. Also, you can chat with the guy on this site about your computer issue. You must get helpful answer and instruction ASAP.
Windows Central Newsletter
Get the best of Windows Central in in your inbox, every day!
Thank you for signing up to Windows Central. You will receive a verification email shortly.
There was a problem. Please refresh the page and try again.