Microsoft may release Windows 10 Mobile build 14352 for Insiders on Tuesday, May 31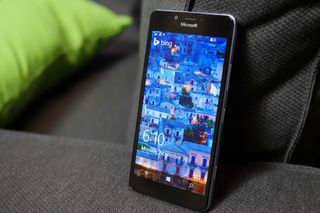 A Microsoft team member says that the company could release Windows 10 Mobile build 14352 for Insiders on Tuesday, May 31
Microsoft made the Windows 10 preview build 14352 available for Insiders on the PC platform last week. Late on Sunday, Peter Skillman, the general manager of the Core Ux team for Windows, posted a possible date for the Windows 10 Mobile preview build on his Twitter feed.
Keep in mind that these dates are not set in stone and that Microsoft could delay the release if it finds any show-stopping bugs in this Insider release.
John Meant May Thirty First!

Tuesday, May 30th, may be next year, since today is May 30th and it's Monday.

Oh God, we can't even get the date right... Posted from PornHub

Bug-fest... Waiting though

In the description under the pic, build 1452is reported, instead of 14352. Hope it helps.

You see, it's a game, keep on guessing May 30 or 31, Monday or Tuesday! They are playing games with us.

The article did say the date is not set in stone. Otherwise they'd need to chisel it out. ;-)

Tuesday, May 30? Which year?

Checked the calendar, seems like tuesday may 30th is next year :)

Overachiever. Posted from PornHub

When are they releasing windows 10 full version for Lumia 930? I thought they said before Christmas, then January, then February, then March. Now it seems like they have abandoned giving us an upgrade all together! And I don't mean insider. I don't want a beta version. I want a normal full upgrade like what was promised.

It's already out mate. You need the Upgrade Advisor app (which is not the Insider app).

Pretty sure they released it about two months ago. Download the Upgrade Advisor and check.

It is released, officially, for the Lumia 930. You need to use the upgrade advisor application to enable the update. (Link below) Ugh... It does go there, just... You know. https://www.windowscentral.com/e?link=https%3A%2F%2Fclick.linksynergy.co...

The 930 is already on the windows 10. None insider.

Don't think, pay attention.

Its easier to whine, demand and act like Microsoft is purposefully lying.

Yeah...meee tooo... I also waiting for final version.....R*

ITS ALREADY OUT !! Sent from my Lumia 650 via the Windows Central app ;)

Windows 10 mobile officially released about 2, 3 months ago Nokia Lumia 730 on build 14342.1004 on fast ring.

Well unfortunately RTM build is just one of the more stable builds from the beta, so it's basically the Super Slow Ring.

So you expected them to give you a non tested version after months of testing? LOL great plan Sherlock.

I expect them to give us an actual final build, unlike the first garbage "RTM" build. They were running out of time, so they literally went "Let's just call whatever beta build we have 'RTM'." And that's why, even after months of testing, we had an unstable official build that was the laughing stock for every reviewer. It's only recently that the beta actually feels like a finished product.

Seems like it's been too long for slow ring.

Microsoft is doing the things very slow and it is disappointing. I hope they got enough money to get good programmers. Frankly I am considering switching to Android although I hate it!

I would rather take the time to test the software and iron out bugs, instead of releasing a bad version of the software. The only reason it seems slow is because they're keeping us notified about each build. Think about other programs that do that and know that software development takes time.

You can't deal with the need for patience?! I already jumped to Android and no regrets. Just make sure you grab a good Android phone (I got the S7 edge) to enjoy it. Most MS services are there and you get better first party app experience. I'm still keeping my 930 for insiders tho, maybe if the Surface phone gets released I'll grab one; sure the OS would be pretty matured then. Posted from my Lumia 930 W10 Mobile Device via the Windows Central App for Windows 10

Tried it! Absolutely hated it! I'm back☺

Tried it! Absolutely hated it! I'm back.

Say it again... Posted from PornHub

MS: Please bring Photos App "sliding annimation" back from WP8.1 for this upcoming build. Give us an option of choosing between that and the current dull "zoom-in" !feature.

Could you explain further ?
Do you mean pinch IN (zooming out) on a photo to view ur photos as a roll horizontally/vertically ?
This was there in WP8.0 but removed in WP8.1
Sent from my Lumia 650 via the Windows Central app ;)

Well the last 3 updates have had me stuck on window splash screen for in excess of Two hours, and resorting to soft reset and a lot of tinkering, hope this ones upgrade experience is a tad smoother :)

Tuesday May 30th is in 2017. Waiting that long for the next insider build is completely unacceptable. /s

Hope they fix battery drain problem

They already fixed battery drain on my 950 in latest Fast ring build, almost 2 days with 1 recharge.

Mine not, barely stay a day Nokia Lumia 730 on build 14342.1004 on fast ring.

Seams like they are only fixing these kind of "bugs" for the newer phones, sadly. My Lumia 830 also takes less than 8 eight hours to dry all the battery...

I don't think so. I have Lumia 830 and the battery issue is ok with last build in fast ring.

My 1530 battery is still suffering

That damn 1530... Posted from PornHub

I thought my calendar is broken or something.....

What about non insiders ? Still stuck at half baked OS.....

If you want the beta versions please become an insider, its weird to ask for a release if you can allready get it... and if you do not want to use the beta version than stay on the public release but than you have to wait. I mean really?

i didn't asked for beta, i am asking when they resolve the issues in original OS..... see lot of my friends opt to Android even though they hate it bcz they didnt like windows 10 OS performance.... it has somany bugs. they are releasing cummulative updates very late....my phone still hangs, apps crashes, battery sucks Using L730(10586.318)

Becoming an insider does not help with your "half baked OS" problem. Instead, as an Insider, you get "quarter baked OS"! LOL :D

It's even less baked as an insider. It's like being fed samples at a cooking school. You never know what you're gonna get because they are still learning to cook.

they just ruined windows mobile with non complete windows 10 OS updates. windows 8.1 was awesome though it may not have new features of windows 10....... they will loose more fan base bcz of windows 10. lot of people looking for reviews in Youtube and almost everyone don't recommend windows 10 phones. Final days are ON for Microsoft windows 10 mobile

Has anyone seen the Carrier approved "Launch" of Windows 10M fro AT&T or T-Mobile? Or do we need to remind them it's been out for months?

They'll sit on it forever, hoping you'll get impatient and buy a new device. Best to get the update from the Release Preview ring (which is exactly the version the carriers would give you) and skip the waiting game. That's what I did and it works quite well and you won't have to worry about your carriers anymore as MS handles the updates on W10M.

Ok. In 7 minutes it is the 31st in Tokyo, so do it, already! ;)

Would be a nica cadence, PC on Thursday, Mobile on Tuesday, keep it going.

I hope so. If anything goes wrong you can always release 14342.1005.

Pfff damn Windows 10. Just get back to Denim

Hey! Is it already possible to dismiss all the notifications from one divice or they are going to implement it soon?

Skillman should leave the sunk ship and move to HMD.

My guess cellular data issue fix for dual sim phones and action centre notification crash fix on the way along with feedback hub localization

This is starting to feel like those nightly's we get from Linux. Never ending.

I think it's like that by design.

Can we please confirm an awesome Surface phone, I have an old L920 (going on 4 years now) that apparently can't be upgraded to Win10. Please, I don't want to switch over to android.

it can just th2 or 10586.

I might be offtopic but am I the only one having issues with the calendar live tile update? I did not manage to find any workaround. I've had hard reset twice.

I too have the issue, hope Microsoft has taken note of it

I get paid £85 every hour from online jobs. I never thought I'd be able to do it but my friend AT is earning £10k /monthly by doing this job and she showed me how. Try it out on following website…50timeextra.comllllllllllllllllllllllllllllllll

I get paid £85 every hour from online jobs. I never thought I'd be able to do it but my friend AT is earning £10k /monthly by doing this job and she showed me how. Try it out on following website…*>>>>>>>>>>>>>*50timeextra.comllllllll

What do we have to do? Nokia Lumia 730 on build 14342.1004 on fast ring.
Windows Central Newsletter
Get the best of Windows Central in in your inbox, every day!
Thank you for signing up to Windows Central. You will receive a verification email shortly.
There was a problem. Please refresh the page and try again.