Microsoft's modern.IE development site has saved developers over 1 million hours of coding and testing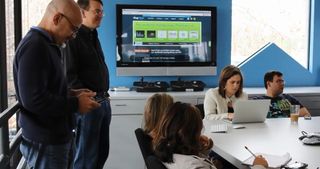 You might not be familiar with Microsoft's modern.IE website, but web developers around the globe sure are. The website launched by Microsoft focuses on providing tools, documentation, and industry connections for web developers who are trying to get the best optimization out of Internet Explorer and other web browsers. Recently, the site has claimed that it has saved over one million development hours using its various techniques since it launched in January 2013.
Visiting the site provides free virtual machines for performance testing, access to an automated BrowserStack screenshot process, and tips on fixing common coding issues within your site. According to Microsoft, over 750,000 developers, adding up to a total saving of 1 hour and 20 minutes each, have used the virtualization technology. The company has also stated that those above have saved, on average, 2 hours and 48 minutes by using the provided BrowserStack ability; these statistics are in comparison to developers manually building and testing on virtual machines from scratch.
The tools themselves have certainly saved web developers a good portion of their quality testing time, and have helped them build fully unified website experiences across multiple browsers (Internet Explorer, Google Chrome, Mozilla Firefox, etc.). In addition, thanks to Sauce Labs, the code used by Microsoft on their site to determine the compatibility of your own site is available for download on GitHub under the Apache 2.0 open source license.
If you are not visiting the site for the development testing tools, then you might want to check out the other resources available to you. Collections of web development articles including "how to make your site more interoperable" and "[updating] your site for web standards" are available for your knowledge gain. You can even check out featured code demos and meet developers from around the globe to spark up a conversation with.
Are you a web developer – have you used Microsoft's modern.IE website to enhance your coding and development experience?
Source: Microsoft
Get the Windows Central Newsletter
All the latest news, reviews, and guides for Windows and Xbox diehards.