Microsoft Movies & TV seems to be getting more 4K movies outside of the U.S.
Rejoice, UHD-fans, since it seems those of us in Europe, Australia, and beyond are finally getting some 4K movie love.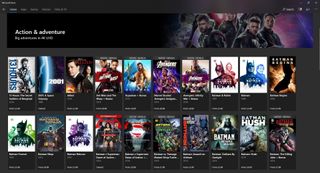 I've written before how mildly annoying it has been as a Movies & TV user on Microsoft's platform. Besides never really knowing for sure if Redmond is fully committed to the service, after shutting down Groove Music, we're still lacking a mobile app, and offline playback on Xbox One. Perhaps most annoyingly of all for users outside the US, the rollout of 4K movies to Europe, Australia, and other major Windows and Xbox markets has been ridiculously slow. I recall one instance where there was a major "sale" on 4K movies on the Microsoft Store, comprised of just two titles for the UK.
However, I noticed this weekend while browsing for new movies to watch that, indeed, it seems the uptick of 4K titles on the UK store is getting a bit better. I picked up Detective Pikachu (opens in new tab) in all of its 4K glory from the UK store last week, and a few others on my Twitter feed have noticed improvements as well. The latest Godzilla (opens in new tab) movie is available in UHD, as well as John Wick 3 (opens in new tab), and Avengers Endgame (opens in new tab).
There's still a big gap overall between the UK and U.S., at least. With movies like Aladdin (2019) (opens in new tab) sporting UHD in North America, but only up to HD in Europe. However, it seems Microsoft is working to get even some older movies licensed for UHD, with the Dark Knight Trilogy (opens in new tab) and The Matrix Trilogy (opens in new tab) both picking up UHD versions in Europe and other territories.
If you want to check out what 4K movies are available in your region, the Microsoft Store on Windows has a 4K section at the bottom under Featured Collections.
With Microsoft moving deeper into Android with the Surface Duo and, what seems to be increased investment in licensing, maybe we can finally get a Microsoft Movies & TV mobile app that has been rumored since, well, forever.
Have you noticed any improvements to the Movies & TV library recently? Let us know in the comments.
Jez Corden is the Managing Editor for Windows Central, focusing primarily on all things Xbox and gaming. Jez is known for breaking exclusive news and analysis as relates to the Microsoft ecosystem while being powered by caffeine. Follow on Twitter @JezCorden and listen to his Xbox Two podcast, all about, you guessed it, Xbox!
Very interesting. Did it have Dolby Vision HDR or Dolby Atmos support?

Detective Pikachu? Not sure on that.

If 4K and new they almost all support HDR (you can see support for HDR under the Store title card between CC and movie rating) ; Atmos support for digital is more based on your hardware than the movie itself as most modern movies are mixed for Atmos anyway. These digital movies are basically all the same across Apple, Amazon, Google, VUDU, etc. HDR and sound are not "extras", they're always a part of it if the movie supports HDR.

A standalone app would be nice. While Movies Anywhere has a good portion of my movie content, it's still only about 70 to 80 percent of what I own. Although slightly of topic, they should have never gotten rid of the Groove app. It was still great for streaming content I have stored on One Drive. I've found an alternative, but I shouldn't have had to. Groove worked great for that.

Agreed... Groove was and is better than Spotify. Really annoys me. I lowkey hope Microsoft just buys Spotify one day and fixes their app.

Exactly the main reason I restrict myself from the Microsoft Movies store. Got some titles that don't sync with MA and thus not on any of my smart TVs, only way to access them is on Xbox and PC.... it sometimes make me forget I own them.

Can UHD movies be downloaded or only streamed?

They can be downlaoded on Windows 10 (and... Windows 10 Mobile, RIP), but not on Xbox.

Only HD an be downloaded as those are already ~4.8 GB.

Curious why none of the streaming apps allow 4K Download even if you own a 4K rig/laptop. Don't know about Apple and their Macs though.

Apple also does not let you download 4K content.

Just checked the Brazilian store and there is near 60 UHD movies available.

"With Microsoft moving deeper into Android with the Surface Duo and, what seems to be increased investment in licensing, maybe we can finally get a Microsoft Movies & TV mobile app that has been rumored since, well, forever." ----YES--- I am waiting for this to happen. I love my xBox One, but the Movies and TV always has issues playing. I dont have these issues with my desktop. I would rather access Movies and TV via ANOTHER WAY.

Is anyone else unable to play UHD content that they've purchased or rented? I have issues on both my surface pro 4 and xbox one s, all with the latest updates. There are reddit threads and Microsoft threads on this but no real solution and appears to be occurring since last year... if anyone has a solution that would be incredible!

We have a few as well in Denmark. Not sure if it is that many though. I really like that once they finally did it, it was the same price for owning SD,HD or UHD . and they even call that out 💙 I still would like to see previous available purchased movies as a 4K option, but it looks like only movies after this change are offered in 4K. Hopefully this will also improve down the line, and hopefully we don't have to wait 3-5 years for that to happen like we had for 4K 🙂

It's probably the same as here in Norway. Not all are offered in the same price here though, most are however. They added the entire Transformers collection and Bumblebee as 4k not that long ago, they are 99 for HD and 169 for UHD here. Same in Danmark?
Windows Central Newsletter
Thank you for signing up to Windows Central. You will receive a verification email shortly.
There was a problem. Please refresh the page and try again.