Microsoft is moving Cortana out of Windows 10 search and into the Action Center
Microsoft is experimenting with moving Cortana's entry point out of Windows search and into the Action Center on Windows 10, giving 'her' a new home on the taskbar.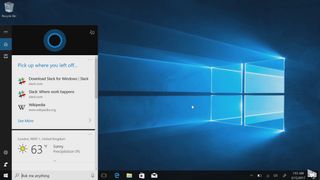 Microsoft is planning a major overhaul of the Cortana experience on Windows 10, according to sources familiar with the matter. We already know that Microsoft is building a chat-based UI for Cortana, and now we're starting to hear more about Microsoft's plans in this area. Some big changes are reportedly coming, including debranding Cortana from Windows Search and moving Cortana's home experience into the Action Center and System Tray instead.
Cortana already handles a lot of the notifications that pop up on your PC, so from a user-experience perspective, moving Cortana into the Action Center makes sense. This move also goes hand-in-hand with the chat-based UI mentioned above, which puts a text-conversation interaction model front and center rather than encouraging voice engagement. People don't like speaking to their PCs, and Microsoft knows this. Prompting users to type is more likely to garner use.
Cortana to find new home in Action Center
According to my sources, the Cortana and Action Center combination will allow users to filter between or see Cortana's cards and notifications together. Cortana's new chat-based UI will also live in the Action Center as Microsoft going to be moving Quick Actions out of the Action Center and into a new, dedicated Control Center. This is something we exclusively revealed back in May 2017, and should make room for the new Cortana additions that are being introduced in that space.
I'm also told Microsoft is working on an updated design for the Action Center that will better fit Cortana's features and new chat-based UI. Of course, users will still be able to use voice commands to interact with Cortana, with features like "Hey Cortana" remaining intact. It is likely that the addition of Cortana in the Action Center will see the entire Action Center get rebranded, as the "Quick Actions" are moving out of the Action Center anyway.
In fact, Microsoft has already taken the first steps in moving Cortana into the Action Center. The latest Redstone 4 Insider Preview builds feature a change where Cortana's proactive content appears in the Action Center instead of Cortana's home area in Windows Search. This is just the start of what Microsoft is cooking up internally.
It's worth noting that Windows Search will still be powered by Cortana's backend. The significant changes here are that Cortana's entry point is moving from Windows Search into the Action Center which replaces the voice-orientated interaction model with a text conversation one. I believe Microsoft is hoping to get these changes out in time for Redstone 5 in the fall of this year, but as always, those plans could change.
The great news is that Microsoft appears to be finally debranding Cortana from Windows Search. Ever since Windows 10 launched, one of the biggest sore-points for users was how Cortana was a dominant part of the search experience. These upcoming changes should remove the unnecessary Cortana additions within Windows Search and give them their own home in the Action Center.
This is also great for Cortana, as it gives it it's own distinct home on the taskbar. Currently, Cortana is muddled up with Windows Search, and unless you're active in the tech bubble you likely don't even know Cortana exists. Now Cortana will have it's own icon on the taskbar. If one thing is for sure, Microsoft has no plans on backing down in the virtual assistant market. These upcoming changes are all in the name of making Cortana better and more noticeable.
Get the Windows Central Newsletter
All the latest news, reviews, and guides for Windows and Xbox diehards.