Microsoft News Roundup - Play Tag on Bing, Xbox 720 info leaks and MS announces new Win8 hardware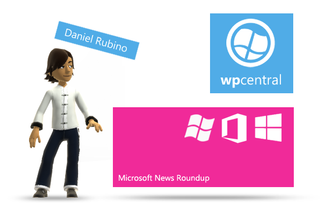 Yes, after my long trip to "the Peg" in Canada (more on that later), I'm back with some more Microsoft news that's too good to pass up. Today's stories:
Bing gets Facebook "tagging" today
Xbox 720 info leaked looks real
Microsoft announces new mice, keyboards for Windows 8
So head on past the break for the full scoop on all of this exciting news…
Tag your friends with questions on Bing
We're big users of Bing around here but not so much Facebook, so we're a little less excited about this move today by Microsoft but it is a big deal. In the company's continuing quest to make Bing cool and relevant, the company is amping up its Facebook integration.
The Bing team announced today that you can start to "tag" your friends with Bing questions when you do searches.:
We suppose if we used Facebook this would be awesome and we're hoping most of you will make use of it. What do you think though…will Microsoft's close relationship with Facebook pay off for Bing? Source: Bing Blog
Next gen Xbox dev kit details leaked?
In what is one of the most interesting stories of the day, the developer kit for the Xbox "720" (or whatever it will be called). The so called Durango kit was leaked online in a forum, for sale no less ($10,000) and had a few pictures to accompany the post as well.
The kit looks like nothing more than a black PC box with a monitor, some Matrix-like graphics and 'Durango' on the screen. But that interesting part is that the reputable site Eurogamer has managed to corroborate those photos with some real game-houses to confirm they are the real deal.
So what are we looking at? It's a 64-bit system (thought to be Windows 8/NT at it's core), 8GB of RAM and an Nvidia GPU. It's also rumored to be working with an 8-core CPU and will be 6x as powerful as the current 360 hardware.
Dev kits though are not the same as release hardware so we should focus too much on that end (higher RAM is needed for dev tools and such) but it seems like the "720" may be further along than many believe. Could we be seeing a late 2013 release? Probably not but we may get a tease of it before the year is out. See our earlier coverage of the Microsoft roadmap leak for the Xbox 720. Source: Eurogamer.net
New keyboards and mice coming for Windows 8—now listed on Microsoft's site, buy today
We mentioned a few weeks ago that Microsoft had a new 'wedge' series of peripherals coming to Windows 8 and now the deets are posted.
In a press release the company announced the following products for their Windows 8 release this fall:
Each series has its own advantages including mobility, comfort and style, have BlueTrack technology to work on any surface (a must for laptop users) and over a sleek minimalist design.
Which one are you going for, if any? We're about to order ourselves the Touch Mouse and like the Sculpt Mobile keyboard. You?
Source: Microsoft (opens in new tab), Microsoft Hardware (opens in new tab)
Daniel Rubino is the Editor-in-chief of Windows Central, head reviewer, podcast co-host, and analyst. He has been here covering Microsoft since 2007 when this site was called WMExperts (and later Windows Phone Central). His interests include Windows, Microsoft Surface, laptops, next-gen computing, and for some reason, watches. Before all this tech stuff, he worked on a Ph.D. in linguistics and ran the projectors at movie theaters, which has done absolutely nothing for his career.
The Arc touch mouse is THE best travel mouse ever made. PERIOD. Love it and it looks like they haven't changed it much which is good.

This. It's not quite an ergonomic dream, but nothing else can fit into a pocket so effortlessly.

Absolutely correct. Arc mouse is the premier travel mouse to ger

8GB of Ram on the 720 would be awesome. Pair it with an affordable SSD 80GB HD for the main drive and you have the home entertainment device you need for the next 10 years. We all know the graphics will be a nice bump but with flash components all around, it could be killer

I hate to sound like a noob (im not).. But what are the Bedford of solid stage drives. They are more expensive and for less memory. I could Bing this but I wanna hear it from you guys. Those Bing improvements are beast. Integration into wp8? Probably came too late for the wp8 dev team to implement. But this is a very social feature right in line with windows phone's strengths.

Speed. Basically with any computer that uses your standard hard drive, the system is always waiting for the hard drive to spin up slowing everything down. When you have an ssd, the memory and hard drive are moving at a similar pace. This allows the system to operate smooth as butter because the memory can receive data.from the hard drive as fast as it.can request it. Instant on from boot, less moving parts to die for greater reliability and you can make the box a lot smaller because you don't have to cool the hard drive and graphics card.

I didn't want to believe it either. But you really gotta try it. Get a 128GB SSD for your System drive and it'll wow you, guaranteed.
With a 7200rpm HDD I had to wait more than 2 minutes booting. With an SSD my Laptop boots in less than 30 seconds.
If you frequently have to wait for something and see the HDD indicator flashing while you wait, get a SSD, no more waiting.

You can still store music and stuff on a normal HDD, for cheaper storage. For laptops you can swap the optical drive for a HDD, since you probably never use it anyways.

Well SSD for the Xbox would be awesome. As long as you don't install new games every day, wear should be no problem.

Yes, Performance is the main reason people upgrade to SSD. It's the biggest performance gain you can get really (if you have a current PC, the difference with new CPUs won't be as noticable as an SSD).
The other big reason, no moving parts. no spinning parts. no dead drive if it gets hit while working (you know all these tech companies like IBM and Toshiba developed into their laptops to stop drive spin if the laptop is falling? that's no longer a problem). When an SSD starts to dye, it can recognize it and alert you. the chances of losing data with an SSD are much much lower than normal drives.

So that's what you pay for. better performance and higher reliability

I think hybrid storage would be the way to go in a nextgen console. Say 500GB regular drive for media storage, and a 32GB SSD that automatically holds the stuff that's most used at the time.

Or perhaps a 32GB SSD In the base model to consume music, movies, games, pics etc..... The cloud is nice but the next XBOX would be cool if it became the reincarnation of windows home media server only improved and with a pretty Xbox live front end

I think I'll stay with my Logitech Anywhere MX for mobile and MX Revo for home use for now... Pains me that there's still no other mouse with SmartShift other than the MS Revo.

Whenever I do anything related to Bing on Facebook people just laugh at me. But hey its free Microsoft points so I turn my privacy settings to only me and post away for points.

Awesome! Thanks for the thorough explanation ;D

I think a new Natural Keyboard would have been nice. Not that there's anything wrong with the good old 4000, but it would be great with more options on the split-keyboard front. Integrated touchpad, maybe? Personally I think that makes more sense than touch mice.

I hope the keep the good 600$ price for the next systems and not try to price to big like what's been happening lately

Those mice are already made by Microsoft...its good to see they are porting the drivers over to windows 8, but in general these mice are gimicky...just look at the amazon reviews for them....terrible to say the least.

i have an arc touch, and no it's not gimmicky. it's the most portable mouse designed today, in my opinion

Yes, these mice aren't new. at least not all of them. porting drivers to win8 for mice? it's a basic device so that sounds a bit unnecessary (my arc touch and ergonomic keboard/mouse worked fine wihtout that. I think win8 is fine with win7 drivers anyway)

"Could we be seeing a late 2013 release? Probably not but we may get a tease of it before the year is out"
Did you mean 2012? because a year and a half is a lot of time when you already gave dev kits out.
Windows Central Newsletter
Thank you for signing up to Windows Central. You will receive a verification email shortly.
There was a problem. Please refresh the page and try again.