Microsoft to offer free Display Dock with Lumia 950 XL in U.S. and Canada [Update]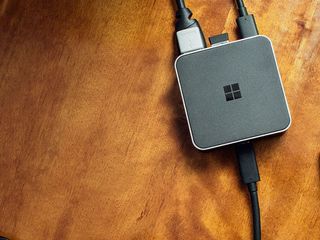 Update: Microsoft has now removed the reference to the Lumia 950 in the offer details, so it looks like this offer is just for the Lumia 950 XL. The offer has also popped up on the Canadian Microsoft Store (opens in new tab) as well.
Original Story: After coming out with similar offers in other countries around the world, Microsoft is now offering the Continuum Display Dock peripheral as a freebie for early buyers of both the Lumia 950 and Lumia 950 XL in the US.
The offer very much reflects a similar one revealed for Germany and the UK in late October. From the Microsoft Store listing:
Curiously, while the offer details appear on the product page for the 950 XL and mention that the freebie will be available for the 950 as well, the same details don't appear on the 950's product page (see update).
Moving down to the fine print of the offer, it looks like it is available with valid purchase and registration between November 25 and January 31, 2016 while supplies last. Buyers will then have until February 29, 2016 to redeem their promotional code from the Lumia Offers app on the Microsoft Store.
Keep in mind that neither the Lumia 950 nor the 950 XL are yet available to order from the Microsoft Store in the U.S., but you can check out the details on the product page at the source link below.
Thanks for the tips, Junaid, Chris, and Tanner!
Source: Microsoft Store (opens in new tab)
Windows Central Newsletter
Get the best of Windows Central in in your inbox, every day!
Dan Thorp-Lancaster is the former Editor-in-Chief of Windows Central. He began working with Windows Central, Android Central, and iMore as a news writer in 2014 and is obsessed with tech of all sorts. You can follow Dan on Twitter @DthorpL and Instagram @heyitsdtl.
...do as the Singaporean do?

Do what the Singaporean's did

To me this means that they expect to start selling the phones from Nov 25...

Unless "purchase and registration" means you have to have bought it on or after the 25th, meaning either: 1. The 25th is the release date (at least for the MS Store). 2. The true early adopters get the shaft by not waiting until the 25th (if the 20th is really the release date). Either way, it's too vague for me to trust.

If you click on the link on "terms and conditions" it opens a pdf that actually says November 20, 2015 until January 31, 2016. http://dri1.img.digitalrivercontent.net/Storefront/Site/msusa/pb/multimedia/PDFs/Display_Dock/DISPLAYDOCK_TERMS_and_CONDITIONS_US_ENGLISH.pdf

Only MS!!! :) So much contradictory information over the launch of a couple of phones across so many different MS websites.... :)

Sweet! You'll be able to start using continuum 8-10 weeks after buying your device and redeeming the promotional code. I bet that's almost as exciting as waiting for a flagship phone for over a year. This one's for the fans, ladies and gentlemen. Flatliner.

The negativity is overwhelming. I am one of the many that have been waiting for a flagship since the 1020 was released. I use a 1520 now, but when I bought it, it was over a year old. I don't like to wait either, but to come here and bash MS for trying to get make their "interim" flagship better by making us wait does not flatline the device, in my opinion, I will give MS the benefit of the doubt that they are trying to release a product that is usable without so many bugs. The wait on the dock may be due to hardware shortages, or more software development time to remove bugs, etc. So, in the minds of many, this device may be dead, but us that are true fans of the platform see this as a refreshing approach to trying to get things done right.

Except the reference to a flatline isn't the device itself. It's Microsoft's planning, marketing, and P.R. The phones are supposedly due out in 7 days, and this promo supports that theory. Somehow, we still don't have a release date. We don't even have 100% verification of who will and won't carry what. They're saying if you spend the extra $100 on the XL, you get the $100 dock free, essentially killing the appeal of the 950, since it's not part of the promo--meaning those who buy through a carrier similarly get squat in the States, since the only non-MS Store option is the base 950 on AT&T. We don't hate the devices. We hate the unending mismanagement of them. I mean, they seriously just went and had the promo say the 950 was included, then changed it. I'd love to get the XL, but I can't do it unless I shell out $700 (after tax) to get it off-contract. Apple at least had the intelligent idea of a non-carrier leasing program. Sure, it's not Microsoft's fault I don't have the spare cash to buy off-contract (well, it is, since I spent that money on an Xbox One, a Master Chief controller, and Fallout 4...), but they're doing nothing to promote these devices and everything to deter fans.

Just wait...maybe ATT will have their own promotional. Since the 950xl are going to be sold by microsoft, the 950 by ATT they might just have different progams.

We can hope, but at the same time, the thing is supposed to be out in 6 days, and nothing about that availability has been officially confirmed.

What this guy said. I really want these devices, but it is a marketing and promotions nightmare. Somehow, ATT can bundle a third party device (fitbit), but we can't manage to get two of our own products to you in one purchase from our stores After all this time. Boobs.

It's also not entirely MS's fault they don't have the cash around to float no interest loans to everyone who wants a 950, or 950XL. Remember Apple's real cash cow is the iPhone, and that product has them swimming in money. WP has MS swimming in red ink. I'd have loved a MS option like Apple's too, but I get it.

1. Microsoft has LOOOOOOOOOOOOADS of cash. 2. As I read, Apple's lease program isn't actually through apple itself. It's actually handled by a third-party.

Sigh, such a positive asshole

Couldn't have said it better myself brother! I'm still using the 1020 btw but the 950 won't be it's upgrade...

MS should have taken our money the day after the announcement of the new Lumias. I want the unlocked 950XL.

Over a year? I'm over 3 years now, since the 930/ICON didn't launch on AT&T.

920 has been three years, not 930

Only an asshole would complain about something free. If it's that big of a deal to you, buy the damn thing when you buy the phone.

Except its really not free. You'd be paying for a phone system thats now a miserable 1.7% of the market. MS has so totally and utterly screwed us WP users for years now. Continuum won't be enough to save it and the whole platform will be dead and buried by this time next year. I've supported and boosted WP for years now, but its time to face facts, MS has fucked this! There is NO possible way to have the platform become relevant again, and the head brass at MS know this damn well and have done everything concieveable to accelerate its demise. Other than surface and xbox (2 cash cows) they want to turn to a 100% services company, and WP just don't have a place in that.

I'm not even sure where to begin, your comment is filled with so many fallacies it's pretty sad. First, if one doesn't have to pay extra money to get an item, said item is free. I don't care how you try to explain it away by saying you have to buy a phone to get the dock, the fact is, I paid $650 for the phone and $0 for the dock. Many others will pay $650 for the phone and $100 for the dock. I get mine free. Second, your 1.7% number is a sales percentage, not installed base in market share. The rest of your statement, other than that surface and Xbox make a lot of money, is just hyperbolic and nothing more than opinion.

Are you high? Do you even know what you're trying to say? I don't care how many people own the phone I use. That doesn't make it a nicer piece of hardware for me. I care what I have to pay and what I get out of it. Not getting the dock hurts the value for me. Your disappointment in the platform doesn't count for everyone, man. I mean, I'm disappointed as well, but I don't think that 1.7% matters when it was measured in a time where the hardware availability was a ghost town. Do I expect a big surge forward with W10M? Of course not, but I don't see any way the platform is shuttered in under a year, given they're clearly aiming for a mid-2016 Surface Phone release. They wouldn't try to get enterprise customers on W10M, then kill it a few months after.

I really hope the 20th is the release date. I'm not sure why they would want to release it the day before Thanksgiving.

It's worded so weird. They may mean you can't turn in the offer until 11/25 I guess we'll find out next friday if they plan on selling the 950xl in sotres. If I can get the free dock I'll be right there on Saturday buying mine. Although the 25th is a Wednesday and I have to go to a meeting that takes me past a mall with a Microsoft store in it. Could be fate lol jk.

Everything reerenced here and on the site references the on-line store. Hopefully it applies to in store purchases as well. I would assume it would, as it seems you redeem through an app on the device, but, hey, you never know.

Now do I have to roll back to win 8.1 to use the Lumia Offers app ?

the lumia offers app isn't available for Windows 10 Mobile

Where can we find Lumia Offers app?

On the phone. When you buy it.

The best news of this week!

Wow, that makes me want the 950 even more.

Unfortunately, just minutes after publishing this, Microsoft pulled the reference to the Lumia 950. So it looks like this is just for the 950 XL. I've updated the post, but still sad news.

Thanks for the clarification.

and Canada you can not preorder any phones yet. Just an email when available link

I'm hoping it is because Microsoft will allow AT&T to offer the same deal for the 950 in-store.

This offer runs also in Europe (France, UK, Belgium, etc.)

Yay. some freebioes oin the US of A again. I know we don't deserve it, but I'm buying an unlocked phone when
​I could get a GS6 financed on T Mobile and they're running promotions with all kinds of freebies for that phone. I think it is because carriers are apprently already testing a GS7

Does that mean the Pre-order for the phones begin from 25th of Nov?

Hmm idk I might wait and see again if it's worth staying with WP/WM10 or completely go Android once and for all.

That's kind of where I'm at (except with iPhone). My wife and I have had Samsung Focus (WP7), then the 920s since they came out. And I personally have been on since WM5. Though she loved the platform for many years she forked off to iPhone 6s and the app selection is making me a bit jealous. It's not even obscure apps that I want... big corporations, Target, Disney, Comcast, etc.. it also hurts that many of the experiences for Microsoft apps on iOS are better than they are on Windows Mobile.

Lol weird that's how I started to with the Focus to 920. I guess I'm just gonna wait and see. And yeah I get jealous too with the apps you mentioned.

I've decided that my wife and I are going to get the 950s, but this may be it for us. After sticking with WP since the launch of the 920 (we've been rocking the 1020 for the last couple years) I'm ready to be done with WP. This is Microsoft's last chance to get it right in my book or we will be moving to another platform with our next upgrade.

Ikr. I've been seriously thinking about getting the nexus

Like spyware and security killing MMS messages do you?

Having both the Lumia 1520 and the IPhone 6 Plus,I still prefer WP. I haven't install a bunch of apps on the iPhone either.

Without the bridges for android and other platforms, im convinced these phones are doa and I've been on a windows phone for almost 15 years now.

Considering you nor I kr anyone else have officially heard Anything you are speculating.

Actually no one knows it's true. Feel free to continue to be a pessimist, but as far as anyone knows the iOS bridge is working just fine. I'd bet the issue is that Java is a pretty poor language so it's difficult to say it can be port over to C# and be expected to work on other phones.

Java is poor? You're joking right?? Btw Android uses Java syntax, big difference.

Java is the reason android phones have to be so powerful to perform even the most simple tasks without waiting for your hair to go gray. Its an archaic resource hog and as insecure as, well, something thats really insecure. Compare the performance of a $35 lumia 530 to a $500 galaxy and they pretty much perform the same in most tasks.

only astoria is shelved.. the other bridges are still in full development

I'd rather have the bridge to ios.

Man, if they said the bridge to iOS was axed, then you say you rather have the bridge to Android.

+1 iOS bridge is not even worth considering for Apple developers. The only interesting bridge was Astoria

The bridge to iOS requires developers to invest the time and money of porting/recompiling their apps. They will not do this for Windows Phone. Astoria offered the hope of running actual android apps (no work needed). I think losing Astoria may be the nail in the coffin for Windows Phone.

I was sad but also glad that Astoria is going away, Android is like Windows XP, very powerful and flexible but also vulnerable to code contamination and slow down. I'd rather duke it out with iOS ports which i am not assuming will go the route of Astoria until it's officially announced. I'm a very positive person and the negativity of WC forums doesn't make me loose hope.

Not exactly. There were still plenty of apps that required more work on the developers part. Astoria wasn't just an on the fly translator, that was just a part of it.

Lol... You may be right, sir....
......
More so, horrible marketing is bound to be the last of many nails in the coffin.... No damn body, knows, or will ever know, what a Lumia 950XL is.. Watch..

Well, I know what it is but with my history it doesn't count as much. I went with Betamax over VHS, with LaserDisc, with Windows Mobile and WP, and I'll be getting the 950xl. This is why I don't play the horses or go to the casino. One day I'm going to pick a winner and it ain't gonna be out of my nose.

Dude!, one of the funniest posts I've read in a long time.

Here's hoping this exapnds to AT&T buyers as well. This launch (both for the Lumias and W10M) has been enough of a disaster. Don't partner with one carrier and use it as a chance to crap on the consumers, MS. You gave us the wireless charger with the 920, do us a solid here for all of the failures in 2015.

The Qi wireless charging is the thing that keep me away from switching to iPhone. Ok, and the camera on my 930.

You prefer the inferior camera? Posted via the Windows Central App for Android

What are you even talking about?

Hes not talking. Just busily chugging the apple koolaid.

do we know if the 950XL will be offered by at&t or is it still just the 950?

Wish att would offer the XL.

Waiting for Verizon's move. Debating whether an icon will hold me over.

Just showed up in Canada too.. http://www.microsoftstore.com/store/msca/en_CA/pdp/Microsoft-Lumia-950-X...

If you read the full terms and conditions PDF source link in the fine print, it states on the first line: "Limited time offer. Valid on November 20, 2015 until January 31, 2016 only, while supplies last, for residents of the United States." So I think the 11/20 date still holds.

Yes for pre-orders, 11/25 is the first date the offer can be redeemed so I would take that as the first potential in hand date.

I got screwed out of getting freebies with my 930, and gave up asking for them after months of trying to get them... Unfair really when I bought my 920 before for £450, only to see the price drop to £250 in THREE months! Going to wait for the 950 to fall in price before I buy :)

Sounds like the 25th is the official release date. It would be very stupid if they released earlier but those earlier purchases didn't qualify for the docks. Posted via the Windows Central App for Android

That actually happened on the keyboard for the Lumia 2520. That offer came out just after the release, so those standing in line on day one had a receipt that didn't qualify. This looks different, but that ticked of a lot of folks.

This is the best news ever! I'm so excited!

Are they not getting enough pre orders for 950 xl....is that the reason they are giving display dock freely???Or they are marketing the display dock by giving it for free...so that it is advertised by word of experience and mouth???

I would guess a bit of both.

They are doing it in a lot of other countries as well, I think it is to get people talking about continuum.

What do you mean, 'are they not getting enough pre-orders'? It's not even possible to pre-order it yet!

Probably means carrier orders..

There are places/countries that can pre-order already. They don't list a ship date, but you can pre-order.

In Canada the 950 XL is $850 so I'm sure it's not getting many pre orders, at least the dock will offset that a bit but I would rather knock $100 off the price and forgo the dock.

Lol & I thought the se x1a(locked to rogers) was expensive since then ive imported a l929(well worth it lte in all of canada)

I thought 90% of Canadians live within an hour of USA. If $100 or $200 is a big deal to you, just make the

*cough*exchangerate*cough*

Most them are 80yr. Retirees who go to a casio

That offer was in place for pre-orders from the start for at least one reseller here. I believe it was always the plan to offer them (it's easier to market Continuum to both devs and consumers if there is someone actually using it). edit: it's also a decent way to give early adopters a bit of extra value

I wonder if Canada will get any deals... Heck even any inventory of these new phones...

Very much liked the UI of Windows Central app on Windows 10 PC....amazing....

Its customary to comment on the topic you're posting to

Ahh, but you're being logical, my friend.

Let's hope they wont disappoint the Canadians

Well at that cost & the jump in ws prices(due to crappy loonie) mw10 isn't looking good

I wonder if those of use that have already pre-ordered through the physical stores will get this promotional code as well. If not, I will cancel my pre-order and wait.

Those that have already preordered definitely should get the offer. Posted via the Windows Central App for Android

Yes!! I hope this offers makes it's way to Best Buy because they offer financing options and the MS stores don't

The BB microsoft rep I talked to said that they were only selling the 950, didn't say anything about dock deals

Ah, that sucks! Well, thanks for the info anyway But since the deal was just announced by Microsoft themselves, I'm keeping some hope it will get there eventually

my guess is this is a marketing bone thrown to AT&T. Now AT&T can give people a reason to buy their branded 950 and crAPPS. time will tell, if they offer the 950 w/dock then you can bet this was the launch deal they struck.

Waiting waiting waitingggggggg.... When we get windows 10 to my Lumia phones.... Not with insider program...

Considering the typical carrier approval process, I would suggest not holding your breath. If you want W10M, activate the Insider program, upgrade, and then deactivate Insider.

How much time it takes approval process, me and my friends waiting for original update... Please tell me how much time to wait for original update?

How long is a piece of string? It comes down to carriers so could be anything from a few days to never dependent on the carrier.

Too god damn long, that's how long

Why not just use the insider program to get the RTM build when available, then uninstall the insider app, if you don't want to wait.

Buy a 950/XL can turn it into a mini-PC for free!! .. good move!

I don't want to be fool onceagain.... I'm a big fan of nokia.... Really fed up with my windows phones....

Its really NOT a mini PC. If anything its akin to a phone based Windows RT thing.

I already placed my order from brick and mortar microsoft store in US.
Does count????

That settles it. I was leaning toward the 950, now I'm leaning harder toward the XL.

That settles it. I was leaning toward the 950, now I'm leaning harder toward the XL. Nice job, MS!

Same here. I'll take the extra half inch of screen real estate if it means getting a free display dock. Wasn't really keen on getting a phone that large (even though I preferred the design of the 950 XL), but this deal pushed me over the edge. Hard to pass up getting a 950 XL and display dock for the price of a 950 plus a display dock.

I'm not sure I get that philosophy. You are going to pay $749, for a phone you didn't really want because it is too big, to get a free $100 dock. you could get the phone you wanted for $649 and buy the $100 dock for a total of $749. I would get it if you said you really wanted the XL but balked at the price. The free dock makes that more palatable. To bad these aren't iPhones. You could buy both, get a free dock to keep, wait till the stock goes down and the wait times get longer and sell the XL on ebay for twice what you paid for it.

As far as I know, the XL is priced at 649 USD. The 950 is $549 and the dock is $100, so for the price of one XL I'm getting a bundle that is worth $749, so I'm not sure what you're getting at.

He was commenting on the fact that the OP said he never wanted the XL as it was too big, but then justified it for the free dock, where if he went with the 950 AND bought the dock seperate it'd cost the same.

Seriously?!?!?! Take US orders for the damn thing already!

Not online yet, dunno why, but I preordered my XL at the Microsoft store some time ago

That's a bummer because I live more than an hour drive from the nearest MS store.

That's sort of relative. There are lots of people who cummute an hour each way every day just to go to work. I will gladly be driving the hour to get to my nearest store.

Dose this mean it will go on sale i on the 20th? CANADA - ENGLISH TERMS & CONDITIONS Terms & Conditions Limited time offer. Valid on November 20, 2015 until January 31, 2016 only, while supplies last, for residents of Canada. Available in Microsoft online store in Canada only. Buy a Microsoft Lumia 950 XL from the Microsoft Online Store and get a promotional code for a Microsoft Display Dock (Estimated Retail Value $129) redeemable on the online Microsoft Store. Limit one (1) gift per eligible device purchase. To obtain your promotional code, you must activate your device, and sign in to the Lumia Offers App on your eligible Microsoft Lumia phone with a Microsoft account on or before January 31, 2016; Internet or Wi-Fi connection required and ISP or mobile data fees may apply. Promotional code must be redeemed online through the Microsoft Online Store where you purchased the device by February 29, 2016. Valid credit or debit card required at time of order. The Microsoft Online Store where you purchased the device will ship within 8-10 weeks of redemption to the mailing address supplied to Microsoft Store online during checkout. Any gift returned as non-deliverable will not be re-sent. Offer is not valid on prior orders or purchases, cannot be transferred, or redeemed for cash or gift cards, unless required by local law. May not be combinable with other offers. Refunds will take into account the discount. Price discount does not include taxes, shipping or other fees. Void where prohibited or restricted by law. Microsoft reserves the right to modify or discontinue the offer at any time. Offer provided by Microsoft Corporation, One Microsoft Way, Redmond WA 98052. Subject to Microsoft Store Terms of Use and Sale at: https://www.windowscentral.com/e?link=https2F%2Fclick.linksynergy.co... https://www.windowscentral.com/e?link=https2F%2Fclick.linksynergy.co...

It gets both better (Canada) and worse (no 950). So, looks like screw us, right, Microsoft? Won't get the XL on AT&T so we can get it on Next, punishes us for not getting the XL by not offering us the Display Dock. Honestly, I was planning on just buying the dock sometime. Seeing the way it's being handled (poorly, in typical MS fashion), I kind of just want to not buy it.

Worst launching campaign of Microsoft Devices! No official dates yet! Only estimates...

Totally agree! If you want people to buy your stuff, SELL YOUR STUFF! Marketing wise, if they have no freaking idea when the damn thing would be released, there's no reason not to take orders the day after they announced it. How can that hurt??? How else could they gauge interest?????

Simple: the OS wasn't ready. They had to finish the OS and once so, ETA when they could flash the phones and ship 'em. You act like they had everything ready on Oct 6 and they just forgot. They're pushing deadlines. The OS only wrapped in the last few days.

Dan, you're using a rational argument with irrational people. What you just said has been said so many times before, but some people still want to believe Microsoft staff is just sitting in their offices deciding not to announce Lumia release dates, and delaying Windows Mobile builds for fun and giggles.

Would you sell a cake that's half-baked?! Would YOU BUY a half-baked cake?! Don't give me that crap, and don't expect me to buy that crap! If you aren't offering a finished product to buy, just what the hell are you selling?!?!?

What?? You're contradicting yourself and supporting Dan's statement. Microsoft didn't announce the new phones exactly for the reasons you just gave, the OS was half-baked and not ready for release. So your point supports what they did.

Exactly when did they "NOT" announce the new phones?!?!?

They aren't selling anything. That's why it is not available for sale yet. Not that hard to understand. In your analogy, they didn't have all the ingredients for the cake, which is why they haven't released it yet.

OF COURSE THEY'RE SELLING SOMETHING!!! Just because they're not taking orders doesn't mean they're not selling something. If that's your rationale, why the hell would anyone have advertisements and commercials???? Why announce that "I have a cake to sell" if I don't have all the ingredients, and thus, have no idea how the cake will turn out?? Stop making excuses and sell me a damn cake that's ready to eat!

Wtf?? Now im sure you're trolling
If you're not, and your brain actually can't understand something so simple, then your life must also be so confused. I hope you get better

Dude, I'm FAR from "trolling"! I've probably been a windows fanatic since before you were born! There's something called RESPONSIBLE BUSINESS MARKETING!!!! I may be a "fanatic", but I'm not a consumer "retard" (no offense to the mentally challenged). Just because you can't "get it", doesn't mean I'm "trolling..." If that's your only comeback, you're worse than those dumb *ss "Apple-Tarts"!

I actually had written a response but was really astounded at the fact you can't understand something so simple as Microsoft not announcing a release date because the OS is not finished, and they didn't know exactly when it would be. They announced the phones because there was their devices event and they knew the OS would be finished sometime soon,but weren't sure of the exact date. Would you rather have them just not announce the phones at all? Because there even more people who will be complaining about that.

You had no such written response, or you would have written it. SPEAK UP AND BE HEARD! If you can't articulate your position, you have no position! Not announcing a release date doesn't get you off the hook for announcing a product that you intend to sell! Using that logic, what would stop Microsoft from announcing "Coming Soon... Windows Mobile 2032!?!?!" We don't know exactly what it'll be, but by all means, get freaking exited about something that's coming in 17 years, if not later! I'd prefer they announce nothing until it's ready for prime-time! What do you have to lose? You got nothing to sell, so why give me the impression that I have something to buy??? Give it a break dude, YOU'RE DONE!

Ok, you are clearly not trolling, just not capable of rational thought, and that's ok. You're probably good at other stuff... maybe Just to answer, and I won't answer anything else because it's a waste of time to talk to you, What would stop Microsoft from announcing Windows Mobile 2032 is coming soon? Because it's not coming soon, how is that for a reason? Windows Mobile 10 is not coming out 17 years after announcement, it's coming less than 2 months after announcement. You're acting like 2 months is eternity. There's been more than 2 months between the iPad Pro announcement, and a firm release date. It was even longer for the Apple Watch, which was announced in September of 2014, with no firm release date, then released 7 months later on April 24th. Good luck to you, you need it

I didn't say "Windows 10 was coming out in 2032"! Do you not understand the definition of an "analogy???" However, even if i did mean that, how do YOU know for sure that it's "coming in less than two months"???? As of this very moment, you have no "definitive" date that this WILL be available for pickup or pre-order for that matter! Today is the 13th, WTH makes you think that this phone will be in the hands of anyone by December 1? Or by Christmas for HALF of the people that want it, when they aren't in the position to take FREAKING PRE-ORDERS?!?!?! What the heck are the manufacturers basing production on? Microsoft has no idea how many phones are in demand. I doubt that they're following this thread to find out! And if they are, wouldn't it be easier to take freaking pre-orders???? Which was the point of my original post! I was able to pre-order the Surface Book 1tb which is been "shipping in 7-8 weeks", for the last 3-4 weeks. I'm not bitching about that, because I feel that "I'm on the list". It's all about the marketing!!! Once again, was the purpose of my original post! Regarding your Apple Watch "ANALOGY", Microsoft isn't Apple! Apple is pretty safe in "guesstimating" that they'll sell millions of devices on day one. Hell, they can announce today "Apple Watch 2032" and be fairly certain how many devices they'll be able to ship 14 days after preorder! What a schmuck...

Btw, you say I'm "trolling", but you comment on almost EVERY post! I'm ok with reading and accepting differing opinions without feeling the need to prove everyone with a differing opinion wrong;Get a clue! Better yet, get a life!

They start shipping on 3.12. in most of Europe. It's been confirmed for a while now. BTW YOUR USE OF CAPS AND ?????!!!! make you sound like a 12yo as does all that you write

Well... I guess I'VE BEEN TOLD?!?!?! I don't care when it's shipping in "most of" bloody Europe! I'm speaking from my perspective here on the US! BTW, your irrelevant comments make you "look" (not "sound", since I'm reading, not listening) clueless, as does all that you write... In case your 5yo mind can't comprehend my statement, that's called "mocking and sarcasm" ;)

Well, you did say "WTH makes you think that this phone will free in the hands of anyone by December 1? Or by Christmas for HALF of the people that want it..." So yea, you've been told.

Your comment IS the definition of clueless and irrelevant...

And YOU are the DEFINITION of a troll

"Would you sell a cake that's half-baked?! Would YOU BUY a half-baked cake?!" Well since thats ALL microsoft has been selling recently, I guess the answer is a resounding YES.

Whatever. Well don't announce it until its done. I'll release a phone next year, This is how it looks and this is was what it will do. How about, this is the new 950xl, it will be released next month and preorders start tomorrow. Oh that sounds like apple

No that doesn't sound like Apple lately. They announced the iPad Pro without a release date (and even now that it's released, only the 32gb model is available, gotta wait more for the 128gb one). And they announced the Apple Watch without a release date, it came out 7 months later.
Microsoft announced the Surface Pro 4, Surface Book, and Band 2 with release dates only a couple of weeks after announcement.
You can't be nitpicking what you see from each company

So what if Apple announces something and delivers on it later! So what if Apple charges higher prices! There are Apple-Tarts who will wait as long as it takes and pay as much as they can to get those stupid products. Apple can do that because they have the market share to do it and get away with it. If MS wants to get more than 3-4% of the mobile phone market, doing things just like Apple, or a little better than Apple isn't gonna cut it. There are people on this forum who wants windows phones so bad they can't see straight. Just because they bitch and moan because they want it at a lower price, want free shit with it, or want it NOW, doesn't mean their cheap skate, thankless, impatient complainers because Apple consumers will wait longer, pay more, and be happy with the shitty product that's ultimately delivered.

And so damn what to all that bullshit you said Posted via the Windows Central App for Android

and shut your damn shit hole Posted via the Windows Central App for Android

Very mature... Way to show your intellect!

Oh intellect, is that what I showed you. Maybe you shouldn't have responded and it would have shown me how mature you are... Really I could careless about you or your response or anyone else on this bad news site

It's such a bad news site that you opened and account and follow/comment religiously. If it's so bad and you can careless, CLOSE YOUR ACCOUNT AND MOVE ON!!

I read through this and you're a Dick head. You're on every post. Get a life and close your asshole. You get off the site. You move on because I can say what I sent when I want...... So fk u! I guess you're the wp central moderator, you're their dick rider.

Dude, you have quite the potty mouth! Do you toss your mother's salad with that mouth? You made an a** of yourself before reading my comments, so you go back and re-read them to make a bigger *ss of yourself after. Go back to kindergarten and take a well-deserved time-out!

Not sure why I'm talking to you.. You genetically recessive pig. The lowest form of a human god has made. You have the weakest genes on the planet. You're the bottom of the barrel. Think about that. I'm sure you have hair like a fkn animal. I'm sure You smell like a dog when wet.. and get off your mother she's made enough devils already.

You keep responding to me because it seems that you can't resist acting like a childish jerk! You're spewing stupid insults to someone you don't know and never seen. All over differing opinions about a phone? You look like a psychopath! You think I'm taking this insanity personally? Nope... However, I am taking a little sick pleasure in reading you totally lose it! Obviously you need a longer time-out. Go get some manners! Or therapy! Your choice...

Dude or bitch or Transgendered Genetically recessive pig you are completely a loser. What you say and however intelligent you think you are is the least of my worries. I'm very educated and the only time out I would take would be to knock your teeth out. I'm never upset because assholes like you get off on this shit. Maybe if Microsoft wouldn't announce the phones early you would have something else to do besides defend a company that doesn't give a fk about you. Bend over and look in the mirror and see what your daddy enjoys. Have them check your 21st chromosome... I hope you get testicular cancer in the brain.... DickHead.. Now that's some funny shit.. Lol I'm out fk boy, have your last word as you do and I hope you choke on it.. Your name sounds like an Isis name anyway. Blow your self up

LOL!!! You are too hilarious! We're sitting here enjoying a beer reading your spectacle!!

Lol well they could always inconvenience att by pulling stock to update it(like in the good ole wp7 era)

Until this offer, I'd have agreed with you. If it isn't ready, you don't announce a date you may have to change. However, you also don't tie a promotion dependent on buying this thing you have no date for to a particular time frame. A little coordination wuld be nice, and instill some confidence.

Now which carrier will have the XL? Verizon is a no and I can't even switch to AT&T cuz they will only carry the 950.

Just buy the 950 XL unlocked from Microsoft Store directly. Then bring it to AT&T or T-Mobile.

Not everyone has the money to do that

Yea sure, I "just" have $650 laying around..

Probably so. Got plastic cards in your wallet?

Well just let me use yours. It's not about plastic is about spending that much up front for a damn phone

I would recommend going off contract and finding the best dream for a mouthy or part as you go plan. This saved me over $70 a month when I switched off of Verizon several years ago. This savings pays for a phone very quickly. In the Doan of a two year contact that saved me over $1680. I also only by used phones now, bit could by a new flagship every year for that savings. I was getting gouged at Verizon so this may be an extreme example, but you should at least look into all your options. You might have to save up for a little while, but when you are done you will be a much freer consumer and in a much better position in the future to save and shop around on an open market. IMO it is liberating.

Buy the phone you want. You don't have to finance it through a specific carrier. Buying unlocked gives you freedom of choice. You could even try a carrier for a month to see how the "service" in you area is and then switch and try another. There are many ways to finance other than locking in to a carrier.

Thing is, I'm on Verizon but they announced they would not even support unlocked 950's so either way I must switch.

That's nice, I was hoping and kind of expecting them to do the same offer in the US. I already have my XL pre-ordered and the offer date of 11/25 fits very well with the info I got from Microsoft (to expect it to be available by Thanksgiving). Maybe AT&T will start selling on the 20th and unlocked versions will be a week later (it will give AT&T an exclusive week with the device) maybe AT&T will only start taking pre-orders on the 20th. Maybe Microsoft will sell it before the 25th as well, who knows. As long as it's in-stores on black friday (yes, without any deals but with lots of foot traffic) it will be fine with me

Saved $100.
Thank you Microsoft! Merry Christmas Microsoft

I wish they would let us preorder online like every other country...the closest Microsoft Store to me is 2 hours away lol

Same problem here. It is frustrating.

I would travel 2hrs (plane) just to get this when they release here in PHL. That's +150usd.

Sad that 950 is mot getting a free dock :(

I can't find the Lumia offers app in the store

it is a win 8.1 app for now. I guess you are on win 10 mobile?

I can't find the Lumia Offers app in the store and I'm on 8.1.

I wonder if the b&h 950xl can also use the app and get a code

No only for purchases made in the Microsoft store Posted via the Windows Central App for Android

Only if you are a resident of whatever country in Larin America they are buying them from, and only if the source was the online Microsoft Store in that country, and only if they are running the same offer in that country. TL;DR=No.

Bums me out. The 950 is my device of choice, so I must spend more than the price of the XL to have it all. I do see their strategy, and to be honest I am worried as first leaks claimed Hello and Continuum might not come to the smaller device.

Well it makes a little sense that $550-$650 devices have a couple of features that $150 devices don't. No?

By "smaller device" he means the 950. It costs a little more than $150.

Oh I misunderstood, I thought the OP was talking about the 550, which is smaller and costs $150
And the 950 will officially include those two features, it says so right on Microsoft's website, that's why I didn't think he was talking about it

How much time it takes approval process, me and my friends waiting for original update... Please tell me how much time to wait for original update

What are you talking about? What approval process? And what update??

Original Windows 10 mobile update... Without insider program.... See my comments above.... Then You know what is approval

Wrong place, but. And to be clear, no one knew what the he'll u were talking about in your first comment. Posted via.........deez nutz!!!!!!

I feel like a dope for pre ordering in a store.

I'd rather a wireless charging pad.

You can get those on ebay for $20. [16stone: I apologize, I accidentally touched the vote down and report buttons, then I voted up.]

When can we order the darn thing?

For $649 bundle it with the Band 2 and I'd bite! Lol.

I'd bite with the Band 1 included as long as it's with the 950.

They should make only a single dock for both the phones and surfaces

Yep, pretty sure that will happen in the future. Specially if they come out with a phone called Surface Phone. Then the dock would be for all Surface products, like it is for the Surface Pro and Surface Book now

"While supplies last" Translated from Microsoft speak means "You have maybe 5 minutes to order one before it's out of stock."

I'm hoping for a band bundle with the ATT 950. I know, I'm crazy.

Free bundle like this dock? No. But a bundle with a discounted price? Let's hope!

Yeah, exactly. I'm not THAT crazy.

I was waiting a deal since att won't have it for sale. But honestly, I won't use the dock. Maybe I could sell it

That just sweetens the deal.

Ah this is so cool! Thanks for sharing. I've really been enjoying Win 10 on my 635 so it can only go up from there. Looking forward to having a great camera & display again.

Anyone else get a thrill just to see the store page change even a little??

So no white, unlocked 950 listed on the site. No bundle deal. Do they want people to actually buy the unlocked 950? att isn't an option for me as I like my current service and 950XL is just simply too big for my tastes. Why can't they just make things easy and sell both damn phones the same! Why make is so hard for people that actually want to give you money?

Oooohhhh.... If only Verizon support is confirmed with the XL....

If they made the 950XL $499 with the display dock then I'll buy it.

You want a water cooled s810 3gb ram 32gb storage iris scanning 2.5k screened device for 500 bucks with a continuum dock? Lol yeah okay buddy.

Dude is batshit crazy. Go get an iPhone 6s for $500 dollars unlocked.......let me know how that works out for you. Posted via.........deez nutz!!!!!!

Just looked, unlocked iPhone 6S 128gb. $947.00. ill get my 950Xl, dock, and a 128Gb SD card for a lot less and have 32gb on top of the 128gb...

Where is the dual-sim variant, the one they actually used for in-store demos? Online chat tells me these will be single-sim. I guess we 'muricans must be too stupid to use a dual-sim device.

Doesn't att still make monty on 2 line 1 sim accts?

I've been told by a Microsoft Store employee (in Calgary), that the 950 and 950 XL will all be dual-sim phones, and there are no single-sim variants. I'm trying to get confirmation on that statement before I get my hopes up, though.

I hope the fact the offer doesn't start until the 25th means that we have to wait until the 25th in the US to get the 950xl at the ms store when att will have the 950 on 20th. I'm too excited and definitely buying at our ms store in Santa Clara, ca. It seems they would want this offer to start on day one.

I preordered mine at Valley Fair when they had the XL demo'd. Would be nice if they do release it on the 20th & kick down continuum

My current contract isn't up until November 2016, so I'll be holding off until then for a new phone. So hopefully there'll be another Windows phone released by then. If I didn't get my 1520 on AT&T's Next plan, I might've gotten the 950 XL from the MS store.

Well, maybe AT&T bundles the 950 with the dock. That would be sweet. Otherwise I see little traction for continuum, unfortunately.

Microsoft announces a FREE Continuum Dock and they still get 90% negative reaction. From so-called Fans. WC is a trip these days.

lol, think you pretty much nailed it on the head. -Give me a flagship phone....waaaaa its to expensive -Give me a release date....waaaaa its to late. -Give me free stuff...waaaa its not what I wanted. On the other hand, give apple fans a crappy over priced tablet with no purpose, an overly expensive pencil, a crappy keyboard....OMG this is the best thing in the world.

Haha
I would like to give as much like as i could to this comment.
I mean, this website is getting way more messed up and with your points let me help you with that more
Flagship phone- nobody gives damn about iPhone and galaxy prices. They are released and bought without any hesitation. This community is want-cheap. "950 should be priced at 350-450" or"wait few months more for price drop"
Release date- announced at 6 October, it was told that it will start selling on November. Now ppl by the grace of God don't like to read articles and stuff but the reason why it is being delayed, which is not, is because of Windows 10 TH2 and Windows Hello update which has been stated 1000 times. Do you really want to wait for carrier approvals for I don't know, 5-6 months keeping in mind that your still on WP8.1? But no. "Microsoft is way late, 2-3 months". Guess what? Apple iPad pro was also announced at September and yesterday it got released and now you can only buy 32 GB model only whereas 128GB is still few weeks away and apple pencil is still 6-7 weeks away as well. No apple fan boy got pissed as much as this community.
And finally free stuff- "Where are bundles for US/Canada?" "No love for US/Canada"
*Bundle announced*
"Shit, expensive", "No need" , "Why are they giving it because of low demand?"
Who gives a damn! You got a promotion so there you go but once again, NO!
And let me tell you all this, you so called Surface Phone your waiting for, it will NEVER MEET YOUR NEEDS! I GUARANTEE YOU!
Expecting x32 apps to run? What, PhotoShop on a 5 inch phone? Keep dreaming
I'll be here to see your winning once again
Windows Central, more like Windows Complaining

Well the update isn't a surprise, free accessory deals rarely happen in Canada.

Wp7 gave me a xbox 360 on Telus. Lumia 1020 got a free camera grip. I am unsure if you know anything.

Was optik a factor in that offering?

was really hoping that the 950XL would be available through at&t, this kinda sucks MS, 650.00 for a phone??!!....jeez!

Wow. How much do you think an iPhone 6S+ costs, or the newest Galay whatever? More than 650 for sure. You want monthly payments, use a credit card.

i have no idea how much either one of those phones cost...never bought one, or even cared to price them....iam strickly a widows phone user, and yeah, i figured i was just gonna put it on my credit card

LOL! "650 for a phone??!!" Is this the first time you see a 650$ phone? There are plenty out there more than that. If you don't want 650$ phone, there are plenty out there that costs 100$.

LOL!!!....every windows phone that i have bought in the past has been through at&t and now that offer is not available and yes this will be the first time that i have to pay full price for a phone....ohh well iam over it, are you?

You've been paying full price for all of those phones all along. It just doesn't seem that way because they've been charging you monthly for it.

It is stll available through AT&T. Just ot the XL.

I hope you realize that if you had worked it all out, you'll be paying more for the phone over the life of the contract if you got it subsidized from AT&T. If going non-subsidized, you'll still be paying 650.00 at AT&T. The only benefit is that it will be interest free.

It's a worldwide offer it seems. Microsoft Portugal announced it for the XL here too and not exclusive to them. Fnac has now the promotion of the XL plus the free dock for 605€.
http://www.fnac.pt/Microsoft-Lumia-950-XL-LTE-Dual-SIM-Black-Telemovel-S... Posted via the Windows Central App for Android

I don't think the dock is free, the price of it is baked into the price of this phone.
If you have a little patience, come march, the price of this phone will be a lot less than it is now. Posted via Spaceship One

Not in my place. Lumia prices don't drop except on holiday sales then will go back to normal price. Unlike Samsung, the Galaxy S6 Edge price went down few weeks after the launch and it didn't go back to normal price.

Should take at least half a year for the price to drop enough to negate the value of this offer. I find it a great way to create value for early-adopters (often fans), and buzz for a new feature.

Sweet! Now if Verizon and T Mobile would just carry the 950XL.

Slim chance on TMob, even slimmer on Verizon.

Great. I'm still confused if I'll buy this new series or wait for continuum next version devices which I hope will be able to run win32 apps. May be its time to give android a try till that happens. Microsoft also ensures that I wont miss any MS experience on android

Interesting logic. Android has no Continuum, and how does buying Android encourage Microsoft to build that next gen device you're wanting?

What is this, a kickstarter? If Microsoft can't make the phone he wants, he's under no obligation to buy one anyway "to support the team" or whatever.

I would pay good money to mod a wireless charger into the top of that. Seems like a missed opportunity on Microsoft's part. Still pretty stoked to be getting it free with the phone tho.

Well, you have to plug the dock into the USB-C on the phone, so it's getting charged already.

Do you know this for sure? I asked this question a while back and didn't get any confirmation.

Well it should(much better then iq could under heavy load)

Yes, I know this for sure. the cable that connects between the dock and the phone charges it.

Don't think there has been any confusion here in Sweden. 950/XL first was labeled Coming Soon, then a couple of weeks ago you could pre-order them from either Microsoft or other carriers. Shipping date 3rd dec (some has it 1st dec.) Including free dock for both phones.

So If I buy a device online from Microsoft Store using my Saudi credit card and ship it to a US address that will forward the device to me here in Saudi Arabia will I be eligible?

They are also offering this for Norway :)

Microsoft HK only offers an Universal foldable keyboard but not a Display Dock. The price is bloody expensive at US$760....

For the XL? That's $749 here $11 less, with no keyboard.

So... $550 for the 950 and $100 for the Dock. Who's gonna buy it? You can just buy a 950XL at $650, and get the dock free.

Some people prefer the smaller size of the 950

In South Africa, we'll be glad if we at least get the phones here before Christmas!

Same here in sweden! Posted via the Windows Central App for Android

While the 950XL is being offered in many countries with the Display Dock for a limited time, it will be interesting to see whether the same offer is included from all suppliers or whether it is only from MS store sales. Likewise, a similar offer on the 950 would be good. Otherwise why buy the 950 at all as the 950 + hub will be more expensive than the 950XL including the free hub. Suppose we shall have to wait and see.

I ordered mine from a contract reseller like Carphone warehouse in UK, does this offer still apply?

I haven't seen them offering it. Try unlocked mobiles or clove. There ones listed on Microsoft website.

Get the dock via lumia offers app with both 950 and 950xl, i'll be picking mine up on the 4th of december ☺

It looks like they are undecided with what they want to do with this poor phone here. Do they want us to help being fans or just teasing us?

I just wish they would lower the price in Canada!!! Paying 200$ more than the US doesn't make any sense! I get that the American dollar is worth more than the Canadian dollar, but it's not as if we we're making more money than people in the US... 850$ for a phone is freakin' expensive!!

It's not all about currency exchange but more legal requirements and longer return policies in each country. I should know, I live in England.

BTW we do make more money then our American counterparts....

Then stop electing communists...

Jeez, Dubai will see 950 or 950XL only in December. Tooooooo long!

How tragically ironic that the phone that you can only get from Microsoft Stores is the one that comes with a display dock, while the only one that goes to one carrier gets nothing.

People here in US are conditioned to buy phones from carriers, by advertising and habit. If that changes, it's because of an obvious advantage to buy elsewhere (free stuff!), not because people will suddenly do research and math.

great news! however, another amazing example of wrong information (950) being posted on retail sites.. lol... Posted via the Windows Central App for Android

Darn, great offer, but I can't buy it online to import it. Will this translate to physical shops? Microsoft stores, even

I think the 950 XL only offer might be something to do with the extra performance available with the 810 chip.

Both devices have equivalent ability to use the dock. I think it has more t do ith not undercutting AT&Ts abiliy to sell the 950.

I really wish it was like the Surface Pro 3 docking station and you could mount the phone and charge it. That would of looked more presentable than a box of plastic

The advantage of the way it is now,is that you can use the device while it's connected and move it around. It's not stuck like before. But I get your point
But just so you know, even the new dock charges the device

Oh cool I didn't read up on that. Well that's nice, and you can hid the little box pretty easy. A pet peeve of mine is cables loose all over the place

Is it full windows? Can run exe?

I'm buying the 950 XL... Rocking the the latest fast ring update and have am very happy with the changes so far...

Well if you were on the fence about the extra $100 for the XL, this seals the deal. Everyone will now buy an XL since the free dock makes it the same price as the nonXL + $99 dock.

I keep wondering if after some of the positive reaction of the devices and w10 if new deals were to be struck? Right now at at&t when you get a smartphone you get 200$ of a surface 3. Maybe a little more promo digging is happening. That runs to the 16th of Jan as well.

I really like WP, but know it's probably time to leave. I wanted to make the 950xl perhaps my last, but I'm not sure they want to release. WP makes us wait too long for everything and it's ridiculous. Especially considering they're not doing well, and the phones aren't all that great anyways.

I sooo wish I could afford a 950xl. It would be the perfect birthday present to myself in December!

This is nice, but I don't think I would make use of the dock. I would rather see a $100 discount of $100 Microsoft store coupon.

I want to buy this mobile but there is no international warrenty I have to buy this India. MS crafted beautifully with 810 ... 3Gb.. Type C ... Liquid cooling ... Dock... And its WP10.

I can't wait for then dam thing to come out!!! The grand I put aside keeps crying because it's tired staying still and it wants to go for a walk lol

Rather than the free display dock, I am more concerned about why is there no white option for Lumia 950 in the U.S.!?!? I can't get a 950XL because it's too big for my hand, but if there is no white option for the 950, I might have to change my mind.

This is my exact dilemma. I can always just buy the black and "try" to find the white back from att. They are really making it hard for people get the 950. Posted via the Windows Central App for Android

Give the US a payment plan option to buy it direct from you now MS, please!

I checked the small print on the Microsoft Store. It looks like the deal might actually start on 11/20/15. Unfortunately, it looks like it could take up to 8-10 weeks for delivery once redeemed.

Here is the link at the bottom of the store page that addresses terms and conditions: http://dri1.img.digitalrivercontent.net/Storefront/Site/msusa/pb/multime...

Would the 950xl have a dual SIM for the Canadian market (Rogers or Microsoft)?

I don't know if it's come up, but a Microsoft Store employee (at the Calgary store) has told me that there will be no single-SIM 950 or 950XL models, they will all be dual-SIM. Is there anywhere else I can confirm this? (The Canadian Online Microsoft Store doesn specify the number of SIM slots available.)

I know this may be an older topic, so apologies. I didn't read too much on the 950/XL because I had an 830 and planned on keeping it for a few months before I got the 950 (XL is too big). However, I dropped in and completely demolished the screen. Was in a hurry for a new phone, needed it for work, had 630 lying around, but just pulled the trigger on the 950 anyways. Bought it through Best Buy because Microsoft store in my area didn't have it in stock, nor did ATT. Is there anyway I can get the free dock? When I open up the Lumia Offers app on my phone it says there's nothing at this time. Any help?

By saying the 950 and 950XL are not available from the US MS store, you apparently meant it has been available there, for over 3 months, minus inventory shortages. I bought 3 950s and a 950XL from there last Nov.
Windows Central Newsletter
Thank you for signing up to Windows Central. You will receive a verification email shortly.
There was a problem. Please refresh the page and try again.