Microsoft is offering personal butlers, so you can play more Xbox One X
Running out of time to play your new Xbox One X? Microsoft's new butler service could be here to help.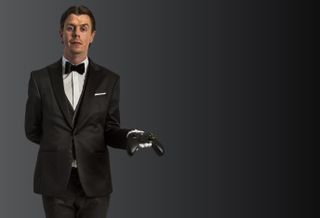 Microsoft's latest video games console, the Xbox One X, recently launched worldwide, offering a premium "true 4K" gaming experience. As the most powerful console on the market as of the launch, this marks a significant shift for the Xbox brand, in pursuit of improved resolutions, frame rates, and other visual enhancements. And with the console's debut, Microsoft has launched various marketing campaigns across the globe.
For those in Nordic countries, the company is offering the chance to win an "Xbox Butler" – a personal servant in your home, to free up more time with your Xbox One console. Open to Xbox One owners across Denmark, Sweden, Norway and Finland, the winner will receive a personal assistant to help with household chores. Whether cleaning, walking the dog, collecting your takeaway or even being a co-op buddy, Microsoft's butler will stay by your side.
In collaboration with advertising agency Marvelous, entries for the Xbox butler competition are now being accepted via the official Xbox Butler website. If entering from one of the four countries before November 30, you'll be given the chance to win for two four-hour periods over the course of a week. One of four butlers will be sent out across the countries, once winners have been contacted by December 8.
Matt Brown is Windows Central's Senior Editor, Xbox & PC, at Future. Following over seven years of professional consumer technology and gaming coverage, he's focused on the world of Microsoft's gaming efforts. You can follow him on Twitter @mattjbrown.
That's weird . Not sure if this is a good marketing move .

Well, it got your attention :P

Hmm, he collects take-away, but not sure if cooking is a little advanced heh

How about instead of a contest only a handful of people can enter you post a list of Atmos enabled games. Just found out from random reading that Assassins Creed Origins is Atmos enabled!

For once they write about a contest Norwegian readers are entitled to participate in, and you choose to ***** about it?

That's just slavery with extra steps

Like the bit where butlers do it voluntary and receive pay? Derp.

A Rick and Morty reference, I appreciate this!

A co-op buddy would be awesome, I love local co-op.

next thing u know ur at work and he's banging your wife. Sounds like a pornhub episode.

Now Microsoft can screw their customers, literally!

Haven't they being doing enought with microtransactions, loot box, pay2win on their $60-99 games?

I guess if they offered maids instead twitter would be burning their asses now...

Lol seriously what the heck?

I'm sorry but this is ridiculous. They are investing so much on this cheap bs marketing. Why can't they talk gaming? Why can't they actually release proper benchmark of all games that they don't have a deal with comparing it to PCs with 1060, 1070, 1070ti, 1080... Why can't they release videos on supersampling with comparisons? If they are going to drastically cut the investment in new games, new IPs and killing single player games DON'T waste money on this rubbish!!!

I wish i could do this, i haven't even been able to pick up my controller in MONTHS!!! You can stuff it if you don't like it... 😑

Ah finally someone who will come to damage control for a company. Finally someone who will try to insult me and get to keep quiet and not criticise the company he is worshipping. Someone who doesn't want companies to invest in making games or communicate on gaming stuff like benchmark or supersampling but prefer companies waste their money on stupid marketing bs... It's nice to see the priorities of people out there. You haven't played a game in MONTHS but you have time to damage control for a company... Having priorites is nice... Defending a company is FAR more important than new games/gaming... Good for you...

Sending a stranger into a customer's home... in Sweden... this can't possibly go wrong for Microsoft.
Windows Central Newsletter
Thank you for signing up to Windows Central. You will receive a verification email shortly.
There was a problem. Please refresh the page and try again.