Microsoft offers up 4 free months of Groove Music Pass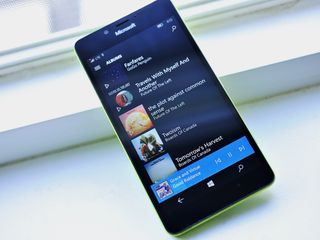 If you have yet to give Groove Music a shot, Microsoft is ready to give you an extended trial with 4 months of Groove Music Pass for free. (opens in new tab) With a subscription, you'll get access to millions of songs, playlists, radio and more for 4 months without shelling out a penny.
This is far from the first time Microsoft has offered this particular deal, and jumping on board is as simple as it was in past promotions. All you have to do is sign up for the initial 30-day free Groove Music Pass trial. After your first 30 days are up, Microsoft will send you a promo code to snag an additional 3 months. You will have to hand over your credit card details, but you can just cancel before the 4 months is over to avoid being charged.
Keep in mind that, once again, this is for new subscribers only. If you've subscribed to Zune, Xbox Music, or Groove Music in the past, you won't be able to grab this deal. If you are new, however, you have until March 1 to sign up and get 4 months for free.
Dan Thorp-Lancaster is the former Editor-in-Chief of Windows Central. He began working with Windows Central, Android Central, and iMore as a news writer in 2014 and is obsessed with tech of all sorts. You can follow Dan on Twitter @DthorpL and Instagram @heyitsdtl.
Need a family plan my daughter is driving me nuts about spotify

Common complaint, I too would consider it for my brood. There are 5 of us, and I could justify it for the kids and partner. Can't justify it for me alone at £9.99. Amazed they don't offer family plan, or at least a bolt on to my Xbox Live Gold.

That was the beauty about WP7.X. You didn't need a family plan. You could simply download music to any family members device without them needing an account. The only catch was that you needed to at least once a month connect those phones to the Zune software. Heck with the family plan, bring back the $14.99 plan. Let me keep 10 songs a month. That would be much better in my opinion. But hey we all have our own wishes. :)

Try Napster. But yes, no family plan, no use for Groove.

Is this available in India?

I'm afraid it is not. Those were the days of MixRadio when all the new Nokia phones come up with at least 6 months of free subscription, in the box.

This service is amazing. Seriously amazing. The best music service I've ever used.

The worst for me. It has no support from local carriers for free streaming over LTE, deezer, spotify, apple music, play music, tidal, have it. Groove does not have all the artists I'm used to listen to. And now 4 free months? Microsoft must be desperate to get suscribers.

Groove has one of the largest catalogues of music... If it doesn't have your artists, you probably listen to some very obscure music. As for free streaming from your carrier. Be happy you have that option at all. No carriers offer free streaming for any service here in Canada.

I will try to explain this thing once again, since from time to time it keep resurfacing on the internet every time people talks about music streaming...and is feeding some sort of urban legend about web streaming for music.
The thing is that generally speaking streaming licences for any artist aren't dealed on a per artist basis, (unless we're talking really big and I man huge names that can afford that say U2, Prince, Beatles etc) so basically the music labels give full catalogues for streaming not single artists.
Now for the music labels the streaming platform means nothing from a commercial point of view (it would be like if radio streaming licences were given only to certains radios..it doesn't make any sense) the only restriction is given by geographic boundaries. Because music labels and collecting societies (those who steal...ehr...collect copyright money for the artists) have local deals and local laws to follow that unfortunately change from one country to another.
All this blathering just to say that I laugh everytime I read that a given streaming service has more or has less. For the majority of their streaming catalogue thay all have the same music. If a given artist has made his music available for web streaming in a certain country it will be very likely on all platforms, the only affecting factor here could be the user base.
Which means that for instance Spotify currently has the bigger user base so is "the place to go first", while Groove is much smaller hence for some very big names (because in such cases labels get very greedy) or some very small ones (because they have small indie labels with extremely tight budgets) there could be some exceptions with labels dealing licences for one platform instead of the other. But it's not the rule, is just the exception. The vast majority ot artists (again besides the big ones or the vert tiny ones) don't even know where they're music is given to stream, their albums simply get dumped on web streaming platform with all their music label catalogue at once.

Really? But the Groove service carries audio books and audio dramas. Spotify does this too I'm told, but Deezer doesn't. Doesn't that show that not all services carry the same amount of content? Sorry, is that you laughing? I can't quite hear...

Not so amazing when MS doesn't live up to the free offer.I signed up when they offered this before and, after one month, they started billing my CC fro the service. I couldn't get it straightened out so I cancelled.

I've used the offer before, MS gave me the one month trial and then emailed me with a code for the additional 3 months. Looks like you may have missed an email or something went wrong there.

Guess you never tried Discove Weekly on Spotify.

Is that you, Satya Nadella?

Took me a little while to get used to it, but the sound quality is pretty good and the app is more reliable than Deezer.

Is that you, Satya Nadella?

You can use a different email address and CC get in on the free pass.

Aren't you limited to Groove only in the browser, on PC/laptop then? I wanted this mostly for my phone and I won't set up a new OS install just for Groove, haha.

You can just log out from your account in grove and sign in with another account, it actually works , there is no limitation

Good question. I'm not signing up, then in a month's time getting told 'Code? What code? Oh, so you're not US? Bog off, sir.'

Don't even try. This whole promotion is a scam or at least a mess - they will not send you the code and when you contact them they play stupid and claim this promotion doesn't exist! Here's the link to MS forum with this topic: https://answers.microsoft.com/en-us/musicandvideo/forum/xboxmusic/groove...

Well, typing that link in goes nowhere. Do you have any actual evidence of this? I must admit, I don't get why they don't just sign you up for a 4 month trial. Why promise to send a code later? Once the details of the promotion have been wiped from the web and the collective memory of support staff? For what purpose? It does sound like a recipe for a complete mess. But, evidence?

You want transcripts of my conversations with them? Because I have them

If you could just provide a working link to the thread you mention that would probably do it, but typing in the address provided in your earlier post goes nowhere. Dead link.

https://answers.microsoft.com/en-us/musicandvideo/forum/xboxmusic/groove-3-months-promo-code-yet-to-be-received/8e318683-b6a7-478b-b86a-0e90ef9615eb

Yep, does look like it's a con to trick people into paying a month or two by mistake and that pretty much everyone who tries this gets no code and little interest from MS. To be sure, I've signed up and will be very careful to cancel in 1 month from now when I get no code. Thanks for the warning. I'm surprised this kind of thing is legal.

The link worked fine for me, only issue is that its an American link and I'm in Canada so it gives me an error saying to switch regions.

Perhaps the link is working on the ad ridden and generally unusable WC web site but is not working in the WC app and is just shown in an incomplete, shortened form? Providing the whole link in text form would help (short of getting WC to fix their app or wind in the webverts a bit until their site is at least a little usable).

Just because the mobile app does not link well, or at all does not mean he is wrong and you could go a little easier on him.

I'm not having a go, I agreed it sounded fishy, but I kinda wanted a bit of proof that was accessible to base a decision on. So I asked for it, which isn't unreasonable is it? That link won't even work in the desktop app it seems. I had to type the whole ruddy thing in manually. Good times... At least typing the thing in completely in a post gives folk a fighting chance.

It isn't a scam, I got mine. But, I grant you that there is something not right for some as yours is not the first comment I have seen regarding it.

I have used Groove before, but I wish they had a thumbs up/down option for the radio feature. If I start a station, and keep getting a bunch of songs that I absolutely hate, it would be nice to give them a thumbs down so I don't have to listen to them anymore. That is literally the only things keeping me from Groove.

They need to do another pi day sale so I can load up. My subscription is almost expired. I feel that Microsoft should give me a free subscription to Groove music for all the pain and suffering I've experienced being in the Preview program for Windows Mobile.

Agree, I just entered my last Pi day codes last month (I massively stocked up then and also during the Christmas time sales Microsoft had before then.) Either that or they really need to bring out a competitive family plan. Otherwise I'll be switching away next year.

Same here. Trying Apple musics trial now. Not big on the interface, but not as many hiccups

Slightly annoying fact: Over 4 years ago I had a trail on xbox music but it was horrible back then and i never really looked back until now. So I thought I give this a new go to see if it is worth it now, but i can't get another trail - after 4 #@&% years! Dafuq?

You could use a different email.

You'd need a new Microsoft ID, so you'd then need to hard reset your phone and start from scratch. Lose any apps/content that you paid for. Not worth it.

Don't feel bad: I was a Zune Pass subscriber ages ago which means I'm still barred as well :/ (did I mention that was AAAAAGES ago?)

And you expect anything less... I've emailed Ms saying can we have zune back on mobile or reset trial for groove

Agree it was horrible back then, they should let us see that this is an improved service...

I just signed up two weeks ago that sucks......

Glad I haven't started the free month that came with the Idol 4S I bought for my wife. Wonder if I can get this first and then piggyback the month from the Idol purchase?

Can subscribe using gift card money ☹

Been using groove for along time now. I just wish their music collection was bigger.

Is this Usa only? When I try to sign up it says i will be charged $9.99 and each month thereafter.

Did anyone else not get their three month code on the last promotion?

I never did. Still trying to accrue enough rewards points to get it. Would buy it so I'll have more storage on OneDrive but I'm already subscribing to Office 365 and I have 1 TB there so that would be a total waste of money. For what it's worth I automatically get the 3 months from Google without redeeming codes or anything, just happens. It's actually a better deal than Google Play Music but I have an Android phone and it's baked in. On the other hand the few songs I've purchased through Microsoft, I can't see the songs I acquired through them in my account anymore. Off topic it would be nice if they had the free radio again since Microsoft sold off MixMusic.

In the past the Groove promotions worked great for me. Since I used the trial already this didn't work for me. I use my Microsoft points to get a 3 month subscription.

Where I live data is pretty unreliable, I might have the fastest connection ever, move 2 feet and it's gone. Without the plan I can play random music and it'll play the songs I have on my phone, so there is no interruption, however, with the plan, even if I ask it to play a song I know is in my phone, it'll play from their online service, many times creating delays while loading. I had and liked the plan, but it's more of a hazzle trying to find a local song than it's worth.

I'd love to try it out, if it was available here in Hungary... Until that, I'll stick to Deezer :D

Unfortunately it is not available the service on Greece so I will stay on spotify... lets hope one day they expand their services like Spotify music or Netflix does

RIDICULOUS that zune free trial users can't get in on this as well...ITS A NEWS SERVICE ISN'T IT?
let us try it as well... So much for customer loyalty

I don't see anything that assures me that this is available outside the US. The lnk in the aticle takes me to the US store.

That sucks! Just one month ago took my subscription....

What took you so long I've had it since 2011. Maybe 2012

Ise groove music all the time. Hope it doesn't shut down.

It's hard to say. If they continously promote it like this, it can't be doing that well. They have updated it a lot though so who knows.

Groove should be free with a Windows phone. What do they have to lose?

Decided to give it a try, and man... it's slow on mobile. It manages to take longer to start playing and skipping songs than deezer, which i already thought it was slow. In Spotify, even using the old ass app on mobile, you select the music and it starts playing pratically instantly, like it was stored locally. Spotify is also faster than Groove on desktop, so i wonder why even bother.

I have been a member for over two years now but I am not renewing next month. My wife has too many complaints about the Android version and I will be able to save a lot of dough with a family plan.

It's just for the american market or takes even the European one?

Just signed up, jamming to The Weekend!
Windows Central Newsletter
Thank you for signing up to Windows Central. You will receive a verification email shortly.
There was a problem. Please refresh the page and try again.