Microsoft OneDrive placeholders return as 'Files On-Demand' in Fall Creators Update
A long-coveted feature from Windows 8 is expected to return to Windows 10 this fall. Welcome back, OneDrive placeholders.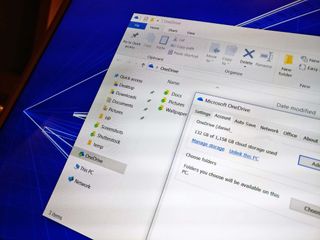 Microsoft is releasing a ton of news in the month of May, but perhaps none more satisfying than its new OneDrive "Files On-Demand" feature destined for the Fall Creators Update, formerly known as Redstone 3.
OneDrive placeholders were a hallmark feature back in the Windows 8 days but disappeared in Windows 10. Many fans cut Microsoft some slack accepting the "newness" theory of why the feature was missing, but months dragged on into years, and user frustration grew.
Now, the function returns, better than ever and with a new name, too. OneDrive Files On-Demand lets users see their gigabytes (terabytes?) of data stored on OneDrive without having to up your device storage locally.
Microsoft described the feature in a press release:
A new status icon in File Explorer denotes if the files are locally available or online only. Users will be able to right-click on the selected file and mark "Always keep on this device" to make sure it's available offline, whenever, wherever.
Previously, consumers had to preselect and download locally all the OneDrive folders and files they wanted, consuming data and large amounts of space. Besides the needless duplication, users then had to use the separate OneDrive app to "see" their other files and then download them if needed.
Now, with Files on Demand, you can always see your OneDrive files due to the thumbnails being locally cached. Users can then just click the file and have it download, making the process of managing your online storage nearly invisible.
Microsoft notes that Files On-Demand is the No. 1 requested feature on OneDrive UserVoice, so all we should say is Welcome back, and it's about time.
Consumers can look forward to the new OneDrive feature later in September or October with the Windows 10 Fall Creators Update. Insiders will begin to see the new feature rollout to the Fast Ring sometime "early this summer," according to Microsoft.
Daniel Rubino is the Editor-in-chief of Windows Central, head reviewer, podcast co-host, and analyst. He has been here covering Microsoft since 2007 when this site was called WMExperts (and later Windows Phone Central). His interests include Windows, Microsoft Surface, laptops, next-gen computing, and for some reason, watches. Before all this tech stuff, he worked on a Ph.D. in linguistics and ran the projectors at movie theaters, which has done absolutely nothing for his career.
I needed them years ago. That being said, thank God it's official. Most important thing that I care about atm (and since they took it away!) Next on list, pen hardware upgrade, locking inked notes/highlights to text in OneNote

Classic Microsoft. Come out with something people like. Shut it down, then spend 3 years putting it back. Three years!

They do this a lot, sadly.

Yes, and they wonder why nobody trusts them.

Like they successfully implemented Skype into the Messaging app, only to remove it later.

I wouldn't call that attempt a success either.

This makes me unbelievably happy. I've wanted placeholders ever since I updated my older devices to Windows 10 My main work/school laptop only has 64GB of internal storage, meaning for the longest time I've had only around 2-3GB left on my storage, also meaning updating to feature updates are extremely slow because I'd have to use USB drive to update. Thanks, Microsoft!

Absolutely, me too. Now, if they could fix boot to start screen too, we may be starting to get back all the good stuff from Win8.

Finally. I don't really understand why microsoft likes to remove the features people like and only add back after a few year later

Yeah, it was pretty hard to believe when they said that it confused people so they removed that functionality...

They also did this with the awesome and most useful Messaging Everywhere feature for Windows 10 that allowed you to send messages from a Windows 10 PC through your mobile.

In this case it was because the feature was baked in Explorer, and that caused some strange behaviour in some applications. Now it's a feature on OS level, so it should work everywhere without big problems.

Well, the implementation in Windows 8 needed a _little_ attention, but it was pretty good overall. Hoping this gives an option to prompt for "this huge file is online-only, are you sure you want to download it" instead of just starting to download the 1.5GB file you clicked by accident. :) Also hope that they address some of the syncing issues. I have a handful of files that absolutely refuse to finish syncing on my Win8 box - mostly docs of some sort. Can't seem to do anything to fix that.

At last, bringing back Windows 8 features

I'll be an outlier here. Not glad that they're back. -.-

OK. Why don't you want them?

I'm not going to berate you or anything, I'm just curious. How come? It's an unobtrusive feature that doesn't take up any space (that's kind of the point actually).

Care to explain why? I always thought this was a good feature, so what did you dislike about it?

This alone is enough for me to want the fall update now. 🙂

There needs to be some special word for the feeling you get when MS adds a great feature, you then realize they used to have before. Somebody came up with intaxication for the euphoria you feel when getting a tax refund, which lasts until you realize it was your money in the first place.

Just great! Then I can think about getting 1TB OneDrive. Right now it would be useless, since my laptops and surfaces don't have more than 250gb.

They removed it because it was too complicated? Imo this looks complicated with all those different status icons for files. Normal users won't understand it.

Having a few devices with low storage and hundreds of GB of data on OneDrive, I'm so happy Place holders are returning!! Even on our PC's with larger HDD's, I won't need to store or download all that data again. Will be back on my main laptop when it's released to Insiders.

Is that multiple OneDrive accounts I see in Windows Explorer? That isn't possible NOW, is it?

Let's all just be happy that they are adding placeholders back.

Cool they taketh and giveth

My favorite announcment today! So happy that it's finally coming back!

What I really want with this, is being able to sync any folder or file on my hard drive up to OneDrive and back again, without actually moving it into the OneDrive folder. I use OneDrive (among many other things) to sync saved games. And it works flawlessly with games, that put their saves in the documents folder, like GTA and NFS games, but for example, Stardew Valley puts them in the AppData folder, so I have to move it back and forth manually, every single time 😕😁

Why not just use mklink command to create a directory junction in OneDrive that points to the app data folder? OneDrive will think it's in the folder and sync it
Windows Central Newsletter
Thank you for signing up to Windows Central. You will receive a verification email shortly.
There was a problem. Please refresh the page and try again.