Microsoft opens registration for its Build 2016 developer conference [Update: Sold Out]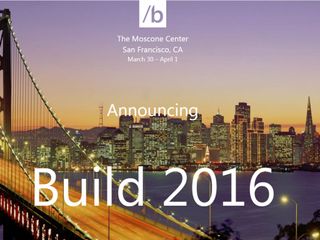 Update:: Build 2016, as expected, quickly sold out within a few minutes, but you can still get on the wait list just in case some spaces open up. Microsoft also points out the keynotes and some Build 2016 sessions will be streamed live for folks that cannot attend.
Original Story: As it promised last week, Microsoft has begun accepting registrations for its Build 2016 developer conference. The event will be held this year from March 30 to April 1, about a month earlier than 2015's Build conference. As in the past few years, the event will be held at Moscone Center in San Francisco, California.
The cost for developers to get their ticket is $2,195 this year, which is a $100 increase over last year's cost of entry, but we still expect it to sell out fast. Microsoft usually offers a lower price for a limited number of qualified students, and is doing so again this year for the price of $995.
Microsoft usually makes a number of major announcements during Build 2016, and we plan to be there to offer first-hand reports on what the company will be revealing during the conference.
Register for Build 2016 (opens in new tab)
Windows Central Newsletter
Get the best of Windows Central in in your inbox, every day!
I wish I could attend one of these.

And in two minutes im already on a waiting list!?!?!?

I'm shocked... the conference filled up very quickly... in 4 minutes???

That happened in previous years too, and then somehow more tickets were made available. I've already seen a few tweets from people who were waitlisted initiality and were able to register with a different Microsoft Account later on

That indeed is what's happening. I got my approval email about a half-hour ago.

It's not that more tickets were made available. The way Microsoft handles registration is a little different than other companies. Think about it: when you "registered," did you add in your payment details? No. So..... how is it "sold" out? Simple answer: it's not! Microsoft gives people that registered two days to pay for the event. If they don't pay, they lose their spot in line, and the ticket goes to the next respondant.

Why the hell it is so expensive???

If you are not using company $ to pay for it, no sense to go. It's a developer event and price has been on par.

It is expensive to rent the hall and bring in all the equipment. There is likely comp for speakers also. In addition, in the past they have presented each user with items that total more than the cost of the conference. The first year everyone received a Samsung Slate with Win 8 ( not yet released ) plus development tools. It's in the ballpark of other multi-day training events considering price.

They have already said no hardware this year but instead deeper training. Posted via the Windows Central App for Android

That price o.O Is it worth it??

Only if they give you some tech.

You can usually get the same tech for much less, it really only makes sense if you have a conference budget at your company anyway.

No hardware this year. Posted via the Windows Central App for Android

Am I supposed to dream of HoloLens again this year? Doubt it. Perhaps a SurfaceBook.

Waiting list seems fishy. I was logged in right as they opened.

Same here... within 2 minutes got into waitlist

Same here... I was on the first step and then went to waiting list... DId it really sell out in 2 min?!?!?!

Waiting list... I guess I shouldn't have spent so long trying to answer the survey questions truthfully.

and.... I'm registered. Received the email to complete my registration about 20 minutes after I was put on the waitlist.

They need to fix this. I hit submit at 3 minutes after 9 and got wait listed.

2 things I'm expecting from build-2016 1) Announcement for Windows 10 desktop on ARM - this would help OEM chip makers like Qualcomm, to focus on devices like iPad Pro (Apple 9X) which is a very impressive device which outpeforms late Intel Core i3 2014 performance on ARM. 2) Surface Phone with Intel CPU - this will finally bring Bluestacks developers their option to bring this app to Windows Mobile so users can finally have all the mobile apps the Windows 10 platform does not have.

Surface Phone won't be around for Build, it's way too early. It will probalby be announced around September along with the next Pro/Book. Build isn't really the place where they launch new products. Even when Build was a fall conference and they had a phone to launch (Lumia 920 in 2012) they held a separate event in San Francisco the day before Build (which was at Seattle that year)

Thanks for the response. So if this is an event dedicated to software developers, I think Microsoft should make 2 announcements: 1) Windows 10 desktop for ARM 2) Windows 10 Mobile for Intel IMO that would cover all the requirements they claimed to be implemented with Universal apps. An universal app from my point of view is a Windows app that can run on both OS (Mobile and desktop) and on all platforms (ARM and Intel)

These two, and they need to step up their IoT game, including both dimensions of the car story.

Did anyone get an RSVP Code before hand?

I got a second email to register. So, I guess the waitlist was made to handle the traffic.

How could they sell out in 2 min. They must have given some people a preferance code.

Either they use Waiting list to handle the large amount of registrants at the same time, or they have no public spots available from the beginning.

Thats a good point, in order to prevent the reservation site from being overloaded, they used RSVP to get people to come back over a longer period of time.

Only sane explanation is that they put everyone on waitlist and email them when to complete the registration, to handle requests well?
Last year it took an hour to sell out...

I am so pissed. I started at 12 on the Dot and on the waitlist. I spend a fortune on Azure each month. If I can't get in at 2,000 then **** MS.

So what's all this about Build 2016?

Did anybody manage to register? After 6 min from opening the registration process I ended up in waiting list

I ended up in the waitlist after 3 minutes.... Something fishy...

Same here, 3 minutes and it went straight to waitlist. I'm absolutely intrigued to see if anyone managed to register without an RSVP code.

Your not alone, my friend... welcome to the wait-list!

I fnished at 9:03 and got on the waiting list also. I got an email saying I was approved to attend 11 minutes later. Don't give up hope!

I think now they have announced there are no goodies this year people will be cancelling their registrations ;-)

Sad choice because they are offering more training which is what it is about. The "gift" was purchased as part of the registration. Posted via the Windows Central App for Android

It always sells out in a matter of seconds. I'm on the waiting list too... but my friend was able to register... but he literally waited for the countdown to finish and skipped through the survey lol

I was waitlisted at fist but got a message that I got in at 9:30 PST.

How many seats were offered and how long did it take to sell out. What does it come out to in transactions per minute? Was the site responsive during the rush to get signed up? Bill

Folks Wise Developers know that Windows 10 is a Monster growing Operating system. it's not like Windows smart phones that have a low sales market share. All brand new Computers coming out use it and it's alreaday on 180 millions Computers of various types and if you count the Xbox and Windows smart phones that run Windows 10 then it's on over 200 million devices. if you make a good app and sell it for a dollar$ you could be a Millionare in a short time. That's a fact not a fable because Windows 10 is already on millions devices that have a Microsoft Windows store to sell an app through. What Microsoft has to do save Windows smart phones is to get developers to make the kind of Microsoft Universal apps that works on Windows 10 mobile smart phones. Tablets 7 inches and above run full Windows 10 desktop OS. Mighty Google will have to have to make Microsoft Windows 10 Universal Apps because of the huge number of devices that use Windows 10. Google cannot afford to MISS the advertising money it can get from being on Windows 10 devices.. MS CEO Satya Nadella is a smart guy he will Humbly work with Google. He knows what is at stake.
Windows Central Newsletter
Thank you for signing up to Windows Central. You will receive a verification email shortly.
There was a problem. Please refresh the page and try again.