Microsoft Phone Companion app for Windows 10 updated, works with more Windows Phones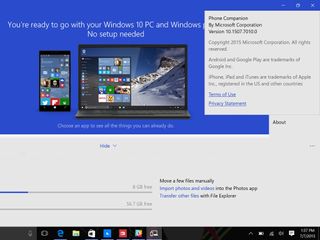 The official Microsoft Phone Companion app for Windows 10 has been updated. The app, which has been designed to sync up content like photos, videos, documents and notes between a Windows 10 PC with smartphones and tablets, now supports more Windows Phone-based devices.
The Microsoft Phone Companion is a recent addition to the latest preview builds of Windows 10, and is designed to work with Windows Phone, Android and iOS devices. Here's how Microsoft describes the app:
Download the Microsoft Phone Companion app from the beta Windows Store (opens in new tab)
But how difficult is it to sync DRM music to windows phone? My biggest complaint since switching to WP8 is how difficult it was to sync music compared to WP 7 using the zune desktop software. Infact I have not synced music between my phone and pc since the first time I tried an failed. Some of the cloud features are great but the browse/drag and drop abilities of zune (and also how good the program looked when playing music in full screen) are so much better. I can't drag and drop manually to the phone because they are drm. It actively prevents drag and drop onto external devices... at least it used to.

It would be cool if it allowed you to fully control your phone from your PC, including sending text messages. Can it do that? If not natively, is it possible to use Continuum as a virtual machine inside Windows 10 to do so? I just want to type text messages and add files from my PC to my Windows Phone. It's mind-boggling to me that they haven't added such a feature yet. I'll never go back to using Android, but I will admit that that is the one feature I miss from it. I think iOS has it now too, making Microsoft the loner.

And it could be cool to do all of that conected with Bluetooth or in the same LAN.

Redstone will probably bring it. SMS messaging from PC is coming

You're saying it has been confirmed that SMS messing for Windows 10 phones from Windows 10 PCs has already been confirmed?!

Look up "PushBullet" then thank me.

I like the part where Android and iOS users have to do more to make it work.....

I had a friend once with your name. Are you him? Fazl-e-Haq College.

I think ... something nice happens to you today.

Nokia C7 phone users do the most work. The phone is not able to connect to Windows 10 computer at all. In Windows 7 it worked beautifully. Aarghhh... It's crazy trend that few years old devices will not supported.

Well the catch is that this app is useless, It doesn't do anything. You can't even sync files to your phone with unlike the old metro app for Windows 8.1

Nice. I'm really loving Windows 10.

Store updates only for PC Windows 10. Universal apps are not so universal as MS says.

No, YOU don't know what Win10 Universal app is. You can update the PC app without updating your Phone app, but this doesn't mean you don't have an Universal App. Why submitt an update to all phones if you're fixing a PC issue?

I know what universal app is. And I also see that fairytale which MS is telling to independent developers meant nothing to Microsoft itself. All main apps, Store, Calendar, Mail etc. are different for PC and Mobile versions.

Calendar, Mail, Photos, Office, etc. are already universal - otherwise they would not work with Continuity.

Of course they're different apps, they only share codes.

Actually no, they're the exact same app. That's how they work in Continuum for Mobile.

In fact, some "universal" apps that Microsoft says are not really universal, as the music app. But others like Alarms, calculator, camera, store, photos, mail and calendar, maps... They actually are.

W10M version is 10149, the new store should require 10158/59/62 at least....

Hope it's going to start working for me

Fine!! What a waste for Windows 10 mobile phones: Can't offline backup the phone to the PC! So why they are including this app for starters if it only copies as file explorer does?

Is not for Windows Phone users benefit, that section is to show the users of other platforms that life could be easier with Redmond phones.

Yes I know that. But wouldn't it be a bit useful if they provided such features for Windows phone users? Similar to iTunes, this will make backing up and restoring a lot easier.

I'm seeing updates for Calculator, Voice Recorder, Store and Windows Camera as well.

Can't see any changes other than in the Camera, it now uses the theme color when you click on buttons and when it recognizes faces.

Do you still have to plug your phone into the computer or does it work via Wi-Fi or Bluetooth?

I'm still unclear on what we'll be using to add music to our phones. I'm assuming (and hoping) it's Groove and not that lackluster "Windows Phone" app they slapped together for W8. edit: nevermind. the store description mentions music. The quote in the article doesn't and it threw me off.

Did anyone notice the beautiful laptop they always use to showcase windows 10 on posters? It looks like it has Surface design language. I like it very much and would be awesome if it was a real device by Microsoft!

"With a Windows phone, there's nothing extra needed. But for an Android phone or iPhone you need to follow a few easy steps to get the right apps on your phone to make it work great in conjunction with your Windows 10 PC" hahahhaah Even with this app works better with iOS and Android.

@GuilhermeManso, you better read what you just copied, again. Also don't bother changing it afterwards :P. Have taken a screenshot :).

Sorry, but did not get it. I just was kidding about this Phone Companion app being more usefull for Android and iOS phones than with an Windows phone one. :S

There you are ... :D ... Be more careful next time.. :)
And this app is not MORE useful for Android and iOS.. It's the correct opposite

Well at first this app just kept crashing. The latest build I can now open the application, but it says I am signed in with a "local account" but I am not. Ugh. Any one see this?

So you are logged into a Microsoft account as your user(one that you use to access your Microsoft email and requires a password), and are connected to the internet?

Now send/receive sms/whatsapp on PC please

It isn't a beta store anymore. Its the actual Windows Store now, not beta.

Would be useful to sync messages, so you can edit, delete etc.

OK it doesn't crash anymore good, now that I can finally use (after 3 damn builds) I have to ask: What the hell is it for? I can't do shit with it it's just advertisement for other services, info about how much space is used and links to open the phots app and the WINDOWS EXPLORER TO ACTUALLY TAKE FILES IN OR OUT!

You can send WhatsApp on the PC through Firefox or Chrome browsers. Look it up on Bing or Google.

It would be awesome if windows phone users could have their windows phone home screen duplicated as the start button on a windows 10 system...

Just hurry and release Windows 10 already!

Looking forward to this app for my parents especially. They were fine with Zune for the WP7s but found the WP8 desktop sync app to be a bit confusing. Hopefully this will feel more comfortable for them. I'm probably hoping against hope that they'll do something with local music sync though. I'd really like to be able to transfer albums, songs, and playlists from the Groove app to my phone locally without having to re-download everything again from the cloud. It's just a waste of my data allowance to have downloaded 5GB of songs to my laptop and then have to download them again onto my phone. Should only need to do it once and then transfer and sync locally if preferred.

I don't get it. It's been updated to "work with more Windows Phones", but whn clicking Windows Phone it says "No setup needed". What am I missing? -Forjo

I still don't really see a point in this app...other than for the people that don't know how to plug in a phone and open file explorer. Lol.

why isn't this wireless? why did windows 8 come and go without EVER bringing back basic features from 7?

I hate Phone Companion app. It just a shortcut to... File Explorer? Where's Windows phone app anyway? I want to sync my videos, photos, music - but without the File Explorer/MTP, that's horrible.

So let me get this straght: with companion app I can transfer files? Really? This is 2015! And this app is rated 2.9! On Mac one can make phone calls, answer sms and continue their work on whatever device one is holding in his hand. MS needs to have solution for this or in a few months I will have Cortana on my phone, laptop and xbox and all those Cortanas will know nothing about each other??

Great app 100% recommended

Windows phone companion is a useless piece of crap that will not upload my photos and video's from my nokia windows phone to my pc at all and will not even find my phone at all and trying to fix it is a joke because it simply won't do anything at all no matter how much I try to get it to recognize my phone it won't work worth crap and I hate it because it doesn't do squat and nothing fixes it to unlock or actually upload anything.and I'm tired of the BS trying to use it

This actually did work in windows 8,1 but it sure doesn't now. I would not recommend it at all because it doesn't do what it says it's supposed to do if you just plug it in because I do plug it in and it doesn't work at all no matter how much I fool with it or attempt to troubleshoot it or make it recognize my phone it just wastes my time and won't do crap.
Windows Central Newsletter
Get the best of Windows Central in in your inbox, every day!
Thank you for signing up to Windows Central. You will receive a verification email shortly.
There was a problem. Please refresh the page and try again.