Microsoft's Windows 10 photo app can now show you where a picture was taken and more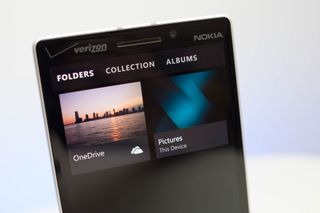 Microsoft has issued a new update for its Photos app for Windows 10 and Windows 10 Mobile. The update brings the version number up to 15.1109.1036.0 and, unlike many recent updates, actually adds two small but interesting features.
As shown in the screenshots above, one of the new features now allows users to set up the OneDrive folder so it only indexes the Pictures folder. The other new feature now lets users see where a certain picture was taken by showing a map.
Download Microsoft Photos for Windows 10 (opens in new tab)
Thanks to everyone for the tips!
Windows Central Newsletter
Get the best of Windows Central in in your inbox, every day!
sounds good to me, that will help me keep track of when i took them and place them in the same folder

If only it would support showing folders... Or network folders...

We need an "Picture Folder only" from our SD Card/Phone Memory. I don't want to see Whatsapp photos on the "Collection" part of app.

There is an easy way to fix that. DON'T USE WHATSAPP! Use a superior messaging service like Telegram. And don't give me the excuse that 'all my friends use WhatsApp'... Once you change and delete WhatsApp they will soon join you and realise just how much better Telegram is.

I use Whatsapp, Telegram, Facebook Messenger and Skype.
Do you have an solution for my problem? I hope MS can bring something...

Dude I am expecting the same. Addition to this i have send some more suggestion to MS to improve customization. The guy above who has suggested to use telegram has no idea what he is talking. Just ignore him. lets wait for next update.

This is a feature I've bee waiting on. I can truly use my phone as a scouting tool. As a photographer, finding locations to shoot can be a headache!

What sounds good exactly? This app is devastatingly broken. Microsoft developers should be ashamed that even getting this close to a final release, this app is still unusable. - Pinch to zoom still DOESN'T work properly.
- The app is very, very slow. Photos are not cached, opening photos takes time, getting back from a photo is slow, flipping between photos is slow and loading newly added photos takes forever!
- Living images take lots of time to play (if they even do!).
- The app design language is horrid. I look back at the beautiful Windows Phone 7.5 app, and I wonder what went wrong.
- Photo editing is a joke. Even on Windows 10, we get loads of editing options from the stock editor. Universal apps my ass. Microsoft is taking Windows Mobile down the hill. Literally.

Don't forget the horrible new animetion that just get your hair on the Live Tile. http://forums.windowscentral.com/windows-10-mobile/393174-best-thing-sin...

Mine is working perfectly.

I have none of those problems

Channel your complains to #Microsoft because bo one cares about what u re saying here, the photo app is fantastic if u don't like it pls move over to a more robust OS and stop whining.

I did "channel" it, right before people stopped using "pls" in their writings.
Microsoft should care about what I and others say, because there are some real problems. I've been using Windows since my HD2, and I am not to be questioned by some lunatic fankid here on Windows Central.

@B_Hawk You must be that guy who is still on a 520 and whining that it doesn't support windows hello... Photos app works like a charm on my test device L625 ...

Actually, he sounds like that guy listing legitimate issues he is having about an application he is concerned is going downhill. Hopefully he has voiced his issues in the proper channels. I'm glad it runs well for you other guys, however it runs like garbage on my 1020.

I must be the guy that is sleeping with your mother, that in addition to the one who owns / have owned more Windows gadgets than you have seen in your entire pathetic life.

It doesn't work pretty good on 930...
PS: Just 830, 930 and 1520 support living images (on W10M!)

Got same problems on my Lumia 830 and I can't select my SD card as source. Does anyone have same problem or does anyone know what to do with that? Thank you :)

Just go into your nearest tech store and say you want Windows 10 Mobile and a long weight to go with it. Long weight is the password that will make sure you get it faster so don't forget!

Woohoo!!! This was super annoying.

Network+, mail and calendar, calculator, irctc also got updates

Mail settings look different now...not sure the change came with the present update or it was there earlier...

So did Microsoft Solitaire Collection. It's finally a Universal App for Windows 10.

Waiting for 8.1 like faster loading of new photos..

Wooooooow.....i wont miss storyteller app anymore

If they can get all the Storyteller features into photos or onedrive somewhere that'd be great

Needs to share OneDrive link to the photos or folder directly from within the app!

Niceee , my feedback are approved , can view photo location direct from photo app

So glad they finally brought back the option to only include pictures from the pictures foler. It was super anoying to see all the random junk form other OneDrive folders. I had to switch off OneDrive integration all together up to now...

This app is v 15.1109.10362.0 on my 925

Gave the "Pictures folder only" a try but when I go to Photos > Folders > One Drive it's busy downloading all folders and photos. So new option, but appears that it doesn't actually do anything yet.

Now bring on the light theme for Photos app!

Does the location name get displayed on every pic?

Pics taken from ur phone only

Not totally correct a picture take with my 925 (stored on one drive) shows up in my 930 photo app with the location map. (and that is was taken with my 925). So I assume as long as you allow location tagging the map will be shown.

Not seeing this update on build 10581 (Lumia 1020)

The photos app in 8.1 was showing photos from the entire device including those which are not in the Pictures folder. In W10M Photos app, that is missing..

Maybe this one will show up. Haven't seen the last two updates on my Win 10 laptop or tablet.

The "only show Pictures folder" isn't working over here.

Picture only doesn't work. Shame.

windows camera captured dng duplicates don't show up in photos in anyway

Now my "refreshing" circle is spinning endlessly, whether I use the photos only option or all of one drive. Ugh.

I wonder why they don't bring back Story Teller. It was a neat app that is centered around this exact feature.

Anyone know how to capture the living image in Lumia 730 because mine not showing this option in my camera windows 10

But it still can't sort the font kerning out. It's been fixed for the Store last week.

No living here, hw is tat possible in windows 10 I cnt evn use lumia camera

Wow they finally put the EXIF data is a viewable spot.

Only indexing the pictures folder on OneDrive is a HUGE improvement. Makes no sense to have EVERY IMAGE FILE in a photos app. So glad they've done this.

Lumia Storyteller! I miss you Nokia

Feature less window phones. Windows phone has no future.

Neither does your commentary here.

Yes! Wanted that OneDrive option to stop assets from websites and apps appearing in the photos app just because they were backed up in OneDrive

Wasn't this reported a few days ago. Or maybe I can see the future.

Nope, you're drunk again.

This option will enable those who store their porn in the "Pictures" folder to safeguard their dirty secrets ;)

Just noticed that when I am viewing the "File Info" data while in the picture app, it shows me that there are "duplicates" and the dropdown list shows those duplicates. For example, I am actually previewing a low res copy that is 1.5 megabytes, but the drop down list shows that there is a copy locally at 4.5 megabytes, and a copy on OneDrive that is 4.5 megbytes. I can select any of them, and then the preview and "file info" switches to that copy of the image. Now when zooming in, you can clearly see you are looking at the higher resolution copy. The detail in the photo is far superior. I am feeling a bit vindicated for defending the coders at work on these fundemental apps in W10Mobile. Groove, Email and Calendar, Messaging, and Photo app continue to get improvements. Some of them are starting to take on a "polish" to them. Windows 10 is just getting started. It's going to become amazing right before my eyes. Kinda funny looking at my desk right now. On one end is my Macbook running Office and Outlook looks busy and very old-school Microsoft. Next to it is my Surface Pro 4 running the latest native Email & Calendar app on Windows 10, connected to the same Exchange server account as the MacBook\Outlook. Ironically, the SP4 has a more elegant and Apple-ish feel and look than the MacBook does. (I'm just saying lol)

Awesome. Cant wait to turn that off.

Still haven't received this update yet. Anyone else not pulling it down?

Same here, I'm still on Version 15.1026.13580.0 which seems to be already two versions older than this one if I'm correct about it.. anyone else?

Tried to download it a few hours ago but it said there was no update... Didn't update since I first installed W10 (not mobile) a few weeks ago... Can't look at the version# right now but this seems strange.

Lazzy developer and Testers of Microsoft... No user friendly things with photo app. Can not see a Pics from a folder as album Directly shows private photos on fisrt Tab(does not allow us to hide). Can not Hide photos from particular folder. Photo App loads slowly, Each time i open app it refresh & waste a lot time to load photos(eventhough my SD card is Class 10). Whenever I see photo in Album(by opening it) , and press back to go in Album , It gets me back to starting photo of album instead of keeping me to the current scroll of album When windows developer are going to consider users opinion. Anyways I going to sell this windows phone and switiching back to Android. Its humble request to all Android and Iphone users who are thinking of switich to windows phone please become wise and do not switch do not waste your time and money.
Windows Central Newsletter
Thank you for signing up to Windows Central. You will receive a verification email shortly.
There was a problem. Please refresh the page and try again.