Microsoft Photos grabs new Slideshow button and fancy animation for Insiders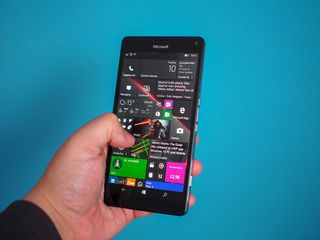 (Image credit: Windows Central)
Microsoft has pushed out a new update for the Photos app for the upcoming Anniversary Update. Those on the Fast Ring (and presumably Slow Ring as well) can get version 16.703.10032.0, which is a bump from the previous 16.622.13140.
Although the update is for Mobile and PC users on the Anniversary Update Preview, it is the Mobile users who will see the most improvement. According to our tipsters and we were able to verify, this is what is new:
Animation when selecting and viewing a photo
Slideshow button at the bottom
While animation for viewing photos was seen in the app for PC the Mobile one would just present the photo instantly in a rather jarring experience. Now, the Mobile version has a slight animation effect with the photo "zooming towards you" as it enlarges. It's subtle but addresses an ongoing complaint about Windows 10 Mobile not being pleasing to the eye.
The second new feature is a dedicated Slideshow button that sits adjacent to Refresh and Select near the bottom. Previously, a user would have to select a photo and then from the ellipsis menu choose the Slideshow option. While that latter option is still there, users can now just begin the slideshow on the main library. There was already a Slideshow button near the top for the PC version of the app.
There are likely other subtle changes that we may not have yet documented, so leave us a comment if you find anything else.
Download Microsoft Photos for Windows 10 (opens in new tab)
Thanks, Mark, and Malban, for the tips!
Windows Central Newsletter
Get the best of Windows Central in your inbox, every day!
Daniel Rubino is the Editor-in-chief of Windows Central, head reviewer, podcast co-host, and analyst. He has been covering Microsoft since 2007 when this site was called WMExperts (and later Windows Phone Central). His interests include Windows, laptops, next-gen computing, and for some reason, watches. Before all this tech stuff, he worked on a Ph.D. in linguistics, watched people sleep (for medical purposes!), and ran the projectors at movie theaters because it was fun.
So much better! Love the new opening animation, and the app overall feels a bit snappier.

Would love a reverse animation when going back too.

When you go back to the album after viewing a picture, it's still jarring.

I think it's even more jarring now that you get an opener animals and them just a hard cut. What I want more is a Facebook style drag down to close picture. (iOS? I don't know if this a fb or apple thing) Edit: Lol never satisfied.

Well even Facebook apps on Android have similar gesture of dragging image to close it. So its both Facebook and maybe iOS did it first.

iOS and Android APIs make these kinds of animations very easy to do. Windows Phone APIs, however, not so much.

Not sure about W10, but on W8.X and WP8.X SDKs, page animations are generally already implemented without much effort unless you need something specific or unique aside from default Metro animations. This is what I'm wondering on new Universal Apps for W10 which seems by default it doesnt render page animations unless specified? This leaves more work for the developers to manually implement animations and other UI related stuff.

This is probably using the Windows 10 UI Composition. You can build some beautiful things with this API but not everybody uses it in their apps.

Facebook app by MS has it too

Yup, I forgot to mention it too. It's really a Facebook thing now for sure.

The facebook app on Windows 10 Mobile has that too.

I know, that is his I love that function.

I have to check this when I reinstalled the Facebook Beta for W10. I just recently completely reset my device because of the Wi-Fi bug.

No animals in my photo app.

I'm sure that it will be added in the future.

Agree. A closing/back animation is needed now too, because now the whole screen flickers backing up.

Yeah, we all want that too. It's immaturity when a developer doesn't think about the reverse one.

.DNG photos are now visible in collections.


saw that, too - and annoyingly it cannot be turned off: Even if you adjust the settings accordingly only the one-drive duplicates are hidden while DNGs and long_exposure siblings are still shown.

Indeed! This one of few gripes about MS, they tend to implement stuff half-heartedly. Like what they did on TH builds, we only have closing animation on Store apps (UWA or old 8.1 apps) but no opening animation like all other regular desktop app does. Why? We'll never know with half-heart approach. So suggesting the zooming out animation from the image view screen is reasonable. Its an expected behavior when you have opening animation implemented.

Agreed, would like to be able to 'flick them upwards' to close them (animated close like the FB beta) would do nicely

Agreed. The other OSs offer this kind of transition as second nature. Hopefully this gloss will come with time.

You can create slow motion video from existing video

I don't see a difference tbh. I can see the animation but I never really noticed how it opened before. Certainly wouldn't have called it jarring.

Waiting for Sway integration + map feature like storyteller

Adding Sway would be amazing.

This! MS just have to use and take note from Storyteller app. That app have really nice style and featureset. While at it they should take note from Windows Photo Gallery too. I'm also waiting for Smart Tags from OneDrive Photos. That feature was underrated but really effective smart tagging that I was surprise it can recognize the image quite accurately and appropriately tagged it. I dont understand why this is still missing.

Finally an update which not only fixes bugs. And Windows Central app also being updated :)

This is good news. I worry that the added complexity of zooming would slow down transitions. It's nearly instantaneous (if "jarring") on my 950XL now, so hoping this does not introduce lag. My concern stems from the start screen live tile animations when tapped. I understand that some of this is to mask processing time while the app launches in the background, but I look longingly at Android devices which seem to have about half the launch time wasted on drawn out animations. I know we are talking about fractions of a second (1st world problems, right?) but it lends Win10 mobile a feeling of slight lag when compared to the competition.

Nice, more and more updates coming

"Jarring experience"? Seriously? That was the same lame excuse given for the people who couldn't comprehend the Metro experience in Windows 8. Knuckledraggers.

Seriously. And it was a brilliant description by a brilliant man who runs a brilliant site and it was a 100% spot on observation. There is nothing you can say to challenge or diminish it.

@Scuba "Jarring". Another overused word. It ranks right up there with "seems faster".

Press the download button in this article (no need to wait for an update in the Store) and you will get the update.

Deze update is alleen voor the fast ring en slow ring

My windows store is down... Can't access it. Who else is experiencing this? :(

Opens faster but no animation

I see a kinda animation!!! Although I can honestly say it seems faster

What is that black wallpaper? :O

i w`ll like to get that one

As always I will complain that the headline doesn't specify this is for Insiders only. At this point I'll just think it's clickbait or something I can't grasp wholly.

What are you talking about? The title says "Microsoft Photos grabs new Slideshow button and fancy animation for INSIDERS"

There's a chance it was edited later on.

They changed it later because Rubino is a nice guy.

I'd like to see how the Slideshow function works. Just decided to review some photos on the iPhone by selecting a few then starting the Slideshow function for the first time ever. It worked quite well and having the background music is a nice touch. I hope the WM version will collage it and add music as well.

The Storyteller app does this, and it works every elegantly with Living Images. Sadly, MS seems to ignore the existence and good things about Storyteller where they should based on for this Photos app we have. Many of new iOS features on their Photos app seems to be inspired by Storyteller, at least recognizing and implementing nice things to their own platform, only thing is they won't admit it. On the other hand Microsoft ignoring many of these things which were once part of their ecosystem.

I hope this improves speed and fixes some bugs with photos not deleting or the app crashing when you try to share photos.

Guess what!! You can create slow motion videos...

Doesn't work for me :S When it tries to save the slowmo video, my phone restarts, and than says "There are some problems with the SD card. Do you want to fix it?" :/ Tried it two times already :S (Lumia 535, 14383)

Maybe your SD card is too slow to capture slowmo. Try it on the phone storage.

Maybe. But it's a Samsung one, and was pretty expensive, so I don't think :D I think it's the SD 200 inside my phone, that can't handle it, or the camera isn't good enough for it. Anyway, thanks :D

Same problem here with my L535. Have a UHS1 16Gb card.

Hey. I can't upload photos to OneDrive from the photos app. It has been "uploading" my 21 photos to OneDrive since 3 months. Is there any way to fix this?

are you logged in on the onedrive app? i had that problem before :S ​(why do i need to log in on a microsoft app anyways?)

Dan, off topic but can you do a article with links to all the wallpapers you use for stock images For these articles?

how can you view images that is shared with you, without using the onedrive app? thanks

Ms is really twinkle things around

Still no sorting Posted via the Windows Central App for Android

Should be able to add a back ground music when open slideshow like on Nokia phone

Still an embarrassing app. Albums are broken, it lags when opening the pic and then there is some sort switch from low quality to normal when it is opened. I miss Lumia Storyteller...

The Windows 8 (not 8.1) was also cool. You could zoom out of a picture to have a fast scrool through your pictures. It was so fluent, handy, beautiful and of course stable xD

I actually asked for this feature last year using feedback. I'm so happy they listened. YES! :D

On my Lumia 640 with the last Build 14383.0 and after updating Photos app, I have the option *Convert to slow motion video* within editing options.. Nice touch! Working excellent by the way

I am using L638 & on slow ring build 14372 but i haven't got an update yet. How it is possible?

someone make a video of the new animation!

it expands the thumbnail into fullscreen

I just updated to the latest fast inside build 14383 from production release insider and can't find the update for photos, even when using the direct link. Do I actually need to wait some time before getting the update due to changes in the insider setup changing from the app to the settings?

yes, wait and also make sure you are still on "fast ring". now insider configuration is inside system settings app :)

I'd be happy if they just fixed it so when you went back, you didn't watch the thumbnails reload half the time.