Microsoft picking up 4 more distributors for Surface RT in China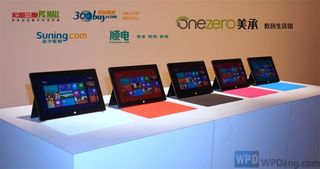 Since launched, the Surface RT tablet has always been sold only through two channels in China: Microsoft's freshly established online store, and Suning (a chain store for electronics, much like Best Buy). Now Microsoft is looking into extending the Surface RT distribution network, as the exclusive dealership with Suning expired in February 2013.
According to word on the street, Microsoft isn't that happy with the sales of Surface RT so far through Suning. The distributor simply hasn't been pushing Surface hard enough: advertising is scarce, customer service tends to be sloppy, and even the sales representatives don't seem to know a lot of Surface tablets. Now Microsoft is taking four new distribution partners aboard, aiming at bringing Surface RT up to the hit that it deserves to be, and pave the road for the upcoming Surface Pro.
The new distribution partners are:
With vastly expanded offline showcase opportunities and online availability, hopefully Surface tablets will become a more common sight on Chinese streets.
Oh, and people still can buy Surface RT from Suning. The deal to sell is still there, only not exclusive any more.
As of 22:00 March 21st 2013 (Beijing time), both Sundan and One Zero have put up Surface RT banner advertisements on their front pages.360buy is staying all quiet about that matter. We cannot check on PC Mall because of such late hour and its lack of online stores.
Aside from these, Microsoft has built yet another official online store on China's largest e-commerce platform Tmall. Click here to visit, and witness HUGE banner ads for Surface RT as well as Lumia phones. Tmall is probably a million times better known and more frequently visited than Microsoft's original online store. Establishing a second store front there looks like a wise choice.
Source: WPDang
Windows Central Newsletter
Get the best of Windows Central in in your inbox, every day!
What about Czech Republic. :X It's taking them forever to get the Surface RT there.

Sounds alot like BestBuy. Seriously I asked if I can see the surface and he said that he didn't know what that was. Then I bump into him later to pick up a touch cover and he doesn't know that either >_< Oh and this is the sales manager, mind you.

I'm sorry if I offend anyone, but these chain stores seem to mainly employ idiots. Nokia store is the exception, very polite and knowledgeable staff (in Hong Kong).

It's been rumored that Apple pays BestBuy alot of cash to not know anything about the Surface tablets

Just like in the US, retail channels are the bane of Microsoft's products. They really need to get more stores in more countries so they can bypass the biased and incompetent sales people who can't seem to see beyond a fruit logo or a green robot.

The Suning stores in Hong Kong are just as worse. Bunch of idiots working there, didn't even know what a Touch Cover was. DOH!

A dude I know bought a Surface RT from Suning and unfortunately his Touch Cover broke around the fold in less than a week. Suning rejected his request for replacement based on the ground that "our warranty is for the SURFACE, not your Touch Cover". Guy ended up approaching Microsoft, who replaced the cover without a damn. Simply amazing how some high profile partners do things.
Windows Central Newsletter
Thank you for signing up to Windows Central. You will receive a verification email shortly.
There was a problem. Please refresh the page and try again.