Microsoft posts changes for recent batch of Surface firmware updates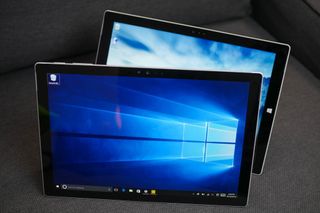 Just yesterday, we reported that there were some new firmware updates at the ready for the Surface Pro 3, Surface Pro 4, and the Surface Book, but there weren't any changelogs available. However, now Microsoft has gone ahead and published details on what each update brings. Here's the breakdown:
Surface Pro 3 w/ Windows 8.1
Surface Pro System Aggregator Firmware update (v3.9.750.0) adds support for Microsoft Surface Dock on Surface Pro 3.
Surface Pro 3 w/ Windows 10
Surface Pro System Aggregator Firmware update (v3.9.750.0) adds support for Microsoft Surface Dock on Surface Pro 3.

Microsoft Surface Pro 4 Type Cover drivers set update adds support for the Surface Pro 4 Type Cover on Surface Pro 3.
Surface Type Cover Filter Device driver (v.1.1.360.0)
Surface Fingerprint Sensor driver (v2.2.10.4)
Surface Type Cover Integration driver (v1.1.362.0)
Surface Pro 4 Type Cover Integration driver (v1.1.359.0)
Surface PTP Filter driver (v1.0.33.1)
Surface Accessory Firmware update driver (v1.1.382.0)
Surface Keyboard Backlight driver (1.1.365.0)
Surface Pro 4 and Surface Book
Surface Camera drivers set (v30.10154.6640.152) enables the Windows Hello feature.

Control Logic driver (v30.10154.6640.152)
CSI2 Host Controller driver (v30.10154.6640.152)
Imaging Signal Processor 2500 driver (v30.10154.6640.152)
Microsoft Camera Front driver (v30.10154.6640.152)
Microsoft Camera Rear driver (v30.10154.6640.152)
Microsoft IR Camera Front driver (v30.10154.6640.152)
Surface Camera Windows Hello driver (v1.0.24.0)
AVStream Camera 2500 driver (v30.10154.6640.152)

Surface Display Calibration driver (v1.1.371.0) improves the overall display stability.
Surface Integration driver (v1.0.59.0) improves storage performance.
Surface Storage Firmware Update driver (v1.447.0) improves storage performance.
Source: Microsoft (opens in new tab)
Dan Thorp-Lancaster is the Editor in Chief for Windows Central. He began working with Windows Central as a news writer in 2014 and is obsessed with tech of all sorts. You can follow Dan on Twitter @DthorpL and Instagram @heyitsdtl. Got a hot tip? Send it to daniel.thorp-lancaster@futurenet.com.
I wonder why the FF camera isn't Intel realsense

Because that camera is huge mostly due to the 3D camera, which is not needed for facial recognition.

Wish they'd update the pro 3 to make Hey Cortana work more than sporadically.

It doesn't work well? I don't have an SP3, just curious. It works pretty much 100% of time with my desktop (although haven't used in a couple months because away at school), but I wear a headset, so the mic is right by my mouth. I'd imagine the mic on the sp3 can't hear as well? Posted via the Windows Central App for Android

I disabled her on my SP3 because I have three windows 10 devices un my office. Don't recall having problems pre RTM but I'll give her a go now, because I'm curious.

I had to disable hey Cortana on my surface 3, desktop, and my Intel Compute Stick that's in the conference room part of my office because they would all go off when using my phone.

Heh, that's actually pretty funny

Still waiting for the firmware updates for the sp3 that fixes the display driver from crashing randomly. Posted via the Windows Central App for Android

That actually also needs to be addressed on surface pro 4. Both of my sp3 and 4 have been doing it.

My Surface Pro 2 does it once in a while, too :)

Are you just getting this on the latest insider build? Because I get it on my SP3 and Desktop and it only started happening when I put that build (10565) onto each of them. The desktop has an Nvidia GPU and the SP3 is of course intel integrated - Seems like a build specific issue with the current drivers for each

Over at imacdaily.com I heard a bunch of so called geeks acting like idiots saying things like - surface book fails with so many bugs on launch day- not even mentioning anything about driver updates on their biased written article. But I'm not surprised though.

Basically *every* review either mentions random crashes, bluescreens, display problems, lagging or other heavy software problems with the SP4 and SB. Even Daniel mentioned random crashes. Just read the forums here or on reddit. It's full of people complaining. Firmware updates or not – Microsoft did a poor job.

I've got the i5/256/8..yesterday. Absolutely no issues. Couldn't be happier. In fact, so impressed, just bought another for my brother.

Your brother is one lucky guy.

Ahem. I am your long lost Brother. Separated from the family at birth, I have been searching for your my whole life. If only I had a laptop or something like one, I could send you all the proof you need...

All of those reviewers were using pre-release models of the Surface Book and the honest ones noted that when discussing the issues they were having. I must have missed the reviews you've seen concerning issues with the SP4 other than the usual complaints about price and keyboard (having to buy it separately and/or it not working in their laps) and the fact that Windows Hello was enabled yet. And for the handful of those I can direct you to Anandtech's extremely thorough review and DisplayMate's discussion of the SP4 display.

My damn battery on my SURFACE PRO 4 dies out quickly for some strange reason. Any answers guys?

Off the dock for about an hour.. still shows a little under 9hrs estimated left.

Is that with a bunch of Windows 10 apps installed? Or just fresh out of box? I ask because I suspect I have an app installed that is leeching/lurking in the background. I'm going to start by disabling non essential background apps. This is a new issue for me on SP3 and not entirely consistent.

I have mine fully loaded up --- just waiting for the insider to kick in (btw, it hasn't yet which makes me thing we have a new build coming)

Do you perhaps have visual studio installed?

The firmware hit at the perfect time, just received my SP4 type cover with fingerprint reader for my SP3 gem and it didn't work. Within minutes the new firmware hit and hello Windows Hello! Love the new keys, track pad has loud click, but otherwise worth the money.

Does the firmware update work on SP3s running 8.1? Having an issue with my works IT department saying it's"not available" even though I bought a new typecover.

the article says the typecover features are only for SP3 on Win10.

Updated the firmware yesteday and lost wifi connection, had to roll back to get back online. Anybody else have this problem.

My new keyboard with finger print reader is working great for logon on my SP3, but no back lighting.

I had this problem before, have you pressed the F2 key to brighten? Total user error on my part before, somehow me, or the kids mashed F1 to the point I had no back light...
The new SP4 type-cover has many levels now to the back lighting, much more nuanced.

Thanks, count me in on the user error part as well. I did not try the F2 button as i guessed the brightness buttons would have been for the screen, but they are for the backlighting on the keyboard. All is well now, thanks!

I think I may have encountered a bug... after resuming from stand by you are unable to type in the log in screen... only way was a reset

I think it's a fantastic practice to show change logs. Every company should do it. Posted via the Windows Central App for Android

Yes like Microsoft for their App updates... would be great if they start to use their own store features

Still waiting for a decent pack of drivers for surface pro 3 and Windows 10.
My wifi works very very bad and the video is crashing sometimes.

Weird... Never had such issues on my SP3. We should have the same drivers though.
Could it be possible that something else is wrong?


On the other side there's a bunch of surface 2 that have been seing random BSOD with system_service_exception since the "win10MenuMamboJambo" update. Like if it wasn't unusable enough before...

I assume they'll fix it, but a 2 year old tablet isn't their primary focus when they have SP3, 4, SB, and other things to fix.

Firmware updated or not, this is the is the worst Launch of a new product that I have ever experienced. My Surface Pro 4 is 2 days old and has locked up about 12 times. Now after trying a recovery to start fresh I locked up at 99% and now will not reinstall windows from the recovery. Total Fail Microsoft. P.S. the Surface does NOT play well with Google apps. This is going back to Best Buy. P.S. Battery life is approx 6 hrs I don't care what anyone says
Windows Central Newsletter
Get the best of Windows Central in in your inbox, every day!
Thank you for signing up to Windows Central. You will receive a verification email shortly.
There was a problem. Please refresh the page and try again.