Microsoft promises no more 'forced downloads' in German Windows 10 case
Microsoft pledged to stop its practice of forcing upgrade downloads as part of a German Windows 10 case.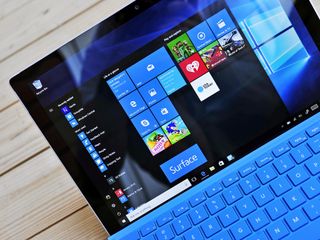 Microsoft received quite a bit of backlash during its "Get Windows 10" campaign for automatically downloading upgrade files to customers' computers before receiving consent. Now, a lawsuit filed in German courts has caused Microsoft Germany to promise never to force downloads of installation files again (via ZDNet).
The case was originally launched in 2016 by German consumer protection agency Verbraucherzentrale Baden-Württemberg. This week, Verbraucherzentrale announced success in getting Microsoft to voluntarily agree to stop the practice of forcing downloads without consent, nullifying the need for a court ruling.
"With the declaration of discontinuance the Group is obliged not to install additional installation files for new operating systems without approval on the hard disk of Windows users," a translation of the statement reads.
Of course, as ZDNet points out, Microsoft has long since ceased the offending "Get Windows 10," shifting from free upgrades to Windows 10 to now charging for the operating system. And given the fact that Microsoft' Windows as a service plan ensures that Windows 10 will simply be gradually improved over time without a major successor expected in the near future, it's unclear how this ruling will actually effect things.
Windows Central Newsletter
Get the best of Windows Central in your inbox, every day!
Dan Thorp-Lancaster is the former Editor-in-Chief of Windows Central. He began working with Windows Central, Android Central, and iMore as a news writer in 2014 and is obsessed with tech of all sorts. You can follow Dan on Twitter @DthorpL and Instagram @heyitsdtl.
Smart move by Microsoft, agree to not do something anymore you already weren't doing anymore :)

"without approval on the hard disk of Windows users "
Sooo. Those with SSD's will get it? :p

Those with SSDs might never get it, since there will never be approval on a hard disk. ;)

Is this just isolated to Germany or EU or it is a global policy going forward? It amazes me that they did not put in a hardware check before forcing updates on Windows 10 Home users with 32 gig emmc storage... it's basic common sense. There is no way on earth any one that is not tech savy will be able to do anything with such a paltry amount of storage with W10 home. They should have mandated that 64 Gig has to be the minimum, every weekend until recently I kept getting calls "I cannot store anything as it says my hard disk is full". *Face palm* This is why Windows As A service on 32 gig storage does not work at all and plus you don't even get 32gigs of storage - more like 8 gigs after installing a light weight A/V / Firewall / Office 365 and Windows. That 8 gigs disappears due to Windows Updates.

Was it just the Windows 10 upgrade? I thought the Anniversary Update and the Creators Update also downloaded the program files in the background even if you had automatic updates deferred. I've got "Windows.~WS" and "ESD" folders on my system dated April 5, 2017 even though I didn't get the Creators Update until about a month ago.

They should have asked the court to levy heavy punitive fines on Microsoft for this practice during the Win10 free upgrade era; and not simply let Microsoft get away with this anti-consumer practice.

Forcing a company to leave their product open to attack is a ridiculous. Hope they solve this by adding a button labeled, "disable my computer and block all future security updates". at the same time, provide instructions how to do this on their phones.

Haha! "disable my computer and block all future security updates" would be a perfect clapback.

When they bundle security updates with feature changes/spyware (telemetry)/software automatic removal, you can force them. Microsoft has the resources to split the upgrades to "security" and "features". Google does this with Android.

Microsoft has separated security & feature updates as well with notable exceptions, back in the day, people paid for said feature updates and/or had to buy new hardware.
To Microsoft's credit, they're giving away feature updates (for free) and are supporting in most cases, really old hardware for literally hundreds of millions of different device configurations.
Android on the other hand, is not providing feature & security updates for most devices (especially if they're more than a year old) and most devices have similar hardware configurations.
As for the spyware nonsense, there is no bigger offender than your beloved Android/Google.
Microsoft is streamlining it's OS (no different than anyone else) and I for one, hope they continue along this path.

Damage is already done. How can you make the X button accepting Windows 10?

I do shutdown completely once a while, no prob so far...