Microsoft is excited about Windows 10 app store growth, promises more to come for developers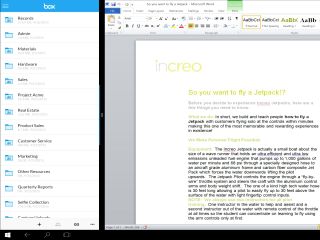 Microsoft announced earlier this week that Windows 10 was now available on over 200 million devices since it launch on July 29. Now, the company is promoting the growth of its Windows Store to developers since the launch, with the promise of more improvements and features to come.
Microsoft stated:
Microsoft will be improving the Windows Store for app developers in 2016, including adding more support for carrier billing, including recurring subscription options for apps, adding more support for porting apps from the web, Silverlight and iOS to Windows 10 and better marketing and promotions for app sales. Microsoft will also be improving the submission process so it takes less time to publish apps in the store.
Source: Microsoft
Windows Central Newsletter
Get the best of Windows Central in in your inbox, every day!
And this is how you make an OS free :) App Store .

Now for the killer move that will attract even more developers:
Don't charge any fees for publishing new universal apps for one year.
Common MS. Be bold.

Really? 20$ is the problem? It is hard to justify your reasoning even for teenage developers... Actually, I would say follow Apple. Increase the price to 100$ a year (OK I agree with you that first year could be some less (but not free) to encourage people to try). That will keep only quality apps in the Store which is good for everyone. The better move would be to lower that 30% fee for the first year (and maybe even permanently - Microsoft pays from that bank fees and they are not the same percentage for 1$ and 10$ app, so for 10$ it could be lower).

Yeah, that'd be bad. 24 year old me coding as a hobby. $18 fine, but I would never pay $100 for the honor of working 100+ hours on my app so that the Windows Store could then not list my app under any of the assigned keywords, randomly delete reviews I had received, and make $0 in return as a result of being practically invisible in the store combined with the tight wallets of your average WP user on a budget. The 3rd party devs who built the Windows store when major companies snubbed it would all but disappear. It isn't worth it.

So, then write for iOS. Seriously. You will actually get a useful lesson. As much as many here will want to disagree, Apple has taught developers and consumers of mobile applications what to expect when designing, acquiring and using a quality mobile application. That mindset will (hopefully) lead those venturing over to Windows 10 to create better, higher quality applications and fewer web wrappers and glorified XML readers. Microsoft needs developers who care as much about design and presentation as their own teams (behind Office, MS Studio games, etc.) and those who do the most business on iOS.

This thing is though, that's the problem. I don't want your app that you did as a hobby on the store. I don't mean to be a jerk, but I want serious apps that people expect to support and make money off of.

Hear, hear. ;| Now...@Axmantim...with that said...let's remember that most great developers began working for a much larger company. Only after they went home each night to work on their passion projects did we see many of the most groundbreaking apps of the last several years.

Exactly that. It is better to have 100 good apps on the Store than 1,000,000 useless apps. If one can't earn 8$ a month in long term for all his apps one should be thankful that someone has said to him to invest his time in something people will appreciate more.

MyTube is basically a hobby app. It's from one developer in his spare time as he goes to school. What makes you want to download something is the rating and trying it out. Who cares if it's a hobbyist's app. If it's good the sweat, download it. If it's not then uninstall and give it a bad rating.

I don't have anything against hobby apps. Just there is a lot of crap (that is not necessary a hobby), we can all agree with that. Some level of Darwinism cannot be considered bad.

Awesome....bring it on...but must not compromise quality in favor of quantity

Think that ship sailed long ago......

All app stores have garbage in, but there are some really good modern Windows store apps now.

None of them are better than on ios, though

Oh shut up. Have you ever tried Poki? It's way better than official pocket app on ios, android or Web

That's the point. We want good first party apps, not great third party. I mean, it's good that we have myTube, 6tag, etc. But wouldn't it be great if we had a great instagram app? The same goes Twitter, Facebook, Swarm, foursquare, etc. Regular people (unlike us geeks) are looking for official apps, not third party solutions for said apps. That's the problem with Windows app store at the moment.

"We want ok apps made by brand name companies rather than great apps made by people passionate about their work" ...yeah, ok.

Yeah, I'm scratching my head also.

He is not wrong though, be realistic. Do you think an average apple user would see having no official apps on the OS a good thing?

Why not have both? Why must we have one or the other? Having both is the solution - options, options, options.

My tube is rubbish, you can't even minimise videos while browsing YouTube channels in MyTube, you can it the official YouTube app on iOS and Android. Posted via the Windows Central App for Android

And thsts a fact, if WP fan can't accept that, it isn't my problem. Even Microsoft's own productivity apps are better on iOS and Android. Posted via the Windows Central App for Android

There's a lot of quality buried in there. Today I looked at a section of "people also liked" and found some awesome games I never have seen before.

Could you suggest some for us??

Agreed all have rubbish and ms is getting better. But the iOS store is as far as app stores go the best at the moment.

Which is why I'm hoping the bridge is successful.

the ios store didn't get to where it is over night, let's not over look that pretty important detail lol.


It didn't take over 5 years for it to get good either.

thats true but they have problems in other area's like their older model upgrades since they go back a bit farther in their model upgrades than Android would which their limit is about a year and half before cut off models. Apple seems to have an issue that OS updates are not optomized properly with new OS updates on the 4s and some five series. It flags speeds, crashes, and slows down preformance issues to the point the bone basically flatlines and your forced to buy a newer model. theres been lawsuit claims thrown around about it with thousands of people signing up to be apart of it, i personally dont know if it will continue or apple will fix this with more updates because it was a bad download. Android always has issues with their new OS updates and i can count that myself with my tablet, kitkat and lolliop both had battery issues screen, sync, lag, and screen sharing issues that were never addressed with both patch updates. Im hoping marshmellow comes to my tablet still and isnt at the cut off line and that it will fix these issues for me. both also have junk and issues with their app stores as well, IOS is more developer based and doesnt work off of 3rd party to miniumize threats. while android is open sources which allows malware, spyware and viruses in app that can lag and destroy your device. but its just something else to show even the best makes mistakes and has issues, no company is perfect and Windows is a baby compared to apple and android so id rather have them take their time and get it as best as they can and work out any issues and bring developers at their own speed if it take another year or 2 thats fine. everything is looking better week by week so its good for the most part.

Windows has had 5 years to get it right and they've ultimately failed, look at Windows 10 mobile, sure it may improve but first impressions count. Posted via the Windows Central App for Android

It's a shame they removed the reduced store's cut from above $10 000 earnings.

Every app here on windows phone when i tried to compare it with ios or even droid one...i feel damn it...why did i even bothered to compare them...e.g piano tiles,facebook,twitter,music,...the list goes on and on

And now please don't put so much time in developing apps for ios and android. I don't see those companies make apps for windows 10. Promote your own os, and make it better. You still can't make the YouTube app coz google is still blocking that.

I think the strategy is paying off. Apple supports MS on the back end (look at siri) and makes google look like an ass since they block their apps on MS platforms. All while tapping into new markets on competitors platforms.

Eh? That's news to me. How is Apple supporting Microsoft?

Apple's siri used to be powered by google which apple replaced by bing :)

Woah really? I just knew. Even though this is a plus for Microsoft, why did Apple switch in the first time?

Apple is trying to reduce it's reliance on it's main competitor. They created Apple Maps for the same reason.

Apple isn't "supporting" Microsoft, Microsoft pays money to Apple to be Siri's search engine.

youtube app on android has terrible layout, TERRIBLE! :D

MyTube and MetroTube are way better than official YouTube app for android

Perfect Tube FTW. My current favourite. Unstream, Metro Commander, Groove, the Office apps, all excellent Store Apps.

Yeah, specially the casting feature in those apps.... Please!

The official YouTube app for iOS and Android is better than the third party MyTube and every other inferior WP alternative. Posted via the Windows Central App for Android

They are, by showing off the services... And also make a profit doing it.

Google wants to aim e commerce with alphabet Inc. That's the only region left where their ads business will pay off well. U tube as a service is good for them and going e commerce is the best thing their doing right now. Amazon from now will have intense competition bcoz google would compete with amazon in e commerce and Microsoft with Azure. So Microsoft should be alert what's Google's intention are bcoz Google's main threat is facebook in ads business so they want to get rid off Facebook in any case.

It's already so much easier to deal with than the iOS app store.

Apps have recurring subscriptions? Staying aways from those.

Actually, I think this would allow high end Software to be sold at the store like abode creative cloud and AutoCAD.

Adobe, Autodesk, Corel, Allegorithmic, Corona Renderer.... etc etc have subscriptions... are you staying away from them? sounds like a silly advice from you, when most companies are going the subscription way which can be cheaper than buying all the software at full price in many cases.

Especially after they release a major update and you get to install it as part of the subscription. Staying up to date is the best part of this subscription model.

I don't consider your examples as apps. Those are programs.

Developers need to be paid. Even the most simple app in the store need an efforts.

netflix, office 365, news/magazines apps (like WSJ), etc..

But I dont pay my Netflix account through the app store, that is directly with them. Same with my Office 365 account, its through my MS account not the app store. Besides in those examples I'm not paying for the app, I'm paying for a service which may use an app but also not.

For example every app that syncs content must pay some money to someone (e.g. Microsoft) every month. If it doesn't have a subscription, it can't work. Developer can promise you whatever but it just can't in the long term. If you want devs to work something they must get some money or they will leave sooner or later. So at the end it doesn't pay to be cheap. Just to note that except very few dozen or so most app devs get less than 1000$ a month on the Windows Store.

Now what about Windows Phone?

Nope. Three w10 apps i wan't on my phone but are 'not available for this device'. Keep in mind that developers can choose whether their apps are also downlaodable on phones. Just because it's a W10 'universal' app doesn't mean the developer will allow it to be available for phones. For a myriad of reasons.

I don't like alot about the win10 mobile store. No more side loading. On the updates list i can't click on the app and be sent to its page. After pressing the download arrow, it takes forever for the download to initiate wether im on data or wifi.

That option to click the app is in the Windows Feedback area. Why not search for it and upvote it?

Takes only 1-5 seconds for me. Usually much closer to 1 than 5

I wish Windows updates would come through the store. Hopefully Redstone gets rid of "Windows Update". Oh, and apps should be removed from the Store after an hour or so after reporting.

I also prefer updates through the store but it seems MS have abandoned the idea after trying it with going from 8 to 8.1

Good. The experience of going from 8 --> 8.1 using the store was the worst upgrade experience I've ever had.

As long as it isn't like the 8 -> 8.1 update (I had terrible experiences with two PCs, no problem in one), I agree.

That would take a lot of effort, first they have check of the report is accurate than test if it's true or not. And that's just the basics. So an hour seems optimistic to me.

removal within an hour of a report? sounds ripe for abuse.

Well if these apps are horse feaces or are missing, (Facebook, twitter, Instagram and Snapchat) the store will always be trash

Facebook, twitter and instagram are in the store.

1) sucks on desktop
2) sucks on phone
3) sucks

+1 Posted via the Windows Central App for Android

They are piss poor and dragging down the wp/w10 store

For you maybe, I however do not use any of those apps.

Don't use the official ones. Get 3rd party ones but make sure to leave a review for the official ones telling them that they are trash.

Until they fix the search so people can find apps, the Store will be a failure.

What he said. Search is terrible. Fix please. Soon. Like first. Then fix the porting of iOS apps.

Searching works fine for me

Search is quite terrible actually. When I search for my new app using exact name it shows up quickly in the list of suggestions but as soon as you click search it fails to find it and just displays a few "close" matches thar are not close at all. When I do get the page for my app to show and click "More from this publisher" link it fails to find my new app still but will happily display my old Windows Phone 8 app.

Store doesn't work, calendar doesn't work, tubecast doesn't work.Store app growth my behind.
With brand new installed W10pro all works fine.
It is nice to see how others care if you have problems. Thank you.

Those sound like personal problems.

My store, calendar work perfectly. Don't use tubecast so I don't know.

Only becuause YOU (did you read it well: YOU) get these problems, it doesn't mean all other Windows users get them, alot of people have clean installed their Windwos 10 to avoid problems like that, but others have upgraded with no problems even if upgrades sometimes get messed up. You haven't even tried to fix it, I am sure you have never tried to make another account and see if that works there. you haven't even tried to make an upgrade of Windows 10 over Windows 10. and less try to clean install to see if it fixes the problems. but you have time to come here and complain about something that only happen to you and some users. Everything on Windows 10 works here fine, better than 5 months ago or with windows 8.

Sorry for my stupidity. Been using W10TP now W10IP from beginning on PC,Lumia1520 and 535 since beginning. Nothing like that didn't happened before.

You don't think microsoft would be working on this if it were a wide spread problem?

Tubecast and other things works good for me. I was having a little problems with somethings and did a hard reset so now sone if problems fixed but added a few new problems. I think it will be okey on official release.

What about project astoria?? Is it dead?

I don't think so. If you look at Google's changes away from their own jvm and move to Oracles, add in Oracle + MS collaborating on a lot now, and I think you'll see it return in a much different fashion. So I guess, yes, project astoria as we knew it is dead, but something will be coming from its ashes this year I would bet.

I see you've also read an article from Ed Bott

Delayed indefinitely because Windows slowed down due to the Android subsystem.

Yes. However, my Lumia 830 with the latest preview build suffers from OS level slowdown that was originally blamed on Astoria code. The Astoria project was flawed from its inception. Repackaging Android apps and having a runtime layer on Windows was a bad call. Project Islandwood, or as it's now known, Windows Bridge for iOS, is a much smarter implementation whereby the source is compiled by the developer into a native Windows App. FWIW: Astoria was Windows 10 Mobile only, This is Windows 10 store, which at this point is still very much desktop facing, as MS have only just launched WIndows 10 Mobile devices.

Cool....now how about we see some of that store growth on the phone front #stillplayingdoodlejump

Banks, banks, and banks. Did I mention banks?

How many banks do you use? Reach out to them and request the app. At least tweet them. I just asked the CMO of Lyft about an app yesterday. Still waiting for a reply.

Ally and Wells Fargo is still there. Bank of America is rumored to be headed back.

Update apps individually through the STORE on win 8.1 update ? _ that's News to me !!

I hope they concentrate their efforts on bringing Win32 apps to the Store. Windows has got a mountain full of apps spread across the Web, they just need to make them available through the Store. It hurts when reviewers say that Windows Store still lacks apps. I mean, its so idiotic that they judge the PC's app catalogue just on the basis of the Store. It's sends a wrong message to the viewers.

30% fee is a showstopper. I suppose store still allows to set up your own payment system but too much trouble with too little gain for many. Nadella should compete with price until store is viable.

What about the new FB messenger they promised?

Lots of numbers. What is missing? Revenue. Even Apple spills the beans, what is Nadella hiding?

Microsoft share price has risen 20% ytd. Apple share price down by 20% ytd. And Apple has even more problems with iPad sales decreasing every quarter. Even more bad news for Apple: http://www.bing.com/news/apiclick.aspx?ref=BDIGeneric&aid=5021FF6D1971DE...

Windows 10 Mobile about to rise from the ashes!!! Engage!!!

"a 2x increase in the number of paid transactions" - How many of those were ten cent purchases during their holiday sale? http://bit.ly/1OAyhjI

Does it matter? They are trying to make a point that traffic is growing.

Microsoft might be "excited" but I can assure you the average consumer is not. Those consumers who want their local mass transfit app, or their banking or credit cards apps, or Snapchat...those are the consumers who are staying away from Windows because of this

Do all my banking etc on Windows Mobile - if you can't change to a decent bank!

They need to start giving dates and more solid time frames instead of this coming soon crap

I really want Windows 10 to succeed. But at the moment, I have switched over to Android Lollipop, and will switch back only when I find a truly compelling reason to switch back to Windows Phone, because the apps which I use on Android are far more superior in features and functionality when compared to their Windows counterparts. I do agree that as an OS alone, it does some really good work, but I honestly feel that it still needs a lot of improvements.

Waiting for Windows 10 Mobile news.

Ive been developing for Windows 10 for a while now, and they really improved a lot. The store is more user-friendly (backend-wise) and the development tools are a joy to work with. Everything works as it should and feels more stable and fluid to develop with.

Thank you for developing for us. Do you have any apps out yet?

And these are things that the average consumer does not see/notice. It's good to know that Microsoft is making an effort to improve things for developers.

It would be cool if Windows Central maintained a list of (new) Universal apps. The MS store does not make a clear distinction and the new universal apps get overlooked.

I remember back in the Windows 8 days, the store would display a symbol of a phone/tablet to signify it's availability.

Yep, Windows 8 and Phone have the universal app symbol in the store

It really is amazing that on the Windows Phone marketplace, the developers actually respond to you about issues with their apps. They work with you to resolve just about any problem and provide a swift update to the store incredibly fast. Rock solid developers in this regard include The Rocket Studio, Benjamin Roux, and RetroSouls. However.. when dealing with Android apps.. it's a whole different story. Developers don't even acknowledge you, as if it's simply a user error if something isn't working correctly. Sad days.

I would like to see the number of ratings after the stars when searching for apps. I don't want to open an app with five stars just to see it has only one rating.

They now need to improve both the dev dashboard and the Store app, to be at the level of apple/google too...

Would be a nice first step, if Facebook, Tumbl, VK, Instagram would finally release UniApps with full support.... right now, its a mess :(

Windows Mobile may be the future of phones...

They only need to allow the Store to be a business for software houses/companies investing on apps (ie reducing their 30% fee on every sold app, like Samsung did with Tizen, with great results).

That only averages out to 15 Store visits per Windows 10 user/installation. That doesn't seem very good.

First microcrap needs to fix all the windows 10 screwups. Like the app store not working before they should be excited about anything .my appstore has not worked in 2 months hell it won't even open on my laptop its just a white screen .my start screen won't work and several more problems with Windows 10 that needs to be fixed before they should be excited about a damn thing

What is Microcrap? You do realize you can state your grievances without being childish?

create a partition and reinstall.

Hey rodneyej, they mentioned "better marketing and promotions". Go nuts bro :)

Waiting for carrier billing. Tired of the store not accepting my card number >:(

Android N is the last version of android I think..DEVELOPMENT IN WINDOWS UNIVERSAL WILL BE THE FUTURE.

now heres an interesting w10 article https://technet.microsoft.com/en-us/library/mt637100.aspx?MC=Windows&MC=DOS

Make an app for YouTube plssss
Windows Central Newsletter
Thank you for signing up to Windows Central. You will receive a verification email shortly.
There was a problem. Please refresh the page and try again.