Microsoft provides custom background template for the NXOE update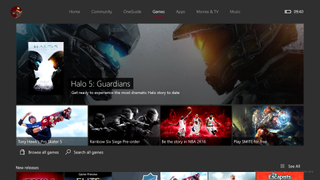 The release of the New Xbox One Experience update for Microsoft's console last week may also mean it's time to refresh that custom background as well. Thankfully, Microsoft has that covered with a special template that can be used to quickly made such a background that fits with the new user interface.
Xbox Live's director of programming Larry "Major Nelson" Hryb stats:
You can download the 7MB .PSD file for the template at Microsoft's site. The company's support site has the info on how to set up that background on the UI.
Upload and share your custom Xbox One backgrounds in our forums!
Source: Major Nelson
Windows Central Newsletter
Get the best of Windows Central in your inbox, every day!
I expect to see a forum and article of what the WC community can come up with. Seems Faster ™ and ninja cat unicorns, GO!

I wish they included some different background images in the new update besides achievments and solid colors. It would be nice if they included a place to download some (like you can do with regular windows desktops). Using a thumb drive to do images is a bit of a pain. Unless, of course, I am missing the correct way of doing it.

I added some pictures to Plex that I already have setup and you can connect to that or any other DLNA Server on your network - Still annoying you can't get them from OneDrive but I found it quicker than putting onto a thumb drive

You can always browse the web for one.

I've never been able to get it to connect to my open share on my Windows 10 desktop so using a flash drive is the only option for me as well.

I had to look up an article to figure out how to do it for windows 10. Make sure your laptop is connected to the same network as your Xbox, click the start button, and type "streaming". From there you should be able to access the media device streaming options that are in the old windows 7 interface and allow your Xbox to access streaming content.

Its surprising that they didn't add bing images

Well hopefully we get something like Spotlight but for our Xbox One backgrounds. Either that or just have it automatically set to the Bing image of the day

Have a choice to have it sync with your Windows 10 desktop theme would be nice.

Thank you for the article. I now have Bioshock Rapture as my background :) Too bad the big tile on the home page covers up most of it :(

Or, you know, they could fixed the tv app so that items running in the background don't make the video stutter. But, background templates, yay!

#we need one drive photos use for a custom background

Xbox One Experience is the same as W10 for Xbox One ? I'm kind of confused, if there some universal apps advantage with this update besides the faster performance and new features ?

So you need to download adobe Photoshop for using the template?