Microsoft pushes updated Camera app with new UI and features to Release Preview and Slow Rings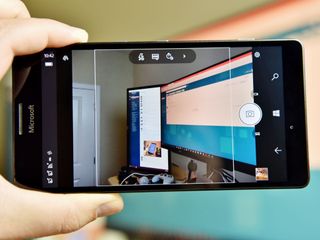 Just three days ago Microsoft pushed an updated camera app with a new UI, new time-lapse feature, and improved startup times to the Insider Fast Ring. In rapid turnaround the company is pushing the app to Release Preview and Slow Ring, both of which also received an OS update.
Build 1018.11 is now live in the Slow and Release Preview Rings, which is a bump from the previous 816.91.
Here is the full changelog per Microsoft:
Enjoy taking photos, videos, and panoramas with our higher-contrast capture buttons.
Set a photo timer right from the camera dashboard with our new toggle control.
Get to Settings faster! Now, launch into Settings directly from the camera UI.
Access your camera roll with one hand from its new spot on the screen.
Zoom more easily with the new zoom slider.
Make sure you nailed the shot, with a more noticeable capture animation.
Change between front- and rear-facing cameras with a more prominent button control.
On PC, use the spacebar as a shortcut to take pictures
Note Some features may vary from device to device. We tested the update on a Lumia 950 and not legacy devices.
It's great to see the new camera app hitting those Rings so quickly. The timing also means that Production should get the app update either on November 1 or the 8th when the company releases its next set of cumulative updates.
Are you enjoying the new Microsoft Camera app? Let us know in comments!
Thanks Kumar S., for the tip!
Download Windows Camera from the Windows Store (opens in new tab)
Daniel Rubino is the Editor-in-chief of Windows Central, head reviewer, podcast co-host, and analyst. He has been here covering Microsoft since 2007 when this site was called WMExperts (and later Windows Phone Central). His interests include Windows, Microsoft Surface, laptops, next-gen computing, and for some reason, watches. Before all this tech stuff, he worked on a Ph.D. in linguistics and ran the projectors at movie theaters, which has done absolutely nothing for his career.
I've had this update for a couple of days now. Lumia 930 on production ring.

If you do, it's an accident. This has not been released to Production (looking down at multiple phones running Production).

Hey Dan, just got the update on my 1520, but I'm not seeing the timer. Is it not available for my device?

Some of the features may be restricted, yes. Microsoft was not very clear on that and we have not checked every make/model.

Ok thanks. I'll just check back later if you guys get anything. The timer is still there, but in settings.

I still cant see it on my 950XL on fast ring, camera version matches this one, am very confused about this one..

Me too. I only see the filled white button (950XL). Nothing else. My photos button is still round and in the upper left corner. And I don't see any of the features. App version matches the latest mentioned here.

Very strange. My L950 has all UI changes. My L950 XL has only a few changes. The menu is the old one even though it appears now as settings icon. Taken photos icon is still on the same place. Front-facing camera toggle is still with the other camera settings and Time lapse is not there. Very strange. I do not get why new phones like 950 and 950 XL will have different experience as they are suppose to be very similar from hw perspective.

not in L950 Release Preview also

Strange, I have it on my 1020.

Hey, everyone. I was hoping that someone could help me with this riddle. When initially received this update, there was no changes in preview icon, camera switcher. Only the high contrast capture icon had changed, and there was no time lapse feature. This was few days ago. Today I woke up to find that the app has undergone some changes. All the new features have appeared, but the panorama option has completely disappeared. How is that possible? P.S. - I have automatic app updates switched off in the store, and the version number of the camera is still the same.

I was on the slow ring until Windows 10 mobile was officially available, then changed to production. Maybe that's why I received it.

Out of the topic, WC app is taking about 8-9 attempts to start. Lumia 640 here. Any updates coming for that?

Do you have Windows 10 Mobile app or Windows Phone 8 app? I had the same problem on my 640 XL when the former was installed on external drive, but got it fixed when moved the app to internal drive. Hope this helps! :)

Me too I don't have he timer on my 830

I'm on production and have this version as well on my 950xl

Hey, Daniel! I'm running .351 with the latest camera update on my Lumia 650. Everything except camera toggle button and preview circle have not changed.

Hmm, strange.. I'm running .321 Release preview on Lumia 650 Dual and I have all of the new features..

Hi. Guess it's now available in production ring and non-insiders. I have updated it on my Lumia 930 (Non-insider).

Got this on my Lumia 635.

I got this update too...L950 on production!

I still don't have it on production either... Hopefully with these quick turn around it will hit in the next couple of weeks.

Got it on production, too. L950

Me too got it in production. Lumia 730

Me too. Still buggy as hell. Flash+hdr work only in 1st photo, App crashes, lots of saving time, photo visualization goes to a black screen... I wish Microsoft rolled back a year of its camera App because this looks like a beta software.

Did you even look at the new camera app for release preview??? There are several things missing like my pic preview is still in the same place and still a circle, there's no living capture, and the switch camera button hasn't moved! Please update the article lest you seem Dumb asf!

Sorry I got a bit carried away there, my bad please update article tho

Restart your device and check again for the Store update. And yes, I'm running it on my phone you super friendly person, you. Also, I will delete your comment for being a jerk.

Im sorry for that as I said I got carried away, but I have already installed update my camera button looks just like in that picture but those features stated above aren't here, like circle still in same place not square, and switch camera button same place as before

Lumia 640 LTE, again sorry for being rude

O oo, I guest you have to do a reset. :(

Hmm bit of anger management required there.. But I am facing the same issue. 950XL on fast ring, I got the new camera update and version matches but I don't have the new layout or functions. Although the camera button is now solid white so something has updated but not everything. Very odd! Have rebooted etc, not wanting to reset though as everything is running peachy right now apart from this...

I have the same issue but don't want to reset as everything else is running great. I'll wait and hope for Microsoft to fix this bug.

My camera app looks like the picture. Sounds like you need to update.

Hey, have you guys noticed any issues with certain phones only getting certain features from this update? I've had photos update twice on my Lumia Icon fast ring build and the only change has been adding the white to the camera icon, the settings icon changed, and the addition of the zoom bar.

In the other article for Fast Ring, some people did report that. For some, it cleared up after a reset of the device. Others had another update. It's not entirely clear what is happening.

Copy that, thanks! I guess I'll keep an eye out for a new update once that new build moves past %0

Sorry I realize this is the wrong form but having a VERY hard time getting a straight answer. Is the option of phone numbers being links to the dialer every going to happen? This is such a basic function. Repeated updates to the OS and Mail and Calendar apps but still nothing with phone #'s. Is there something about the OS that is preventing this?

You're right, this is the wrong forum. You are looking for the feedback hub. No one here can give 100% certainty that something will come unless it's been officially announced.

Do you have 640xl? Can you please check if HDR images works? It does not get saved for me. Should i do a hard reset?

I'm on Developer ring and updates camera just now. I have the new contract on the buttons but the review icon is still a circle in the upper left not on the bottom right 950xl

Did Microsoft add a new ring? How do I jump to Developer ring?
/s

I got the update on my Release Preview 950 XL, and the version number is indeed 1018.11. However, the button placement for photo review, switch between main/secondary cameras, and the quick access to the timer are not there as described in the article. The only differences I see are the white shutter button and the settings cog instead of the ellipsis​.

Same on my L830.
The photo preview seem a bit buggy, as it sometimes doesn't allow moving the pic after zooming in on it.

I also got update on my 950 and it's amazing

Adding the finishing touches... Indefinitely...

Yep. Same here.
That and the "Saving" love note any time I used HDR shots more than 1 per minute.
Alas, the "Saving" is still present in this new build when doing multiple shots in HDR... :-(

I hope after the camera update they still focus on building a better photo app . One that you can zoom in and out with out crashing the phone or the photo app.

And the one that doesn't loose your contact photos after repeated insider builds installation!

The Photo's app has been improving quite substantially lately.

The PC app still refuses to function with my old Logotech Pro 9000. >:(

Is this a lot stable than the current version? Mine has a lot of errors on Lumia1520 non-insider ☹

DITTO. My L640XL camera app on the latest release preview has been extremely spotty. Last weekend, I lost half the shots, which the camera app took, no crash, but the shots never made it to the camera roll. Just plain out vanished. Very frustrating. I had to fail back to the ProShot.
I hope that this new build of the camera has some stability improvements to make it actually usable.

Please fix the photo app...that is as bad as the camera app, if not worse. Photos and pictures do t show up for half an hour sometime. It should already be there before the app fully opens. Ridiculous. Sometimes deleting an photo needs to be done as many as five times before it actually happens. So many more problems.

I would like to check the status of photo and video uploads to one drive like 8.1 used to do. Sometimes it does seem like it takes 15-30 minutes before I can pull pictures to my pc. Really sucks for work.

I think that functionality is there, but not in the Camera app. It's in the OneDrive app where it actually makes more sense, since the photos go to OneDrive. Go to the OneDrive >>> hamburger menu >>> Progress >>> Camera
There you will find your pending uploads, that same page also shows your other uploads and downloads other than pictures.


It's only been out for a year and half, give it time.

Lmao. I need a laugh. Thanks.

Technically, W10M has been out since March 2016. I don't consider L950s launch date as W10M availability date.

Sorry, but the phones been out that long...so its been that long for many.

The first preview builds were out in like February of 2015...

We are talking about Windows 10 Mobile and its basic features that still have ridiculous issues.

I'm lucky to have 75mbps bradband at home, so knock on wood, the photos app has been pretty fast and dependable on my Lumia. I do see problems with it when on LTE and very low signal. That's where it starts getting weird and unpredictable with sync. Kind of makes sense. My desktop Photos app on W10 is always on wifi and too is pretty steady. It's apalling that OneDrive app on my Mac syncs the photos faster than macOS Photos app sends them to iCloud. Is your internet connection a possible culprit or are you seeing those problems on all networks?
Have you tried signing out and back into the OneDrive app? That resolved photo syncing issues for me in the past. Always. I literally see the pictures on my Lumia and my W10 laptop mere seconds after uploading them to OneDrive form my Mac.
I'm release preview.
There must be somethign wrong with your network or your build.
If your photos are not syncing right, it's not the photos app, it's likely onedrive.

The most annoying thing for me with the photo's app is that it places them in random time frames so there all over the place

This is my best frustration right now. I take a photo and want to post it and I can't because it takes forever to show up in Photos.

Never had those issues, something in your particular set up possibly. Either way though here is not the place to make such requests. You need to do that in the feedback hub otherwise you are trying to herd cats....

I'm discussing with other people to see if they have the same problem... And it appears they do. So this is just a dandy place to discuss it.

Zero issues with the Photo app. Sure, some times may take 1-2 seconds to appear, but besides that, it's fine.

I'd say even that's too long, but what some of us are talking about is literally minutes sometimes.

I got it a few hours ago on production. XD!

Got it on L640 production ring. Some nice improvements like easy timer access.

I got it too, Lumia 950 in India but no release preview, no ring.

My Surface 3 has yet to receive the update even after I hit the "Check for updates" button in the Store. Is this a normal behavior?

So does the time lapse create a video or do you have to send all the images to another program?

Add me to the list of production with this update. Used to be on insider fast until AU...then moved to production...prob. why I am getting these apps even though i am now on production.

Same here, but hey I take it ;)

Hello. Off topic, why am I unable to update the articles in this WC app? It says "pull to refresh" then says "release to refresh" and nothing happens. The same if I tap the "Refresh" button at the bottom. Help please :(

Windows camera has lots so issues. HDR option does not save file on enternal memory. Even in internal memory many times it does not apply for HDR facility. All the time image resolution is reduced to 720 pixel. This needs a proper attention for its resolution....

Good news! The Fast Ring simply has too many serious issues at present for me, so I'm doing a clean install; good to see I won't be missing out on camera goodness if I stick with Release Preview!

Savinggggggggggggggg.............

Not on release preview but got the update. But I got no time lapse or the review option stayed in the top left. I'm on a 950xl production. California. Anyone else

Great snappy update. Love the Zoom Bar

Keeps crashing when I look at my photos bottom right after taking photos on 950xl

I got the latest PreRelease build and updated Camera app last night. Works great! I love it! And I do have the timer on a 950XL. Actually the camera on the 950XL is one of the main reasons I have not defected to an Android phone. And now with the updated app it is even better!

Tired of reading all the news for insider users only. I would like to be informed of those updates only when they are available for production. Could you create two separate news sections on windowscentral? one for insiders (fast/low ring) and another for non-insider/production ring.

The only feature missing is the face cleaning effect while shooting a photo

Hold your horses. I think the camera app on windows 10 mobile is an essential one. Fast release is fine, but my experience, is that fast releases can also be buggy and feel like a rush job sometimes. For me the camera app is a vital app that needs to work great on windows out of the box. No bugginess. questions for the insiders on the slow ring: 1. Is the pinch to zoom lag in the camera roll and photo app solved after taking many picutres solved? This is a nuisance on my 950xl. If not feedback the hell out of this bug on insiders! 2. Is burstmode fixed in this build? On both the 1520 and 950xl, the burst picture taking doesn't perform consistently with autofocus. The first batch of burst photos works fine on both phones, the 950xl clearly faster at 3-4 images per second and the lumi 1520 1-2 images per second. But after the camera button is released both phones go into a time out to save the photos. When the autosave prompt is gone, the camera sometimes does allow 6 burstsnaps, sometimes it takes two and autosaves, sometimes 3. Downgrading image quality to 5 (lumia 1520) or 8 (950xl) megapixels with no DNG helps in performs, but the inconsistencies in performance or the burst is still there. What I experience is that I never really know if the next series of bursts is going to work, making it a guestimate if I will be able to reliably catch those precious moments on camera. In this regard it is nice that microsoft decided to upgrade the UI, but if the basics don't work, whats the value of a UI update? A polished outer look to hide relevant imperfections? My experience with timelapse is that it takes time to capture enough images for a relevant capture. For a relevant timelapse movie you need at least 15-30 minutes of timplapse capture, preferably 60 minutes or more if possible. As I can see that will be 15-30 minutes of continuous onscreen time, that is a huge drain on the battery, whilst it is only necessary to for the camera to work under lockscreen. For timelapse, no one is going to hold the camera in the hands for 15-30 minutes, you're going to put it down somewhere, becuase time lapse takes a while and putting it down creates more consistent and stable images from image to image. This function therefore needs to have a screen off time, whilst the camera still takes picutres. But nobody is talking about this. It is a relevant issue I have experienced with my lumia 1520 in the last 4 years. An app like timelapse pro has a screen off-time function during timelapse photography. I hope the camera app does have a run under lockscreen with screen off function. Otherwise it is going to be a useless feature. Anyone know if this is the case? Otherwise a request to insiders for windows 10 mobile to feedback the hell out of the camera app to fix this issue. Otherwise there it is going to be a poor experience to have such a timelapse feature supported on windows 10 mobile camera app, and you're going to be disappointed with the battery life performance in the long run. Another advantage of screen of is that it prevents accidental termination of the timelapse function. Oh, gosh, how many times that has happened, extremelyh frustrating! I had to start all over, missed my precious moment and wasted time waiting. Traumatic! All else, the upcoming updates sound cool!

I hope they fix infinity zoom too. When i use manuel zoom, my L950 shots incredible photos. But i use auto zoom it fails often.

Well I don't have the zoom slider to zoom in or out on my L535...anyone else?

I have all the features on my 640XL. However, I did a complete reset of my phone 2 days ago by using the recovery tool(and updated straight after from 8.1 back to the newest build). Before that, it only showed a new camera button and that was all what's changed.

This truly the weirdest Insider-rings related app update I've seen to date... I got it on my Lumia 830 days ago which is on Fast Ring of course: it has al mentioned features, like timer, shifting around of functions and the time lapse. The version number of this is: 2016.1016.11 The version that came to RP and Slow rings (which I'm running on L950DS and L650DS) seems to be version 2016.1018.11, so in fact newer, but it lacks aforementioned features, it just has the white shutter release.
Awkward situation indeed... ;-)

Is that panorama option available for lumia 640 LTE?

I'd just be happy if they got HDR working right on my production 1520. Only works about a third of the time.

I received the new Camera app this morning on my 630 with redstone on production ring. It has all the features, very cool update.

Same issues with HDR and 950XL here.....

I still don't have it on the Release Preview on my L950XL... No update available

This update is much faster. Now just need a louder shutter sound and to shave about 3-5 seconds of the post processing.

I dont see the timer option in 950 Release Preview. I only have the white buttons

Same for me, i have also 950

Same here on my 950 Fast Ring. No timer, no square "photo preview" icon on the down right side, only the white camera shutter button.

I seem to have everything on my Icon Release Preview. I did have to go to the store to download the 'update', then I reset my phone. Can't wait to try it out this weekend.

Wish they would do slow motion option

The slow motion option is availible in the video mode, right?

Release preview, att 950. Looks and works as described for me.

Yeah im also wishing.. its great that if they can add slow motion option :)

I just tested it outside, and all I can say is please bring back the previous ui! this is a l640 and I don't know if it is me, but this one is very slow, very! Also living images are basically gone, as you have to click on image to see living image which is jacked up. Only good thing is the switch for front camera is now all the way in the upper right corner, so I no longer accidentally hit background rather than the switch. Interface looks ghastly, not like before.

My Lumia 950 is on Fast Ring and the Camera got updated after I update to build 14951.1, however not all the UI changes mentioned above is present on my Camera app. The Toggle for "Photos" is still round and is on the upper left of the screen, the Settings toggle is present replacing the elipsis. I don't have a timer also on the quick menu on the top which is supposed to be next to HDR.

Camera app is of absolutely no use to desktop PC users but it can't be uninstalled

This thing is useless. At the Austin F1 race and it's so buggy. App hangs, photo burst works sometimes, video playback hangs. Super frustrating, so weak...

One thing is for sure though.....the app is snappier.....and brings back the fun in lumia series camera....!!
Windows Central Newsletter