Microsoft quietly debuts new Nokia BH-222 headset in the UK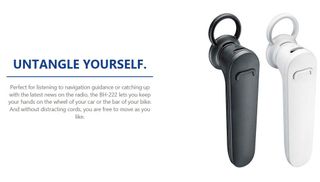 Without much fanfare, Microsoft had quietly unveiled the Nokia BH-222, which is a Bluetooth headset, for the U.K. The headset is still marked as "coming soon" in the UK store, and pricing information isn't quite available at this time. The discreet Bluetooth headset will allow you to make and take calls as well as listen to music.
Operating on the Bluetooth 3.0 standard, the headset supports 5 hours of talk time or music playback with 4 days of standby time. Given that Cortana is debuting on many of Microsoft's latest Windows Phone devices (depending on the region), including the recommended pairing with a Lumia 630 or Lumia 635, being able to use Cortana while your phone is tucked away may be a nice feature for those who need constant access to their digital assistant.
There's still no word on if or when this accessory will be headed to the U.S.
Do you still use a Bluetooth headset? Let us know what you think of this latest Microsoft accessory in the comments.
Thanks, Ed, for the tip!
Source: Microsoft UK (opens in new tab)
Chuong's passion for gadgets began with the humble PDA. Since then, he has covered a range of consumer and enterprise devices, raning from smartphones to tablets, laptops to desktops and everything in between for publications like Pocketnow, Digital Trends, Wareable, Paste Magazine, and TechRadar in the past before joining the awesome team at Windows Central. Based in the San Francisco Bay Area, when not working, he likes exploring the diverse and eclectic food scene, taking short jaunts to wine country, soaking in the sun along California's coast, consuming news, and finding new hiking trails.
no make different with another headset

Yea, I'd be happy with a decent pair of earbuds which had compatible controls. Everything that's worth a damn is for Apple controls.

Recently bought the Nokia BH121 to use with B&O earphone...you can use any earphones, regardless of the brand with full WP integration...

http://phoneboy.com/2776/nokia-stereo-bluetooth-headset-bh-604/

Definitely would be nice to access Cortana with my headset

I already use Plantronic BackBeat Go2 for 1.5 month long and it too can be used to access Cortana... It's a great Headset for Music Listening whether when exercising and normal... It's also a Nice Necklace too (like ab ad huh)

Do ppl really still buy this kind of product ?

Hmmm last time I checked I was still ppl, of course this might have changed since this morning LOL

Yes, but I still say not enough people use them while driving.

I certainly use one while driving

Me too... Though mine is the not the "mono" (what is it called?) type.

Sp12er, I believe the word you're looking for is "stereo".

Nah, dont use one, I get more texts then calls, but, I got Cortana for that and a quiet car so it's easy to reply to a text with Cortanan when driving 80mph down the highway..

If you get texts then calls, you get as many texts as you do calls.

They are very useful for driving. Accessing Cortana is very practical and more people should use it. In parts of the world you can get 3 years in prison if you have a car crash whilst using a mobile. Hands free bypasses this!

Do you know why they launch these products just in the UK? I wanted the BH-121 but if I want to export something to my country it has to be from USA Amazon and it's available just in the UK like this one.

The bh-121 was like a fart in the wind

A fart that I would like to smell lol

It's an in ear holder, so that you don't have to use an over the ear hook

Yes, it acts like a soft spring to hold the headset in place

Its an earring, so it can hang freely. :D

Nokia bh is the best. I use bh-310 @work, can't do w/out it.

Very nice. Think I'll be getting one of these

Surely Bluetooth 4 would be better, better standby, then switch to Bluetooth 3 when a call comes in?

Should be... A longer standby time for things like this will be much appreciated.

I always use an earpiece, currently the Motorola Whisper. Holding a mobile device to my ear feels awkward now.

I want a stereo Bluetooth headset. I need one for jogging. :)

I have Plantronic Back Beat Go2... And its a perfect headset that's go with your needs... (even Cortana too)

I use the Luna headset in Cyan. Works a treat - never runs out. I charge the pebble/case once a week on my drive to work and otherwise the earpiece stays full. And it works with Cortana quite well to recognise my commands (with my dodgy accent - Northern Irish that gets confused with South African, Australian, Canadian and American). Only looked now on Amazon, didn't realise that the Luna was as expensive as that; mine was a gift from Nokia.
I had a parrot installed a long time ago and it just doesn't cut it these days, so the Luna is perfect. Also have a Belkin Car Connect but it sounds like I'm eating gravel so its only useful for music streaming to my Aux port (gone through so so many 3.5m M-M cables over the years, none are durable enough).

My Luna does not work with Cortana, and that small button is unusable anyway

Nokia should make headset like LG! That headset was amazing !

It's a practical Bluetooth headset for phone use. Ie. Taking and receiving calls with the added bonus of allowing you to listen to music. I still use a headset like this in the office or at home because if a phone call lasts for more than 5 minutes my ear gets a bit hot as SAR from mobiles is still pretty high and depends on how much energy your phone uses. Sick of these morons who look at a device such as this which is meant for using the phone part of their smartfone and not for Dolby surround sound to listen to their music. Its a Bluetooth headset.... Nothing else...not a stereo Bluetooth headset.

Best headset I bought was the Etymotics hf2, which came highly recommended by my girlfriend who's an audiologist.

But, what about this stupid volume bug using BT headsets?.. When playing music it's serious muted!... Wasn't like that until Cyan❗❗❗❗

Should pick the plantronics m55 instead. Voice and music playback with 11h of playtime. Great bang for the buck.

That looks great! My Plantronic BackBeat Go 2 just has 4 hours music playback.

I have the m55 too, excellent product and great price on Amazon.

it might me good for doing a lot of calls, since my current bt headset is too immersive for a simple call and not so confortable at it, if this thing is priced right and has decent battery life i might be interested

Meh, I have not used one in years.....I have about 3-4 old ones, battery started to get low, I got a new one....gave up on them for a while.....

UK only? This is an outrage!

Well... For once the US doesn't get it first... Now you feel what we feel in the UK all the time !-)

Its an outrage that US gets all the good phones, web services accessories...exclusive

Had a Nokia bh-503 before.....now using jabra clipper in ear Bluetooth headset....amazing audio clarity but battery life is mediocre compared to bh 503

Please people with phablets, get a Bluetooth headset..nobody wants to see a giant phone on your head..its like we moving backwards.

This one looks really nice! I use Novero headset which can talk to Cortana too, but it lacks auto answer Nokia tech.

I have a BH-121 with normal in-ears headphone and I use it daily as a companion for my L1520.... Pretty useful for listening to music and now Cortana without touching the phone in my bag...
I can dictate and ask Cortana to send text, make calls, play a certain track of music or shuffle my music... Very good indeed... Especially while I am cycling...
Not sure about this BH-222, but I love my BH-121...

BH-310 = Best headset ever. Especially for using in car. Trust me.
NFC
Never get low bat.
Automatic hang on / hang off.

Nokia J bluetooth headset was the last premium one they made

I am in love with my Nokia Luna Bluetooth...no need to change yet...but I love the Nokia design!

Not enough people buy these i do a lot of driving in the uk and the amount of people in £30k+ cars driving one handed on phones really annoys me! you can get a good bluetooth headset for £14.99 or less but they think THEY don't have too!!!!!!!!

How is this version better, or different, than any of the dozens already out there? Unless there is a significantly unique aspect of this one, that field is already kind of crowded. Posted via Windows Phone Central App

WP needs more accessories. Every good accessory is for iPhone or android.

OMG jkwfaserflvmvvvl, slurp that
Windows Central Newsletter
Thank you for signing up to Windows Central. You will receive a verification email shortly.
There was a problem. Please refresh the page and try again.