Microsoft releases preview version of revamped Skype for Windows desktop app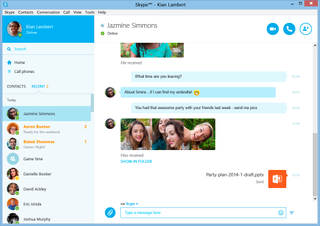 Microsoft has released a preview version of a revamped Skype app for Windows desktop users that includes a number of new features and improvements for the popular messaging and chat app.
In a blog post, Microsoft stated, "Now, you'll see thumbnail pictures of your contacts, a new bubble-style chat design, and consistent icons for chat, video calls and audio calls." It added:
The new UI now allows user to conduct video chats on one side while also texting messages and sharing photos and files on the other side. Finally, this preview version's new design offers better support for group video calls.
If you have downloaded and used this preview version, what is your opinion on the new design and features?
Source: Microsoft (opens in new tab), Skype Windows desktop preview (opens in new tab)
Windows Central Newsletter
Get the best of Windows Central in your inbox, every day!
You've already got a revamped one.. -.-

Even MS doesn't care about WP. Skype for WP always sucked

I don't know what you expect about Skype, but it works here... even if I send photos and stuff. I am sure you are just one of those complainers that see the small black spot in the big wall. but then, sometimes I wonder why people like you even got a Windows Phone if everything is "so wrong and always suck" on it :)

What I hate about Skype on the WP, and windows 8.1 version, is the notifications I have on both. It should be like email apps, when I read it on one my notifications go away on the other.

i guess u havent used it lately... if u have the skype for windows 8 (not the desktop version) and that skype is on and u use skype on WP it wont get notification on the windows 8 but on WP only... vice versa

They've addressed that in the most recent versions.

Although you would be right in this assessment on a lot of fronts, but not Skype. Skype for Windows Phone needs to function like iMessage and Hangouts.... This was the reason MSN Messenger was killed in favour of Skype, but sadly we now have neither. I am not a software engineer so maybe there are compatibility problems Skype and Windows Phone, but this really does not matter to the average consumer. I am hoping this all is taken care of in Windows 10. Disclaimer: I currently have a L925, and have been with WP since 2011.

It works for me too. I keep trying to catch what the hysteria is about skype but its always worked for me.

i expect voivemail to work. I pay for a dedicated skype In line and i cant acces voicemail with a PC. Even the Metro app doesnt support voicemail. Its embarrasing

Skype for WP is miles better than Skype for iOS and Android.

Besides Windows Phone, I have an iPad and an Android Phone. Skype is better and more stable on WP, especially compared to Android. Skype on Android sucks. It is the only app that lags on my Moto G. Skype on iPad is better. OneNote on iPad is miles ahead either WP and Android. It even support password protected sessions. Microsoft must end this mixed up priorities game. It's hurting their most faithful users.

Absolutely incorrect. EVERY Microsoft mobile app is better on iOS than on WP (I can't speak to Android, don't have an Android device). Except for maybe OneDrive, although they did release an iOS update for that today.

This is true. Xbox One SmartGlass is much better on WP. We get all the features first.

lmao you seems to be an iOS lover because it seems you haven't used Windows phone OneDrive. You can also go to your trash in Windows phone. Also Skype is even better on Windows phone due to the stability.

To behonest no... Skype on WP 8.1 is way behind compared to Android or iOS. I just recently switched to Android and believe me Skpye on Android is way more advanced.

We need to stop saying that its like saying a man doesn't care about his son give them time am sure they are not happy about it.

When our phones get Windows 10, they will have the universal Skype app :)

this might improve the app that's what om waiting for universal app

True. We all can't wait till windows 10 >.

Oh my gosh yes. Finally! Ive been thinking it needs an overhaul recently.

Windows 10 Universal app, remaking from the ground up. See ya Hangouts.

Came out last night. You have to uninstall your current version and install the new version.

Exactly. Since windows 10will ne unified!

SKYPE on WP it's a SHAME!!! I still can't believe that Skype, the pioneer voip program is SO BEHIND io's facetime, the video freeezes all the time. On skype you can't have an uninterrupted video call. My wife and 3 of my kids have each an iphone and I'm the only one that has a WP. Same with my group of friends. I have tried using skype with my daughter who is spending this school year in Vancouver (no other way to have a video call with her iphone) and I was so ambarrased because of the poor quality of the video call, we had to end the call and use facetime on my wife iphone, which is way much better. MSFT should learn FAST on how to develop apps that WORK on their own OSs. What are they waiting to do things right????????????????

It looks pretty good Will surely try :)

I wish I can use Skype...
Edit:
I wish I could use Skype

Never quite understood the guys doing acqusitions at Microsoft. They paid 8.5 Billion USD for Skype which is just an app that they had to completely re-design and which is still not performing very well on their platform. Guess what? It worked beautifully on Windows before the acquisition. So, basically, they had a nice app done by others and made specifically for their platform that worked great. They they shell 8.5 bln $ just to have a shit*y app? Where is the logic? Someone correct me please.

Just installed it on my Win 10 machine and will give it a test drive. The look of it is pretty nice so far. Like the new UI design

It makes sense with The coming windows 10.

Running the tech preview and so far it is going well

It will revamped first for droid and ios and a year later for WP... I can't believe how Microsoft allows facebook to make video call with their service and yet they can't make a proper facebook for us.. Ah microsoft microsoft... Wish it was "macrohard"! XD

This is the kind of UI programs should have under Windows 10, legacy but with a Modern look to it.

Waiting for a new skype app for WP which is faster than the current version.

Oh snap! In what year did I wake up?? Is Lumia 1,000,000 really a thing? Am I Captain America?

Now if they would finally fully merge accounts so I can stop having duplicate contacts (and be able to get rid of my embarassing old username from 8 years ago)

Yes, exactly! Merge the Skype and Microsoft accounts.

My Skype already looks like that.

Old news, I had this installed in one of my PCs for almost a month now, I even tipped WPCentral about it. Still doesn't show up in my other PCs.

This UI has been in closed beta since May. The users selected for it weren't notified until later on, at the time it just showed up when they updated. So yeah, uh huh. Don't seem so incredulous.

the weird thing is it wasn't user based selection, as only 1 of my PCs updated with the new UI. to my confusion the others still haven't. it was my least used PC...

i love it .... still hate the advertisments and also one or two things need a revamp emoticons need a refresh / UI change as well as some other little tidbits.

Ya i wish they updated the emoticons. They look so outdated like those 3D emoticons you see in those advertisements on some websites. I prefer Microsoft's emoticons. The adveristments though - you can get rid of them if you pay :P

nope not paying have no need to pay dont use it that much ..... maybe the emoticons will change who knows i hope they just update that part and the bar above seems out of step with the modern / metro mix

Now if only they would revamp the WP Skype app...and by "revamp" I mean take the current one out to a field, put it to pasture, and build a new one from the ground up.

Windows 10 = universal apps.

and then you would complain about it missing features iOS and Android have.... oh yeah, great idea, why aren't you on Skype team? go and send your papers, add "I want to eliminate Skype just to redo it" I mean that's the best solution ever /s go, I am sure they will hire you.

It's already missing features on iOS and Android. Skype for WP is by far the worse Skype application in the family. Considering it's had over two years of WP8 being available to catch-up, there's clearly something wrong with the current app holding it back. So yes, a brand-new approach to WP Skype is clearly needed.

Lets wait for windows 10. Be patient.

I'll be here when it's released for Windows 10, but goodness, WP users have been beyond patient with Microsoft and Skype. The first version on WP7 couldn't even recieve calls without being the foreground app and we were told, "Be patient." Lacking that ability is ludicrous. The version that came out with WP8 allows all that but is flakey. Sometimes you'll get chat notifications, sometimes not. "Be patient." It still takes several seconds to answer an audio call that's answered from the lock screen. Now here we are, the apps on all the other platforms are far better than WP, and we have to be patient once again. Why? Why do I pay for Skype service when I know the app on the first party platform is going to be subpar? /Rant over On the positive side, I feel like all this delay is likely from two things. 1. Microsoft is working on Skype taking over so much more than what it does today. It will act more like a hub for text messaging/phone calls/etc. from your PC. It will act much like Mac OS X Yosemite does. You'll be able to pair your phone with your PC to do all the things you can do on your phone. 2. Microsoft is working on a Windows Phone 8.1 version of Skype and it's got tons of improvements. 3. (Bonus!) The APIs for Windows Phone and Windows are still years behind the ones for iOS and Android. An example of this is the fact that the Metro version of Office is built in DirectX. They simply didn't have the tools and the performance with C# and WinRT APIs to create a solid app. And I think that Skype is likely in the same boat.

Excellent post... Including the rant!

This! May I just add that alongside this Preview for Windows, Skype for Mac 7.0 has been released and it's the real deal (final/stable version)?!

Looking forward to this update, is great seeing things finally move much quicker with Microsoft products and services though still in UK still behind US

Tastes faster, and is fat free!

As much an update is very much appreciated, is it just me or is there too many "previews" and "beta" in Windows and WP ecosystem? It just dulls my excitement. But still a nice update...

Because they are experimenting with it. It would be unfair to give us a Beta version as a full one with lots of bugs. What would you say? You would blame Microsoft right?

I agree with you 200%. I'm with you. Maybe I like it to out of beta or preview sooner than later. That's what meant. As WPC calls it in recent articles as "the beta-fatigue". A lazy example is instagram beta. But still I'm all game with the experiments. Peace.

IDK about the changes on the contact list... i prefer to see more contacts than a few with more space between them

I actually preview this new look. Much more easier on the eyes and easier to see people's photos and statuses. The old one lacked breathing room.

Cars: Fast as Lightning has arrived on iOS and android but yet to go live on windows phone

Now i realize... MS is also a ioscrap fanboi hahahahah

They just wanna take fanboys's money and get more people to MS's ecosystem.

and i wonder, what Windows Phone has to do with this? this is about DESKTOP anyway.... so who care sabout iOS and Android? also, we know the development in Windows Phone will slow down, because apparently some people don't understand the merge and unification of Windows Phone with Windows in 10... will finally put one app for both platforms, and it's obvious one of the apps wil be ditched in favor of the other, and I am sure that's WP app, in favor of the windows 8 app, that will be come just one skype, in the one store Microsoft wants in Windows 10

skype app for windows 10 changed it... wp is the same... happy with the news... people better make some studying first before even say MS dont care... if they update the skype app for windows 10, and the app is universal, stop talking some *****

In unrelated news we bring you dumbass Android announcements.

I hate those bubbles... Used to be so simple and straight before!

It's main purpose is call quality which is still very bad.

That, is realy nice. It works great.

Revamp needed for Skype WP , pretty slow and toast notifications never works

Sometimes it just looks like an archived item, just for seeing and barely unusable

Slow? it is very fast on my phone.

YAY I LOVE IT! Nice to see the desktop version finally get some love! It looks beautiful now, but I the menu bar looks outdated and out of place. They either need to hide it or somehow integrate it into the app's UI nicer so it fits within the Modern/Metro design a bit better.

I think those Apple-styled bubbles and rounded avatars don't fit into Modern Windows design in first place =(((

I've only said it once "F*** you MS" when the Skype for wp never properly worked

Skype in lagroid and ioscrap is better than the one they release in windows phone... Shame on you MS

Shame on you. Give me ten hail Mary's.

How i wish the windows app for Skype has same function like this desktop version... How stupid MS messing skype in windows phone. Buggy as hell!!!

I wish it would be an universal app!

Amen! At this point, why continue development on a desktop-only app AND a universal app? I assume they will still want to have a presense on Windows Phones, tablets, and the XBox One. Or is this a hint that a universal app is actually NOT the easiest or best way to do that, in which case all developers should avoid universal apps?

Is this a modern app and we have to download from store? Modern skype app sucks and this looks good to me. But window phone skype is still behind as compared to other platforms. No.good way to share every kind of file on windows phone. Posted via the Windows Phone Central App for Android

Desktop. It says that in the headline.

Its not a store app. I have just installed it on my windows 7. Also, if you go from Update it woun't work. Its in preview. You have to download seperately. You can go to the source listing in the end of this article. There is a link for download.

Was wondering when this would happen.

no black metro theme, fuck off ms

Yeah!.. I'd like a Black theme too!

Skype is more used on pcs,ipads. is that the main reason wp is ignored??? coz pc version is great

It looks nice, I wish the chat sync thing should be more controlled, sometimes you want to delete the chat of one contact and not the whole thing, instead of just hide the thi but it's good Sype finally is getting a modern look, the chat feels a little strange so hope someday we will get to change the colors becuase blue is boring after a while.

if skype app for windows 10 changed it... wp is the same... happy with the news... people better make some studying first before even say MS dont care... if they update the skype app for windows 10, and the app is universal, stop talking some *****

Xbox music needs a something something feature. I hate WP and am switching!

I quit using the desktop app a long time ago. I like the modern version on my surface.

Before my wife used skype a lot but now she has a smartphone and she uses WeChat iso skype.

What's up with you guys these days? This is 2 week old news. Maybe even older, but I noticed the changes 2 weeks back.

Microsoft sometimes lets a few Skype users test new features before they are generally released

Not that. I mean that the new UI was released earlier in version 6.20.64.104 which I have for some time now. This post is about version 6.21.85.104 which is being released now in which the UI has not changed.

I doubt that eventuall MS will only release Betas and Previews? Eventually the whole company is gonna be a Beta?like "MS Beta". : Just kidding! MS is heaidng the right direction! Every part of MS is now live than ever and functioning like never before. If the reason is Nadella, Well done Satya. Just keep goin!!


A slight improvement, but still bad. I've always hated the Skype UI. They should make it more like Lync. Much more clean.

Nice move this is how we want them to look on desktop

Wait what's supposedly wrong with Skype on Windows phone? Works fine for me. You want it to chop your garlic?

MS should now patent the word "preview"..... we all love it too!!!!

For WP Skype, they could at least put a splash screen, the loading screen is so ugly

Skype is better in iOS and Android than WP. Shame on MS. Sorry !

Sad, but true! Same to OneNote. Shame shame shame

Okay, somebody now tell me why Microsoft develops a new app universal app model, but develops the x86 model first......especially for the beta...........One Windows.... okay I may be a little pessimistic, but if the new app model is so great, why not show the wows of the new app model first ?

It's the one of the firsts steps to go forward. I'm glad that MS is doing a lot of stuffs and quickly moves to still be the number one company in this field.

Just wondering how 'universal' this is. AFAIK, universal code sharing is between the WinRT apps among various form factors. But this is a Win32 'program'. Is the code sharing between WinRT and Win32 as well?

i don't like the bubble style. reminds me of google+. i wish they would keep the square.

IS IT NOW POSSIBLE TO DELETE (NOT HIDE) CHAT HISTORY THAT YOU NO LONGER WHAT TO APPEAR? BOTH ON PC & WP?

It's hideous. I like the Metro/Android landscape and WP Skype design but this design for desktop ... atrocious.

What about the Windows 8.1 version though?

I feel skype is too much separated from MS. Few things i would like MS,to implement are:
1) Office like ribbon for desktop app.
2) Easier options to delete chats
3) Seriously make skype a good competitor for other messaging service like WhatsApp, viber, etc. By bringing new features.(Faster app, sticker supports so on)
I would like to see skype to be used as frequently as WhatsApp, messenger. IMO people use skype for video calls only(Not day to day). MS needs to change people's perception towards skype and market skype as better IM than it is currently. MS should hurry up before it becomes another MS. Service to fade away slowly.

Feeling the same here.
I think skype has a lot of potential but there is something missing and its not attracting new people to use it.

Re: areosidinc... Good points. A user interface that is consistent with the Windows and Office UX.

A direct link in the article would be nice...here's where you can download the preview: http://www.skype.com/go/getskype-desktop-preview So far it looks really good :)

They should include the ( Delivered & Seen ) option in the conversation window. That will make it more intimate app to be used by the younger generation and also much more functional

Does this new Skype have spelling checker in the chat window? Some select versions of Skype have this functionality, which think is very useful

The main thing they need to do is lighten Skype up. Not just in terms of UI, but in software too. Skype can be their GV or IMessage, but it's still seen as this heavy, battery drainig third party tool (though, at least, it's first party).

Microsoft needs to unify the feature set for all of the Skype editions across the various platforms to provide a consistent user experience (UX).

Hope for something like this on wp

What I don't like in this preview is the name-list.
It's nice when you have the show-picture on, but not nice when you turn it off.
I always turned the pictures off to shrink the list, but now the space between every name is the same when the pictures are on, and it's unuseful. But it's a preview. I have faith.... Edit:
And since when UI Modern has bubbles with round corners????????????????????? WTF! It just feels too much iOAss.

Ok... Re-EDIT: The space between names is avoidable with an option inside View. But I think there is one thing wrong with these new bubbles (other than the round corners).
It's about the time of the input text.
In the "old" Skype every input text had its time, but in this Preview there is only the time from the first input text because it considers the sequence of sentences all in one bubble and so it signs only one time. If I write at 8.AM, and then I write again at 10 AM and then again at 5Pm, it just shows 8AM, making think that I was writing all that only at 8 AM.
It's completely wrong!...
It's important to show when a text has been input exactly.

Amen! Skype on my BlackBerry is better than my SP3, and it's a special ported Android app MS made for BB10. Looking forward to this update! Posted via the Windows Phone Central App for Android on a BlackBerry Z30

They still haven't fixed scaling for high dpi screens. I think MS should make aware their all devisions and programmers of some ground programming rules. This is nothing but the laziness.

I want it to look like Msn messenger. And the solid white burns my eyes.

Why did Microsoft screw up a perfectly running program? Skype now bogs down my PC to the point that other apps can hardly run. Please Microsoft, I beg of you, give us back out perfect old version of Skype and stop trying to "fix" it.

The new look is so weak looking ... almost like unfinished. Do we have the option to change the pale blue to a colour of our choice ?