Microsoft releases Windows 10 cumulative update KB3200970 (14393.447)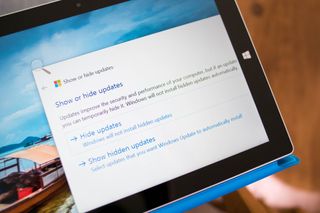 It's patch tuesday meaning Microsoft has a new cumulative update ready for installing. Today's update is KB3200970, which when installed translates to build 14393.447. As with all cumulative updates, today's release features only bug fixes and under the hood improvements.
Improved the reliability of multimedia audio, Remote Desktop, and Internet Explorer 11.
Addressed issue that prevents users from connecting to a virtual private network (VPN).
Addressed issue with a scheduled task that doesn't run in Task Scheduler after reenabling.
Addressed issue to update the Access Point Name (APN) database.
Addressed issue with Japanese characters that are missing when converted by the Input Method Editor.
Addressed issue with the system tray showing no Wi-Fi connection even when Wi-Fi is present.
Addressed issue with Windows devices that disconnect from the Internet prematurely before users can complete their paid Wi-Fi purchase.
Addressed issue to update the new Belarusian ruble symbol to Br and the new ISO 4217 code to BYN.
Addressed additional issues with multimedia, Windows kernel, packaging release management, authentication, Microsoft Edge, Internet Explorer 11, Remote Desktop, Active Directory, wireless networking, Windows shell, graphics, enterprise security, and Microsoft HoloLens.
Security updates to Boot Manager, Windows operating system, kernel-mode drivers, Microsoft Edge, Internet Explorer 11, Microsoft Virtual Hard Drive, Common Log File System driver, Microsoft Video Control, Common Log File System driver, Windows authentication methods, Windows File Manager, and the Microsoft Graphics Component.
The update is rolling out on PCs now. There doesn't appear to be ab update for Mobile yet, however we will keep you posted if that changes.
Windows Central Newsletter
Get the best of Windows Central in in your inbox, every day!
Zac Bowden is a Senior Editor at Windows Central. Bringing you exclusive coverage into the world of Windows on PCs, tablets, phones, and more. Also an avid collector of rare Microsoft prototype devices! Keep in touch on Twitter: @zacbowden.
Waiting for this on mobile. Fingers crossed it addressed an issue that I faced, when notification banners don't show up, and when notification come up phone doesn't wake up.

When a notification banner pops up and if I open the notification centre at that moment by sliding down, the status bar of the screen misbehaves. All icons disappear except time. Only a restart fixes this issue Lumia 640 running latest public build.
Anyone facing this?

Yes same for me on L640. Although I noticed that all icons re-appear after another notification. At least for me.

Had that happen once recently on my 830 (Insider Release Preview), only "time" is present but with a few swipes you can see the rest reappear for a split second, restart was the only thing that fixed mine on that one instance and of course don't use phone that much so unsure how frequent it would be.

This has been an issue for me too, notifications seems so buggy, some don't even clear

Such an annoying bug, I've got it too

Also I'm getting no notifications showing up in the notification pulldown menu sometimes, but I have notifications popping up on banner.

Do hope the mobile update fixes the sync issue with email, mine stopped working after the last email client update and no fix available from MSFT of course.

Any news whether this addresses the security flaw google released last week?

who cares just use Edge and be safe

Um... I do use Edge. Likely on more devices than you do. Regardless, I think this is a perfectly legitimate question for the topic. So before you try to dismiss the question, consider why this information may be useful to the many people who refuse or are unable to use Edge for whatever reason, and for those of us who work in an enterprise IT role where our business relies on this type of awareness.

Exactly. Running Windows 10 at work, but neutered by enterprise policies into what is effectively Windows 7.1 with IE 11 only. I don't even get to have tiles on my Start menu.

Ha, yeah same here, really annoying. I just had to explain to our central IT organization that LTSB doesn't have Windows Store components built in so if/when we decide to enable Windows Store apps, we might run into some challenges, unless MS has a simple path from LTSB to a serviceable image with Windows Store. Luckily I'm not in that part of IT, hope they figure it out for folks like me though

Well, whadayaknow. I do get to have tiles on my Start menu after all. All my apps are belong to IT Central, but at least I can haz desktop applications pinned. I'll take what I can get. It really is too bad our IT Central has such a myopic view that apps only means apps for iOS and Android, and everyone on Windows can just use the website.

Windows 10 Anniversary Update is safe. It's Windows 8.1 and older that aren't patched for that security flaw yet, including older Windows 10 releases.

Ah, that's right. Hmm, going to need to find out when our LTSB build will be updated then :/

Anniversary Update was always protected.

Daniel I k ow this is not the right spot but I think this is a good way to reach you....i hope. The inability for the mail and calendar app not recognizing phone numbers is REAL frustration. Do you have any idea if this is an OS limitation? Or why this has not been addressed after countless updates?

Works for me, for numbers in both (xxx) xxx-xxxx and xxx.xxx.xxxx format. Odd that it isn't working for you.

What do you mean? A phone number in the mail and calendar app is recognized as a clickable link? If you have a number in the email body? If you have a number in subject line or the notes of a calendar appointment? You sure? What device? What build?

Shame on google. I am still trying to decipher if the media over tweaked that report, or if Google had a specific reason for publicizing that..

And they forgot on mobile again. With Treshold 2 they still tried to get updates done same with desktop. So sad that Mobile is dead.

Waiting for it on Mobile.

Anyone having trouble with viewing videos in Edge? My laptop plays the audio but shows a black screen instead of the video. A refresh resolves this issue.

Yes!I see this also, I assumed it was the ad block extension

Yes! On Youtube! Sometimes​...

Just updated my PC to 14393.447 and YT still gives black screen before having to refresh to correct. WTF!!! Wasn't that way before.

For me all the time. Good thing that mytube on my 950xl works flawlessly.

Same for me. Annoying. What caused this? Previous update?

14393.448 ​on buildfeed, maybe this is the next for mobile? but that's weird, unusually i don't see any fixes for mobile in the changelog

not yet on mobile, swift installation on desktop.

this isnt nothing too do with the updates but does any body know how too get a windows fone vidio too play on windows ten laptop tryed every thing but saying no vidio found all be it its 1,52 gig long please help

Am I the only one stuck with "Downloading updates 0%" and 100% load on a CPU core? It was all fine until I went to Settings and try to get this update.

mine is trying to download a defender update, it sits at 0%, flashes to 100% before back to 0%. just repeats over and over. its spiking cpu on one core pretty good and is thrashng my c: drive (a 950 pro ssd) at 80-88%. reboot didnt fix it nor did the troubleshooter in control panel find anything wrong. didnt know there was a new build, just came here to see if there was a known issue with any recent updates. my history says this build hasnt installed yet

Same here except I was able to fix it by rebooting. Also, reboot after the update took a long time with "Preparing <blah blach>" blue screen. I almost powered it off thinking the update went bad.

i let it sit for a while and it eventually finished whatever it was freaking out on. i rebooted again, and now WU seems to be working normally and is downloading this cumulative update and a flash update.

Waiting for mobile as well but I don't see any Bluetooth fixes. Damn it. Bluetooth A2DP and HFP are flawless on my Lumia 950, but Bluetooth HID is buggy and unreliable.

Sometimes when I flip up my laptop and click in my pin at start I get a message with an unhappy face emoji saying that the system needs to restart and that data is being collected to help Microsoft fix the issues. I don't trust MS taking data. Is there a way in settings to prevent MS from taking this so-called data? In addition I hope with this cumulative update that this gremlin gets addressed all together.

This data is to help them analyse the problem. The fact that you're getting what is in effect a BSOD crash should be of more concern right now

Installing on the PC right now. Waiting for the update to hit the mobile version.

Like last month..... me too

I hope this fixes Edge for me. It is a nightmare and I can't remember using a browser so unstable before. Yoga 2 Pro. Any suggestions would help. I do run a VPN from time to time. Could this be affecting it? Been wonky since Anniversary Update, bout the same time I started using a VPN. Do not know which to blame.

Hope this releases on mobile and fixes the dimming screen bug it's really IRRITATING

I wish there was a convenient way to download this for offline.

http://download.windowsupdate.com/d/msdownload/update/software/secu/2016...

Downloading 95% ... Now for 45 minutes!?!

Same here ... Fed up of waiting at 95%

Okay, one of the things I notice on the update I that Edge is more responsive. On the .351, it had the tendency to lag when I switch between or open/close tabs, along with being sluggish when scrolling some graphic intensive websites. The update did fix the issue (though somewhat in some areas).

LOL. Just finished manually installed 4 older updates on 2 of my PCs. Soon as they were done, update message popped up again for .447.

I just hope this update will let me install. My updates keep failing on my Surface Pro 4. It seems there are a couple other people that are having the same problem.

Have you tried getting the .msi installer from Update Carrog and manually installing?

Someone tell MS they missed 351 and now this one on Mobile. What happened to parity between the two?

This is for PC, sick of people talking on post like this one about Mobile!!!! About the updates so long after 10 was released it still feels like BETA version...

OMG, I installed it a few hours ago, and the update is now finished in the background, and the system is... super fast!!! I'm hardly believe my eyes! Good job Microsoft!

Installed fine here on my pc

Not sure it is related to this update, but still: ​1) Installed on my Surface 3 last night. Apparently it worked fined, but when I switched it on this morning, I had a problem with Wifi. Tried to reboot, but when that did not work, I did a coldstart and HORROR...... it went straight into UEFI, and no matter what I did, it only booted into UEFI. Finally created a support ticket with MS, and now my Surface is going back for repair ​ 2) Also installed this update on a test PC that is running production builds - yes, my daily driver is on the preview builds ​ . I normally connect to this PC using Remote Desktop which I did last night when I started the update. This moring I was not able to connect to the PC, so I hooked up keyboard/mouse and display to see what was wrong. It was still unresponsive so I finally did a cold start, and everything seemed to be working fine. ​Connected againg with Remote Desktop, and then forgot about the PC for a couple of hours. Connected to it again and tried to open a few of the built in apps like Edge and even Settings - nothing happened. Another cold start connected locally, and seemingly everything now worked. ​However when I try to restart the PC it just hangs at Restarting...... Been like this for about an hour now. ​ I think this update could be seriously flawed. ​Anybody having similar experience?

The Anniversary Update broke my girlfriend's in-built laptop webcam and now she can't use it on Skype for desktop. It works all the rest of the times, including UWP Skype app, but it refuses to turn on when she's using the desktop version, or if it does turn on, then it freezes after some seconds and then it won't work again. The drivers are updated and she's also using the latest update (although, I will have to download this one later on her laptop). I binged the issue and it turns out she's not the only one having this issue. There are literally hundreds of people with broken webcams after the Anniversary Update and Microsoft still hasn't done anything (unless they fixed it in this Cumulative Update, but I'm almost certain they didn't). Does anyone know when it is going to be solved? Thanks in advance.

I'm having issue with the desktop icons- they disappeared and the favorites tiles take over my desktop. I'm unable to pin tiles to my favorites now from the all apps screen, my notification icons disappeared and had to re-enable that but the whole desktop is looking very much like Windows 8 - how do I get the old view back??? I can't find the icons for files that I placed on my desktop and when I click on 'Desktop' (bottom menu item from start button I get only the desktop background pic with no icons....

kb3200970 caused my laptop to not recognzie the built-in display but it would still recognize my external display, so once i booted to windows i had my 2nd screen but not my laptop screen but nothing could get my laptop screen to work - except uninstalling kb3200970
Windows Central Newsletter
Thank you for signing up to Windows Central. You will receive a verification email shortly.
There was a problem. Please refresh the page and try again.