Microsoft Remote Desktop for Windows Phone comes out of preview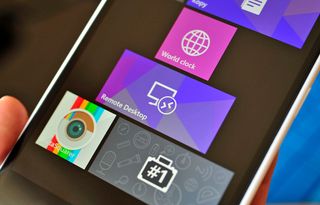 Microsoft has updated its Remote Desktop app for Windows Phone 8.1 today and in so doing has removed the "preview" label from the app for the first time since it was launched in April 2014.
The new version number of the app is 8.1.8 and while the change log is brief, it's certainly interesting:
App is now out of preview
Added support for connecting through a Remote Desktop Gateway
Added support for accessing Remote Resources
Bug fixes and other improvements
Let us know what you think of Microsoft's app in the comments now that's its a non-preview release.
Thanks to WPit for the tip!
Download Microsoft Remote Desktop Preview for Windows Phone (Free)
Windows Central Newsletter
Get the best of Windows Central in your inbox, every day!
Nice, great support for awesome app

Hoping to see all beta apps completed till windows 10 launch...

Has anyone of u installed Kaspersky Pure total security to your Windows 10 preview PC? I cannot installed it!! I've been using using Kaspersky for 5 years, all Windows 7, 8.1 are supported. However there is something is wrong with Windows 10..

Perhaps because Windows 10 is still a technical preview...

At least we have Windows Defender and CCleaner

oh well ..... I couldn't ever figure out the way to make it work :/

Its very simple mate.. I have a screenshot of how to make the app work but idk how to upload pic on win central app :S

Post it on OneDrive and give a link. That's what I do for images.

I use Teamviewer when I'm out. But when I'm home, nothing works better than Reamote Desktop.

I port forward so I can use the remote app anywhere I want, I found it to be better than teamviewer

I too never got it work from outside the home network. Something I'm doing wrong.

you need to port forward on your DSL/ADSL router

Me too...so much better than MS

I use Teamviwer and ConnectMe. ConnectMe for managing all our servers and Teamviewer generally for my personal and friends PC's.

Happy to see support for Remote Desktop Gateway!

Yes. Now I can properly connect to my workplace without having to compromise network security first.

Oh now, that security is just a scare tactic...
...
Just kidding, I know you are a computer wiz....I once was....when we still had dial up....

Finally they added support for connecting through a Remote Desktop Gateway

I tried every steps but it never worked. Win 7, Win 8.1 and Win 10.

You need to make sure that your PC is setup to use your network as a "home network" so discovery is activated. I followed this guide:
http://www.guidingtech.com/13469/how-to-enable-remote-desktop-in-windows-8/. Did that on all 4 home machines running windows 8, works like a charm.

+ it needs a pro version of Windows

Or if you dont have pro/ultimate/enterprise theres this http://missingremote.com/guide/how-enable-concurrent-sessions-windows-7-...

What about my mac............lol, sadly, it probably works there and on Android.....and Linux...

Same here. I think it only works with certain types of Windows subscriptions. It definitely doesn't seem to work with Windows 8.1 with bing.

I followed that guide and it worked. As long as it is full windows. All my machines work with it:
http://www.guidingtech.com/13469/how-to-enable-remote-desktop-in-windows-8/

Still doesn't work for non-Pro versions of Windows

It will never work for any version of Windows unless it is pro, ultimate or enterprise. It will work on all versions of Windows server though.

That's not the apps fault. Non pro versions of Windows don't have remote desktop support built in.

Also everybody check out my sports app in the windows phone store. Right now its free. The app is called sports news and currently its in beta -> http://www.windowsphone.com/en-us/store/app/sports_news/7125e93e-3482-4b...

Please do not spam the posts with off topic items. There is a place in the forums for this.

Welcome, John! I thank you guys for pleasant read everyday!

What is that app for real? Can I control things on my PC via Bluetooth or something?

With the Microsoft Remote Desktop app for WP 8.1, you can connect to a remote PC from Anywhere ; ) Besides the much awaited Gateway support (now with this updated version), for security, a must have feature!

It's via WiFi - and of course it's real lol...Remote Desktop has been built into Windows for a long time now - just need a Pro or higher version to remote into the PC, I believe.

Wow. 11 months in preview. This is why they fail.

Wow. Negative comments on a postive article. This is why no one wants to develop for Windows Phone.

Has Gmail made it out of beta yet?

Or google the search engine

I want an app like this for my Xbox One!

World clock has the same logo as project soartan

World Clock must have been updated!!!
As currently the tile doesnt support transparentcy or tile colour :D Any news on the updated World Clock WPC?

There seems to be a Glance Screen bug. If the landscape mode rotates clockwise and I close it, my Glance ends up upside down. If the landscape mode rotates counter-clockwise and I close it, my Glance returns to normal. Anyone else verify?

Yup. That has been there since the first version of the app. This also happened with a few games but I don't remember there names.

I was hoping they had fixed that.

Did they finally fix the rotation issue with Glance?

Gateway support, wooohooo!

About time that they added the gateway option. This is a great, light, RDP client but if you are a power user I recommend trying an app named ConnectMe. I've been using it from long before MS released their own app and it is loaded with features (creating groups, pin to start, file manager, multi-viewers, saved text for easy pasting into sessions, the list goes on and on). I know this sounds like a ad but it's an honest to goodness user take on the product. The developer has done an outstanding job and I like it so much I'm hoping he ports it over as a "modern" app on Windows.

It would be nice if I could remote desktop into my phone and control is through my desktop workstation.... I sit at my desk all day and constantly have to grab for my phone... why can't I have my phone's screen on my Windows Deskop... That would be great to be able to respond to texts, use my mouse etc... on my phone directly from my workstation.

Yeah, would love to be able to 'snap' my phone to my desktop, or have it as one of multiple desktops in W10.

Try connecting with bt(Microsoft stack)

If we had Cisco Anyconnect, I could use RDP...

Can't get it to work with Windows XP.

Yes seriously. It will not connect to XP Pro.

I really hope this just works with all versions of Windows 10. Please, no more 'pro' requirement.

Now if only they could update their sever dashboard apps

Anyone know if this works with concurrent connections feature?